Eterna-Matic important ball bearing rotor 1952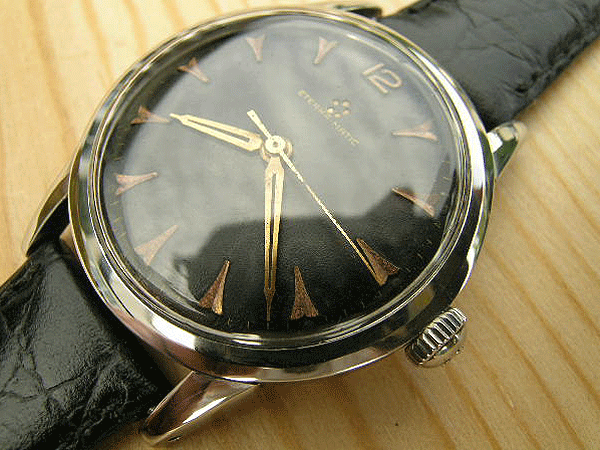 Those who have spent some time browsing through this website will have gleaned that we are very interested in the technical evolution of the luxury wristwatch. From the pioneer days of World War I right up until the mid-1970s, there was a steady stream of innovations that filtered through to the products supplied by the top tier Swiss houses to the general public. The watches that featured these landmark developments are of great historical significance and because of this, we feel that they make very safe investments in the portfolio of any collector. For however long there is an interest in wristwatches, models like the Harwood, the first self-winding wristwatch, the early Rolex Oyster, the first really useable waterproof release and the Breitling Navitimer Chronomatic, the earliest automatic chronometer, will always be regarded as highly desirable. We have advised our customers to purchase these key models for more than twenty-five years and so far, those that have followed this route have seen a very impressive return on their outlay.
This very attractive gentleman's Eterna-Matic from 1952 fits squarely into the bracket of an important model and we cannot recommend it too strongly. Eterna was founded in 1856 and is probably best known today for its offshoot ETA, the corporate movement maker that supplies almost everyone, from IWC, Rolex and Longines through to Omega, with raw, unfinished movement blanks that can then be processed and refined as required. The situation is complex and too detailed to be dealt with in this description, but basically, Swiss law limits the activities of those brands selling complete watches in the field of movement-only supply in order to prevent monopolies emerging. So Eterna sold finished watches under its own name and, in a rather contrived way, set up ETA as a legally separate entity, operating from the same facility, enabling the latter to sell movements to other concerns.
What we do notice is that a common pattern developed, with the latest advances appearing first on Eterna watches, before these were applied to ETA movement production some time later. It would be an exaggeration to say that Eterna was a test bed for ETA, but clearly the lower volumes of manufacture involved with Eterna meant that it was realistic to experiment with new ideas before the financial commitment was made to gear up for large scale release of essentially the same products in ETA form.
The watch here is so interesting because it contains the final revision of the first version of movements to ever have their automatic winding rotors pivoted on ball bearings, this being done to dramatically reduce friction, enabling the rotor to turn with the slightest motion of the wearer's wrist. Ball bearing mounts are something now found as standard on all high quality modern self-winding watches, but they were invented by Eterna. This arrangement first appeared on a movement for a man's watch in 1950 with the launch of calibre 1247. The model here is calibre 1247 UC, which was the up-rated version of the 1247 with the addition of improved shock protection. The total production span of the 1247 family in all its forms was only four years and finding a good, all original example of this movement for inclusion in a serious collection is not easy. The UC is regarded as the most sophisticated of these units and, condition being equal, is worth paying a slight premium to acquire.
While the purchaser of this item will undoubtedly buy it because of the historical importance of its movement, the rest of the watch should not be overlooked. Its styling is classical and very evocative of its era of production. The wide lugs are something that immediately suggests the late 1940s and early '50s and if we could only see this watch in silhouette without knowing its brand, we would almost certainly incorrectly identify it as an Omega Seamaster from the same period. It is very interesting how, rather like high street fashion shops adopting a particular look for a season, the major Swiss watch makers often competed with models that had a very similar appearance. This subject is discussed as part of the overviews of each decade provided on this website.
The condition of this case is almost perfect. If we choose to be deliberately pedantic, we might suggest that there are a few very tiny surface marks here and there, but they are almost invisible to the naked eye. In realistic terms, for a watch that is half a century old, a better case could not be found.
The case back is threaded, suggesting that Eterna intended this model to be water resistant. Inside the case back is signed "Eterna Watch Co, Swiss", together with "Acier Inoxydable", this being the French term for stainless steel.
Externally, there is the individual serial number 3668490. For reasons known only to themselves, Eterna used a very shallow stamp when numbering cases, with the result that today, after many decades of wear, the serial number once present has now disappeared completely. The number here is clear and well defined, which is again consistent with a watch that has seen very little use.
Dials are the component that make or break any vintage watch. Two examples of exactly the same model will have wildly different values if their dials are not in a similar state. The holy grails for the purist collector are watches that are with their original dials in near mint condition. These will have a market worth that is typically around 40% higher than their equivalents with either badly deteriorated original or, possibly even worse, so-called restored dials.
The dial on this watch has two great benefits, these being its colour and its condition. Blacks dials are regarded as being the most desirable on any vintage wristwatch and when present, will add a lot of value. This premium is paid both because they are so attractive but also because of their relative rarity. As a percentage of the total units of any model that survive, very few will have black dials, most being with silver or white variants.
This dial is guaranteed to be completely original, yet it remains in nearly mint condition. Even under close scrutiny through a jeweller's eyeglass, there are very few imperfections to be seen. As with the case, a better example of an early Eterna dial from the 1950s could probably not be located, at any price level.
"Eterna-Matic" is signed over the dial centre point, above which are five gold spheres. It is telling that Eterna was so aware of the significance of its pioneering ball bearing pivoted automatic rotor that it used this emblem, represented the five ball bearings on which the rotor was mounted, as its company logo. For a company steeped in tradition, this was a radical move.
All three hands are completely original. The hour and minute hand are very distinctively shaped and perfectly match the art deco styling of the gilt batons. Finding original vintage hands for even Rolex and Omega models, which were manufactured in much larger quantities, can be very difficult, but sourcing the correct components to return a watch by a smaller scale maker, like Eterna or IWC, is almost impossible. From our own experiences as professional dealers for nearly three decades, we would always advise that it is well worth paying extra in the first instance to acquire a watch, like this one, that is completely standard throughout and needs no further money spending on it to bring it up to investment grade order.
The slightly domed winding crown is also entirely correct. Again, this is signed with the Eterna five ball bearings emblem. As we would expect on a lightly used automatic watch, there is no discernible wear to its serrated edges.
This is a lovely watch that is among the most appealing on this website, but its real beauty lies in its movement. The quality of vintage Eterna mechanisms from this period is second to none and it is not at all an exaggeration to state that the standard of build and finishing to the unit here is in every way the equal of that found in a Rolex Oyster Perpetual or Omega Seamaster automatic calibre from the same era. It has amazed us for years that classic Eternas have largely slipped under the radar of the collecting community and if judged on merit, their commercial values should be up with those of the household name famous brands.
If studied under high magnification, the quality of this item is immediately obvious. Every screw head has been polished by hand to a mirror finish and the bridges are all angled, rather than with a crude 90 degree join. "Eterna-Matic" is signed on the rotor with the calibre number stamped next to the balance well. It is worth noting that Brev. Dep. is also here, informing us that Eterna, very wisely, had patented its ground breaking rotor arrangement. Even with the naked eye, if we look carefully enough we can make out the all important five ball bearings on which the rotor pivots. There is the individual serial number 3827529, which dates this piece to 1952 and ties in perfectly with the upgrade of the 1247 with the UC, shock resisting, status.
Condition of this movement is exceptional. A lot of the 1950s watches in circulation are now well on the way to life expiry, not because of any deficiency in their quality, but simply because at some point in the last six decades, they have fallen into the hands of owners who failed to maintain them in a responsible fashion. To draw a comparison with the world of the motor car, it is true to say that even the finest vehicle, perhaps a Rolls-Royce or Aston-Martin, will be damaged to the point of no return if driven for fifty years without servicing and routine oil changes. This movement has been serviced on a regular basis and looks almost indistinguishable from that in a new watch. It works perfectly and provided its future owners send it for cleaning and re-lubrication every three or four years, it will last almost forever.
We have fitted this watch with a high quality black crocodile skin type strap. This is not the original strap, but it is very much in tune with the up market aesthetics of the piece and almost identical to those pictured with early Eterna-Matics in period advertising material. This strap has never been worn and is in mint condition.
Given its significance as the first model to feature a ball bearing mounted rotor, something that is now a standard across all self-winding luxury watches, this item is almost ridiculously under-valued. If this was a Rolex or Omega, with the same technically important status, it would command a price of certainly over £3000. As it is, for no other reason than Eterna not being so widely recognised by the public, it can be bought for £685 GB pounds. The value for money offered by this item is nothing less than remarkable and in terms of quality to cost ratio, it is one of the most attractive vintage watches for sale on this website. Those collectors who really know their subject well understand how pivotal Eterna's ball bearing rotor was and how it enabled the development of automatic winding to reach its next level, but outside of the connoisseur bracket, these watches are not really recognised. Any collection that aims to chart the evolution of the self-winding wristwatch must include an early Eterna-Matic and for that reason, we highly recommend this piece as an investment purchase. As enthusiasts become more knowledgeable, as they certainly have done over the last fifteen years since the arrival of the internet, watches like this one will become more sought after and values will rise. Our prediction is that even ten years from now, these charming first generation Eterna-Matics with ball bearing mounted rotors will be a lot more expensive than they are at present.
Price £685 GB Pounds
Vintage Watch Brands
Vintage Watch Decades
Vintage Ladies Watches
Vintage Watch Bracelets
Swipwreek Straps
Travel Clock/ Pocket Watches
Home
About
Brand Overviews
By Decade
Reference
Contact Details
Telephone from the UK:
07453 734666
or 07428 051005
Telephone from overseas:
+44 7453 734666
or +44 7428 051005