Eterna Kon-Tiki 10 steel with Heyerdahl book 1968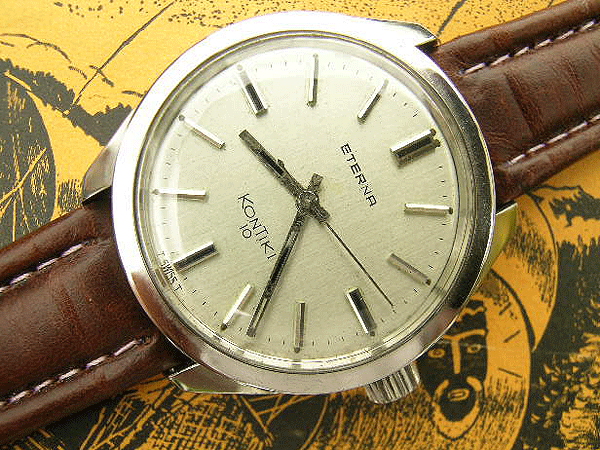 Regular visitors to this website will be well aware that we take an enormous pride in both the quality and condition of the vintage watches for sale here and we think that it is partly because of this obvious personal affinity with the classic wristwatch scene that our business has become so popular. Over almost thirty years, we have gained considerable satisfaction from hunting down the rarest vintage watches and we regularly offer items for sale here that are simply not to be found elsewhere in a comparable state.
The perfect example of this must be this gentleman's Eterna-matic Kon-Tiki 10 from 1968. This oversized model is one of the all time classic explorers' sports watches and not easy to source now, the vast majority being permanently part of private collections. In the last three or four years, we have only seen perhaps no more than a three or four other genuine Kon-Tiki 10s, though sadly, it pains us to report that in the last twelve months, we have been offered two fake examples where the famous Kon-Tiki dial had been retrofitted to a standard Eterna timepiece. This item is guaranteed to be entirely authentic and correct in every aspect, making it a valuable talking point in any collection of 1960s sports watches.
For those more recent converts to the fascinating hobby of vintage wristwatch collecting, perhaps it should be explained that the Eterna company is particularly held in high regard by enthusiasts and connoisseurs of fine horology not least because of the ground breaking innovations for which it has been responsible over the years. The most significant of these, and certainly a development that heralded the "modern era" of mechanical wristwatch production, was the firm's pioneering use of ball bearings for pivoting an automatic rotor. This brilliantly ingenious solution to the problem of reducing friction in a self winding watch has been universally adopted throughout the Swiss luxury watch industry and, to this day, Eterna continues to use the symbol of five small dots, representing the five ball bearings used for the rotor pivot, as its world famous company logo. Those with an interest in this, and the other engineering feats that have been achieved by Eterna, should certainly take a look at the company's official website at
http://www.eterna.ch/
which contains an excellent potted history of this most respected "manufacture" ( the term used by watch enthusiasts to describe a watch brand that is capable of producing its own movements, entirely in-house. There are only a handful of companies worldwide that has the facilities and expertise to do this, and they are held in particularly high regard.). It is interesting to note that, once again, Eterna is producing a range of Kon-Tiki watches and, on its website under the "Milestones" section, a reference is made to the "legendary Eterna Kon-Tiki", this of course being the watch for sale here.
We also feel that, particularly for the benefit of younger readers, it would be productive to give a summary of the Kon-Tiki Expedition in order that some of the glamour of this model can be explained and the watch viewed in context.
Kon-Tiki is actually the title of one of the ancient Peruvian Gods, but we are concerned with it here as the name given to the balsa wood raft on which the Norwegian biologist and explorer Thor Heyerdahl sailed from Peru, obviously in South America, to the Polynesian island of Puka Puka. This incredibly hazardous trip across the Pacific, plagued by tropical storms, sharks and whales, was undertaken in 1947 by Heyerdahl and a small crew of six other Norwegians, in response to academic criticism of Heyerdahl's controversial theory that Polynesia had been originally populated by settlers from South America and not, as was generally accepted, from Asia. Heyerdahl reasoned that these earliest settlers travelled the vast distance by primitive craft and replicated this 4300 miles journey, a Herculean task taking 101 days at sea. As an aside, his personal account of the expedition is gripping, and we would have no hesitation in unreservedly exhorting all those with an interest in high adventure of the true "Boy's Own" type to buy a copy of his book, which, quite deservedly, became an instantly bestseller at the time of its first publication.
The watch for sale here dates from June 1968 and is in superb condition. The Kon-Tiki 10 model was introduced by Eterna in early 1968 to celebrate the tenth anniversary of the first Eterna Kon-Tiki in 1958, the company having been a major sponsor of the original expedition. The quality of this watch is extraordinary and certainly, Eterna used this model as something of a showcase item to advertise its manufacturing capabilities.
The large polished watch case has been crafted out of 316L grade stainless steel, a very expensive stainless alloy that provides increased resistance to corrosive substances and is commonly used in marine applications. So often, older 1960s watches in stainless steel become slightly dulled and pitted, but the large case on this watch ( the watch has a width of 39mm and a "drum like" depth of approx. 12mm) is in superb condition, with only the usual very light scratches here and there that have occurred with normal careful use.
The steel case back is fully signed internally as "Eterna Watch Co, Swiss, Acier Inoxydable ( the French term for stainless steel)" and bears the correct model number 129 T. Potential purchasers of vintage Kon-Tikis must be particularly diligent in checking the correctness of this number. Examples on which the model number has been polished out and re-stamped, or indeed examples with model numbers that are at variance to the correct one, must be viewed with extreme caution. The case back outer, as called for on the Kon-Tiki 10, is entirely smooth. Earlier models had a gold insert, upon which was depicted the Kon-Tiki raft, but this was never used for the 10th anniversary version.
Our enthusiasm for the remarkable seventeen jewelled 1476K Eterna-Matic movement is enormous and we would be quite happy to wax lyrically for several pages on its more exotic features. However, in order to spare those readers who are less interested in the technical aspects of fine vintage watches, suffice it to say that, in terms of both engineering design and in execution of finish, this calibre certainly ranks as one of the best hand wound movements of its era. In brief summary, this calibre was introduced as the top of the Eterna range in 1968 as an evolutionary development of the superb calibre 1465 that was released earlier that decade. The movement runs at a fast beat rate of 21600 half beats per hour ( the faster the beat rate, the more advanced the movement and the greater its potential for accuracy and fine tuning) and of particular interest, has a very long power reserve time of 44 hours ( this is the time that the watch takes to completely run down to a stop from being fully wound if left untouched). For anyone involved in exploration, when, quite literally, one's life can depend on the continued running of a timepiece, a long power reserve is essential to cover those situations when the watch might be taken off the wrist ( perhaps when resting at a base camp) and only worn again after a considerable period of time. With no access to external time checks, particularly in the days before satellite communication, it was vital that one's watch was never allowed to wind down and Eterna obviously took cognisance of this point when designing the Kon-Tiki.
The movement is fully signed "Pat. Eterna Watch Co, Swiss, Seventeen Jewels". Because of their collectibility and scarcity, these watches are relatively expensive now, and potential purchasers of a vintage Kon-Tiki must check the specification of its movement to make sure that it was produced at the correct time commensurate with the case and dial. In this instance, the watch is absolutely authentic and the movement is guaranteed categorically to be the one that was supplied in this housing when new.
Having been fully serviced throughout its life on a regular basis, the watch works perfectly and its movement is in first class order. There is no corrosion or discolouration to the internals of this piece whatsoever and the watch has no changed or non-authentic parts. Even the original oversized shaped winding crown is in superb condition and not in the slightest bit worn.
Mention must be made of the totally original silvered dial, fully signed "Eterna-Matic, Kon-Tiki 10, T Swiss T". This is very good condition and has only the very slightest few marks to its surface. The dial looks very attractive and is complimented by its original tritium coated luminous hands and chromed baton markers.
The watch is complete with its original Eterna box, in itself a very rare collectible. The box is in very good, though not mint, condition.
We have fitted the watch with a very high quality brown calfskin strap that is still unworn and in mint condition. This is not an Eterna item, but, after much searching, is the nearest we could find in both texture and material, to the one supplied with the Kon-Tiki 10 when new.
Overall, this is a very rare classic sports watch from one of the world's most respected manufacturers. Eterna has recently re-issued the Koni-Tiki models in a blaze a publicity at the Basle show, but these are costly ( from memory, they retail at around £3000 GB pounds in steel) and have rather less charisma than the authentic vintage example shown here.
Valuing this item isn't easy, because genuinely well preserved vintage Eterna Kon-Tinkis are seen for sale far less frequently than they were even a decade ago. A lot of those that do appear on the market are very scruffy, probably because when new, the sort of buyer that was attracted to the model's robustness tended to subject his watch to fairly hard use.
Physical auctioneer Sotheby's included an example of the exact model here, the Kon-Tiki 10, as Lot 230 in its sale "Important Clocks, Watches and Wristwatches" held in Amsterdam on the 25th November 2003, but in the last decade, we have seen no more than half a dozen original Kon-Tikis that were even remotely as tidy as the one here.
Collectible books, vintage British motorcycles and fine wine, are something of a passion of ours and we have sourced a 1964 edition of Thor Heyerdahl's account of his journey. This is in very good condition and is completely with its original dust jacket. There is some very minor foxing to the pages and the jacket has a slight area of loss, but certainly, this is a copy that would be a perfect addition to the bookcase of the most hardened bibliophile. Leaving aside its collectibility, it is also a thrilling read and will make the ideal companion for a very enjoyable cold winter evening in front of a roaring fire. When we ship this watch to its next owner, the book will also form part of the package.
We have priced this watch, and the accompanying copy of Thor Heyerdahl's book, at £685 GB pounds. For a tidy vintage Kon-Tiki 10 with a near mint case and an original, unrestored dial, this is a very fair price. Originally, Eterna created the Kon-Tiki to be a direct competitor to the Omega Seamaster and the Rolex Explorer, which it undoubtedly was, yet its profile with the general public is lower than either. Today, it is a more unusual watch than these other models and has a quirky, interesting image that is very attractive. As the value of classic sports watches continues to rise sharply, our bet is that the worth of good, unmolested Kon-Tiki's will steadily increase. At the time of writing, the Kon-Tiki is still something of an underappreciated cult classic but if it makes the transition to the mainstream collecting world, as it surely will, in retrospect watches like this one will be seen to have changed hands for very modest sums.
Price £685 GB Pounds
Vintage Watch Brands
Vintage Watch Decades
Vintage Ladies Watches
Vintage Watch Bracelets
Swipwreek Straps
Travel Clock/ Pocket Watches
Home
About
Brand Overviews
By Decade
Reference
Contact Details
Telephone from the UK:
07453 734666
or 07428 051005
Telephone from overseas:
+44 7453 734666
or +44 7428 051005