Eterna 18 karat gold large rectangular 1960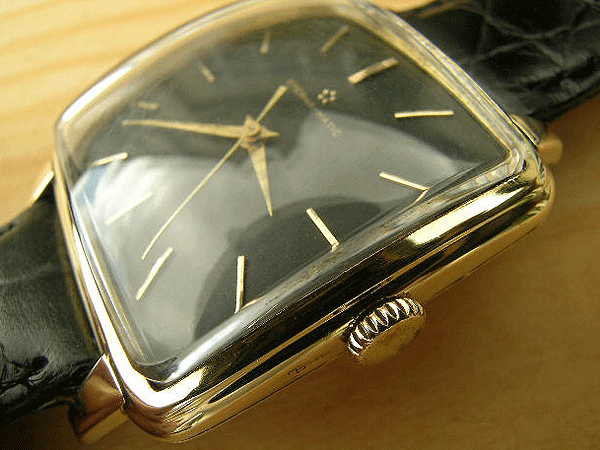 This very large rectangular gentleman's automatic Eterna, in solid 18 karat gold and from 1960, is a superb example of a rare watch that represents almost unbelievably good value for money. While not a cheap item, with a current market worth of between £1000 and, perhaps in the right thematic auction, £1500 GB pounds, it is certainly not an expensive piece, and when really analysed in depth, the amount of high quality machinery acquired for such a small outlay is quite astonishing. This is a textbook illustration of what in our business we often term a "thinking man's" vintage watch. Much benefit is to be obtained by a study of movement types and case manufacturers, and armed with this knowledge, the connoisseur with a genuine in-depth understanding of his subject will be able to sift through the myriad watches offered to him, obtaining the finest possible horological standard and craftsmanship for the lowest possible price. It is absolutely true to say than the movement and case on this watch are in every respect the equal of those by Rolex, Omega, IWC or Jaeger LeCoultre, yet this incredible standard, and we must remember that this item is in solid 18 karat gold, can be obtained for less than the price of a stainless steel example by one of Eterna's competitors.
We have an enormous enthusiasm for vintage Eterna watches, and feel that we can justify this, believing so strongly that they represent almost unparalleled value for money at present. Founded in 1856 in Grenchen, Switzerland, Eterna has been one of the most instrumental concerns in the development of the luxury mechanical wristwatch as we know it today. Responsible for innumerable patent applications, the firm created the first alarm wristwatch and introduced in 1948 the concept of mounting the winding rotor of an automatic movement on five ball bearings, an arrangement that was nothing short of revolutionary at the time, but was so ingenious and effective that it has become universally adopted throughout the top-tier wristwatch industry today. There have been brief periods when Eterna caught the public eye, most notably in 1958 when it launched the Kon-Tiki, one of the all time classic sports watches, but in general the brand has never been prominent at a retail level.
The reason for Eterna being very low key, and consequently also the reason for period Eterna pieces being superb value today, is that the main business of the company was as a wholesale trade supplier of beautifully made movements to other concerns. Eterna was, and is, enormously commercially successful, and under the guise of ETA S.A, supplies its mechanisms to almost every one of the most prestigious houses in the world. IWC, Ulysse Nardin, Rolex and Omega all rely heavily on ETA movements, purchasing these as raw, unfinished units, refining and signing them to their own desired standard. Yet Eterna, the division of the company that is involved with the supply of complete watches to be sold under the firm's own brand name, hardly advertises, is rarely noticed by the enthusiast and almost completely ignored by the casual high street buyer. To us, buying an Eterna is very much like purchasing a superb wine from a remarkable chateaux, but obtaining it in an unmarked bottle, without the presence of a prestigious label, and at a fraction of the normal price. Hence the comment earlier that vintage Eterna items are ideal choices for the thinking buyer, the individual that makes an informed purchasing decision on the basis of quality and engineering standard, rather than simply being influenced by the household name stated on a dial.
The style of this watch is currently the height of fashion, with the its oversized rectangular shape ( the watch has an eye catching width of 33mm and a bulky thickness of a hair under 10mm) being the epitome of 1960s retro chic. When we first purchased this piece we automatically presumed that it was of late 1960s origin, and was very surprised that the case back interior carries full British 18 karat gold import hallmarks for 1960. The condition of this case is literally almost perfect, with just the tiniest few imperfections that must be expected on any carefully used watch of this age. With this shape being so popular at present, we don't think that it is any exaggeration to suggest that this item would be perfectly convincing in a jeweller's window, advertised as a virtually unworn, six month old timepiece, produced in a period vintage style.
As well as its UK hallmarks, the case back interior is signed as "Eterna Watch Co, Swiss", as we would expect. However, more interesting is the tiny coded maker's mark of Baumgartner, unquestionably the most highly regarded Swiss case maker of all time, and a firm held in enormous reverence by serious collectors. In James Dowling's excellent reference book "Rolex Wristwatches, The Best of Time" it is stated on page 41 that "Baumgartner were the greatest of all the Swiss case making concerns, having made cases for every major company. The original Patek Philippe model 96 "Calatrava" cases were made by them, as were the famous rectangular clip back waterproof cases of the 1930s, supplied to everyone from Omega to Jaeger Le Coultre". This is the absolute perfect example of the situation mentioned in the previous paragraphs. Baumgartner manufactured the finest cases on earth, for the most highly regarded brands. They had no dual manufacturing standard, and the incredibly thick walled, weighty housing here was built by the same artisans who crafted cases for the houses mentioned above. Yet to buy a watch in heavy 18 karat gold, in this large size and very fashionable shape, by one of these other concerns, would be a very expensive exercise, certainly involving a sum in excess of £2500 GB pounds at the most conservative estimate, and realistically perhaps several thousand pounds more.
Dissecting this item further, a similar comment can be made regarding the beautiful original black dial, fully signed as "Eterna-Matic" and bearing the five balls emblem, this representing the five ball bearings in Eterna's brilliant self-winding movement design of 1948. Examining this carefully with a jeweller's eyeglass, we see the maker's mark of the Singer company, famous for supplying dials to every one of the houses mentioned in the previous paragraph for almost all their most famous models. Singer dials are superb, being considerably better finished and slightly more substantial that those of their competitors. Of vital importance when buying any vintage watch with a view to investment gain over the long term, the dial here is absolutely untouched and in the very best possible condition. Black dials do tend to fade with prolonged exposure to sunlight over many decades, but this one remains as dark as it did in 1960, and is effectively impossible to differentiate from that on a brand new watch. The original gold batons and alpha shaped hands are in superb order, their gleaming surfaces having just slightly dulled with the passing of forty-five years, but certainly not to an extent that would ever draw criticism, even from the most demanding collector.
We constantly repeating the mantra throughout our website descriptions that the most significant reason for buying a vintage wristwatch over its new equivalent will be its movement and certainly, this is the heart of any timepiece, either old or modern. Many wristwatch collectors are also classic car enthusiasts, and it is appropriate to assign the same importance to the movement in a wristwatch as it is to the engine in a motorcar. When starting to delve into the assessment and grading of movements, we enter territory that is alien to the majority of high street watch buyers. Almost every watch sold as a brand new item today is purchased on the basis of its aesthetic appeal and brand name, with very few buyers actually stopping to think about the quality and design of the internals that cause the watch to function. And more than anything else, an appreciation of fine micro-mechanics is the characteristic that differentiates the connoisseur of vintage wristwatches from almost every buyer of new timepieces. One certainly doesn't have to be a watchmaker to appreciate the beauty of old watches: from a personal perspective we would be the last people to ever consider trying to service one of our own watches, but almost inevitably, rather like developing an understanding of fine wine or Havana cigars, one is quickly inspired to learn about the various movement types and finishes. To wear any luxury watch, past or present, is a pleasurable experience, but to actually be familiar with the various aspects of its movement that make it so exceptional is enormously satisfying, and the thirst for detailed horological knowledge can be very addictive.
The movement in this watch is absolutely delightful, and is so representative of high grade watch making from this period. Originally designed in 1956 for the Centenaire model, calibre 1428 U was a flagship creation built to celebrate one hundred years of the firm's illustrious past. In common with the majority of early rotor driven automatic movements, this unit was effectively in two completely separate halves, an approach that would disappear throughout almost all the Swiss industry even by the early 1960s. Cautious about spending vast sums on the tooling needed to produce a new totally integrated self-winding movement, Eterna took an existing proven manually wound movement from their range and then screwed directly onto this a newly designed automatic module. These first generation rotor automatics are slightly agricultural in their execution, but are enormously charismatic and have the advantage of being exceptional easy to service, removal of the automatic module giving full unhindered access to the basic movement below.
In technical terms, this calibre had almost every refinement possible in 1956, boasting anti-magnetic shielding and Eterna's own ingenious shock resistance system, the presence of which is indicated by the calibre number being followed by the letter "U". Always tell tale signs of high quality, a Glucydur balance was used, this ensuring that the movement was effectively compensated against changes in temperature and the wheels are in beryllium bronze, this being used for its ability to resist wear. This is a 21 jewelled unit, with 15 rubies being present in the lower, timekeeping section of the movement and the remaining 6 being found in the rotor module. When we consider that the rotor itself spins on ball bearings, not jewels, it is quite remarkable that 6 stones were fitted in the upper half of the movement. However, Eterna promotional literature at the time makes it perfectly clear than all jewels present were functional, and not, as those sometimes found in the movements of lesser makers, there on a decorative basis to simply increase the "jewel count" for advertising purposes.
As one would expect from any vintage Eterna movement, the 1428 U performs superbly and was unquestionably the equal to any of the mechanisms offered by the firm's renowned competitors from the same era. It is worth noting that, such was the reliability and rugged nature of the 1428 U, Eterna used it as the building block for their calibre 1488 K, the movement used in their legendary Kon-Tiki model of 1958. This earlier movement has a running speed of 18000 half beats per hour, as opposed to the 21600 beat rate of the 1488 K, but is otherwise almost identical. Unusually for a rotor driven movement from this period, both these units self-wind in both directions, the rotor having a very low gearing to ensure that the slightest movement of the wearer's wrist is translated into replenishment of the piece's power reserve. Finish standard is exceptionally high, with all gear teeth having been individually bevelled and every screw head hand polished to a mirror finish. Again, it has to be said that to find this grade of traditional hand craftsmanship on a watch with a current worth of certainly less that £2000 GB pounds is simply astonishing. It would be very easy to spend three times this amount and purchase a piece with an ETA movement and a Baumgartner case, and have an item that was in no way superior in intrinsic quality than the watch here.
Regardless of its initial quality and finish standard, it is paramount to appreciate that if any piece of precision machinery is abused or neglected, it will rapidly fail to perform correctly. There is something of a presumption among many buyers that if a watch works, then it is automatically to be regarded as being in the best mechanical order. This is a dangerous presumption and far from being the reality. Particularly when routine oiling and cleaning is not carried out, corrosion will form on the gears and plate surfaces, this causing premature wear to the movement as a whole. This movement has been serviced every three years since new without fail, and as a consequence it works perfectly and is in superb condition throughout. The signature "Eterna-matic, Brevete ( this being the French word for "patented") , 21 Rubis" and the serial number 4394205 are stated, these standing out in 18 karat gold against a gleaming rhodium plated background. Even under high magnification, it is almost impossible to find any cosmetic fault with this unit, and to the naked eye, it looks like that in a brand new watch. Very importantly, the movement remains completely original, with no changed parts whatsoever and no evidence of any past repair work having ever been carried out.
We have fitted this item with a high quality crocodile skin type strap that is perfectly in keeping with its appearance. This is not a genuine Eterna strap, but it is almost identical to those supplied by the company in the late 1950s and early '60s, and is in mint condition, having never been worn.
Those readers who have followed this description from the beginning will be well aware by now that we are passionate fans of vintage Eterna pieces, strongly believing that they offer a degree of value for money that is virtually unparalleled within the collectible watch marketplace at present. In this large size, in solid 18 karat gold, and with an automatic movement of this quality, by any other of the top tier brands, this same specification would be at least triple the price of the item here. Eterna is a company with one of the most impressive histories of all the Swiss luxury horological houses, but because its reputation has always been as a movement supplier to the famous brands, and not as a purveyor of finished watches to the public, even today collectors are largely unacquainted with its superbly built production. Particularly in an age when internet use is almost universal and information is quickly disseminated via chat forums and dedicated bulletin boards, this position of Eterna as something of a forgotten classic simply cannot last. At present, this watch represents nothing less than a genuine bargain when compared to similar models by other makers from the same period, but it will be fascinating to watch this item's desirability rise over the next decade, as it certainly must do.
We have priced this watch at £1225 GB pounds. It is worth pausing for a moment to consider that for this amount, one couldn't even begin to buy an automatic winding watch in stainless steel from the majority of the high level bulk ETA movement customers, and it would be absolutely impossible to find a large gold cased example for this sum, even in 9 karat, rather than the 18 karat version here. This is one of the most astute vintage watch purchases we can think of, and ideal for the buyer who has done some research and wants the best possible quality, without the high expenditure that this normally involves. We genuinely cannot sing the praises of this item highly enough, and the next owner of this piece will be highly delighted with his purchase.
Price £1225 GB Pounds
Vintage Watch Brands
Vintage Watch Decades
Vintage Ladies Watches
Vintage Watch Bracelets
Swipwreek Straps
Travel Clock/ Pocket Watches
Home
About
Brand Overviews
By Decade
Reference
Contact Details
Telephone from the UK:
07453 734666
or 07428 051005
Telephone from overseas:
+44 7453 734666
or +44 7428 051005