Omega 14k gold rectangular with Tiffany dial 1964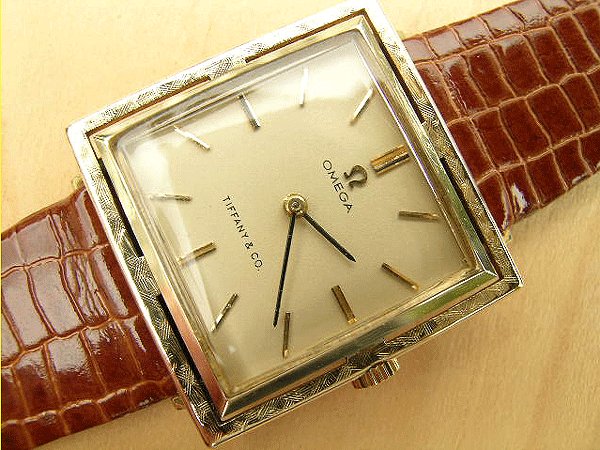 Actually from 1964, the look of this rectangular 14 karat gold gentleman's vintage Omega watch is extremely deceptive and it would be very easy to believe the piece was from the late 1930s or '40s. Manufactured for the American market, its case is remarkably distinctive, with a pierced fretwork effect around its outer edge giving a very oriental tone to the watch as a whole. Chinoisserie is a theme that occurred not infrequently in high level vintage wristwatch design, with notable examples being Cartier's Chinese tank of the 1920s and the beautiful Rolex models with so-called oriental lugs of the 1950s. Particularly in the early part of the 20th century, the East was still regarded as somewhat mysterious and exotic, and not surprisingly, firms like Cartier would play on this connotation when creating watch and jewellery designs.
The condition of this particular watch is literally almost perfect, to the extent that it would be virtually impossible to differentiate between it and a brand new timepiece. If one wishes to be excessively critical, it might be suggested that there are the very lightest imperfections caused by nothing more than gentle handling, but these are virtually invisible with the naked eye. Judged realistically, this item is as near to being absolutely mint as one could ever hope to find.
Internally, the snap on case back is signed "Omega Watch Co, 14k gold", together with the model reference D6650 and the serial number 682094. Rather irritatingly, while the case manufacturer's mark is present, we have been unable to decipher it as a consequence of most of our reference material being related to Swiss and English producers. The mere fact that this housing is in 14 karat gold is indicative of its American origin, 9 and 18 karat being the normal purity grades used in Europe and the UK. In common with almost all the American cases supplied for use with high grade Swiss movements, this one is of exceptionally high quality. So often, on cheaper watches, the cases are very flimsy, but this item has a solid weighty feel to it that is very reassuring. Bullion prices were very low in the early and mid 1960s, down almost 15% from where they had been in the immediate post-war years, and this must have been a factor as to why such thick heavy watch cases were made at this time.
Purist collectors will be excited by the double signed dial, with the name of the retailer that supplied the watch when new, Tiffany & Co, being stated beneath the standard Omega name. Double signed dials are a whole sub-genre of the vintage wristwatch scene, and increasingly are an area on which dedicated enthusiasts are focussing. Dials signed in this way are rare, and even the most mundane retailer's name will add considerably to the value of a watch as it would have been with a standard dial. In commercial terms, the pecking order in double signatures is established by the prestige or exotic nature of the retailer stated. Second only to those virtually impossible to find evocative retailer's names from colonial outposts like Shanghai, Madras and Cape Town, those of the elite jewellers like Cartier, Asprey and Tiffany are the most sought after of all.
Always check as many aspects of a watch as possible for consistency. Here, for example, the American made 14 karat gold case ties in perfectly with the piece's sale originally by Tiffany in New York. In short, if a major feature of a watch, as here, is a prestigious double signature, be sure that the specification of the model is correct for the time and place in which it was supposedly sold when new.
This dial is guaranteed to be totally original in every respect. It has never been restored and its Tiffany signature has been there since the piece was sold new in 1964. The condition of this dial is almost perfect, with the only possible criticism being that its surface has perhaps just slightly mellowed in colour from a bright white to a now marginally creamier shade. Genuinely all original double-signed dials are exceedingly unusual, and for every one that is, like this one, as it purports to be, there are several dozen that most definitely are not.
Both hands and winding crown are original and correct, the latter being signed with a large Omega emblem. A point that we hammer home constantly in our descriptions, detail is everything in defining a vintage watch as a high grade collectible rather than just a run of the mill, average example. It can be virtually impossible for the inexperienced buyer to recognise that hands have been changed, yet component substitutions of this kind have a vast bearing on market value. The watches for sale on this website are expensive, but in every respect are as they should be, and as such, are worth a premium on the basis that they will never provide their owners with any nasty surprises in the future if the decision is taken to part with them.
Introduced in 1960, Omega's handwound calibre 620, the movement in this watch, was one of the company's great success stories of the post-war period. This was still a "genuine" Omega movement, manufactured entirely in-house by Omega itself before the change over was made to using mechanisms purchased from the third party supplier ETA. These authentic Omega movements have enormous credibility with serious collectors and we would strongly recommend that if buying for investment, it is always wisest to acquire a watch that was manufactured before the move was made to non-Omega produced movements.
In keeping with the immaculate state of the rest of the watch, this movement is in almost mint condition. Its distinctive pink gold finish is bright and free from corrosion, and every component part is original. The signature "Omega Watch Co, Swiss, Adjusted Two Positions, Seventeen Jewels" is stated on the bridge plate, with the calibre number 620. Alongside the regulator is the individual serial number for this movement, 21141852. Falling between the two extremes of production for that year of 21000000 and 22000000, this clearly identifies the unit as having been manufactured in 1964.
A reflection on the fact that it has been serviced on a regular basis since new, this watch works perfectly. Omega will still undertake servicing of calibre 620 and we would recommend that future owners take advantage of this opportunity to obtain the finest quality maintenance at a surprisingly affordable price. If treated with care and cleaned and lubricated periodically, this watch will last almost indefinitely, sadly unlike its modern day mass-produced equivalents that are built around the concept of their intended life expectancy being only a decade or so.
This very attractive vintage Omega watch is for sale at £875 GB pounds. Even without the Tiffany & Co signature, there is no doubt whatsoever that in a physical specialist auction sale, this piece would sell for significantly in excess of this sum, and with this added benefit, its price here seems very reasonable. Even the most basic new Omega in stainless steel would cost more than this amount, and when we compare the much higher grade hand built movement in this vintage model to that in its new equivalent, its purchase makes extremely sound economic sense.
Price £875 GB Pounds
Vintage Watch Brands
Vintage Watch Decades
Vintage Ladies Watches
Vintage Watch Bracelets
Swipwreek Straps
Travel Clock/ Pocket Watches
Home
About
Brand Overviews
By Decade
Reference
Contact Details
Telephone from the UK:
07453 734666
or 07428 051005
Telephone from overseas:
+44 7453 734666
or +44 7428 051005