Bulova flip top retailed Tiffany & Co 1951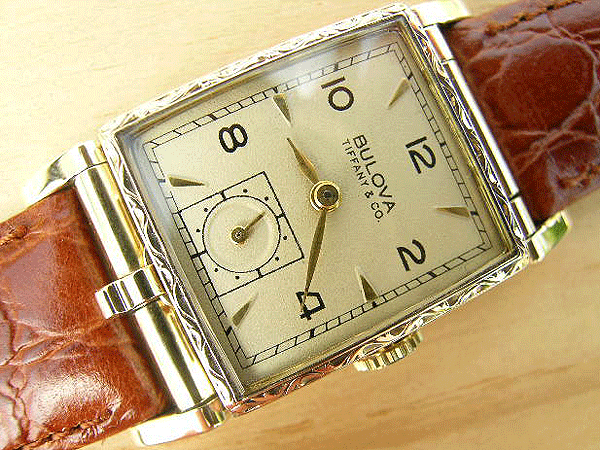 This beautiful 1951 vintage Bulova, retailed when new and signed by Tiffany & Co, is the perfect example of the wonderfully eccentric products that were offered by this important American house in the years following World War II. We have always been a great admirer of American market luxury goods and have long held the belief that in many fields, the high expectations of the United States buyer, coupled with an unprecedented wave of prosperity throughout the 1950s, led to models being sold there that were far more advanced than their nearest equivalents offered in old Europe.
We often make the point in our descriptions that in order to really understand vintage wristwatches, or indeed any other antique commodity, it is important to appreciate the social and economic climate in which each model was created. In the 1950s, especially in America, almost all eyes were on the concepts of progress and the future. World War II had ended, there was virtually no unemployment and the whole country had a feeling that things were going well. Almost unheard of before the War, the newly rich American middle classes wanted domestic refrigerators, televisions and luxury cars. The latter became almost iconic in their representation of America's success, with the most flamboyant finned body styles and huge capacity engines. Petrol was cheap, incomes were high, and every manufacturer sought to outdo its competition by introducing more ingenious creature comforts into its latest models.
This watch was designed in this same era, its selling point being that a separate canister holding the movement flips up from the case body on demand to reveal storage space, this being intended to hold a postage stamp or photograph of a family member. We find this feature extremely appealing, and wonder why it was never offered on any European market model. The idea of containing movements in their own sealed chambers that were separate from the rest of the case certainly wasn't a new one, the most famous model utilising this approach being the Reverso of the early 1930s, but Bulova pioneering in suggesting that the resulting space behind the movement could be used for storage.
Bulova was ideally placed to judge the taste of rich American buyers, the company, founded in 1875, effectively being split between its administrative base in New York and its movement manufacturing facility in Biel, Switzerland. When writing about this house, we never really know whether to categorise it as Swiss or American, but lean to the view that, because its products were so greatly influenced by demand in the latter country and almost exclusively sold there, that this second choice is probably the most appropriate one.
The condition of this case is, quite literally, almost perfect. In common with the majority of the major Swiss houses, Bulova shipped only uncased movements to the USA and then had these fitted with domestically manufactured cases. Particularly in the immediate post-war years, the American government was keen to promote the growth of the indigenous watch industry, and accordingly levied high import taxes on those timepieces bought from Switzerland to bias the market in favour of domestic producers. However, by importing only uncased movements, these not subject to such punitive duty rates, it was possible for American distributors to keep to cost of luxury Swiss watches down to a level that was still competitive in the marketplace.
The charm of this watch obviously lies in its unique flip-up case construction, and when buying any piece that has a number of pivoted or spring loaded parts, it must be clearly checked that these remain fully operational and free from wear. While used here in an innovative way, the concept of the sprung catch releasing a pivoted case component was not a new one, having been the defining feature of the hunter and semi-hunter wristwatches used by officers in the trenches of World War I. With any of these items, the hinge must be examined closely for evidence of past repair work, as many of these items have been roughly handled by previous owners over the years, sometimes with horrendous consequences. We cannot fault the operation of this case in any way. When pressed, the dedicated pusher at the 6 o'clock position releases the central part of the case, which in turn flips up smoothly. When replaced, the catch locks the hinged canister very securely, and there is no measurable wear play in any aspect of this mechanism.
Internally, this case is signed "Bulova, Fifth Ave, New York". On the outside of the movement retaining hinged housing, we find the serial number 4566197, together with the wording "10K Rolled Gold, Bulova, L1". Bulova had one of the simplest systems of date marking its output, and once again, in this respect it put its Swiss competitors to shame. We always include an exact year of manufacture in each of our descriptions, and this often involves quite a lengthy procedure of cross referencing published case and movement number tables with, if present, hallmark dates to arrive at a definitive conclusion. In contrast, to date a vintage Bulova couldn't be easier. Each case from 1950 onwards was assigned a letter and number, these representing, respectively, the decade in which it was produced and the individual year within this decade. In this instance, the "L" here represents the 1950s, with the "1" being the first year in that decade. So, for example, if we had instead found "M4", we'd know that the watch had left Bulova in 1964, or, say, "N7", in 1967 etc.
This is a very unusual item, and as such is ideal as an investment purchase. A theme that constantly reoccurs in our descriptions is the necessity of buying only genuine rare watches when purchasing with an eye to capital growth. Vintage watches per se are not rare. In any decade of the 20th century after 1920, almost everyone owned a wristwatch of some type, and it is a common mistake to presume that all of these are highly desirable, simply because of their age. In 2011, the majority of the population of the UK own a motorcar, but equally, virtually all of these are run of the mill utility models that will never be highly sought after, however long they are retained. Certainly, these early post-war Bulovas were of extremely high quality, but by choosing a rare variant, like this ingenious flip-top piece, an item will be acquired that is far more interesting than its more common contemporaries, and will appreciate in value at a faster rate.
If the design, rarity, and intrinsic quality will commend a particular model as being suitable as an investment vehicle, the condition and originality of a specific watch must be faultless in order for it to have its maximum theoretical value. More important than any other respect in defining worth is a piece's dial, and two watches of the same type with dials in different condition will have wildly disparate values. Similarly, a watch with a refinished dial, though appearing in mint condition to the untrained eye, is regarded as extremely undesirable. To purchase a watch purely on the basis of it being a rare model, with no regard to other factors, is extremely foolish, and, however desirable a certain type is, it must be in excellent order throughout and entirely unmolested to be considered worthwhile. Rather like classic cars from the same period, the number of non-original watches from the 1940s and '50s that exist today with changed parts and refinished dials is vastly greater than those that have been carefully looked after all their lives and are in genuinely original, near mint condition.
The dial on this watch is almost beyond criticism, which is particularly remarkable given it being housed in a rectangular case. By the early 1950s, the majority of circular wristwatches were at least water resistant, with threaded case backs that could be tightly screwed into place. The rectangular case doesn't lend itself to being effectively sealed, not least because it contains no threaded components. As a consequence of this, the vast majority of rectangular cased watches now have dials that are either deteriorated after exposure to damp or stained by dirt and dust. The totally original French white surface here is almost unmarked, with just the very slightest degree of fading from a once bright white to a touch creamier shade. The mixture of gold spearhead batons and Arabic numerals is classically art deco, and actually gives the watch a look that suggests its origin to be considerably earlier than the 1951 reality.
Beneath the Bulova name is the additional wording "Tiffany & Co". This famous New York retailer is universally regarded as being among the most prestigious of all jewellers, and acted as an agent for most of the top tier Swiss brands in the 1940s and '50s. Double-signed dials, those on which the retailer is stated alongside the manufacturing house, are rare and regarded as extremely collectible, with the additional value they impart being directly related to the glamour or connotations of the second name. Second only to the wonderfully evocative names of long forgotten jewellers in far flung outposts of the British Empire are the signatures, like this one, of high society retailers in London, New York or Paris. A point that novice collectors may find remarkable, the Tiffany & Co signature here will undoubtedly add at least 30% to the value of this watch as it would have been with a conventional singly signed dial.
When the press fit back is gently opened, a near mint example of Bulova's own in-house built Calibre 8AC movement is revealed. A tonneau shaped unit, the 8AC is undoubtedly one of the key mechanisms by this famous house, and is widely respected today. Few would argue that the 1950s represent the technical high point of the Swiss watch industry, and it is a pleasure to own a high grade movement from this period, combining the refinements that were introduced post-World War II with the same standard of traditional craftsmanship that had existed since the Edwardian era, but which was drastically reduced in the mid-1960s as a result of a need to cut production costs in an era of newly introduced quartz technology.
We are very much fans of vintage Bulova movements, and strongly believe that these are still undervalued at the moment. Studying this one under high magnification, it can be seen to have been beautifully finished, with the bridge plate edges having bevelled outer edges and decoratively polished top surfaces. A nice touch is the click, this being accessed through a small cut out in the plate, this enabling the mainspring tension to be reduced at a stroke for servicing. This is so typical of the ingenious refinements that one finds on luxury movements from the 1950s, the majority of which had ceased to be included by the mid-1960s as part of a general economy drive that, sadly, effected all the great houses.
It is worth noting that the 8AC was also offered in chronometer form, this being tested to 5 positions for accuracy and in 2 different extremes of temperature. Signed "Bulova Watch Co, USA, 17 Jewels", with no mention of additional certification, there is no suggestion that the unit here was ever submitted for observatory testing, but even so, it is telling of the quality standard present that it was certainly of a type capable of passing chronometer trials if required to do so.
Having been serviced on a regular basis since new, this movement is in the absolute pinnacle of mechanical health, gleaming brightly like that in a brand new watch. It is totally original in every respect, and has no changed parts whatsoever. Winding and setting are very smooth, and the watch works perfectly, running with excellent amplitude.
We have fitted the watch with a high quality crocodile skin type strap that is in superb condition, having never been worn. This is not a genuine Bulova strap, but is ideally suited to the obviously vintage theme of the piece, and certainly need not be changed in the near future.
In summary, this is an unusual early post-war piece with a quirky pivoting case by Bulova, in the most remarkable condition and sold originally by the world famous Tiffany & Co in New York. It is eminently collectible, and was manufactured to an extremely high standard for a very demanding American market. Something that perhaps we don't often consider when assessing elderly timepieces, this watch is also extremely useful even today, a modern British first class postage stamp fitting easily inside its internal storage area. In any field of antiques, curiosities and eccentricities by highly regarded makers are almost universally perceived as desirable, and they add both interest and value. Gauging the worth of this piece isn't easy, not least because we haven't seen another flip-up vintage Bulova for sale in the last decade. In Antiquorum's landmark sale "100 Years of Wristwatches", held at the Hotel des Bergues, Geneva on the 19th November 2000, a very similar early 1950s Bulova was included as Lot 201, but this was with a conventional, rather than pivoted, case, and did not have the Tiffany & Co dial signature. The pre-sale estimate for this item was $1400 US dollars, approximately £800 GB pounds, though we would have expected the eventual selling price to have been considerably higher. Deliberately keeping the price down to a realistic level and reflecting our low trading overheads in Yorkshire as opposed to central London, we are asking £785 GB pounds for this watch. For a model that is hardly ever encountered, and so obviously different, this amount represents very good value for money, particularly if we consider that nothing of the same intrinsic quality could be bought in a new luxury watch today for anything even remotely approaching this figure.
Price £785 GB Pounds
Vintage Watch Brands
Vintage Watch Decades
Vintage Ladies Watches
Vintage Watch Bracelets
Swipwreek Straps
Travel Clock/ Pocket Watches
Home
About
Brand Overviews
By Decade
Reference
Contact Details
Telephone from the UK:
07453 734666
or 07428 051005
Telephone from overseas:
+44 7453 734666
or +44 7428 051005