Movado Calendograph complicated day/date steel 1939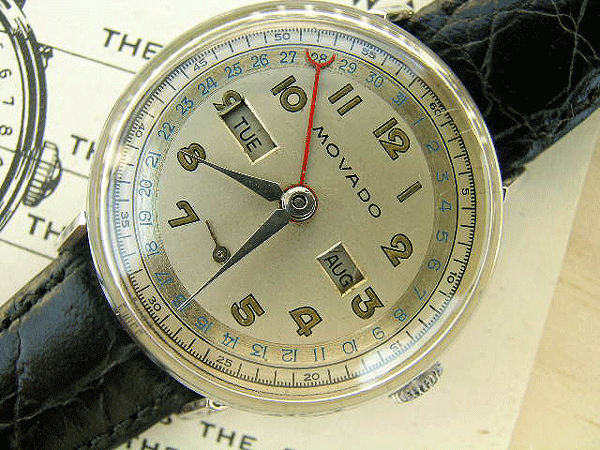 We have an enormous fondness for vintage Movado watches and will happily argue until the cows come home that the quality of these was unquestionably the equal of that by any other of the top tier Swiss houses during the industry's golden years. Founded in 1881, the marque has a long and distinguished heritage, but it is the sheer uniqueness of its approach and the pioneering spirit that manifested itself so often in Movado's work that is so appealing. If we think of Rolex, Omega, Jaeger LeCoultre, IWC, Longines and Zenith, every one of these brands has its own unique character that sets it apart from its peers. In Movado's case, this defining trait was innovation, and the company registered over thirty five mechanical patents during the inter-war years, not to mention some wonderful ideas for new products, these including oddities such as, in 1909, cufflinks containing chronometer rated watch movements, and in 1951, drawings for a precious metal telephone with two watch dials, these for the instant confirmation of the time in two different parts of the world when making international calls. Movado was brilliantly innovative and combined its visionary characteristics with those of other similarly minded concerns. The flamboyant high society Parisian jeweller Cartier was a major consumer of Movado watch movements in the inter-war years and shared its supplier's love of quirky, very high quality products.
Any serious collection of high level vintage wristwatches would be glaringly incomplete without the inclusion of at least one period Movado offering, though in truth, the firm had so many fascinating and important models that choosing only one watch to represent at least half a century of constant excellence would be far from ideal. If we were forced into a corner and had to acquire only a handful of classic Movado models, these would unquestionably include a Calendograph, the beautiful watch offered here. In production from 1938 to 1951, this complicated timepiece, with date, day and month displays, is the perfect sample of vintage Movado at its very best. This model looks wonderful, is built to a mouth-watering quality standard, has a in-house movement the design of which is unique, and is of historical importance.
As a consequence of it being universally appreciated as a highly sought after rare vintage timepiece, a completely original Calendograph is expensive today, but at the same time will always appreciate in value at a predictable, steady rate in the future. We can regard the Calendograph as being something of a blue chip investment within the vintage watch world. A piece that is so well established is very unlikely to be bought as a bargain, and well preserved Calendographs are rarely offered for sale now, but at the same time, the worth of these watches is clearly defined and will never dip in the future.
Dating from 1939, the year that World War II broke out in mainland Europe, this is almost certainly the best-preserved Calendograph that we have had the pleasure of owning. Its gleaming stainless steel case remains in almost perfect condition, with just the slightest few imperfections that must be expected on even the most carefully worn watch of this age. Internally, the superbly decorated case back is signed "FB Patent, Movado Factories, Switzerland, Fabrication Suisse", together with Movado's famous emblem, a pocket watch held in an open palm, and the model reference for this watch, 2577-20.
This signature is worthy of brief comment. The "FB Patent" indicates that this housing was manufactured for Movado by the Francois Borgel company in Geneva. Borgel was without doubt the most important case making concern in the inter-war period, and manufactured the highest possible grade of housings for almost all the major Swiss luxury houses including Omega, Longines, Patek-Philippe and Vacheron Constantin. This firm was particularly instrumental in the development of the early waterproof wristwatch, and if the various rare sealed pieces that we currently have offered for sale on our site are inspected, it will be seen that the majority of these had Borgel cases. It would be very interesting to know which aspect of the case here was protected by patent grant. Though beautifully executed, the actual construction of this component is very traditional, so we may safely assume that the registered feature was the recesses in its winding crown case side, these taking two pushers that control the month and date displays respectively.
The completely original two-tone dial here is gorgeous in the extreme, and is very complex. Around its outside edge is a single minute track, calibrated to fifth of a second intervals. Inside this is are the numerals 1 to 31, these obviously representing the calendar days in a month and, in the lighter coloured central area, we find the Arabic hour numerals. While just very slightly aged, this dial is in almost perfect condition, with all the numerical detail, and the signature "Movado" being crisp and well defined. Over the years we have noticed that the dials on complicated watches like the Calendograph tend to deteriorate far more over the same length of time than their simpler counterparts. While the samples we have seen may not be representative in any meaningful sense, it does seem to make sense that a watch with additional apertures in its case to hold various pushers, additional winding crowns etc is likely to be more vulnerable to damage caused by the ingress of dust, moisture etc. To find a completely original, near mint dial on a complicated watch from the 1930s is quite extraordinary, and certainly the presence of this item will have a major effect in enhancing the piece's worth as a collectible. The four hands are original and in superb condition, the red calendar hand being so coloured in order to distinguish it at a casual glance from the chromed hour and minute pointers.
The Movado Calendograph is an exceptional item on many levels. It is visually very attractive and certainly rare, but the most compelling reason to purchase one of these superb watches must be its calibre 475 movement. Built completely in-house by Movado, with no use of any parts purchased from external suppliers, the 475 is a true "manufacture" mechanism in the strictest sense. Absolutely unique in this aspect, the 475 is particularly interesting on account of the day, date and month complications being all contained within a separate module, this having its own bridge and being totally separated from the time keeping section of the movement. No other full calendar mechanism has been executed in quite this way, making the Calendograph of enormous interest to those researching movement design and construction.
In technical terms, the 475 is a 12 ligne movement running at 18000 half beats per hour, hand wound and with 15 jewels, these being set in individual screwed chatons rather than being simply press fitted into place. Like all Movado products from this era, its quality is beyond criticism, and the standard of finishing present here is equal to that found on movements by any of the other famous top tier houses. It should be appreciated that in the 1930s, when this mechanism first left the company's plant in La Chaux de Fonds, complicated movements like this one were built, one at a time, by hand in the traditional, time honoured way. When one buys a vintage watch of this quality, it is absolutely true to say that this is a craftsman made product, honed and refined to perfection rather like a traditional London shotgun or bespoke pair of John Lobb or Cleverley shoes.
Unlike today's luxury watches that are almost entirely machine made, the pinions and gears in these delightful vintage mechanisms were manufactured with hand-operated tools, which allowed a vast amount of individual expression to creep into each unit produced. A point that often amazes novice collectors, it is worth occasionally trying to see two high-grade mechanisms of the same calibre from the inter-war years side by side to study the variation in their finishing. While the basic architecture of these movements will be the same, with an eyeglass it should be possible to spot slight differences between the two, typically a slight degree of extra filing somewhere or a variation in the extent to which a screw head has been polished with a boxwood disk. In an age when almost everything we buy is mass produced in a soulless way, it is remarkable and inspiring to think that these superb vintage movements were built by incredibly skilled individual craftsman who took an enormous pride in the superlative standard of their laborious work. Vintage wristwatches are not only much better investments than their modern counterparts, they are also innately technically superior, and this point should not be forgotten.
It goes without saying that this particular movement remains in almost mint condition throughout, and has no changed parts. The signature "Movado Factories, 4 Four Adjustments, Swiss Made" remains instantly legible on the gleaming bridge plates and there is not even the slightest degree of incipient corrosion present anywhere here. When buying a Calendograph, try if possible to locate an early example, like this one. The changeover point is difficult to identify exactly, but we would estimate that sometime in 1947, Movado no longer tested the 475 to the accuracy standards of these beautiful early units, almost certainly because it was no longer viable to do so in an era of post-war austerity. Having been individually tested in four positions for accuracy, the movement here is almost of a chronometer rated standard, the minimum requirement for full Swiss observatory certification being timed assessment over fifteen days in five different angles of elevation.
We often include the comment that regardless of the initial quality of a movement, this must be purchased today in as near to perfect condition as can be found if reliability is to be acceptable. Due to their superb build quality and rugged nature, vintage Movado movements are very dependable if excellently preserved, but like the most exotic motorcar that is deprived of servicing, they will become worn and unreliable quickly if neglected. Having been serviced regularly throughout its life regardless of expense, this movement works perfectly, its calendar functions setting smoothly and precisely, with no play or backlash whatsoever. When buying a complicated watch like this one, it is absolutely vital that every feature works perfectly, as restoration work on an item of this type can be prohibitively expensive.
There is no reason at all why a superbly preserved vintage Movado Calendograph will not be permanently reliable in the future if serviced every three of four years, but an example in poor order, partially functioning and badly worn, will be a source of enormous frustration and considerable ongoing expense. The watch here will be expensive, largely because very few early Calendographs survive in this investment grade condition, but the state of its movement is not incomparable to that in a brand new watch, and is worth paying a significant premium to obtain.
We have fitted the watch with a high quality crocodile skin type strap that is identical in appearance to those shown in Movado's brochures of the late 1930s. Though not a genuine Movado strap, this item remains in perfect condition, having never been worn.
We hardly ever see unmolested Calendographs for sale today. Those examples that do survive are nearly almost worn out, with either very discoloured or refinished dials, but this one is virtually perfect throughout, making it the ideal choice for the buyer looking for a rare vintage timepiece as an investment. The British wartime Prime Minister Winston Churchill wore a Calendograph, from 1946 and with exactly the same calibre 475 movement present in the watch offered here. His watch is shown in a series of spectacular colour plates on page 190 of Fritz von Osterhausen's book "Movado", and while obviously of enormous value on account of its provenance, is ironically in considerably poorer condition that this example. The Churchill Calendograph was sold in a specialist horological auction in London in 1992, where it was purchased by an anonymous private collector.
The artist Andy Warhol is well documented as having been a passionate Movado collector. Along with six of the firm's beautiful Ermeto clocks ( an example of which can be seen by clicking the "View seller's other items" link above), two rare Ermeto chronometers and a red lacquered Ermeto, a 1940 Calendograph, almost identical to this one, was included in the April 1988 sale of Warhol's possessions held by Sotheby's in New York.
In our archives of vintage publicity material, we have a lovely old Mappin & Webb advert for the Calendoplan from 1949. The watch shown is a later version than our piece for sale, with a screw back waterproof case rather than the earlier snap back type here, but is otherwise very similar. The retail price of the model in stainless steel is quoted as 21 pounds and 16 shillings, which meant that it was a direct competitor to a steel Rolex Oyster at the time, both having almost exactly the same price tag. We have used this advert as the background for the photographs with this description and will gladly include a photocopy when we send this item out to its purchaser.
If offered in central London specialist vintage watch dealer's window, this delightful item would be a very expensive purchase, certainly carrying a price tag of several thousand pounds. Browsing through old Sotheby's and Christie's catalogues, we can see that even back in the mid-1980s, tidy steel Calendographs were selling for around a thousand pounds at a time when Movado pieces were still significantly undervalued when compared with their equivalents by the other major Swiss houses. Today this is no longer the case, and vintage Movado watches for sale in superb order command very high prices worldwide.
In the book mentioned above, Movado by Fritz von Osterhausen, ( page 180) it is stated that "six or seven years ago, certain complicated wristwatch models from Movado achieved a high level of recognition – eg the Calendomatic, Calendograph, Chronoplan and Celestograph. Suddenly prices on the auction market increased considerably for these models, without any discernable reason". This book was published in 1996 and certainly since then, the Calendograph has increased steadily in price and become ever increasingly difficult to locate. We have priced this watch at £1575 GB pounds, a figure at which is represents remarkably good value when we consider its age, its mechanical complexity and its stable future potential as an already well established rare collectible.
Price £1575 GB Pounds
Vintage Watch Brands
Vintage Watch Decades
Vintage Ladies Watches
Vintage Watch Bracelets
Swipwreek Straps
Travel Clock/ Pocket Watches
Home
About
Brand Overviews
By Decade
Reference
Contact Details
Telephone from the UK:
07453 734666
or 07428 051005
Telephone from overseas:
+44 7453 734666
or +44 7428 051005