Movado Tempomatic steel. First Movado automatic 1945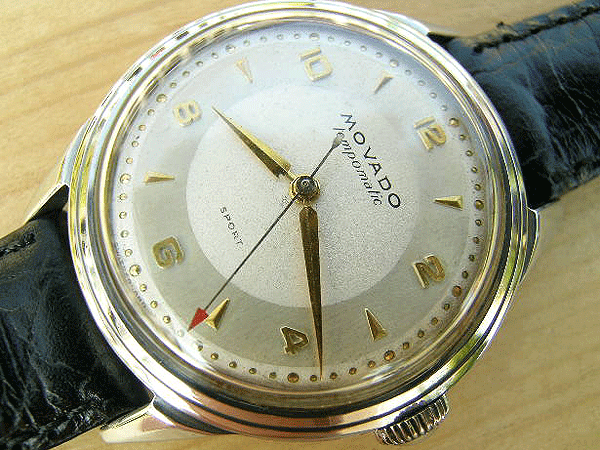 Anyone who browses this site on a regular basis will be well aware of our fondness for the output of the Movado company. Founded in 1847 by Achille Dittesheim, this remarkable concern was one of the true innovators of the vintage period. Movado watches tend to have a slightly quirky flavour that we find very appealing, but were, without exception, built to the highest possible quality standard. Very unusually within the Swiss watch industry, the company actually designed and built its own movements entirely in-house without the use of any components from third party suppliers. This uniqueness has traditionally made Movado models extremely interesting to collectors who appreciate them not only from a cosmetic perspective, but also from a technical angle. It could be said that vintage Movado pieces are probably more favoured for public display in museums than those by any other brand, and good representative samples can be found in London's Victoria and Albert, the Musee International d'Horologerie in La Chaux de Fonds and the Sezon Museum of Art, Tokyo. The celebrated artist Andy Warhol passionately collected vintage Movado watches, and Winston Churchill, known for his connoisseurship and appreciation of the luxurious, chose to wear a Movado wristwatch.
The watch for sale here, a gentleman's Movado Tempomatic in stainless steel dating from 1946, is particularly significant to the collector on account of this model being the first by the company to be equipped with a self-winding movement. Movado had registered a patent for an automatic calibre in 1943, but first released this on a commercial scale in 1945, the year before this watch was manufactured.
The condition of this piece is virtually perfect, and it seems a reasonable assumption that it has only ever been worn on a very infrequent basis in the past. It would be an exaggeration to describe the watch as being literally brand new and if one looks very closely with an eyeglass there are a few tiny imperfections here and there. But in realistic terms, this is as near as anyone will ever get to finding a mint 1940s Movado and will satisfy even the most exacting purist.
The large case is constructed around classical lines, with a separate bezel and case back. This latter component is threaded and screws down onto the case body, suggesting that Movado intended to market the Tempomatic as a waterproof model. Importantly, there is no pitting whatsoever to the case, even when this is studied under high magnification. Early stainless steel was effective against rust, but often suffered badly from corrosion when exposed to the acids contained in perspiration. The buyer of this watch need have no concerns of this kind, and this case is superb in every way.
Internally, the case back is signed with the wording " Movado Factories, Switzerland, Fabrication Suisse", together with the Movado emblem of an upturned palm holding a pocket watch. Also here is the famous "FB Patent" stamping of Francois Borgel, without doubt the most highly regarded case making concern in Switzerland during the industry's golden period. Based at 17 Rue Coravin, Geneva, the Borgel company initially rose to prominence in the World War I era after the creation of its brilliantly ingenious patented moisture resistant cases, but throughout the 1940s and 50s was undoubtedly finest of all the case makers. Borgel cases were used by Patek-Philippe, Omega, Jaeger LeCoultre and Rolex, and the owner of a watch like this one can be absolutely sure that however much money he spends, he will not find any case produced and finished to a higher standard.
Almost uniquely, Movado case reference numbers were not simply allocated at random, but can be deciphered to reveal what a case is made of and, better still, what calibre of movement would have been fitted in it when new. To the serious modern day collector, knowledge of this numbering system is nothing less than a Godsend, because it enables a potential purchase to be checked for authenticity with just a few minutes effort. The amount of swapping and changing that has taken place with a high percentage of the vintage watches on the market today is astonishing, and there are infinitely more wildly incorrect examples for sale than those that are capable of withstanding expert scrutiny. The informed Movado buyer is capable of checking that at least the movement in a watch being considered is of the appropriate type for the case housing it, and being able to do this gives him a huge advantage over enthusiasts of other Swiss brands.
The model reference 16191 is stated inside the case back below the serial number A232398. When a Movado model reference has four digits, we can be absolutely sure that the watch on which it appears has an 18 karat gold case. If the case is in anything other than 18 karat gold, the material used will be identifiable by a fifth digit placed at the front of the model reference. So, for instance, if the model reference in this watch had been simply 6191, we would have instantly known that it had an 18 karat gold case. The "1" in front of the four digit model reference informs us that this is in stainless steel, one being the identification digit for steel Movado housings at this time.
Taking our investigation a stage further, we can consult the table reproduced on page 195 of Fritz von Osterhausen's book "The Movado History" to cross reference the model number with the type of movement that should be present. Here, 16191 is shown as being fitted with a calibre 221 movement, this being the mechanism in the example here. While very simple, such checks are so worthwhile when one is attempting to acquire watches of a very high standard for serious investment.
Finally on this theme, notice that the serial number inside the case back, A232398, or rather its last four digits, is repeated exactly between the upper lugs on the case body, this confirming that these two components started life together when new. The amount of component swapping that has gone on in the vintage wristwatch world over the last twenty years is almost unbelievable, and basic checks like this one are superb ways of ensuring that a potential purchase is essentially as it should be and not a concocted marriage built up from spare parts in order to fool the uninformed.
Experienced vintage watch collectors will be well aware of the direct correlation between dial condition and originality and market value. More than on any other aspect, antique wristwatches are judged by their dials. A good untouched original dial will always be extremely desirable and conversely, a freshly restored dial, though appearing to be mint, will actually reduce the worth of a watch by typically 40%. Though it may seem bizarre to the newcomer, the fact is that many hardened aficionados are almost dial, rather than watch, collectors in the same way that bibliophiles attach far more importance to the dust jacket of a valuable first edition book than they do to the actual book itself.
This dial is a gem, and is completely original. It has never been tampered with and has certainly not been restored. Its French white surface is virtually perfect, with just the very slightest touch of yellowing that is hardly discernible with the naked eye. Appealingly, this is a two tone item, with the central area inside the numerals and markers just a slight touch lighter than the section around the outer edge of the dial. The signature "Movado, Tempomatic" is stated above the dial centre, with "Sport, Switzerland" appearing below. This reference to sport is interesting and is something that we have seen on some other Movado models from the same era. We would guess, and we don't know this for sure, that this identifies a version on which there is some form of water resistance, this denoting a watch that would be more suited to rigorous outdoor pursuits and a harsher, more active lifestyle.
Both gilt hour and minute hands are original, as is the silvered second hand. The latter item is notable on account of its very distinctive red triangular tip, this making it far more legible than it otherwise would have been. It is worth remembering that in 1946 when this piece was new, centre second hands were still not the norm, and that the majority of wristwatches had subsidiary seconds registers located above their 6 o'clock positions. Manufacturers would make a deliberate point of mentioning centre second hands in their promotional material and, as here, add distinctive embellishments to make these stand out against a dial. Interestingly, when sweep second hands made their first tentative appearances in the early 1930s, they were suggested as being ideal for purchase by members of the medical profession, the ease with which they could be consulted making it simple to monitor a patient's heartbeat over a sixty second period.
The movement inside this watch is calibre 221, a self-winding unit that was built according to the bumper principle, by which a pivoted weight rocked forward and backward along a limited arc of travel, unlike later automatics on which a rotor arrangement was given the freedom to turn through a full 360 degrees in both directions. The bumper nickname for movements of this type comes from the "bumping" of the weight as it bounces backwards off the buffer springs.
In common with all Movado movements, the 221 was produced entirely in-house and was a unique creation of its manufacturer. The standard to which this mechanism was built is second to none, and it can be said without exaggeration that one could spend far more on a vintage watch from the same era and acquire a movement that was in no way superior to the one here. At the time of its release, the 221 met with much praise when reviewed in the trade press. In his article "Complicated watches and their repair", Donald de Carle wrote in the June 1953 Horological Journal that the 221 was "a simple, clever and very well designed movement". In technical terms, we could consider the 221 to be a close relation of the first ever automatic movement built by Englishman John Harwood in 1928. Looking at examples of both here side by side as this is written, the strong influence of the Harwood on the Movado is immediately obvious, though the latter is more refined and has been finished to a higher cosmetic standard. An interesting difference between the two is the much enlarged barrel size on the Movado, this enabling the 221 to have a power reserve of 56 hours, this being unusually long for any early automatic movement.
This particular movement is in virtually perfect condition, and is entirely original in every respect. Not one component has ever been changed, and the whole unit gleams brightly. "Movado Factories, 17 Seventeen Jewels, Swiss Made" is stated on the oscillating weight, with the calibre number 221 stamped next to the regulator. There is no corrosion here, and the collector looking specifically for an example of an early classic Movado automatic would have to search long and hard to locate another in a comparable state of preservation. Having been serviced regularly throughout its life, this movement works perfectly and, provided it is routinely cleaned and re-lubricated every three or four years, will survive almost indefinitely. It is important to appreciate that unlike today's models, watches like this one were sold originally on the basis that they would be possessions for life. It was assumed in the 1930s and '40s that when one bought an expensive watch by a prestigious maker, it would last for many decades. It is quite realistic to buy an example like this that has been well cared for in the past, even as a seventy year old watch, and wear it regularly for the same time span again.
We have fitted this watch with a high quality crocodile skin type strap that is perfectly in keeping with its upmarket vintage appearance. This is not a genuine Movado strap, the original having disintegrated decades ago, but it is virtually the same as the items fitted new to the Tempomatic model just after World War II and certainly need not be changed.
For those with access to a comprehensive horological library, it is worth mentioning that there is a full page (p. 129) colour picture of a steel Tempomatic in Fritz von Osterhausen's book "The Movado History". This is certainly in no better condition than the one here, though is slightly later, with a manufacture date of 1950.
A similar Tempomatic is shown in colour on page 300 of Gisbert Brunner's book "Wristwatches".
This watch stands as the perfect illustrative example of what remarkable value for money can be obtained, even now after prices have risen enormously over the last decade, in vintage timepieces. We have priced this watch at £575 GB pounds. It is very easy to lose sight of the fact that for this modest amount, the purchaser is acquiring an entirely hand built item with an in-house movement, built by a manufacturer that was deemed good enough to supply mechanisms to Cartier, the famous high society French jeweller of the art deco period, in the inter-war years. Today, this figure certainly wouldn't even begin to cover the production cost of a movement finished to this standard, and a direct side to side comparison between this mechanism and its nearest equivalent in a modern mass-produced luxury watch of similar monetary value would prove painfully embarrassing to its current counterpart.
This item was created in an era when high grade watches were sold on the basis of technical merit and engineering standard, not celebrity endorsement and glossy advertising, and when critically analysed, the sheer amount of beautifully crafted engineering to be bought for so little money is quite astonishing, not to mention the fact that unlike its brand new equivalent, this already collectible piece will rise in value year after year. Good, all original vintage Movado watches are not cheap, but they are still woefully undervalued when compared to others by the firm's closest competitors, and because of this, we regard them at present as being excellent investment opportunities.
Price £575 GB Pounds
Vintage Watch Brands
Vintage Watch Decades
Vintage Ladies Watches
Vintage Watch Bracelets
Swipwreek Straps
Travel Clock/ Pocket Watches
Home
About
Brand Overviews
By Decade
Reference
Contact Details
Telephone from the UK:
07453 734666
or 07428 051005
Telephone from overseas:
+44 7453 734666
or +44 7428 051005