Dunhill London art deco duo-dial doctor's 1931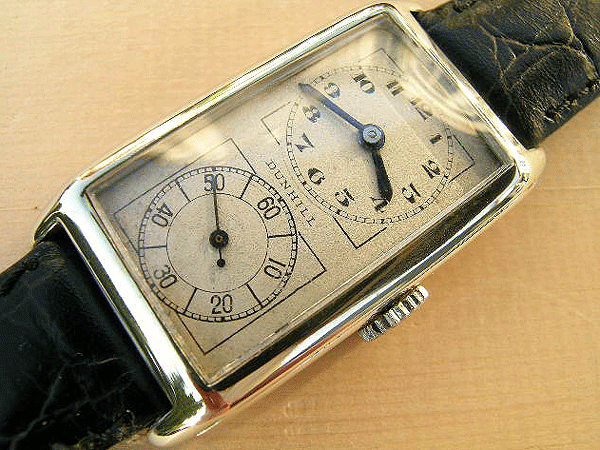 As an enduring art deco icon that is evocative of the 1930s, the vintage doctor's watch is unsurpassed in the horological world. Experienced collectors will already be familiar with this style of timepiece, but for newcomers it is worth explaining that this term refers to the separation of the second hand into its own independent section of the main dial. There were many rectangular watches produced in the 1930s, and a simple subsidiary seconds counter contained within the perimeter of the main dial does not qualify them as doctor's watches. In order to be correctly described as such, the second hand must be entirely apart from the hour and minute hands, as it is here. Another commonly used term for this type of watch is duo-dial, though doctor's watch seems to have gained prominence over the last fifteen years.
Having established what defines a vintage doctor's watch, it is worth commenting on why this format came about. Originally, the idea was that a medical man would find it much easier to track a patient's heartbeat over the usual minute period when the second hand was boldly displayed on his watch. The small subsidiary seconds registers found on conventional models were difficult to read at a glance and not ideal for this purpose. By creating a totally separate register for the seconds and setting it apart from the standard time keeping aspect of the watch dial, the doctor could tell instantly when a minute period had elapsed, without squinting or even removing his watch from his wrist.
While most collectors accept this as the origin of the doctor's watch term, there is another school that suggests that this came not from the specification of the watches themselves, but from a piece of Rolex advertising that suggested that its duo-dial Prince model was an ideal gift of appreciation that could be bought for a doctor after safe recovery from a serious illness or similar incident. Duo dial models were expensive when new and certainly would have been given as rewards in this way, but it seems a bit fanciful that this alone would have earned them this title. The fact of the matter is probably that in reality, both theories have some truth in them. Doctors found the enlarged second hand useful for their work, and the overall attractiveness of these models made them ideal as exotic gifts to those who had served wealthy families well in times of dire need.
The doctor's watch trend started with the launch of the Rolex Prince in 1928. In the eyes of the collecting fraternity, the Prince is still the archetype of this concept and good examples with original dials will command high prices when they appear for sale today. As with all commercially successful designs, the Prince spawned imitators and within the space of two years, almost all the top tier Swiss houses were offering their own version of the duo-dial theme.
This particular watch dates from 1931 and was signed and retailed by Dunhill in London. Founded in 1902 as "Dunhill Motorities", this Conduit Street concern had initially begun life as a specialist in accessories for the new car owning class, but quickly diversified into supplying an extremely well heeled clientele with quirky items that were tailored to fit their leisured lifestyle. Watches were an obvious choice of product to carry the Dunhill name, and were first introduced to the company's range in 1927. By the time this watch was on display there, Dunhill had become a favourite location for the celebrity elite of the era. Jeeves and Wooster creator PG Wodehouse was a regular buyer, as was Ivor Novello and a whole host of international royalty. In 1933, two years later, the Duke of Windsor, soon to become the Prince of Wales, granted Dunhill his royal warrant.
With the exception of some very minor degree of ageing to its dial, this watch is almost perfectly preserved. It would have been a substantial luxury purchase when it was new and, probably because of its high cost, looks to have only ever seen occasional use. Its elongated case measures 41mm x 21mm, making it almost exactly the same size as a straight sided Rolex Prince ( the Prince is 41mm x 20mm). Indeed, the similarity between these two watches is so great that even from a distance of a few centimetres, they could easily be mistaken for each other.
The stainless steel case has a very attractive repeating art deco motif impressed into its sides. This is subtle, but adds appeal when the watch is held in the correct light. If one looks closely enough with a magnifying eyeglass, it will be possible to find tiny imperfections to the case here and there. These are virtually invisible though, and a better example has probably not survived. The case back is hinged to the case body, and this hinge is in excellent order. At no time has it ever been broken and re-soldered. It may seem excessive that we go into such detail in our descriptions, but in fact, this is of great importance. At a lower level of the market, where buyers are acquiring relatively inexpensive items primarily to wear, these aspects are not so significant. At a higher level, where collectors spend greater amounts with a view to investment, condition and originality are very relevant and any discrepancies will equate with far less desirability and commercial worth.
The appeal of the doctor's watch lies in its elongated length and instantly recognisable dual dial format. On any vintage wristwatch, dial condition and originality are of paramount importance, and this is no less true in the case of one of these models. Anyone buying a doctor's watch is likely to be a collector rather than just a casual browser, and accordingly will be very dial critical. This dial is totally original and in very good condition. It has never been restored and is completely untouched. A so-called "restored" dial has been completely stripped down to its bare surface and then refinished, with the final stage being the application of printing that looks superficially the same as that which was there in the first instance. The restoration process will create a mint looking dial, but rob the piece of any claim to originality that it might have had and reduce its value by at least 40%. Sadly, while this situation is well known to experienced collectors, it is often conveniently forgotten when discussing potential purchases with newcomers to the field. When buying for investment, a dial must be original and in excellent order.
This French white dial is completely original and in very good condition. To describe it as being mint or near mint would be incorrect on account of there being a small degree of deterioration to the dial surface. This certainly isn't a major problem, far from it, and the dial is still exceptionally attractive, but it falls short of perfection and this must be mentioned. Not being waterproof, the rectangular watches of the inter-war years tend to be vulnerable to dial staining by dust and moisture. Finding an untouched doctor's watch from this period with an original dial is not an easy task, and the majority that have been pictured in Sotheby's and Christies auction catalogues over the last fifteen years have had dials that were far worse than the one here. In reality, as regular buyers are well aware, we have a deliberate policy of exaggerating any negative aspects of a watch, and the next owner of this piece will probably struggle to notice the discolouration to its dial unless he looks very closely through an eyeglass.
The signature "Dunhill" appears between the two dial sections, with "Swiss Made" stated along the bottom edge. In classic doctor's watch style, the numerals and format used for the upper and lower sections of the dial are markedly different, making the separation between the two even more obvious to the eye. The blued steel hands are totally original and are in excellent condition, with no corrosion to their surfaces. The large diameter flat winding crown is also correct for this model and has never been changed.
While Dunhill was never a manufacturer of watches, it would have only ever considered ordering products of the highest quality standard to carry its name. The movement in this model is of a very high grade. Interestingly, it bears a close resemblance to the HW movement ( the initials of Hans Wilsdorf, the company's founder) used in many rectangular Rolex watches of the 1930s and I would suspect that its design was strongly influenced by the Rolex mechanism. For those with access to a comprehensive horological library, a large colour plate of the HW movement is shown on page 179 of Shigeharu Aritake's book "Rolex Scene 1913-1997".
The condition of this movement is effectively indistinguishable from new. The rhodium plated finish to the plates sparkles, and the brass wheels are free from dulling. Even when viewed under high magnification, the screw heads are perfect and don't have the slightest bit of chewing from screwdriver engagement. Having been serviced on a regular basis, this movement works perfectly, winding, setting and running very smoothly. Nothing about this unit has been changed since it was new, and provided it is treated with care and well maintained in the future, it will continue to perform faultlessly for many more decades. When it was new, this wasn't sold as a novelty purchase to be worn for a few seasons but was an expensive timepiece intended to last a lifetime. While beautifully engineered and finished, movements like the one in this watch are both robust and actually very simple, these characteristics clearly contributing to their potential for extreme longevity.
We have fitted this watch with a high quality crocodile skin type strap. Having never been worn, this strap is in mint condition. This isn't a genuine Dunhill strap, but it is very similar to those shown in Dunhill's period advertising of the time on models similar to this one.
The price of this watch is £1075 GB pounds. While this isn't a trivial sum, it does represent very reasonable value for money. Even the shabbiest, battered Rolex Prince in stainless steel couldn't be bought for five times this amount, and when the two units are compared side by side and critically assessed for quality, the truth is that there really isn't a great deal to choose between them. There are compelling reasons to add early Dunhill pieces to a portfolio of watches for investment at this time. Curiously, seemingly on account of its eccentric "Englishness", Dunhill has become the most sought after luxury watch brand in China, which bodes well for the investment potential of the company's vintage output. At present, the Chinese are in the early stages of becoming educated about the elderly wristwatch as a collectible but Antiquorum's recent sales in Hong Kong have been tremendously successful, indicating that there is enthusiasm. It seems likely that the country will have a growing influence on values in the future as newly rich buyers there become more sophisticated in their tastes and move on from brand new models into an appreciation of the old classics.
Price £1075 GB Pounds
Vintage Watch Brands
Vintage Watch Decades
Vintage Ladies Watches
Vintage Watch Bracelets
Swipwreek Straps
Travel Clock/ Pocket Watches
Home
About
Brand Overviews
By Decade
Reference
Contact Details
Telephone from the UK:
07453 734666
or 07428 051005
Telephone from overseas:
+44 7453 734666
or +44 7428 051005