JW Benson gold art deco rectangular with papers 1939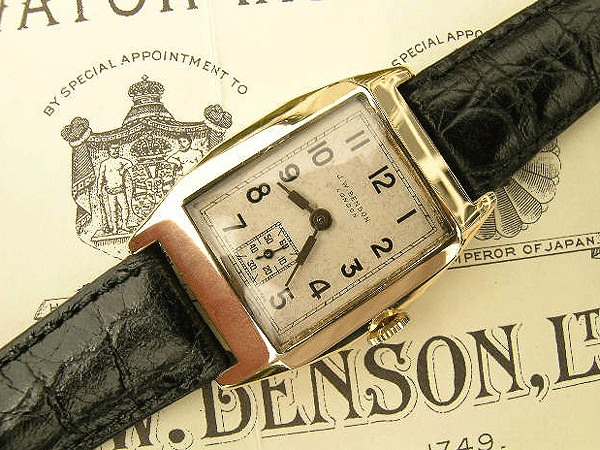 This exceptionally fine gentleman's 1939 solid gold rectangular J.W Benson, complete with its original warranty paperwork, is a spectacular piece, and very much a connoisseur's choice of vintage wristwatch. Its quality is of the very highest grade, while its appearance is attractive in the extreme, making this a perfect piece to represent the late inter-war period in any serious collection. Very few watches of this standard are to be sourced now, and with each year that passes, prices rise even higher as the market supply of such rare items dwindles down to nothing more than a slow trickle.
The prestigious firm of J.W Benson is a very important one to the knowledgeable collector, as it ranks among a tiny handful of the very top drawer of early wristwatch houses that were English, rather than Swiss, owned. To some degree, this point is perhaps more academic than of practical concern, given that the English designed Benson movements were almost all manufactured in Switzerland, but the fact remains that here was a horological house, the superbly crafted products of which can be judged as the equals of any of those by the great Swiss houses, that had its financial and administrative roots firmly seated in London.
The history of J.W Benson is a long and fascinating one much beloved of the collectors of rare English pocket watches, beginning in 1847 when the partnership of Samuel Suckley Benson and his sibling, James William Benson, began trading as Benson Brothers from 16 and 63 The Cornhill, in the opulent heart of the City of London. After eight years, in 1855, Samuel left the business and accordingly, its name was changed to that of its now sole principal, J.W Benson. Several histories of the early years of this much-revered concern state that at this point, the firm's premises were moved to 58 and 60 Ludgate Hill, but this is untrue, recent research revealing that despite the change in its printed business address, the physical whereabouts of the company remained unchanged, this confusion having arisen as a result of a re-numbering of Ludgate Hill that coincidentally occurred at the same time as the departure of S.S Benson. This point is included here, simply because such detail is always fascinating, and we firmly believe that the more information that those of us with a genuine interest in vintage wristwatches share with each other, the more rewarding this fascinating field becomes for all of us.
From the very outset, J.W Benson was both a manufacturer, importer and retailer at the very top echelon of the market, dealing also in fine diamonds, and gold and silver wares, mainly supplying an aristocratic and London society clientele. By the turn of the century, Benson had supplied its eponymous watches, and had the official warrants to accompany these transactions, to Queen Victoria, the Prince of Wales, the Kings of Siam and Denmark, and most interestingly of all in a horological context, the Pasha of Marrakech, a wristwatch loving gentleman for whom the Parisian jeweller Cartier specially designed an early waterproof watch in the early 1920s, a modern interpretation of this still bearing his title being produced even today by this same brand.
This watch, from 1939, can be seen in retrospect as one of the last of the original JW Bensons, being sold from the company's Ludgate Hill shop before this outlet was destroyed by enemy action in 1941. Benson continued trading successfully until the 1980s, when the company was taken over by its competitor, the highly respected Mappin & Webb concern, another business with a glorious association with the development of the early wristwatch, and about which more detailed information can be found on our website by clicking on the relevant category link on the right hand of this page.
This particular watch is the archetypical 1930s high quality luxury watch, in a very evocative style that so typifies this important period in the evolution of the wristwatch. Its elongated case has considerable length ( 38mm) and depth ( 9mm including glass), but is not wide ( width is just under 25mm), giving the whole watch a rather stretched look that is both eye catching and impossible elegant. If one tries to categorise the shape of this case, the forthcoming result must be a verdict of the tank style, so called because these rectangular watches with their lugs of this type have the same silhouette as a World War I era tank when viewed from the air, but this is to simplify things a little too much for our liking. We would prefer to call this a "stylised tank", to take into account its art deco influenced, faceted bezel area that adds considerable length to the case and the area around the dial when viewed face on.
This case is virtually unmarked, and has just the slightest few imperfections that must be expected on any carefully looked after watch of this age. This is a gleaming yellow 9 karat gold item, but has the most wonderful colour to it that is quite unlike the brassy gold seen in the windows of today's high street jewellers. When viewed side to side, much of the gold used in the inter-war years has a noticeably more "straw coloured" hue than its modern equivalent, this being very attractive and instantly suggesting a certain vintage character when worn.
Internally, this extremely thick walled, very heavy, case is fully signed as a Dennison item, its beautifully hinged and internally engine turned case back bearing this firm's reference number 15776 and a serial number 17563. Also present is a full British hallmark indicating that this case was tested as solid 9 karat gold at the Birmingham assay house in 1939. The Birmingham based Dennison case making company was one of the most important names in the developing wristwatch industry, and by the time that this beautifully made housing was produced, was supplying, almost without exception, every one of the top tier Swiss houses with cases for the British market.
The full story of Dennison's rise to glory, and its close working with these Swiss movement manufactures and their UK agents, is given at length among our other descriptions and need not be reiterated here, suffice it to say that, in a nutshell, Dennison succeeded because it offered the very highest quality cases that, being UK made rather than imported, did not attract the punitive duty on imported precious metal that was imposed by the British government during the inter-war years. By shipping uncased movements to its UK distributors, who then housed these in so called "contract cases" that were specifically commissioned from Dennison, the major Swiss houses could avoid unnecessary import duty, therefore keeping their prices at a more reasonable level while still retaining the level of quality for which they had become famous throughout the world. It is somewhat ironic, given that Dennison cases were used originally as a solution to an importation problem, that today, their exceptional quality and beautiful styling has made these items immensely collectible, with it being universally agreed that the presence of UK made Dennison case adding perhaps 10% over the value of an otherwise identical model supplied in the Swiss cases that were shipped to the non TK market. As a final note about the case used here, it is interesting that J.W Benson came into the use of Dennison cases as a result of their earlier case supplier, Benson Bros. of Liverpool ( who, incidentally, were no relation whatsoever to J.W Benson), being taken over by Dennison in 1931. However, even if this takeover had not occurred, it seems likely that J.W Benson would have inevitably ended up using Dennison cases, these simply being the very highest quality available at that time.
We always labour the paramount importance of dial condition and originality, these being universally agreed by serious collectors to account for at least 40% of the worth of any high grade vintage watch. We wince time after time when watching novice buyers pay handsome prices for pieces with "beautifully restored" dials, or with dials that are dirty and discoloured, both in internet auctions and in the physical marketplace. This idea of dial "restoration" is an innocuous sounding euphemism for the stripping of an original dial, on account, in most cases, of it looking absolutely awful, and then replacing this finishing with an entirely new one. In performing this process, a major part of the watch as it was when new is destroyed irrevocably, hence the extreme undesirability of those pieces with restored dials to the informed buyer.
The same opinion is also held by the cognoscenti regarding original dials in badly discoloured condition, yet again, these items are all too often trumpeted to the novice collector with seductive phrases like "attractively aged" or, with "desirable patina". This is utter nonsense. The closer the dial is to being unused, "new old stock", the more sought after it will be, simply because dials in this near perfect condition have survived in such small numbers. Original dials in poor condition are not unusual, and it must be appreciated that the merit and significance of the original dial only is in relation to those few that have survived in an unblemished state. The dial on this watch is completely original, and in a very appealing art deco style, with just the very, very slightest hint of incipient, slightly creamy, discolouration to its French white surface.
We would have no hesitation whatsoever in describing this dial as being one that was suitable for investment purchase, and of a grade that is very seldom found on a 1930's watch. This is a fully signed item, with "J.W Benson, London" being stated above the centre point, and "Swiss Made" signed at the bottom of the dial below the double minute track. It should be also noted that the very distinctive art deco pattern hands present here are totally original and, another point worth mentioning, in a stylised variant of the normal straight sided type that is typically found on J.W Benson production from this period. While perhaps sounding rather trivial to some readers, these details are important, and must be correct in order for a watch to be worth its theoretical full value, particularly in the context of a serious collector's rarity like this model, for which highly informed buyers are likely to be heavily critical of any incorrect aspects.
The beautiful movement used here is a textbook example of just how high grade these J.W Benson calibres from the 1930s are. These were Swiss made units, made in the factory of A. Schild in Grenchen, but were not a stock movement, being produced by order to a design by Benson. This point is clearly made by the mention of a patent on the bridge plate, this registration being assigned to Benson, not Schild. A.Schild were first established in 1896 and were one of the few true "manufactures" of the golden period, this term being the one used in horological circles to describe a concern that was capable of producing its own movements entirely in house, with no out sourcing of components from external suppliers. Over the years, Schild produced and supplied some of the most beautifully finished movements to a large number of the top tier houses including Rolex, particularly in instances where smaller production runs were required than could be economically built in their own facilities. A perfect example of the exceptionally high standard to which Schild could, and routinely did, work is to be found in the world's first self winding wristwatch, the Harwood, the description of which can, again, be seen by clicking the link in the categories list to the right.
If this movement is examined under high magnification, its superlative quality immediately becomes obvious. This is a 15 jewelled unit, hand wound and, as we would expect from a movement from this era, without shock protection. The complete upper surface of this mechanism has been beautifully polished. Even the individual screw heads on this movement have been mirror polished to perfection by hand, again, something that is unusual on all but the finest watches. This movement was built in an age when the luxury horological houses were still essentially producing a hand-finished product, several decades before automated processing would begin to change the nature of the Swiss watch industry.
This movement is in gleaming, nearly perfect, condition, and has no changed or incorrect parts whatsoever. It has been regularly serviced throughout its life and works perfectly today, running reliably and with excellent amplitude. There is absolutely no reason whatsoever why a movement of this exceptional standard, if continued to be well serviced every three or four years, will not be in full working order several centuries from now, making it the perfect choice as an appreciating heirloom item to be handed down through the generations. One of the very appealing aspects of vintage watches at this level is their capacity for longevity, and we would be the first to agree that the concept of a watch that can be retained for life is an attractive one and something of a refreshing change from the production line, limited life, offerings that are blandly served up to us today with liberal doses of vapid celebrity endorsement, but little intrinsic horological merit.
We have fitted this very fine piece with a high quality crocodile skin type strap that is in mint condition, having never been worn. This is not an original J.W Benson strap, but is perfectly in keeping with the vintage character of the watch and almost identical in appearance to that which would have been supplied with it when new.
Quite remarkably, the original warranty paperwork with which the watch was supplied new in 1939 is still with it today, the serial number stated clearly on it matching perfectly that stamped inside the watch case back. This is an incredibly attractive document that wouldn't look out of the way framed and on display on a wall. Above the retailer's name are the royal crests of the King of Siam, the King of Portugal, The Emperor of Japan, the Emperor of Russia and the King of Greece, all of whom had purchased from J.W Benson. Equally evocative is the statement that Benson were "makers to the admiralty, war office, India office etc". Finding original papers with pre-war watches is virtually impossible, and this wonderful item must be one of only a handful, at most, of this Benson warranty that have survived.
In summary then, this is an extremely fine inter-war art deco piece by one of the most sought after houses of the vintage period. This watch falls into the category of an item that will be most appreciated by a purist collector who understands Benson's significance as an outsider among the top circle of Swiss houses, united with them in terms of quality, but geographically separated as an English, rather than Continental, concern. Despite Benson selling nearly all of its watches domestically, very few really good examples seem to surface today, perhaps because the numbers sold initially were relatively small. Of all the rare watches we currently have listed on our site, this is certainly among the most charming, and just has a very appealing, subtly different aspect that sets it apart from those pieces by the more universally known makers. We have priced it very reasonably at £645 GB pounds, which makes it remarkably good value when compared to equivalent models by Rolex, Omega and Longines, all of which were direct competitors to JW Benson when this piece was new.
Price £645 GB Pounds
Vintage Watch Brands
Vintage Watch Decades
Vintage Ladies Watches
Vintage Watch Bracelets
Swipwreek Straps
Travel Clock/ Pocket Watches
Home
About
Brand Overviews
By Decade
Reference
Contact Details
Telephone from the UK:
07453 734666
or 07428 051005
Telephone from overseas:
+44 7453 734666
or +44 7428 051005