Breitling chronograph with Venus movement 1951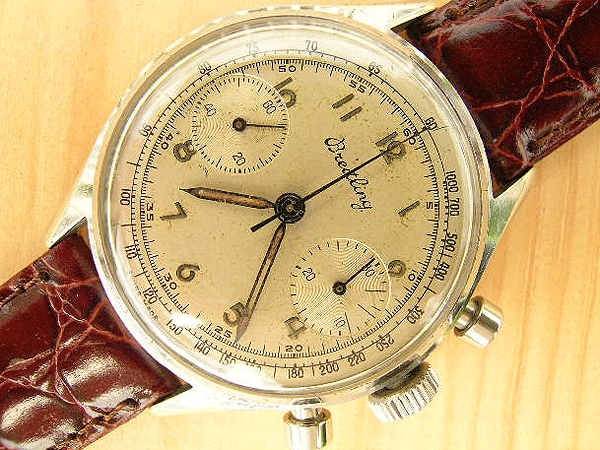 From 1951, this completely original large sized gentleman's vintage Breitling chronograph is an exceedingly evocative item that will undoubtedly be difficult for serious collectors of this Le Imier based brand to resist. Breitling was at its most commercially successful in the 1960s and '70s, and in relative terms, its output from the 1940s and '50s was such smaller, with the result that genuinely good, unmodified earlier examples like this one are not easy to locate.
One of the key problems facing the buyer of an early vintage Breitling chronograph is that Breitling itself was never the manufacturer of any of its component parts. This creates a situation where other watches, which share major aspects with their Breitling equivalents, mysteriously change signatures to acquire the Breitling name on their dials, this wording being matched with a suitably inflated market value. In short, there are a vast number of vintage "Breitlings" in circulation today that were definitely not Breitlings when they started life, but which had specifications that were similar enough to enable this re-signing to take place. Casual browsers often find it rather odd that we include so much detail in our descriptions, but we make no apology for this. Our watches are expensive, perhaps more so than those offered via any other online source, but they are, in every respect, exactly as they should be, and we make a considerable effort to take the potential buyer through every stage of the evaluation process to confirm this. In short, as with most things in life, with vintage wristwatches the buyer gets what he pays for or, perhaps better said, he definitely doesn't get what he doesn't pay for.
The case of this watch is rugged and substantial, with a bulk that is far more noticeable that Breitling chronographs of the World War II era. Unlike its predecessors, this isn't a snap back case but instead has a threaded screw back. Case condition is absolutely superb, and while this certainly isn't an unused new old stock item, previous owners have clearly always treated the watch with care. The relatively primitive nature of stainless steel in the immediate post-war years means that acid pitting can be a problem, particularly on those watches that have been re-imported back into Europe from hot and humid ex-colonial climates, but this example has no pitting of any kind whatsoever.
The case back outer is stamped as "Waterproof, Antimagnetic, Shock-Protected, Swiss". Quite correctly, there is no mention of Breitling whatsoever, and at this point, one must be very careful. Because Breitling didn't sign its cases until the mid 1950s, it is very easy for the unscrupulous to pass off non-Breitling housings as Breitling items. However, if the case is a genuine Breitling component, as this one is, it will have both a model number and a unique serial number stamped into it. The presence of two numbers of this kind is no guarantee of originality in itself, but these can be checked to confirm that they do indeed relate to an authentic Breitling model of the correct year for the specification of the watch being offered.
Here, the model number is 1191. Looking this up on the table published on page 162 of Benno Richter's book "Breitling" we see that it relates to a "chronograph with round case and buttons, with a 30 minute counter", this being the perfect abbreviated summary of this watch. Above the model number, the serial number is 7792521. Again, consulting Richter's book, we can see that this clearly defines the watch as being of 1951 origin, it falling between the two extremes of vintage Breitling production for that year of 769844 and 808465.
Taking this detective work even further, we can be sure that the movement in this watch is the correct mechanism that should be there. Page 166 of Richter's book tells us that model reference 1191 was actually offered with two different movements, these being Valjoux's 7733 and, the one here, the Venus company's calibre 188. So with only a few minutes research, we have clarified that the case is a genuine Breitling item, the watch was manufactured in 1951 and the movement in it is the right one for this model. So many buyers purchase watches, particularly in the frenetic world of internet auctions, that are not what they purport to be. We would advise anyone serious about building up a collection of high level vintage wristwatches for investment to acquire the relevant reference books that relate to the brands that interest them, and get into the habit of performing routine serial and model number checks every time a watch is considered.
When I was a young man first taking an interest of vintage watches, long before starting up in business in the field, this was just the sort of dial that fired my imagination. I actually remember drooling over lightly patinated chronographs in the windows of central London specialist shops and thinking how beautiful and exotic they looked. Even today, more than thirty years later, the appeal of these gloriously faded complex dials hasn't diminished in the slightest, and it can be said in all honesty that of all the watches on this website, the dial is among the most attractive.
In keeping with the rest of the piece, this dial is totally original. It has never been restored and is untouched since it left Breitling in 1951. For the collector, a better dial for investment couldn't be found. This is a very lightly silvered French white item, its overall colour just having mellowed almost imperceptibly into a warm creamy shade. Around the dial outer edge is a tachymetre scale inside which is a single seconds track. Both of these scales, and indeed all the printing on the dial, is crystal clear and not in the least bit rubbed or worn. Above the dial centre point is the signature "Breitling" and at the very bottom of the dial is stated "Swiss Made".
While completely original, the luminous material on the blued steel hands and Arabic dial numerals has deteriorated noticeably from a once bright lime green to a now much mellower khaki colour. This could be renewed if one was determined to do so, but I would strongly advise against it. Such degradation comes about not from any sort of abuse, but as an unavoidable consequence of the chemical decay of radium, the active ingredient in early luminous paint. Knowing this, no experienced collector would ever criticise a watch because of deteriorated radium paint, and to replace this with fresh material would be a backward step in the eyes of most enthusiasts.
As discussed above, by the 1950s, Breitling was no longer a movement manufacturer and purchased its mechanisms from external sources. Collectors today tend to associate Venus movements with vintage Breitlings, and these appeared in the company's landmark Navitimer and Cosmonaute models of the 1960s. The unit here is a Venus 188, a handwound chronograph with 17 jewels and a thirty minute register.
While always highly regarded by purists who understood why these hand built Venus movements were so exceptional, even ten years ago, calibre 188 was largely unknown to most collectors. A remarkable example of just how the watch market has matured in the last few years comes with the story of the Maurice Lacroix "Masterpiece" models. Appreciating that these units were far superior to anything that was still being manufactured today, Maurice Lacroix hit upon the idea of building up brand new watches around new old stock unused movements. In 1994, the "Masterpiece Venus" model was released, this featuring the 188 mechanism also in the Breitling here. At the time, this wasn't a great success, predominantly because the market simply wasn't educated enough to understand why this movement was so mouth watering. However, as so often happens, greater appreciation of Venus movements in the information sharing internet age led to a great demand for the 250 Masterpiece Venus models that were made, and in recent physical auctions, these have been selling for quadruple their 1994 retail price. One of the lovely things about vintage wristwatches is by doing a little research into which movements went into which watches, it is often possible to track down something of a bargain. In stainless steel, a 1994 Maurice Lacroix with a Venus 188 would sell today for somewhere between £3000 and £4000 GB pounds. This Breitling, with considerably more charm and far better long term investment potential, costs £1350 here, and has exactly the same movement. This should certainly be food for thought for the collector, and a fact that may well influence many potential buyers to make a purchase. Even to this day, Maurice Lacroix still offers a Venus based chronograph, but this is based on the calibre 175 movement, the firm's limited supplies of the 188 having now run dry.
The very distinctive "Y" shaped bridge of this movement is signed "Breitling", which is actually quite unusual. The majority of Breitlings at this time used unsigned movements, and I do like the security of this stamping. Next to the regulator is the Venus star emblem, together with the "188" calibre number.
When purchased as vintage collectibles, chronograph movements must be in nearly mint condition. These are very complicated pieces of machinery with a vast number of moving parts. The standard to which Venus built its movements was incredibly high and, if properly cared for and periodically lubricated, these will be extremely reliable. However, if allowed to deteriorate and wear, the potential for unreliability and large repair bills is enormous. This particular movement is in almost perfect condition in every respect. It has never been the subject of any past repair work and is totally original. Not one of its components has been changed, and the whole mechanism gleams brightly, exactly as it should. Having been regularly serviced all its life, this item runs extremely smoothly, both as a standard timekeeper and as a chronograph.
The value of this watch is fairly well defined. In Benno Richter's book "Breitling", an identical example to this one is pictured on page 110. This has the same case, dial, hands and distinctive thick winding crown, but, interestingly, is stated as being from 1946, this suggesting that this model has already been running for at least five years before this 1951 piece was manufactured. In 1995, when this book was published, the watch was suggested as having a value of $1400 US dollars, or about £750 GB pounds. Today, after almost two decades of sharp increases in the worth of all high grade vintage wristwatches, this is no longer realistic, and the price here of £1350 GB pounds is a very fair one. This is an incredibly original, very attractive vintage chronograph by one of the most passionately collected of all the grand Swiss houses, and as such, can only ever increase in value in the future, while at the same time being a pleasure to enjoy on one's wrist.
Price £1350 GB Pounds
Vintage Watch Brands
Vintage Watch Decades
Vintage Ladies Watches
Vintage Watch Bracelets
Swipwreek Straps
Travel Clock/ Pocket Watches
Home
About
Brand Overviews
By Decade
Reference
Contact Details
Telephone from the UK:
07453 734666
or 07428 051005
Telephone from overseas:
+44 7453 734666
or +44 7428 051005