Breitling TopTime chronograph steel with papers 1967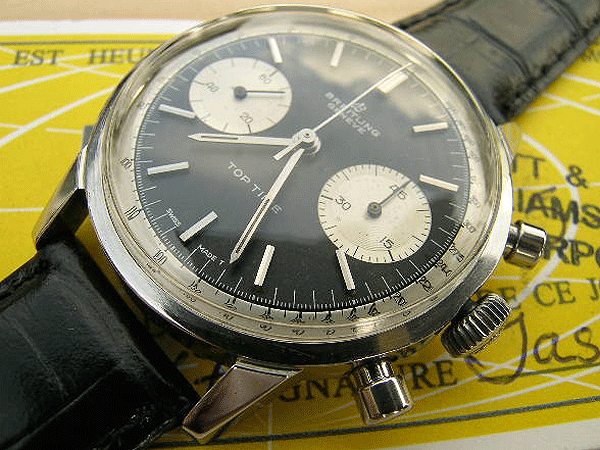 This vintage Breitling TopTime chronograph in stainless steel from 1967 is one the most immaculately preserved watches by this famous Swiss brand that we have ever offered for sale. This isn't a cheap watch by any means, but it offers the opportunity to acquire a desirable model in an investment grade state. The watch can't have been worn on more than a handful of very careful occasions and, in the real world, purchasing it today is as near as any of us can ever get to walking into a Breitling stockist in the mid 1960s and choosing a brand new TopTime from the stock there. Vintage Breitling chronographs in this condition turn up so infrequently for sale now and each time we do stumble across one, we always wonder if it'll be the last we find of its particular type. This piece really is that good, and we cannot recommend it highly enough to the buyer willing to pay a little over the odds for something out of the ordinary.
The Breitling TopTime is regarded today as one of the classic models of its era. While we associate it with the wealthy playboy world of the mid-1960s, in fact, in this form, the TopTime is very conservatively styled. If we didn't know a little about the model and its production dates, it would be perfectly easy to believe that this watch was from the 1950s, '60s or '70s. There is nothing about this design that will ever appear dated and it will be just as attractive as it is today to contemporary eyes in twenty or thirty years time. We have often said in the past that when buying vintage watches for investment, classicism in appearance represents safety. Some of the more outrageously styled models of the 1970s are actually back in vogue and currently commanding high prices on the physical auction circuit, but they could so easily fall from grace if fashion shifts away from the over the top, chunky look towards a more sober aesthetic. If we were building up a portfolio of vintage watches from scratch today with a view to capital growth over the next, say, two decades, we would opt for established, timeless classics every time and in this respect, the Breitling TopTime variant here scores highly.
It is not often appreciated that the Breitling TopTime was offered in two distinct models, respectively designated waterproof and non-waterproof, and indeed, we were not aware of this ourselves until we came across a 1965 Breitling catalogue that is still have in our possession today. The non-waterproof references, models 2001 and 2003, had a removable case back whereas the sealed versions, models 2000, 2002 and 2004, featured one piece case construction and had their movements fitted from the front.
Both waterproof and non-waterproof types look almost identical. Breitling even milled a line into the case side of the latter to create the illusion of a separate case back when in fact, the case was machined as a monocoque unit from a single block of metal. Over the years, we have seen quite a few waterproof TopTimes that have been badly chewed on their sides as a result of ignorant repairers trying to open their cases with a knife blade along this purely aesthetic false joint line. This case has no such issues and we would assume that it has only ever been opened with the correct Breitling factory tool.
"Breitling, Waterproof, Antimagnetic, Shockprotected, Stainless Steel, Swiss Made" is signed on the case back, together with the model reference 2002. We can see from the 1965 Breitling catalogue that this is the correct reference for a steel TopTime with one piece waterproof case and a black dial with tachometric scale, which, of course, is the perfect summarized description of the item here. This watch is guaranteed to be completely correct in every respect, but many are not and it is worth taking a few moments to be sure that the model reference on an example being considered as a potential purchase is indeed the appropriate one for the specification of watch present. Especially with vintage Breitlings, because a lot of movements and cases were directly interchangeable between models without the need for modification, it is so important to do a little bit of research before parting with one's money.
Also on the case back outer is the individual serial number for this watch, 1165085. Falling between the two extremes of vintage Breitling production for that year of 1122810 and 1204581, this clearly dates the piece as being of 1967 origin.
All this case back detail is crisp and sharp. When a watch is worn regularly over a period of many years, case back stampings often become smoothed and not so easy to make out. These are perfect, which again supports the theory that this is almost an unused watch.
Both the round section chronograph pushers and the large winding crown are entirely original. The latter is signed on its outer surface with a prominent scripted B Breitling emblem that mirrors the one present on the dial.
Without any doubt at all, this distinctive dial format, with a black background colour contrasting with silver white registers and tachymetre scale, is the most attractive and eye-catching that Breitling ever used for the TimeTime. Over the last two decades, we have owned three or four examples of this particular dial variant, but none that was quite as pristine as the piece here. If you look hard enough with an eyeglass, you can almost always make out some minor deterioration to the white ring around the dial's outer edge where dust has crept under the glass, but this part of the dial here, like the rest of it, is absolutely perfect.
Dial condition and originality are the two interlinked factors that more than any others define the value of any vintage wristwatch. It is not unusual to find vintage watches with dials that are mint, but in most instances these are so-called "restored" dials that have in fact been completely refinished. Dial restoration irrevocably destroys the original character of a piece and is frowned upon greatly by experienced collectors. This dial is not only in a state that can only be described as virtually as-new, but it is also completely original and untouched. It is universally agreed that at least forty percent of the value of any high level vintage watch is directly related to its dial and when buying as an investment, one should purchase the very best dials that can be found. This one is a peach and we would, literally, suggest that a better survivor probably doesn't exist anywhere.
"Breitling, Geneve, TopTime, Swiss Made T" is stated in white above and below the dial centre point. In this context, the T informs us that the luminous material on both the dial and the hands is based around the tritium element rather than the radium that was typically used on earlier pre-war models. All five hands are totally original and in superb condition, with no dulling or oxidation to the chrome surfaces of the hour, minute or centre seconds hands.
If we look in the table published in Benno Richter's book "Breitling", we see that this model, reference 2002, should be fitted with a Venus 178 movement. This is indeed the movement inside the watch here. We don't think that the average man in the street peering in at the Breitlings in his local jeweller's window actually realises that Breitling has not been a manufacturer of its own movements since the 1920s and in fact, all its famous models were built around mechanisms that were purchased from third party suppliers. Venus, of Le Moutier, was arguably the most respected of these and was responsible for the supply of movements for the TopTime, Navitimer and Cosmonaute models of the 1960s. It would be slightly unfair to suggest that these movements were used in stock form, because in fact, Breitling re-worked and re-finished them in-house to its exacting standards, but in essence, the Venus movements were so exceptional in the first instance that the improvements made at Breitling were almost all of a cosmetic nature.
Though just slightly off topic, we can't resist adding a short background note about the relationship between the Venus and the Valjoux companies. When Venus ran into financial difficulties in 1967 and was forced to close its doors, its machine tooling was purchased by rival Valjoux. Wisely, Valjoux cheery picked the best movements from the Venus range and continued their production, but, of course, changed their signatures and calibre numbers to reflect the new ownership of their maker. Thus, after 1968, it is possible to find this exact same movement, also in Breitling watches, but signed with the Valjoux logo as opposed to the Venus star. Notice how the Venus version here is absolutely correct for the 1967 serial number of the case back outer.
The condition of this particular movement is indistinguishable from new. Its rhodium plated finish gleams like that in a new watch and there is no corrosion to be seen anywhere. The signature "Breitling Watch Co" is stamped into the Y shaped bridge, with the Venus star emblem and calibre number in the balance well. Most importantly, every component in this movement is original and nothing whatsoever has been changed. As a consequence of regular high quality servicing, the watch works perfectly today and is in the very best of mechanical health.
We normally fit all our watches with brand new straps prior to sale, but in this instance, we have left the strap in place that was on the piece when we bought it. Comparing this to the picture of the ref. 2002 TopTime in the Breitling catalogue mentioned earlier, we would be very confident that this is still the original strap that was supplied with the watch new in 1967. While it has been worn, its condition is almost perfect and it seems foolish to remove it at this stage. If the buyer wishes to wear this watch and keep the original strap safely preserved, we would be more than happy to provide an additional brand new strap free of charge when posting this item out.
The original Breitling guarantee and receipt from 1967 is still here, this clearly stating the same serial number that is stamped into the case back. Documents of this kind are both rare and very desirable to the collector and consequently, any piece that comes up for sale with its papers commands a price premium.
Also here is a service receipt from 2005, which relates to the watch being sent back to Breitling for an overhaul at a cost of £195 GB pounds.
When he had it serviced in 2005, the previous owner also paid for the watch to be professionally valued by Peter Jackson in Carlisle. This valuation file is included with the piece and suggests that its value then was £2500 GB pounds. In fact, anyone looking for an example of a mid-1960s Breitling TopTime in such remarkable condition, with all its paperwork, would struggle to find one for this sum at any of the established vintage watch shops in central London and would make the educated guess that in fact, prices would be perhaps forty percent in excess of this figure today.
The price of this watch is £1875 GB pounds and reflects the fact that it is being bought from a concern in the north of England that doesn't have to pay the phenomenally high expenses associated with a bricks and mortar retail business in the capital. This isn't the cheapest vintage Breitling TopTime that can be found by any means and in fact, we even have several less expensive examples for sale on this site. But it is the very best preserved, most original that we have ever come across and as such, is worth paying a little over the odds to secure. This is one of those exceptional watches that even ten years from now will seem in retrospect to have been bought so cheaply and would make a lovely addition to any serious vintage Breitling collection.
Price £1875 GB Pounds
Vintage Watch Brands
Vintage Watch Decades
Vintage Ladies Watches
Vintage Watch Bracelets
Swipwreek Straps
Travel Clock/ Pocket Watches
Home
About
Brand Overviews
By Decade
Reference
Contact Details
Telephone from the UK:
07453 734666
or 07428 051005
Telephone from overseas:
+44 7453 734666
or +44 7428 051005