Asprey London early form wristwatch silver 1918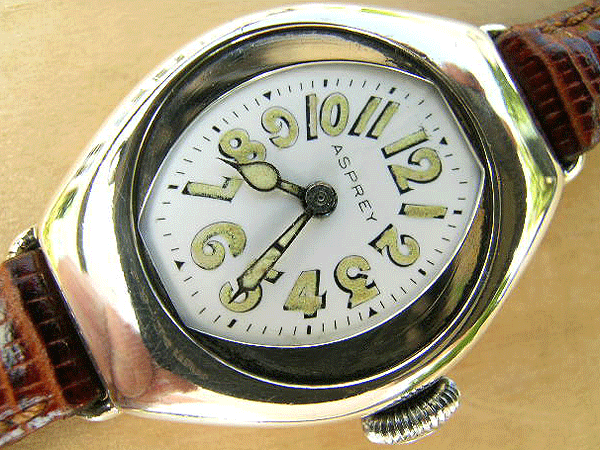 From 1918, this elongated solid silver gentleman's piece, supplied and signed when new by the prestigious London jeweller Asprey, is a breathtaking example of very early stylised wristwatch design in the last years of World War I. This is a very rare and extremely beautiful watch, but is also historically significant as it represents the first wave of wrist worn timepieces that departed from the traditional pocket watch derived forms from which the early trench worn officers' watches took their influence.
If World War I is to be regarded as the event that acted as the catalyst for the widespread adoption of the wristwatch among the male population, then we should acknowledge the 1920s as being the decade in which the wristwatch assumed an identity of its own and broke free from the circular pocket watch styles that so characterise formative examples. For the serious collector looking for a representative piece from the second stage of the wristwatch's development, the item offered here would be difficult to improve upon. As well as for its wonderful appearance, this particular watch is interesting on account of it being so early. It has always been the case that, rather like today's elite catwalk fashions that appear in the high street a few months later for a mass market audience, radical design tends to be produced for a small market initially and is then diluted in both quality and price for a larger clientele later. We would typically expect to find a watch in this style dating from late 1920 to around 1926 or '27, and this is the oldest example with this stretched tonneau case that we have personally encountered.
The quality of this item is incredibly high, both in terms of its case and internal mechanism. We can assume that this was one of the earliest wristwatches to be offered in this shape, and given its Asprey connection, was produced to satisfy the demands of a chic society buyer for whom price was unlikely to have been an influencing factor. Most importantly, probably because of its high initial cost, this watch appears to have been hardly ever worn and remains in almost as-new condition, its flamboyant elongated, curved case having no more than the slightest handling imperfections to its gleaming surface. Notice how despite the case being revolutionary in its shape, we still find the same soldered wire lugs that were present on the circular officers' watches. The concept of integral lugs had not yet taken hold when this item was manufactured, and wire lugs would persist as the norm until the mid 1920s.
The thickness and weight of this case are extraordinary, particularly when we consider that it was manufactured at a time when Britain was in a state of wartime economic crisis. Internally, the snap on case back is finely polished and carries a set of full British hallmarks, these telling us that this case was assayed as solid sterling silver in London, 1918 . Also present is the case maker's mark "DBS". Sadly, despite a considerable amount of research in the archives of the London assay house, we have never been able to find any reference to this stamping, which is a terrible shame when we consider the superb quality standard to which this concern obviously worked. Particularly in the early 1920s, when there was something of a scramble to jump on the emerging wristwatch bandwagon, so many small concerns set up making cases, and unfortunately, because of the transient nature of these, often one man, operations, in many instances the details of exactly who was behind them and from which address they traded, have now been lost. In this instance, Asprey would have purchased probably no more than a handful of these watches from a favoured supplier, who in turn would have commissioned their cases from a small manufacturer, fitting them with movements that had been imported from Switzerland. It must be appreciated that this is not a mass produced, production line watch like those that we find for sale new today, but is the result of a small number of traditional craftsmen working to a very high standard on a small scale basis. Rather like a bespoke suit or individually fitted London sporting gun, this item comes from an era where hand finishing still took precedence over machine work, and the buyer expected an item that was almost individual, capable of being judged as a piece of exquisite jewellery as well as a luxury timekeeping device.
This is not an inexpensive watch, and at this level of the market, it is inevitable that a buyer will be greatly influenced by the potential of the piece to appreciate in value as an investment. When considering an item of this rarity and value, it is imperative that only those watches with their original dials in excellent condition are regarded as possible acquisitions. When a dial is "restored", this term being a delightfully innocent sounding euphemism used in the vintage watch industry for the brutal practice of stripping it bare with acid and completely refinishing it, this has horrendous negative ramifications in terms of a watch's value as a collectible. The dial is the defining feature of any watch, and more than any other aspect, will influence its market worth. On a rare piece like this one, the presence of a good original dial will account for almost half of its value, with the consequence that many collectors will understandably refuse to purchase watches on which the dials are not entirely unmolested.
This dial is totally original and in remarkable condition. In common with nearly all of these early stretched case models, the dial utilises the exploding numerals format in order that there is no unsightly gap at its upper and lower extremes. Because these cases were obviously much longer than they were wide, if numerals of consistent size had been used, there would have been an awful lot of empty space above and below the 12 and 6 o'clock positions. By expanding, or "exploding" the numerals, these being at their most compacted at the 3 and 9 positions, and at their largest at the 12 and 6, the imbalance between the length and width of the dial is disguised. Dials like this one are universally regarded as being among the most attractive ever offered at any time, it is not surprising that in the last few years, we have seen several of today's luxury horological houses use this same format, often combining it with the elongated tonneau shaped case shape that we see in original form here.
The original blued steel radium painted hands are still present, and the signature "Asprey" is clear in black against the slightly yellowed dial background. Still regarded as one of the UK's most opulent jewellers today, Asprey in the World War I era catered for the glitterati of London society. It was at the forefront of high quality wristwatch retailing since the very dawn of the concept, and one still occasionally finds early officers' watches by the most famous Swiss houses double-signed on their dials with the Asprey name alongside that of the company that manufactured them. Undoubtedly, the Asprey signature here adds value to what, even in unsigned form, would be an important and desirable watch, simply because at this time, the firm was certainly the most prestigious department store in the world, with warrants from the British Royal family and the patronage of maharajahs, screen icons and numerous celebrities of the day. Asprey's worldwide fame is such that most readers of this description will already have some rudimentary knowledge regarding the firm, but for those wishing to know more, a well presented snapshot of the company's current activities can be found as part of its official website.
The movement in this watch is one of the most beautifully finished that we have ever owned from this era, but curiously, is unsigned. This is a 10.5 ligne ( the ligne is the unit of width measurement used within the Swiss horological industry), hand wound mechanism, with 15 jewels and in superb condition throughout. Of note is the distinctive Geneva striped finish, this being something only ever found on the highest quality early movements. While visually spectacular, this is a laborious effect to create, being polished into the upper surface of the mechanism by hand using a rotating boxwood or ivory disk.
The condition of this movement is almost perfect, and the casual observer not familiar with the changing architecture of wristwatch engines would find it very difficult to believe that it was manufactured almost a hundred years ago. Previous owners have had the good sense to have the watch serviced regularly, with the consequence that it works perfectly today, setting and winding very smoothly. Most importantly, this movement is completely original and unmodified in every respect, and has no changed parts whatsoever. So many very early movements have been kept in vaguely running order by adapting components that were never intended for use in them, but inevitably, the miss matching of parts in this way has a negative influence on both collectible value and dependability. This watch has been carefully maintained by a series of fastidious owners with the result that it is absolutely as it was in 1918, with no component substitutions at all, and no evidence of any past repairs. The initial quality of the high grade movements from this era like this one was so remarkable that, if properly looked after and regularly lubricated, they are capable of almost infinite working lives, but if neglected, accelerated wear will soon being to take its toll, initially in terms of accuracy and later manifesting itself with increasing unreliability and eventual breakdown. The secret of buying very early antique wristwatches is always to acquire pieces that remain original and immaculate throughout. Age itself does not bring any automatic ill effects to machinery, and an unworn, well preserved World War I era movement need not necessarily be any less dependable that its modern day equivalent, though in fairness, it should be pointed out that the vintage piece will be without water proofing, shock resistance or anti-magnetic shielding, therefore requiring a little more care to be exercised by a wearer that would be needed with one of today's luxury watches.
We have fitted this item with a high quality lizard skin type strap that is perfectly suited to its exotic appearance. This is not the original strap that was supplied by Asprey with the watch when new, this having disintegrated many years ago, but it is in perfect condition and has never been worn.
A very similar watch to this one is shown in full colour in the London collector Shigeharu Aritake's book "Rolex Scene 1913-1997". By Rolex, it is silver cased and has the same tonneau shaped dial, complete with exploding numerals. In common with the model here, its movement is circular. Aritake suggests that his watch could date from as early as 1913, but we would be more conservative and inclined to date its year of manufacture as being somewhere between 1916 and 1919.
In summary, this is a beautiful example of a very early form watch, this term being the one used by collectors to describe those items that took on a form that was unique to the wristwatch, as opposed to the typical pocket watch derived style of the period. One sees very few good, early surviving wristwatches of this type, and the presence of the prestigious Asprey signature on this piece makes it even more appealing.
Pinpointing a value for this item is not easy. Looking back through old Christie's and Sotheby's auction catalogues from the mid-1980s, early wristwatches like this commanded high prices even then that reflected their rarity and attractive appearance. In the intervening period, this style, with dramatic exploding numerals, has become ever more fashionable and prices for all original pre-1920 examples of this type have soared. In more desirable gold, we would expect this watch to sell in the right specialist auction sale for between £1800 and £2200 GB pounds. In silver, this piece is certainly well worth the £1125 GB pounds asked for it here and finding another example that was as early as this one, and as close to being perfect, would be quite a challenge. While not cheap at this level, when we take into account the age of its stretched case and exquisite movement, not forgetting the glamour of Asprey the London elite society jeweller, it still represents good value for money and certainly has a strong future as a secure investment.
Price £1125 GB Pounds
Vintage Watch Brands
Vintage Watch Decades
Vintage Ladies Watches
Vintage Watch Bracelets
Swipwreek Straps
Travel Clock/ Pocket Watches
Home
About
Brand Overviews
By Decade
Reference
Contact Details
Telephone from the UK:
07453 734666
or 07428 051005
Telephone from overseas:
+44 7453 734666
or +44 7428 051005