Mappin & Webb duo dial doctor's watch 18k gold 1932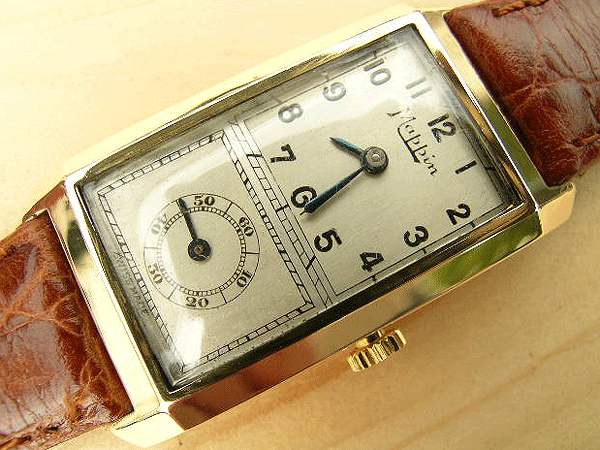 In 18 karat gold, this 1932 vintage doctor's watch, sold new by Mappin & Webb, is a spectacular collector's piece. We specialise in these pre-war classic wristwatches and have a good network of suppliers from whom we purchase, but even so, this item stood out as being exceptional and we were delighted to add it to our stock.
This style of watch, with a large second hand contained in a completely separate section of the dial to the hour and minute hand, is known as a duo-dial or a doctor's watch. The former term is self explanatory, but the latter comes about because when new, these watches were marketed as being ideal for the medical profession. Rather than squinting at the traditional tiny subsidiary second hand, the doctor timing a patient's heartbeat over a minute could monitor this period at a glance when the seconds register was so pronounced.
Various companies offered doctors' watches in the 1930s including Rolex with its famous Prince, Longines, Gruen and Dunhill. The look of these models, with their sharp angled lines, fitted in perfectly with the taste for all things art deco and while they were expensive, particularly in gold, they were very popular with well heeled buyers.
This particular watch remains in almost mint, entirely original condition. It isn't literally new old stock and certainly has been worn, but the crispness of the case edges suggest that it has only ever seen the very lightest of occasional use, perhaps as an item brought out of the safe for special occasions. The softness of high karat gold tends to result in angled case edges becoming smoothed with years of daily use. There is no smoothing here and the angles between case sides and top remain sharp and defined.
Externally, the case back is stamped with the individual serial number 138160 and a set of Swiss hallmarks for 18 karat gold ( Helvetia).
Internally, the case back is covered with an engine turned pearled design. Fine decoration of this kind, which the buying public will never see under normal circumstances, is very much an identifying feature of high quality cases from the vintage period. Cheaper cases tended to be much plainer on the inside, this helping to reduce production costs.
Careful inspection with an eyeglass reveals the tiny coded case maker's mark of Junod & Cie, of Grenier 24, 2300 La Chaux de Fonds. Owned by one of this famous watch making town's most prominent families, Junod manufactured some of the highest quality wristwatch cases of the golden period. Its cases were purchased by, among many others, Rolex, Jaeger LeCoultre and Patek Philippe and are among the thickest walled to have been offered. In order to reduce the amount of very costly 18 karat gold used, lesser case makers skimped on wall thickness, sometimes resulting in cases that are very flimsy. This case has a weighty, substantial feel to it that we would expect from a maker with Junod's reputation. It is worth a passing mention that even today, the Junod family continue to have an involvement with high level horology, owning one of the most prestigious jewellers in the Swiss city of Lausanne.
Vintage watch dials don't really get a lot more attractive than the exceptionally eye catching item here. Totally original and in nearly mint condition, this is a two tone dial, with the registers in a lighter shade than the outer border. A lot, in fact the vast majority, of dials on vintage watches from the inter-war years are either badly deteriorated or have been freshly restored. Not many are both near perfect and original and hence those that do meet these two standards are expensive and sought after. This one is a gem and again, the fact that it has survived for so long in this state is suggestive of a watch that has spent most of its life wrapped up in a drawer somewhere, well away from the deleterious effects of bright sunlight and dust.
"Mappin" is signed above the dial centre point, with "Swiss Made" running along the bottom edge. This distinctive signature, with a lengthened "tail" running from the first letter, was the same one used on the Mappin Rolex Oysters that appeared in the mid-1930s. On some of the earlier officer's watches from the World War I era, which had larger circular dials, the full Mappin & Webb name was used. On these rectangular models, where the dial wasn't particularly wide, the abbreviated Mappin version is more common.
At this time, Mappin & Webb was one of London's most prestigious jewellers, catering for a high society clientele. The company was a stockist of almost all the top tier Swiss watch brands, but also commissioned a range of exceptionally fine watches that were to be sold under its own brand name, of which this is obviously one. We tend to associate Mappin & Webb with London, but in fact, it had various outposts catering for the wealthy set overseas. From the lack of UK hallmarks, we know that this particular watch wasn't sold when new in London. It could have been supplied by Mappin & Webb in Buenos Aires, Rio de Janeiro or Bombay or, but purely based on our own experiences of where doctors' watches were very fashionable, we would be inclined to think that this piece was probably supplied via Mappin & Webb's shop in Paris or Biarritz.
All three hands are entirely original to this watch. Their blued steel surfaces are bright and free from corrosion. Cosmetic features like hands and winding crowns are very significant in defining the value of all vintage watches and it is all too easy to acquire a piece on which aspects are not as they should be. This watch is correct in every detail and looks today exactly as it did in 1932 when sitting in Mappin & Webb's shop window.
In common with Asprey, Cartier and Dunhill, Mappin & Webb was not a manufacturer of watch movements. Instead, it purchased these from a variety of highly regarded third party suppliers. The movement in this watch is a tonneau shaped calibre 98 unit by the Fabrique d'Horologerie Fontmelon, better known by collectors as FHF. Founded in 1793, this company is regarded today as one of the classic Swiss movement makers and worked to an extremely high standard.
Rolex was a major user of FHF movements and fitted the firm's calibre 59 unit into various models in its Oyster range, most notably the Commander, Raleigh and Centregraph. It is very interesting to notice how similar the calibre 98 movement in this watch is aesthetically to the Rolex HW movement from the same era. The two are not identical and detailed inspection reveals differences, but they are very closely related.
Despite being almost eighty years old, this hand wound, fifteen jewelled movement is in very good condition. Every component in this unit is original and nothing has been changed or modified at any stage.
As a consequence of regular servicing over the last eighty years, this watch works perfectly. It runs without fault and with an excellent amplitude. The initial build quality of these pre-war mechanisms by firms like FHF was so high that if treated well, they are almost impossible to wear out. The key to enjoying this potential for longevity is regular servicing and a watch like this one should be cleaned and re-oiled every three or four years.
When we bought this piece, it came with a very distressed crocodile skin strap that had cracked with age. We have replaced it with a brand new strap that is perfectly in keeping with the theme of the watch.
It isn't terribly easy to value these old doctor's watches, not least because we don't often see them in this condition. They are out there, but most have deteriorated dials and repaired cases, making them unsuitable for our buyers. Every watch we sell is carefully vetted and if we don't consider it to be an investment standard item, we simply do not buy it in the first instance.
A good Rolex Prince in 18 karat gold would certainly find a new home for in excess of £10000 GB pounds. This watch is not a Rolex Prince, but its case is of comparable quality to that of the Prince and its movement was built by a manufacturer that regularly supplied its work to Rolex. Rather pulling a figure out of a hat, we have priced this watch at £1275 GB pounds. At this level, this item represents extremely good value for money and we would be hard pushed to find a comparable example for our stock at a similar sum when this item has sold. It is lovely representative sample of the superb art deco luxury watches that were supplied by Mappin & Webb to its wealthy clients on the sophisticated French Riviera during the golden age between the two World Wars.
Price £1275 GB Pounds
Price £1275 GB Pounds
Vintage Watch Brands
Vintage Watch Decades
Vintage Ladies Watches
Vintage Watch Bracelets
Swipwreek Straps
Travel Clock/ Pocket Watches
Home
About
Brand Overviews
By Decade
Reference
Contact Details
Telephone from the UK:
07453 734666
or 07428 051005
Telephone from overseas:
+44 7453 734666
or +44 7428 051005