Ulysse Nardin gold 18k 1954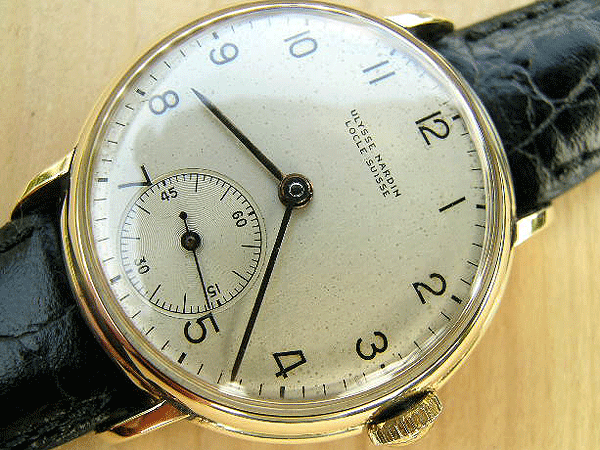 Totally original in every way, this 1954 gentleman's vintage Ulysse Nardin watch in solid 18 karat gold is a rare item that represented the height of luxury Swiss horology at its time of manufacture. Today, nearly sixty years on, its quality of both build and finishing has still not been surpassed and this is an idea piece for the collector who wants something a little more subtle than the more obvious choices by Rolex or Omega. It isn't an inexpensive purchase, but given that another example of the same model would be virtually impossible to locate in comparable condition, the asking price is far from excessive.
The vintage watches for sale on this website are largely intended to satisfy the needs of those buying with a view to serious investment rather than regular use. This item fits into this bracket on account of it being totally original throughout and in virtually new old stock condition. 18 karat gold is much softer than either 9 karat gold or stainless steel, and an 18 karat watch that has been worn daily over several years will often show signs of wear to its case. The sharp angled edges of the swept back lugs are crisp totally free of wear. We don't think that it's in any way overstating the condition of this housing to suggest that it seems unlikely that the watch has ever been used on more than an occasional basis in the past.
The snap on case back carries the engraved dedication "AANDENKEN, van de N.V KREDIETBANK, na 25 JAAR, TROUEN DIENST". Our knowledge of Flemish is extremely limited, but it would appear that the watch was given originally as a gift from Kredietbank, the Belgian commercial bank, to an employee to mark twenty five years of service.
Internally, the entire case back is decorated with an engine turned pearled pattern. The signature "Ulysse Nardin, Locle, Swiss" is here, together with the company's heraldic shield emblem and the individual serial number for this housing, 652085. Also present are a full set of Swiss hallmarks ( Helvetia) informing us that this case is in solid 18 karat gold.
More interesting to the aficionado is the tiny coded case maker's mark, which tells us that this case was manufactured by Pierre A Nardin & Cie of Beau Site 13, 2400 Le Locle. This is fascinating because this third part company was based in the same town as Ulysse Nardin, and clearly shares a very similar name. While we were well aware that Ulysse Nardin, in common with nearly all its competitors, was never a case maker but instead relied on outsourced cases, it seems more than coincidence that both of these concerns clearly had connections to the Nardin family. Detailed research into the relationship between Ulysse Nardin, movement maker, and Pierre A Nardin, case maker, lies outside the scope of this description, but we would suggest that, also given the close proximity of both parties, that there is some family link there.
The French white dial is both very attractive and typical of the type used by the major houses in the immediate post-war years. Printed Arabic numerals, not yet the applied metal type that would become fashionable as the 1950s wore on, are paired with a detailed minute track. Despite its age and total originality, this dial is in excellent condition, with just the very slightest touch of almost imperceptible yellowing to its once bright white surface and some minor, actually very attractive, foxing. Above the dial centre point, "Ulysse Nardin, Locle Suisse" is stated in black.
With a blued steel finish that is free from corrosion, the hour, minute and second hands are original to this watch and have not been replaced. Similarly, the slightly domed winding crown is authentic and correct. These details are so important when buying a costly vintage watch for investment. Finding the appropriate replacement parts to restore a non-original example back to its correct factory specification, especially a model by a low volume producer like Ulysse Nardin, can be an horrendous task. While a collector will always pay more in the first instance for a watch like the one here that is complete and correct in every way, it will ironically almost certainly prove to be cheaper in the long run than buying an example in poor order that requires parts and then trying to source the components needed and return it back to an original state.
When this watch is opened, the two things that immediately strike the viewer are the incredibly high quality of the hand wound movement and the fact that the same is in, literally, as new condition. We deliberately don't like to use the term "mint" on the basis that common sense tells us that anything that is over half a century old can never be genuinely as new. On this occasion, we cannot find anything about this mechanism that enables it to be identified as anything other than literally perfect. The rhodium plated bridges shine as if they left the factory yesterday, the individually hand polished screw heads are free from chewing and the wheels do not have even the slightest dulling.
Everything about this movement oozes extreme quality. The bridges have all been hand finished with Geneva stripes and their edges bevelled by hand rather than left as sharp right angles. The centre wheel is jewelled and the balance staff cushioned by a shock absorber. "Ulysse Nardin, Swiss" is signed on the bridge, together with the serial number 244542. Unusually, there is no mention of jewels made, though this is a fifteen jewelled unit. We wouldn't hesitate to state categorically that there was no manufacturer creating more luxurious and better finished movements at this time than the one here. The Swiss watch industry was at its height in the 1950s and certainly, this movement is a representative sample of the very best work by this famous company.
Having been serviced on a regular basis since new, this movement is in full working order. It winds, sets and runs perfectly and, if carefully looked after in the future, will last almost indefinitely. Firms like Ulysse Nardin intended their watches to be possessions for life and, provided they are maintained in accordance with their manufacturer's wishes, they will fulfil this potential with ease.
We have fitted this watch with a high quality crocodile skin type strap. This is not a genuine Ulysse Nardin strap, but it is in mint condition and ideally suited to the piece.
The price for this vintage Ulysse Nardin watch is £1375 GB pounds. A new Ulysse Nardin in gold would cost several times this sum and have a movement that was based around a mass produced ETA calibre rather than the beautiful in-house unit here. In ten years time, the new watch will have lost more than half its value, whereas this item, and other high grade vintage models by the top tier makers, will be worth substantially more than it is today.
As an investment, we would be inclined to the view that this watch is quite a shrewd choice. At the time when it was new, Ulysse Nardin was a highly respected house with a glorious past, but it still had a tiny market share and was totally unknown to the majority of the general public. To put this into context, in 1954, the year that this watch was manufactured, according to the table published on page 32 of Fritz von Osterhousen's book "Wristwatch Chronometers, Mechanical Precision Watches and Their Testing", Rolex submitted 16476 watches for chronometer testing. In the same year, Ulysse Nardin submitted only a single watch. This wasn't a freak year and, looking the following few years, the numbers of 2, 38, 8, 18 and nil give us an idea of how small Ulysse Nardin's production must have been. We don't have access to the factory records that would tell us just how many of the model for sale here were manufactured, but can make an educated guess that this number barely made it into three figures. As interest in Ulysse Nardin continues to grow, it seems obvious that more attention will be paid to its exceptionally high quality vintage production, hence the comment above that as an investment as well as being simply a lovely thing to own, this has to be a worthwhile purchase.
Price £1375 GB Pounds
Vintage Watch Brands
Vintage Watch Decades
Vintage Ladies Watches
Vintage Watch Bracelets
Swipwreek Straps
Travel Clock/ Pocket Watches
Home
About
Brand Overviews
By Decade
Reference
Contact Details
Telephone from the UK:
07453 734666
or 07428 051005
Telephone from overseas:
+44 7453 734666
or +44 7428 051005