Ulysse Nardin 14k gold teardrop lugs 1949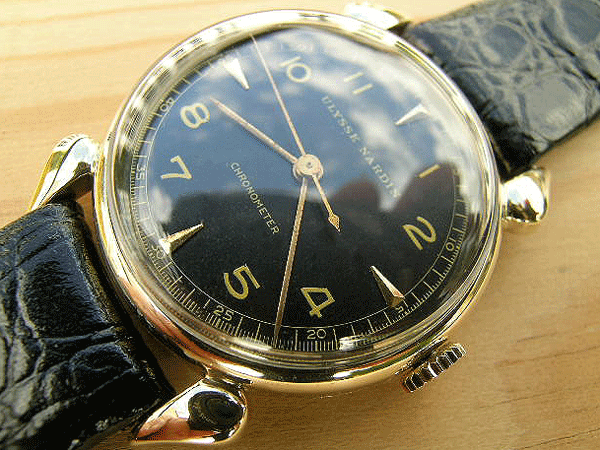 This remarkable gentleman's 1949 Ulysse Nardin chronometer in solid 14 karat gold with a black dial and teardrop lugs, is a piece that can be correctly categorised into two distinct areas, that of the finest grade of Swiss mechanical horology, and equally, on account of the complexity and beauty of its flamboyant case, that of exotic jewellery. It is one of the most visually striking and highest quality of all the vintage watches for sale on this website. Models with rare case styles by the top tier of watch making houses, especially those produced in the glory years of the Swiss watch industry in the 1940s and '50s, are some of the most frantically collected timepieces of all. Having been in the vintage wristwatch business for almost three decades, we have a strong network of suppliers in both the antique and jewellery trades, but even so, we see less exotic watches of this kind with every year that passes and they are now almost impossible to source with any predictability. The vast majority of collectors lucky enough to own pieces like this one don't wish to part with them, which makes finding high grade stock for our business very challenging at times.
It is universally agreed that Ulysse Nardin produced its most spectacular wristwatches during the vintage period, with the company concentrating on making very small runs of extremely costly pieces for a wealthy customer base in the 1930s and '40s. The firm has a storied past that goes back much further than this however and a great deal of the respect that it enjoys today can be attributed to its long and glorious history, commencing in 1846 when Leonard Frederick Nardin, at the age of twenty-three, started the company in Le Locle, Switzerland.
From the very start, Nardin was aware that the most lucrative business was to be done with members of the aristocracy and the opulent mercantile community, and the documents now held at the current Ulysse Nardin premises in Le Locle giving details of the early suppliers to the brand read like something of a who's who of the finest Swiss component manufacturers at that time. In many ways, the examination of any Ulysse Nardin timepiece, whether it was produced a century ago or last summer, is a study of almost absolute perfection of the master horologist's art. The company has maintained a very prudent policy of refusing to follow short term fashion trends, never deviating from timeless, classic case styles, with the result that its output never appears dated, and as a result, performs particularly well when bought for long term investment.
It became obvious that the way to establish Ulysse Nardin as one of the highest quality movement makers within the industry was to have its products independently tested for accuracy, preferably in the most public way possible. The company relentlessly entered its watches in accuracy trials around the world, held both at trade shows and at Observatory testing stations, with startling results, winning over 4300 awards from Observatories in the period up to 1960. After winning the highest award "The Price Medal" at the World's Fair in London, the brand was arguably the most prestigious in the world, a position which has been maintained to the present day. The excellent reference work "Time in Gold" by collectible wristwatch authority Gisbert Brunner describes Ulysse Nardin products as being of "sensationally high quality" and it is common knowledge that the multi-millionaire British comedian Rowan Atkinson has a passion for their pieces. For additional information on the brand's history, and an archive of its almost unequalled technical achievements, we would strongly recommend a visit to the company's excellent website at http://www.ulyssenardin.ch From the homepage, one should follow the link headed "Portrait" and then take the option "Chronology".
This watch must be the perfect example of Ulysse Nardin's ability to combine superlative technical excellence with dramatic good looks. It was pieces like this that earned the brand the justified reputation as a creator of mechanical works of art. After looking at this item with a jeweller's eyeglass for some minutes prior to writing this description, we would conservatively describe its condition as almost perfect, with only the very lightest imperfections to its case that one should expect on any well cared for vintage watch. The condition of the piece is so remarkable that we have to question whether the watch has been used on more than a handful of special occasions in the past.
Vintage Ulysse Nardin cases are famous for their finish quality and weight, and the very heavy, solid 14 karat gold case used on this piece is among the finest that we have ever seen, by any maker. A point of note is the exceptionally thick gauge of gold sheet used in this item's construction. Lesser manufacturers have always had a tendency to produce paper-thin solid gold cases in order that less raw material be used in production and their watches could then be offered at reduced prices in a competitive marketplace. The niche customer sector for watches of this grade, by manufactures of Ulysse Nardin's status, has never been in the least bit price critical, instead constantly demanding the pinnacle of quality, regardless of the eventual retail price of the goods offered.
It is worth noting that this was a watch produced for the American market. Very wealthy in the years after World War II, the USA was a vital source of revenue for makers like Ulysse Nardin at a time when the European financial state was very fragile after the conflict. Watches like the one here were entirely out of the reach of the majority of the working population and it became vital to service those markets where new wealth was abundant. We see the same thing going on today as the prestigious watch brands clamour to establish a presence in China, taking advantage of the enormous number of new self-made multi-millionaires there, many of whom will inevitably be attracted to high value luxury goods.
Even if this wasn't obvious from the case back signature and the American import code stamped on the movement, we would have been alerted to this being a model intended for sale in the USA by the presence of 14 karat gold. In the UK, 9 and 18 karat purity is found in the jewellery industry, with 10 and 14 karat grades used in the American market. Very occasionally, we find 14 karat gold watches that were sold new in Europe, but as a general rule, a 14 karat gold case means a model supplied in America.
The case back interior has been finished to perfection and bears the serial number 14433. There is the Ulysse Nardin signature and shield motif together with "14 K Gold" and the coded case maker's mark "L & K". On the outside of the case back, "L & K" is again repeated, together with "14 K Gold".
The most distinctive features of this case are the distinctive teardrop lugs which flow from the main case body of the watch and extend the overall length of the piece considerably. This case style is perfectly representative of luxury watch making in the 1940s, and an all time classic vintage style. The whole effect is very noticeable, and constantly inspires those viewing the watch for the first time to comment on how attractive it is.
The completely original black dial is in perfect condition, and fully signed in large upper case letters as "ULYSSE NARDIN, CHRONOMETER, SWISS MADE". Dial originality is so important on any vintage watch and this should never be compromised when buying with a view to future worth. Potential buyers of high value pieces like this one do tend to be particularly critical, and we would go so far as to say that when assessing the worth of an exotic Ulysse Nardin, Rolex or IWC, the dial will typically account for half the market value of such a timepiece. There is absolutely no discolouration or imperfection to the dial of this watch whatsoever, and even the solid gold arrowhead batons and original pointer hands are all in almost as new condition.
Ulysse Nardin movements are regarded as some of the finest of all time, and every one of its hand built creations is a marvel of micro-mechanics, instantly collectible as soon as it leaves the Le Locle factory. This particular hand wound movement is a circular calibre with 17 jewels. It is correctly signed "Ulysse Nardin, Watch & Chronom. Corp of America, Adjusted Temperature, Swiss" on the bridge, together with the serial number 530010. Very interestingly, notice how despite this being a classic Ulysse Nardin movement from the company's famous factory in Le Locle, the signature here would almost lead the uninformed to believe that Ulysse Nardin was an American company, which was clearly far from the truth. We might be completely wrong, but we would guess that this emphasis on the American agent, rather than the Swiss house, was done for some kind of tax advantage, with lesser rates charged to concerns operating from the USA than to foreign businesses shipping their products into the country. Beyond the scope of this description, this is a fascinating aside that would be very enjoyable to research.
If we look very closely, "NOA" is stamped near the regulator in small upper case letters. In the immediate post-war period, a high rate of duty was imposed on imported Swiss movements upon arrival in the USA. To avoid tax evasion, Swiss movements for sale in the USA were required to be individually numbered and marked with a three letter code that identified a specific importer. Or, to put it another way, making this system mandatory made it very easy for government authorities to check whether the relevant duty on any movement had been paid when they visited wholesale or retail jewellers. The NOA code was that assigned to the Ulysse Nardin importer in New York. Notice how, exactly as it should on a completely original watch, the American import code on the Swiss made movement is consistent with a 14 karat gold American made case. In our business, buying vintage watches literally every day, the horrors we see never cease to amaze us. It is not uncommon to be offered European market movements bodged into American made cases and every other permutation imaginable. We specialise in supplying the very best vintage wristwatches, with no excuses or issues, for investment, but so many of the pieces now out there, especially in the caveat emptor environment of the mass market online auction websites, are not what they purport to be.
Many newcomers to the field are surprised that Ulysse Nardin was not a movement manufacturer in the strictest sense, but instead used its resources to refine raw movements purchased from suppliers who specialised in the production of ebauches, this being the Swiss term for movements in their most basic form, without components or any form of finishing. For a company operating on such a small scale, this made sound commercial sense. The cost of developing movements in-house was, and still is, enormous and Ulysse Nardin, along with Breitling, Heuer, Cartier and a whole host of other famous brands preferred to perfect material purchased externally. This movement is based around a Peseux calibre 336, but has been modified and superbly finished to such a degree in the Ulysse Nardin workshops that its origins are not immediately obvious. The Fabrique d'ebauches de Peseux SA, to give the company its full title, was based in Neuchatel and was responsible for some of the most exceptional chronometer rated hand wound movements to ever leave Switzerland. When collectors discuss the golden era of the wristwatch chronometer movement, the Peseux name comes up time and time again. Like many of these tiny volume elite makers, Peseux was purchased by the corporate giant Ebauches SA in 1933, but in view of its remarkable achievements in the area of breaking chronometry timekeeping records, the decision was taken that it should be allowed to run independently of the parent concern.
We have tried to photograph this exceptional movement as closely as possible in order to let potential buyers see its beautiful decorative finish. The whole visible surface of the movement back has been burnished, entirely by hand, with a rotating disk of boxwood to produce a set of the most exquisite Geneva waves that we have encountered on any watch. Geneva waves, one of the classical movement finishes, having been first used in the 18th century, and one of the most laborious to execute, are only ever seen on the very highest grade of mechanisms, and instantly identify a movement that is of an exceptionally high standard. It can be said quite categorically, as a simple statement of fact, that the movement in this vintage Ulysse Nardin watch has been finished to a far higher standard than its equivalents from the same period by either Rolex or Omega. In fact, we would go further and say that the flagship hand wound movements by these two companies, these being the Rolex Hunter and the Omega 30mm series respectively, look agricultural and prosaic in comparison. In motor car terms, a Rolex is very much a Mercedes, solid, well built and utterly reliable, but to keep to the same analogy, the unit here is a Lamborghini.
Every component in this movement, and indeed in the watch as a whole, is completely original and authentic, with no changed parts whatsoever being present. Both internally and externally, it is almost impossible to find any imperfection or fault with this piece, even when examining it with an eyeglass in a deliberately overly critical manner. Buyers at this level of the market do need to be absolutely sure that any potential purchase is entirely unmolested in order to obtain a piece that will be a sound long term investment. Buying a vintage watch by a maker of Ulysse Nardin's standing will always be expensive, especially when in the almost perfect condition of the one offered here, but the market for top tier classic watches has never been stronger, and is rising presently at an unprecedented rate, with the internet being largely responsible for a new wave of highly informed purchasers entering the marketplace in the last fifteen years and buying increasingly as an alternative to less stable, more traditional investment in the stock market.
We have fitted this watch with a high quality black crocodile skin type strap that is perfectly in keeping with its upmarket, period appearance. This is not an original Ulysse Nardin strap, but is almost identical to the ones shown with these watches in the firm's post-war brochures, and is in mint condition, having never been worn.
Overall, this is a rare chronometer rated piece, exceptionally attractive and of very high quality, by one of the world's finest makers. A similar watch today by Ulysse Nardin would cost over £10000 GB pounds and have considerably less investment potential than the one for sale here, this already being established as a vintage collectible. Similar examples can be found in the vintage watch shops in central London's Bond Street and Burlington Arcade and are priced there at in excess of £4000. Everything about vintage Ulysse Nardin watches exudes quality and opulence, and examples the company's work for sale in this condition are now almost impossible to find. We have priced this watch at £1775 GB pounds, which is far from excessive. Primarily because of our location in rural Yorkshire, where business overheads are some of the lowest in the UK, we can undercut our competitors in London by an enormous amount. This is a delightful item and at this level, it can be bought for very little over the amount it would change hands for as part of a large parcel sold to the London trade. We cannot recommend it more highly and it is an ideal watch for someone wanting a specimen sample of luxury watch making from the 1940s at its very highest level.
Price £1775 GB Pounds
Vintage Watch Brands
Vintage Watch Decades
Vintage Ladies Watches
Vintage Watch Bracelets
Swipwreek Straps
Travel Clock/ Pocket Watches
Home
About
Brand Overviews
By Decade
Reference
Contact Details
Telephone from the UK:
07453 734666
or 07428 051005
Telephone from overseas:
+44 7453 734666
or +44 7428 051005