Rolex Tudor with honeycomb dial 1949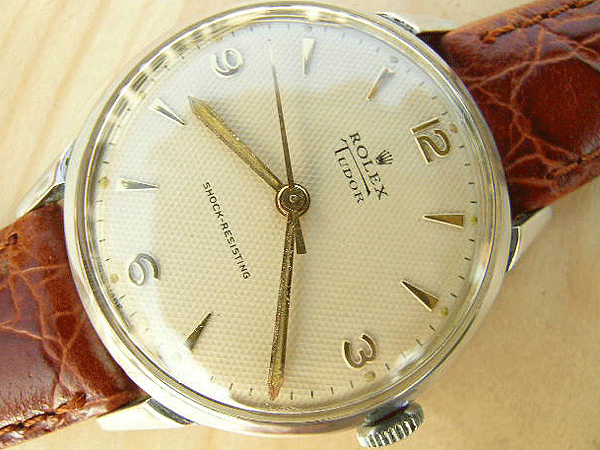 From 1949, this gentleman's vintage Rolex Tudor is an extremely collectible watch in an immaculate condition that one doesn't see on a regular basis. A lot of the classic Rolex watches that are offered for sale now, both online and on the physical auction circuit, are looking rather tired or, alternatively, have been, to put it gently, rather "enhanced" with non-original hands and refinished cases. Finding sleeping watches that are new to the market isn't easy and it's always a pleasure to handle these items when they appear.


Rolex launched its Tudor range in 1945, which clearly makes this an early example. Its condition is so exceptional that even studying it with an eyeglass, it is actually quite difficult to identify what the case front on this watch is made of. On casual inspection, we had presumed that it was stainless steel, but in fact, it is more likely to be chrome plated brass. Rolex had a long history of offering chrome plated cases, going right back to its patented "Snowite" models of the 1920s. A lot of the military pilots' watches created during World War II for the British government employed chromed brass cases and even by the late 1940s, this was still a favoured case format.


If we look long and hard enough, we can see a few tiny imperfections to the case here and there, but in realistic terms, this housing is almost mint. The edges of the lugs are as sharp today as they were sixty years ago and it is safe to say that this case has never been anywhere near a polishing mop.


The snap on case back is signed internally as "Rolex", together with the early coronet emblem ( on which only one side of the headband is shown, rather than the full loop), and "stainless steel back". A lot of the Rolex watches from this era that were sold in the UK had cases made and signed by Dennison, the leading British case making company of the day. This one, despite being retailed in the UK originally, is a Swiss made item, which is not all that common here.



The gorgeous textured honeycomb dial on this piece is an early example of classic post-war Rolex production that is so evocative of this era. Honeycomb dials are to be regarded in retrospect as being very much a 1950s Rolex staple and are some of the most attractive dials that the company has ever offered. Rather than being simply flat, a fine pattern has been stamped into the dial surface. While honeycomb dials look eye catching, one of their drawbacks is that they do tend to harbour any dust that manages to get into the case and if owners are not very careful, their watches soon start to look rather grubby. These dials aren't common and when they do turn up, then tend to be in a condition that is too poor to be considered for serious investment.


This dial is almost faultless and would suggest that this watch has spent the majority of its life sitting unused in the back of a dry drawer or safe. If we want to be excessively pedantic, we might suggest that the overall dial colour is just a fraction creamier than it was in 1949, in much the same way that the pages on an antique book tend to become a little less stark white with age, but this is really to make a criticism artificially where none is needed.


The applied gold arrowhead batons and Arabic numerals are entirely free from any corrosion. These match the original radium filled hour and minute hands, and the correct gilt second hand. This particular shape of vintage Rolex hands is very distinctive and is quite often seen on the company's waterproof Oyster models produced in the late 1940s. The radium infill to the hands and the luminous dots at the hour points are slightly aged, but this comes about as a consequence of the natural chemical decay of the radium element and is in no way a reflection on how the watch has been stored or treated in the past. In fact, we could go further and say that gently aged, rather than new looking, radium paint is exactly what we want to see on an unmolested watch from this period.


"Rolex Tudor" is signed above the dial centre point, together with the Rolex coronet emblem. This format, where both the Rolex brand name and the Tudor model range title are stated together is unusual and very appealing. The technical specification of this watch would be exactly the same whether signed as "Rolex Tudor" or simply "Tudor", but having the Rolex name so prominently on the dial here will undoubtedly add value to this watch as it otherwise would have been with only the Tudor wording.


Newcomers to the vintage watch collecting field are often surprised that Rolex was not actually a manufacturer of its own movements during its glory years, but instead relied on a network of highly trusted third parties, in which it sometimes had a financial interest, to supply these. The movement in this watch is based around a calibre 1187 that was purchased by Rolex from A. Schild. Founded in 1896 and based in the Swiss town of Grenchen, Schild was one of the most respected movement makers of the early 20th century and had worked closely with Rolex by this stage for almost thirty years. Schild supplied movements in ebauche form, this being the Swiss term for a movement in its most basic, unprocessed state, without any components or finishing, and Rolex would then re-work them as required to produce a complete working unit that met its high standards. While other brands bought the 1187 ebauche from Schild, there is a world of difference in most instances between their finished product and this Rolex refined example.


Calibre 1187 was a manually wound 10.5 ligne ( the ligne is the unit of movement diameter used in the Swiss watch industry. 10.5 ligne is generally regarded as the standard measurement for a typical man's movement) mechanism, running at 18000 half beats per hour. In the Rolex form here, it featured fifteen jewels and a power reserve of forty two hours; this being the length of time that the movement would continue to run from fully wound to stopped if left untouched.


In 1950, the 1187 was revised with Incabloc shock protection in line with industry advancements at the time. The movement in this watch is without shock protection, which is clearly quite correct for its 1949 production date. When studying vintage Rolex watches for sale, it is worth keeping in mind the small changes that were made to the various movement types at different stages in their production spans. While the watches offered for sale on this site are among the best available anywhere in the world, there are a lot of rogue watches out there and many movement and case combinations in circulation today didn't start life together when new.


This movement is entirely original and in an excellent condition throughout. Its rhodium plated finish is unbroken and gleams brightly. "Tudor, 15 Rubies, Swiss Made" is stated on the bridge with the calibre number 1187/94 below the balance wheel. Most importantly of all from an investor's point of view, every component is authentic and unchanged since this unit left Rolex for the first time in 1949. The state of this movement is exactly what we hope to find when opening a vintage watch for inspection prior to purchase.


Having been serviced regularly throughout its life, this watch works perfectly today. These vintage Rolex movements were very over-engineered and if treated sensibly and cleaned and oiled every three or four years, they will last almost forever. The key to trouble free ownership of vintage watches is to buy at the top level of the condition scale in the first instance and then keep up with maintenance at all times.


This watch has been fitted with a high quality crocodile skin type strap that is perfectly suited to its classical, vintage appearance. This is not a genuine Rolex strap; the original having deteriorated to the point where it was no longer serviceable, but it is very similar to that which would have been supplied by Rolex with this model in the first instance.


The price of this watch is £665 GB pounds which makes it one of the most affordable ways of buying into vintage Rolex ownership, without sacrificing anything in quality or condition. For anyone wanting to purchase a classic Rolex from the company's golden period without spending a lot of money, either for themselves or perhaps as a memorable gift for someone else, this piece would potentially be an option that might well be ideal. The state of the watch is immaculate throughout and its beautiful honeycomb dial just gives it that extra something to make it appealing to the collector looking for an investment vehicle. This is a very attractive vintage watch that would be enjoyable to wear while at the same time also being something that will always appreciate in value over the long term.


Price £665 GB Pounds
Price £665 GB Pounds
Vintage Watch Brands
Vintage Watch Decades
Vintage Ladies Watches
Vintage Watch Bracelets
Swipwreek Straps
Travel Clock/ Pocket Watches
Home
About
Brand Overviews
By Decade
Reference
Contact Details
Telephone from the UK:
07453 734666
or 07428 051005
Telephone from overseas:
+44 7453 734666
or +44 7428 051005