Rolex Tudor Royal steel automatic cal.390 1951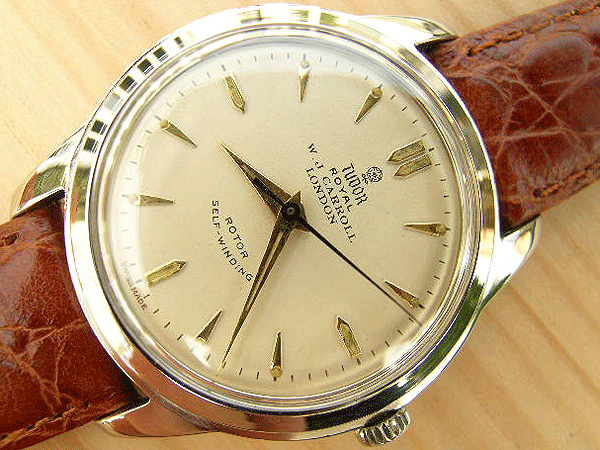 Vintage Tudor watches have shot up in value over the last decade and increasingly are producing record sale results on the physical auction circuit. Introduced in 1946, the Tudor range was an attempt by Rolex to offer its famous quality at a lower price than was asked for watches in its mainline collection. This objective was achieved very successfully by purchasing movements from third party suppliers, most notably the AS company of Grenchen, and then refining them in house to Rolex standards, rather than using mechanisms that were created by Rolex itself. The fruit of this idea was excellent and the hard truth of the matter is that in reality, there is very little difference in quality between these vintage Tudor movements and their closest vintage Rolex counterparts of the same age.
Contradicting the previous paragraph, this particular Tudor model from 1951, reference 1431, is especially interesting for the serious vintage Rolex collector because it contains a movement that isn't based around a calibre purchased externally, but was actually manufactured in-house at Rolex. This is a completely original Tudor model, with a very early Tudor movement with pedigree Rolex ancestry throughout.
The 1431 wasn't the only Tudor model to contain an in-house Rolex movement and there were others that used the same mechanism during the same era. However, almost without exception, these were Oyster models, with screw down winding crowns and threaded case backs. The 1431 is a large, thick watch but curiously, it is not an Oyster, having a snap on back and pull out winding crown. It is considerably more unusual than its Tudor Oyster equivalent and is well worth considering as an addition to any collecting of early vintage Tudor watches.
The condition of this example is almost mint. The vintage watches for sale on this site are deliberately selected with a very critical eye and of an extremely high standard, but even so, this item stands out as having seen very little use. Its stainless steel case is almost unmarked, with only the slightest imperfections here and there that must be expected on any vintage timepieces that are not literally unused new old stock.
With a depth of just a hair under 10mm, this watch is noticeably thicker than most of its era, this additional thickness being needed to accommodate this very deep movement. Looking at the two watches side by side now as this is written, it is noticeable that the 1431 is actually thicker than its Tudor Oyster equivalent. This substantial size is very much part of the 1431's appeal.
Internally, the case back is signed "Tudor, Geneva, Switzerland" against a beautifully engine turned background. The cases used for the Tudor range were identical in quality to those used for all other Rolex watches and their weight and grade of finish was extremely high. Externally, the case back is stamped with the Rolex model reference 1431 and the unique serial number 801404. Falling between the two extremes of Rolex production for that year of 738500 and 804000, this dates this watch to the second half of 1951. Notice how at this stage, the serial numbers on these very early vintage Tudor watches still follow the standard Rolex production sequence. Later, we would suggest after 1954-ish, Tudors would be allocated their own serial number sequence which didn't slot in with that of mainstream Rolex production.
Dials are so important to the vintage wristwatch collector. To have its maximum theoretical value, a dial must be both original and in excellent or better condition. Dials are exposed for prolonged periods of time to bright sunlight and potentially suffer from damp and dust staining. Almost every vintage watch, Rolex or otherwise, that survives today with its original dial shows some noticeable signs of deterioration. At the other end of the scale are those vintage watches that have freshly restored dials. These often look immaculate, but have no appeal to the serious collector because of a lack of rarity. The golden combination is total originality and superb condition, and when these two factors are found, the result will be a desirable and valuable dial.
This dial is guaranteed to be completely original, yet it remains in a superb state. The French white background colour is just fractionally creamier than it would have been when new in 1951, but is otherwise unmarked and without the slightest hint of spotting. This is the epitomal vintage watch dial for the investor, but unfortunately, finding such clean authentic examples isn't at all easy.
"Tudor Prince" is stated above the dial centre point, with "Rotor, Self-Winding, Swiss Made" below this. The rotor self-winding layout is extremely attractive, with the latter term in an arc below the former. While we tend to associate this with vintage Tudor watches from the 1950s, it also appeared on many automatic Rolex dials of the same period. If we look at the early Rolex Explorer reference 6150 dial given the honour of a double page colour photographic spread ( p 338 and 339) in Osvaldo Patrizzi's book "Collecting Rolex Wristwatches 2001" for instance, we can see that it has exactly the same formatted Rotor Self-Winding logo as here.
Also present below the Tudor signature is the name of W.J Carroll, the London Rolex agent that supplied this watch when new. Double-signed dials of this kind, where a jeweller's name is stated alongside that of the manufacturer, are not common and are especially evocative. Vintage watches for sale with this feature have historically always been more expensive than those with singly signed dials, but over the last decade, we've seen double signed dials almost become a sub-genre of the antique wristwatch field in their own right, with huge prices being paid in particular for pre-war Rolex watches with the names of jewellers in exotic former British colonial countries on their dials. This dial is very attractive and the additional retailer's name adds both period charm and commercial value.
All three hands are totally original. The hour and minute hands are in the dauphine shape and finished in gilt to match the art deco spearhead hour batons around the dial, whereas the second hand is in blued steel. None of the hands is deteriorated at all and their finishes are free from corrosion.
A rare original feature on this watch is its winding crown, prominently signed with the Rolex coronet emblem. We expect to find the coronet on screw down Oyster winding crowns from this period, but the majority of non-Oyster vintage Rolex watches for sale from this period have plain, unsigned crowns. Of all the non-Oyster Rolex watches from the 1950s that pass through our hands, only perhaps 5% have Rolex signed crowns.
The calibre 390 movement in this watch is exceptional. Manufactured entirely in-house by Rolex, the 390, along with the almost identical calibre 395 produced at the same time, is the only movement ever to have been used in the Tudor range that was produced from start to finish by Rolex itself. Despite being signed as Tudor on its rotor, this is a thoroughbred Rolex movement in the strictest sense.
The 390 appeared for the first time in 1950, a year before the watch here was produced. For reasons we have never heard explained, its production life ended only five years later in 1955. It was a brilliant movement in every sense, so much so that it can stand direct comparison in retrospect to the Rolex signed automatics of the day, and we would make the educated guess that it was either simply too expensive for Rolex to viably manufacture in house, or Rolex felt that the gap in standard between the Tudor range and its more expensive models was rather too small for comfort in terms of justifying the high prices of its "full" Rolex models to the general public. Years ago now, we remember a parallel situation in the motor industry, when the newly introduced Porsche Boxter, an entry level product at the time, was so ecstatically received by the specialist press that questions were asked as to how the much higher price of its big brother, the 911, could possibly represent good value for money. It didn't cost Rolex any less in real terms to manufacture the 390 for use in Tudors than it did to produce calibre 1030 its flagship automatic movement as fitted to the self-winding Rolex Oyster Perpetuals of the early 1950s. Both were produced in the same factory, using the same machinery, to an almost identical design. These two related movement types are so similar in every respect and their quality so closely comparable that this Tudor badged unit must have been a source of some embarrassment for Rolex. Post-1955, the decision was taken to no longer use Rolex made movements in the Tudor range, but instead change over to calibre units manufactured by A. Schild.
In technical terms, calibre 390 was a very large, 12.5 ligne movement with a 6.25mm thickness. Impressively, and unlike the earlier Rolex bubbleback movements from which it was developed, it self-wound in both directions. It ran at a rapid 18000 half beats per hour and was equipped with every possible refinement of its day, including a Glucydur balance and the Kif shock protection system that is still used on Rolex movements today.
"Tudor, Swiss Patented, Auto-Prince" is signed on the rotor, with "Swiss Made" on the rotor bridge. The calibre number 390 is stamped next to the balance wheel.
The condition of this particular movement is faultless. Unlike the Rolex signed movements from the same period which were finished in silver coloured rhodium, the 390 was finished in pink gold, making it, rather ironically given that Omega was Rolex's main competitor at the time, look cosmetically similar to a vintage Omega mechanism. This gold finish here is not at all tarnished and gleams very brightly.
The whole movement is completely original in every respect. A lot of the early Tudor automatics that we have offered to us today have been fitted with incorrect component parts to keep them running, especially in the 1980s when the values of mechanical watches were at an all time low and owners were reluctant to pay for genuine Rolex components when their watches needed repair. There is no evidence of any repair work or part substitutions having been performed on this movement and everything is exactly as it was in 1951 when new.
Having been serviced regularly, this movement works perfectly and is in the best possible mechanical condition. These early vintage Rolex automatic movements were built like the proverbial tanks and while beautifully finished and decorated to perfection, they are robust enough to last a lifetime with ease if correctly maintained.
For those with access to a comprehensive selection of vintage Rolex watch related books, it is worth mentioning that a close up colour shot of this same calibre 390 movement is provided on page 220 of Shigeharu Aritake's book "Rolex Scene 1913-1997". The pictured movement also dates from 1950 and is in a steel cased reference 7909 Tudor Oyster.
The calibre 390 movement is also discussed in some detail in the book "Automatic Wristwatches From Switzerland" by Heinz Hampel. The comment is made that Rolex bought the movements for its Tudor range from A Schild and later ETA, with "the exception being the Rotor Prince Calibre 390, developed by Rolex around 1950 especially for the Tudor brand" ( p 301). Hempel goes on to add that the "components of the 390 were markedly similar to those of the contemporary Rolex calibre 1030, including the shape of the rotor, the Maltese spring to stop the rotor, and the sprung disks of the twin click wheels".
This watch has been fitted with a high quality crocodile skin type strap that is perfectly suited to its upmarket vintage appearance. This not a genuine Rolex strap, but it is very similar, both aesthetically and in construction, to those shown in vintage Rolex advertising from the 1950s. Having never been worn, this strap is in mint condition.
This is a very attractive vintage Rolex watch in the most literal sense, containing an in-house movement that was manufactured entirely by Rolex, despite being signed with the Tudor name on case, movement and dial. It's also a very important collector's piece for the same reason, with every Tudor produced after the retirement on this movement containing a non-Rolex mechanism sourced from external suppliers.
Good, and by this we mean all original and immaculately preserved, early vintage Rolex Tudor watches from the years following the brand's launch are getting thin on the ground. This one is the among the best that we've had for sale for some time and is ideal for anyone wanting to invest in vintage Rolex watches without spending a huge amount of money. All early Rolex Tudors are climbing steeply in worth at the time of writing and it seems likely that even five years from now, this watch will be worth considerably more than it is at present.
Price £885 GB Pounds
Vintage Watch Brands
Vintage Watch Decades
Vintage Ladies Watches
Vintage Watch Bracelets
Swipwreek Straps
Travel Clock/ Pocket Watches
Home
About
Brand Overviews
By Decade
Reference
Contact Details
Telephone from the UK:
07453 734666
or 07428 051005
Telephone from overseas:
+44 7453 734666
or +44 7428 051005