Rolex Tudor Oyster with rare case and hooded bracelet 1961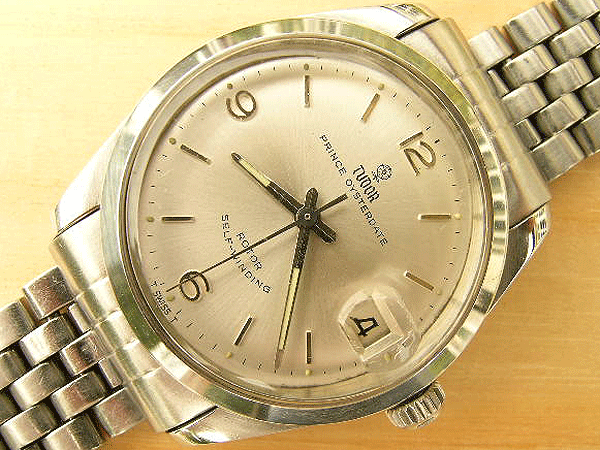 This is the perfect example to illustrate how, in the world of vintage Rolex collectors, relatively small changes to a watch's specification can have huge ramifications to value. To the uninformed, this is simply a stainless steel Tudor Oyster with a slightly odd case shape and unusually styled large bracelet ends, but to the connoisseur who understands these things, this is a fascinating watch that will be regarded as extremely desirable. In fact we could go further, and say that it is the most interesting, and certainly the most attractive, Tudor Oyster that we have ever offered for sale on this site. In almost thirty years of daily involvement with high grade collectible wristwatches, we have never seen its twin, and there is no similar model pictured in any of the standard reference books relating to vintage Rolex items.
To explain why this particular watch is such an oddity, it will be necessary to give a little bit of background information regarding the Rolex Oyster in the inter-war years. This is not by any means superfluous, and an understanding of this will lead to an appreciation of this model.
The self-winding Oysters of the inter-war period are known by collectors today as "bubble backs", this nickname coming from the case backs on these models being distinctively very domed. Arguably the most desirable bubble back variants are those with hooded lugs. On these items, a separate piece of pressed metal fits between the lugs, giving the front view of the watch a closed in, strong art deco appearance. These hooded bubble backs were created in a variety of metals, but those on which the hoods are in gold and the rest of the case is in steel are probably the most eye catching. Despite being some of the most attractive Oysters ever offered, the hooded models were discontinued in the late 1940s, after which they were never to re-appear.
What makes this 1961 Tudor Oyster so collectible is that its aesthetics resurrect the style and construction of the pre-war hooded bubble back. The bracelet, completely parallel sided like an early bubbleback example, and totally different from the tapered versions that Rolex was using as standard on the Oyster at this time, has oversized flush fit endpieces, but these are not integrated with the rest of the bracelet. As a consequence, they completely fill out the area between the lugs, appearing as free floating hoods that are virtually identical in appearance to those on its exotic bubbleback forebears.
It would be easy to think that the appeal of this piece lies in its very unusual bracelet with its beautiful prominent hoods, and that the watch head itself had a more conventional specification. However, close examination of this item reveals that the case body itself is also very different from its contemporaries. On a standard Rolex Oyster manufactured in the 1950s or '60s, the lugs, when viewed from the side, go to a sharp point at either end. On the 1930s and '40s hooded bubblebacks, the lugs were far more rounded and abruptly ended. Remarkably, this case was clearly influenced by the hooded bubbleback, and has far more club-like rounded lugs than any other post-war Oyster that we have ever seen. It is quite apparent that when designing this model, the person, or persons, responsible, took the hooded bubbleback as their inspiration and created this unique case and bracelet to be used together to achieve this particular retro-1930s look, but in a contemporary 1960s watch.
The condition of this watch is almost mint throughout. We purchased it from its original owner, who clearly only ever used it for special occasions. If one looks closely enough with a jeweller's eyeglass, there are the tiniest few imperfections in places to the large stainless steel case, but these are so small as to be almost invisible and may well have been there when the watch was sold new.
Between the upper case lugs is the individual serial number for this watch 567302, with the model reference 7996 being stamped between the lower lugs. If we look this up in Charles Jarman's Rolex Reference Guide 4th Edition, we find that it relates to "man's Oyster Prince Date, stainless steel, polished bezel", which is a perfect summary of the item here. What is again odd is that it is clear that no special reference was assigned to this hooded version. The same 7996 reference equally applies to the standard Tudor Oyster automatic with date from the same era, which suggests that Rolex didn't make enough of this curious variant to merit giving the model its own reference. This is pure speculation, but we have certainly never seen its twin or known anyone who has, which suggests strongly that very few of these watches were produced in the first instance.
Internally, the threaded case back is signed "Montres Tudor SA, Geneva, Switzerland, Patented, Stainless Steel, C.R.S". Externally is the large lettering "Original Oyster Case by Rolex Geneve", together with a large rendition of the company's coronet emblem. The milling around the case back edge is in virtually as-new condition and this component has only ever been removed with the correct Rolex factory tool.
The screw down winding crown is the original with which the watch left Rolex when new. This is signed on its outer surface with a large coronet emblem and is the post-1954 pattern of crown that is still used by Rolex today on its current Oysters. The fine threads inside the crown are in perfect condition, as are those on the tube that protrudes from the case side. As a consequence, the crown winds down perfectly in place and locks tightly against the case side.
If the unusual case and complimentary bracelet take their styling cues from the hooded bubblebacks of the 1930s, then the dial here couldn't be more evocative of the second half of the 1950s. Post-war Rolex dials do not get more appealing than this, it having the classic mixture of Arabic numerals at the compass points and batons for the other positions that collectors today will refer to as an "explorer dial". This term was originally inspired by the Rolex Oyster model of the same name, this having this distinctive dial format, but in more recent times, it has become a something of a generic working phrase that quickly identifies any dial with this appearance.
This is a totally original dial that has never been restored, yet it remains in faultless, almost perfect, condition. There isn't even the slightest hint of discolouration or spotting, and one couldn't hope to find an untouched 1960s dial in a better state. On a watch like this one, dial condition is everything. The only person who will buy this item will be an experienced collector who appreciates just how unusual it is. By definition, anyone with experience in this area will be aware of how important dial condition and originality are in defining the value of any collectible vintage watch. If this watch had a restored dial, it would be virtually impossible to sell, because the type of informed buyer that would be interested in acquiring it would instantly dismiss it out of hand as undesirable because of its second rate dial. In reality, because its dial is completely original and so close to being perfect, it would make the perfect choice for the serious collector or investor.
The signature "Tudor Prince Oysterdate, T Swiss T" is stated above and below the dial centre point in black. Beneath this is the wording "Rotor Self-Winding" in the format that was also used on the early Oyster Explorers. An example of this same signature is shown in a full colour picture of a 1953 Explorer on page 338 of Osvaldo Patrizzi's book "Collecting Rolex Wristwatches 2001".
In common with the rest of the watch, the chromed hands are totally original. These are free from corrosion and still with their tritium infill, which remains, quite amazingly, in an un-deteriorated state.
The movement used in this item is calibre 2462. This 11.5 ligne ( the ligne is the unit of width measurement used as standard in the Swiss watch industry) unit was the flagship mechanism used by Rolex for its Tudor Oysters at this time and was offered in three grades, these having 17, 21 and 25 jewels respectively. Its running speed was 18000 half beats per hour and it boasted a very useful power reserve ( the length of time that the movement would run from fully wound to stopped if left untouched) of 42 hours.
Rolex movements are finished to a remarkably high standard, and certainly this one does not disappoint in any way. Every surface of this item has been beautifully decorated, either with Geneva stripes or engine turned pearling. The signature "Tudor, Auto-Prince, 25 Rubies, Swiss Made" is infilled with gold to make it stand out against its rhodium plated background and the calibre number 2462 is stamped alongside the regulator.
The condition of this movement is literally indistinguishable from that in a brand new watch. Regardless of the amount of money expended, it would be impossible to find a better preserved vintage mechanism than this one. Having been serviced regularly throughout its life, this movement works perfectly and is in the best possible mechanical health. Provided its new owner continues to have it cleaned and lubricated every three or four years, there is no reason whatsoever why this movement will not be providing sterling service half a century from now. One of the most appealing aspects of vintage watches to many buyers is their potential for almost infinite longevity. While acquiring a rare model like this one may seem expensive at the time of purchase, if we bring into the equation that it can quite realistically be a watch for the rest of one's life, and the fact that older Rolex Oysters are superb appreciating assets, then there probably isn't a cheaper way of owning any kind of timekeeping device, let alone one that has such luxurious connotations.
An integral part of this watch's appeal is its extremely unusual original bracelet. It is generally accepted that the only parallel sided, non tapered, bracelets that Rolex ever made were produced in the 1930s and '40s for use on the bubbleback models. These had riveted construction. Utterly bizarrely, here we have a parallel sided steel bracelet with the folded link construction that so typifies Rolex bracelets of the 1960s. In real terms, this is what can only be described as a bubbleback bracelet, but constructed in a manner that followed the last "real" bubbleback bracelets by over a decade. We have never seen this model of Rolex bracelet at any time, and strongly suspect that it may be one of the rarest of all the company's bracelets used on the Oyster. Parallel sided bracelets are pictured in Osvaldo Patrizzi's "Collecting Rolex Wristwatches 2001" ( page 140) and James Dowling's "Rolex Wristwatches, The Best of Time" ( page 308), but these are riveted items from the 1940s. There is no mention anywhere of parallel bracelets being offered by Rolex in the 1960s or even 50s, and certainly not with folded link construction, yet this bracelet is entirely genuine, and presumably, given that it is fully signed rather than blank as a prototype probably would have been, was sold when new as a conventional retail product.
This is a full length bracelet that has never been shortened, its closed length being 163mm ( its width is 15mm across the parallel sides and 19mm between the lugs). Its fliplock clasp is signed with a large coronet emblem and its internal clasp plates are stamped "Rolex, Made in England, Stainless Steel, WAB". In order to reduce the amount of import duty that had to be paid, Rolex had bracelets produced domestically in a number of the markets in which its watches were offered. These Birmingham made English bracelets are of extremely high quality and are at least the equal of their Swiss made equivalents.
Pricing this watch is so difficult, simply because there is no precedent of a comparable example having been sold elsewhere. A standard shaped, completely original, near mint, early 1960s Tudor Oyster in stainless steel on a leather strap will typically change hands for around £750 GB pounds in investment grade condition, but this is a much rarer beast altogether. The value of the bracelet is also very high. In the last two years, we have sold two parallel sided bubbleback bracelets in steel for £900 and £1150 GB pounds respectively. This later version technically isn't a bubbleback bracelet in the strictest sense because it's too modern, but it shares almost all the same attributes and is actually a rarer item than its inter-war predecessor.
If we were purely interested in maximising the amount we could receive for this item, then by far the most effective step for us to have taken would have been to split the watch head and bracelet, selling them separately. The watch head, with its very unusual side profile, would have sold easily for £900 to £1000, and the bracelet for, conservatively £550 to £650 GB pounds. As a manner of principle, we deliberately never adopt this approach on the basis that to do so is to separate items that have been together for decades and should rightly remain as a pair in the future.
For the package of this watch and its original hooded bracelet, the price is £1175 GB pounds. At this level, it has to be one of the most obvious bargains on this site. It is a rarer watch by far than any vintage Tudor Submariner, much more interesting than a standard manually wound Rolex Oyster from the 1970s and yet, is far less expensive than either. Neither the watch or its bracelet appear in any book or auction catalogue and without doubt, this is one of those items that none of us are ever likely to see again. Given this obscurity, it is ludicrously under-valued. All the Tudor Oysters have leapt up in worth in recent years, and we cannot imagine any possible change in the market that could prevent this item from being a lot more valuable in five years time than it is today.
Price £1175 GB Pounds
Vintage Watch Brands
Vintage Watch Decades
Vintage Ladies Watches
Vintage Watch Bracelets
Swipwreek Straps
Travel Clock/ Pocket Watches
Home
About
Brand Overviews
By Decade
Reference
Contact Details
Telephone from the UK:
07453 734666
or 07428 051005
Telephone from overseas:
+44 7453 734666
or +44 7428 051005