Rolex Tudor Oyster Royal with honeycomb dial 1954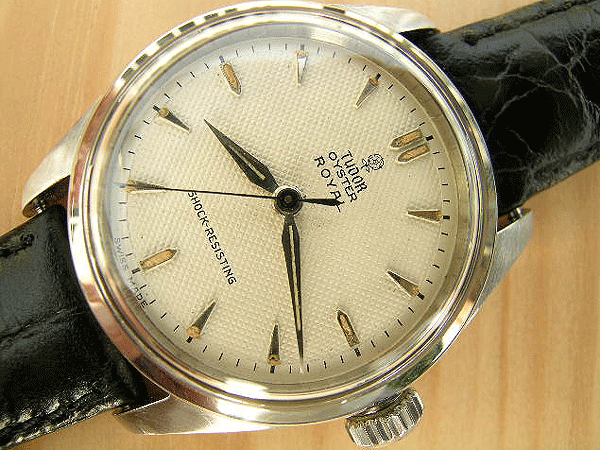 With an untouched, near mint honeycomb dial, this 1954 gentleman's Rolex Tudor Oyster Royal in stainless steel is a lovely example that would make the perfect inclusion in any collection of early post-war period vintage Rolex watches. It is very representative of the company's superb work from this period and in a state that becomes ever more difficult to find with every year that passes. We buy and sell old Rolex Oysters literally every day of our working lives, and we don't see many that are as clean and tidy as the one here.
The case shape is that of the classical Rolex Oyster, introduced on reference 2280 in 1932 and in production ever since. If we look at all the models in the present Rolex Oyster range, the outline of their cases is essentially exactly the same as that of this watch. Rolex has experimented with different cases sizes and slightly altered proportions over the decades, but the basic, timeless shape of the Oyster case has remained unchanged. This has great benefits from the perspective of the vintage watch investor, because established firmly as icons, Rolex Oysters are very unlikely to ever fall from grace in the market. Examples like this one will look just as relevant in thirty years time as they do today, making them a very safe, proven choice for the buyer keen to have his money in the form of tangible appreciating assets. Increasingly, the global financial crisis and the inextricably linked volatility of the stock market has meant that many purchasers of paper investments in the past have chosen to opt for what they regard as the safer havens of classic cars, modern art and vintage wristwatches. For those people, for whom stability is clearly very significant, a period Rolex Oyster will be a more obvious choice than a more speculative purchase in the form of a watch by one of the less well known brands.
Case condition is almost perfect. There is none of the pitting that sometimes blights early stainless steel cases and the whole housing is of a very high grade. We always make the point that if a determined individual examines the case of any vintage watch with an eyeglass, he will find minor blemishes here and there, but in the real world, this is a piece that has been very well looked after by careful past owners and is as good as any of us are ever likely to find.
This is a two part Oyster case with a threaded screw back. Externally, there is the stamped Rolex model reference 7903 and the individual case number 123661. If we consult the tables in Charles Jarman's excellent book "The Rolex Reference Guide, 4th Edition", we see on page 109 that the 7903 reference identifies a steel Tudor Oyster, hand wound, with a polished bezel, which is the perfect summarised description of this item. It may seem rather odd that we include this detail when the specification of the watch is immediately obvious at a glance, but performing this basic check is a good initial test that case and movement are not incorrect for each other. The amount of chopping and changing that goes on in the classic watch world is almost unprecedented in any field of antiques, and many of the vintage Rolex Oysters for sale online, especially in the buyer-beware environment of the mass market auction websites, have been built up from scrap parts that were never together as the same watch when new. If we find, as here, that the features of a Rolex Oyster tie in correctly in the flesh with those identified theoretically by its model reference, this is a reassuring start point from which to begin further investigation.
The serial numbers of these early Tudor Oysters run in sequence with those of the mainstream Rolex Oyster range from the same period. Post-1959, Rolex allocated a separate numbering system to Tudor which is more complicated to arrange chronologically. The serial number here falls between the two extremes of Rolex Oyster production for that year of 999999 and 200000. Notice how at beginning of 1954, Rolex reset its numerical sequence back to zero, which can be slightly confusing as it means it is possible that a Rolex Oyster from 1952 or '53 could have a substantially greater serial number than the piece here. In practice, we know from its features ( honeycomb dial, Rolex coronet winding crown, dauphine hands) and its serial number, cross referencing these with each other, that this has to be a 1954 watch.
Internally, the case back has been completely covered with a pearled engine turned pattern and is stamped with the signature "Montres Tudor SA, Geneva Switzerland, Patented, Swiss Made, Stainless Steel".
It is well worth paying attention to the finely milled edges of case backs on these watches. A lot of the vintage Rolex Oysters for sale online have case back milling that has been mauled at some point, typically during the dark days of the 1970s when mechanical watches, whatever their pedigree, were almost valueless and owners were reluctant to pay for expensive servicing through the official dealer network, often opting to use back street repairers who lacked the correct tools to open cases without causing damage. The case milling here is very good, which is strongly suggestive that the watch has only ever been opened using the appropriate Rolex equipment.
Another feature that must be scrutinised on these older Rolex Oysters is the screw down winding crown. The ability to securely lock the winding crown onto a threaded tube protruding from the case side has been a trademark aspect of the Rolex Oyster since 1926 and is a major factor in these models being the world's first reliably waterproof wristwatches. The design itself is nothing short of genius, but has the downside that in idiotic hands, the crown can become cross threaded on the tube, which quickly strips the fine threads from both components. An awful lot of the vintage Rolex Oysters for sale online have winding crowns that are just biting by the proverbial Love of God, and only require the slightest pressure to have them popping out into their winding position. In our business, we have encountered every trick in the book from unscrupulous sellers trying to pass vintage Oysters on to us with worn out crowns, ranging from threads packed out with adhesive right through to crowns that have been nipped slightly oval with pliers to make them grip just long enough to achieve a sale. We are very critical of this aspect and always ensure that both crowns and tube threads are unworn and perfectly interfacing before we agree to purchase.
This crown has a large Rolex coronet emblem on its outer surface, which is exactly as called for on a 1954 Oyster. The coronet emblem first appeared on Rolex winding crown in 1952, following on from the ill fated Super Oyster signed crowns of 1950-1952. The coronet emblem is still the one used on its Oyster winding crowns today and if one walked into an official Rolex agent and purchased a 2012 model Oyster, its winding crown would be, to all intents and purposes, virtually identical to that on this vintage watch.
The textured dials used by Rolex in the 1950s are some of the most attractive that the Swiss watch industry has ever created. The decade after World War II was the era of the honeycomb dial and most of the top tier brands offered several models in their line ups with dials of this kind. Before being painted, a fine grid motif was stamped into the copper sheet that made up the dial, giving it a three dimensional, textured appearance. The dial surface is a matrix of raised square blocks that bear passing resemblance to the honey combs found in bee hives, hence that working name that collectors use to describe these items.
While very eye catching, the negative side of honeycomb dials is that they tend to collect dust and dirt in the interstices between the raised blocks. The majority of honeycomb dials from the 1950s that are in circulation today are either in poor cosmetic condition or have been restored. The process of dial restoration involves the stripping of the original finish back to the copper below and its replacement with a freshly applied substitute, onto which the required wording is then printed. The key point to appreciate is that once an original dial has been lost as part of this process, it can never be brought back. Hence it is that purist collectors frown on pieces with restored dials, just as they would be unwilling to buy original dials in a badly deteriorated state. Those surviving watches that have untouched, virgin dials in almost perfect condition are the Holy Grail to enthusiasts, hence when they crop up for sale, they command prices that are roughly double those needed to acquire the exact same models, but with dials that have been restored or are noticeably blemished.
This dial is virtually faultless, even when studied with a stereo microscope from a distance of a few millimetres, yet it is guaranteed to be original. It has never been restored or tampered with in the past. In order to have its dial survive in anything even close to this condition, a vintage watch must have spent most of its life in a clean, dry environment, well away from the deleterious effects of bleaching bright sunlight and any damp that might have crept down past the sides of the glass. Very few original honeycomb Rolex dials appear in this superb state and we were extremely pleased to add this piece to our stock.
"Tudor Oyster Royal" is signed over the dial centre, with "Shock Resisting, Swiss Made" below it. This wording is clear and not in the least bit faded. As a piece of vintage Rolex watch trivia, it is interesting to note that the "Royal" tag was first used in 1932 by the company and denoted an Oyster with a centrally pivoted, rather than subsidiary, second hand. While we take centre seconds as the norm today without thinking about it, in the inter-war period, wristwatches with this feature were unusual and, initially, marketed as being suited to doctors who would find the large second hand easier to consult when timing a patient's heartbeat over a sixty second interval. By 1954, when the watch here was built, Rolex was offering most of its Oysters in both subsidiary and centre seconds formats and the Royal appendage had a less defined significance.
All three hands are original and in superb condition, the bright chromed surface of the hour and minute hands perfectly matching the art deco spearhead batons at the hour positions around the dial. In the dauphine shape, these hands are so evocative of vintage Rolex Oysters from the 1950s and whenever we encounter them, it prompts us to wonder why the company abandoned them in the following decade for the bland, parallel sided hands that it still uses as standard on most of the Oyster range today. While the inherited genetic link between a vintage Rolex Oyster from this era and its new equivalent is immediately obvious with a casual glance, these period models are so much more stylish and this goes a long way, combined with their superior build quality, in explaining the enormous interest in classic luxury timepieces that has developed since the early 1980s.
Even the luminous paint on the hands and the dial is original and has just mellowed very slightly in colour from what would have been a bright lime green in 1954 to a marginally more subdued, khaki shade today. These small points are exactly what the experienced collector is looking out for when he assesses a watch as a potential purchase. To use a cliché, this watch ticks all the right boxes and is a text book specimen of a piece that has slumbered in the back of a drawer for half a century, but has not been cosmetically enhanced in any way.
Rolex movements are some of the highest grade ever offered in wristwatch form, and the standard to which the company worked has always been consistent. Rolex made its reputation with mechanisms that were very well finished, but were also over-engineered in order that they would remain reliable even in the most hostile operating conditions.
The concept behind the Tudor range was that it would use mainstream Rolex cases, but combine these with movements that were purchased by Rolex from a number of highly regarded Swiss third party makers. Rolex bought these units in unfinished, basic form and then reprocessed them as needed, to its usual quality standard, in its own factory in Bienne. The advantage of this was a lowering of overall costs, which meant that the general public could still buy a completely genuine Rolex watch, but at a lesser price than would be needed to obtain a model from the conventional Rolex line up.
The practice rather differed from the theory, which goes a long way to explaining why vintage Rolex Tudors are so passionately collected today. The quality of both the ebauches ( this is the Swiss term for a raw movement, without gears, components or finishing) was so high in the first instance, and the extent to which Rolex re-worked them so thorough that in retrospect, these mechanisms were not inferior to their Rolex branded counterparts. As the vintage watch market has developed, coupled with the ease of sharing information on the internet, collectors have realised that Tudor was no poor relation to Rolex in its mainstream form, but actually a completely worthy range of superbly built watches that were in every way legitimate Rolex production. Hence the fact that increasingly, Sotheby's, Christie's and Bonhams fine wristwatch auctions include a variety of Rolex Tudor examples, all of which command prices that are approaching parity with their Rolex signed versions.
The movement here was based around a hand wound calibre 1096 ebauche that was bought by Rolex from ETA. Founded in 1926, ETA has a proud history of manufacturing raw movements for a variety of high end brands. As well as Rolex, its movements are found in brand new current models by IWC, TAG-Heuer, Breitling, Longines and Omega. Its quality is first rate and it is also worth mentioning that spare parts availability for vintage ETA based movements is very good and the company today takes a deliberately helpful approach to helping enthusiasts keep its classic production in working order.
What is so fascinating is that Rolex, despite having the bare bones of an already superb movement in the 1096, re-processed this unit to the point where it isn't easy to identify as an ETA calibre. While the regulator assembly remained stock, the bridges were entirely modified, giving the movement a radically different appearance from that of the donor ebauche. Technically, this must be classed as an ETA movement simply because of its origin, but in fact, it is so altered that it would not be unrealistic to regard it as first and foremost a Rolex product.
This is a 17 jewelled movement, manually wound, with a running speed of 18000 half beats per hour. It had every luxury feature of its day including Incabloc shock protection and anti-magnetic shielding. Usefully, it had a long power reserve of 42 hours, this being the length of time that it would continue running from fully wound to stopped if left untouched.
We are fastidious in the extreme when buying and only purchase the very best examples of their type for our stock. This movement is among the cleanest and most immaculate early Tudor mechanisms that we have seen for some time and is of a grade that isn't easy to find. Everything about it remains original and untouched, which in itself is not the norm. All too often now, particularly with ETA based calibres where parts often have some degree of interchangeability with those of other related mechanisms, we spot various components that have clearly been replaced at some stage. There is nothing here that is not genuine Rolex, and however closely we examine the unit, no evidence of any past repair work having ever been performed.
As a result of regular servicing, this watch works perfectly. It runs very smoothly and provided it is sent for routine cleaning and re-oiling every three or four years, it will last almost forever. Rolex built these watches as lifetime possessions and many collectors today are attracted to the fact that it is entirely realistic to think of passing their portfolio down through the family to be enjoyed by successive generations. The all-important key to vintage watch ownership is to buy only pieces with near mint, mechanically unworn movements and then keep on top of their servicing. If this strategy is followed, the annual cost of owning even the most exotic classic Rolex material is very low and considerably less than, at the time of writing, the capital appreciation caused by the vintage watch market climbing over the same period. Take the cheap route and buy a scruffy watch with a tired movement and, no matter how prestigious its maker, reliability issues and expensive repair bills will be around the corner.
Period Rolex advertising of the 1950s shows Tudor Oysters fitted with crocodile skin type straps. Accordingly, we have used the same on this piece and this certainly sets the watch off very favourably, keeping with its upmarket, old money image. This is not a genuine Rolex strap, but it does not need to be changed and is in brand new condition having never been worn.
Vintage Rolex Tudors have really taken off with the collecting community over the last six or seven years and worthwhile examples, pieces in nearly mint, original condition, are not easy to come by. This is a beauty, and we have priced it at £825 GB pounds, which is not an excessive sum by any means. Lesser examples in considerably poorer condition are realising more than this sum at the major physical auction houses and our price reflects the fact that selling it via our website, we have no commission fees to pay and that we are located in rural Yorkshire, where business overheads are some of the lowest in the UK. In the window of one of the vintage Rolex specialists in central London, the asking price would be more than double this figure and at our level, this watch represents a very attractive way into the satisfying world of classic Rolex Oyster ownership. We would dearly love to offer more 1950s Tudor Oysters for sale, not least because demand for them is now so strong, but sourcing them in investment grade condition becomes harder and harder all the time. The buyer of this piece will be delighted with their purchase and without a doubt, it represents an awful lot of authentic period Rolex for a very modest outlay.
Price £825 GB Pounds
Vintage Watch Brands
Vintage Watch Decades
Vintage Ladies Watches
Vintage Watch Bracelets
Swipwreek Straps
Travel Clock/ Pocket Watches
Home
About
Brand Overviews
By Decade
Reference
Contact Details
Telephone from the UK:
07453 734666
or 07428 051005
Telephone from overseas:
+44 7453 734666
or +44 7428 051005