Rolex Tudor Oyster ladies steel with form lugs 1946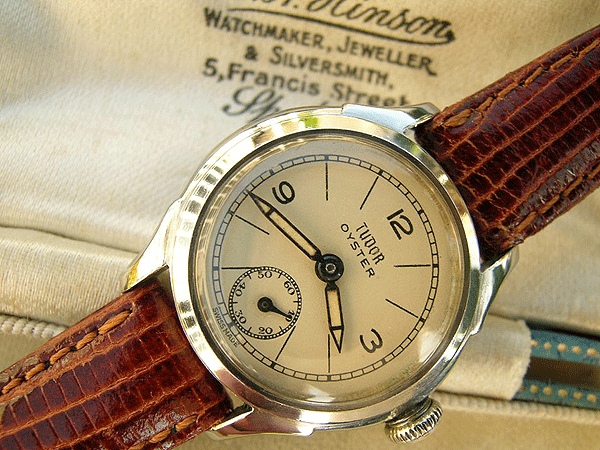 This is one of several ladies' vintage Rolex Oysters for sale on our site at present and is particularly appealing. Manufactured in 1946, only a year after the end of World War II, it is one of the earliest examples of Rolex's Tudor line that we have owned. Europe was economically devastated by the conflict and sales of high priced, luxury watches like this were not large in the years immediately following the cessation of hostilities.
It must be noted that this is an Oyster model, this term being a reference to the landmark waterproof case design first patented by Rolex in 1926 and still used in the company's products today. The features that define the Oyster are discussed at length in several reference articles on this site and it seems pointless to reiterate them here, suffice it to say in summary that the basic innovations included the use of an incredibly strong, seamless case stamped out of a single block of metal, a finely threaded case back around which water was incapable of creeping, and perhaps most significantly of all, a threaded winding crown that could be screwed down onto a corresponding tube protruding from the case body, thus creating a hermetic waterproof seal.
One reason why these early Rolex Oysters for female use are so sought after now by collectors is that actually, they were commercially unsuccessful when new and very few were produced in comparison to the much larger figures for the sales of men's Oysters at this time. This desirability is compounded by an almost polar shift in the tastes of the lady watch buyer over the last 50 years. In the 1930s and '40s, bulky waterproof watches were perceived as being rather inelegant, and the vast majority of ladies' Rolex models were beautiful gold dress items, intended for formal use and typically worn with the opulent, high value diamond jewellery that typified this period. A rugged stainless steel waterproof watch with an oversize case and bulbous protruding winding crown would have inspired little enthusiasm from the society ladies that still made up the bulk of Rolex's discerning clientele at that time.
Fashions have changed and the trend over the last decade has been for ever larger ladies' watches, with a phenomenal increase in demand for new waterproof sports models by the top Swiss manufacturers that are essentially scaled down versions of the distinctive diving and aviation themed models that are so prominent in the men's luxury watch sector. In turn, this has sharply boosted the price of vintage ladies' waterproof timepieces, particularly those in the now extremely in vogue stainless steel.
In retrospect, we probably haven't offered a ladies' Rolex Oyster that was as attractive as the one for sale here. The very large stainless steel case ( the watch has a striking width of just under 27mm) is in almost mint condition, with just the very tiniest of imperfections that are to be expected on any carefully cosseted watch of this age. Most interestingly, despite being an Oyster and having all of the features synonymous with this robust case type, the style of this case does not follow the usual classic Oyster appearance that has been almost exclusively used since 1935 ( a note should be mentioned here that the Oysters produced between 1926 and 1935 differed in style to those from 1935 to the present day). Instead, the case has wonderfully stylish teardrop lugs that are very similar to those found on the elaborate Rolex dress watches of the inter-war years. These unusually shaped Oysters are by far the rarest of all the vintage Rolex models and, despite having offered several hundred different Oyster models in the last three quarters of a century, Rolex has only departed from its classic, timeless, shape for the Oyster on a handful of occasions. The beauty of a watch like this one is that it blends the functionality of the rugged Oyster design features with an aesthetically pleasing, typically 1940s, elegant appearance, and all in a rare package that is established as very collectible and, if the market for vintage Rolex items continues to rise at its current rate, a superb investment.
The gleaming case back is fully signed internally and externally, has the very early serial number 28468 and the Rolex case reference number 920. It should also be mentioned that the fine serrated edge around the case back is in almost perfect condition, the case having only ever been opened in the past with the correct Rolex factory tool. Particularly in the 1970s before the first vintage watch boom of the following decade, Oyster cases were often opened by amateur repairers who had neither patience or access to the correct case opening tools. This left many of what we now consider as vintage models with badly chewed serrations which significantly reduce their worth today. Such small points may seem trivial to the novice collector, but old Rolex Oysters are expensive today and must be bought carefully in order that a premium example that will continue to rise sharply in value be obtained. In any field of antiques, be it fine wristwatches or early Georgian silverware, it is universally agreed that the finest condition examples of any given commodity will always appreciate in value at a faster rate than that of their poorer siblings and, should there be a dip in the market, bounce back to previous price levels in a shorter time scale.
A similar issue relates to the previously mentioned screw down winding crowns on these collectible older Oysters. With careless handling over many decades, the fine threads inside these crowns and their corresponding case tubes can become damaged or excessively worn, this having the effect of preventing the crown from smoothly tightening down onto the case body. The price of these vintage Oysters is so high now, and good examples so difficult to source, that unscrupulous individuals have resurrected a large number of badly worn, poor condition pieces using entirely incorrect and non original parts in order to affect a quick sale to the uninformed buyer. This watch has the sought after and completely original "Rolex Oyster" signed winding crown in perfect condition, with no wear or damage to its threads whatsoever. The excellent reference book by James Dowling "Rolex Watches, The Best of Time" has an identical crown shown on page 325 with the caption stating that this pattern was initially used from 1942 to 1949, before being replaced with the "Super Oyster" signed item used briefly in the early 1950s.
The dial on this piece is a beautiful art deco item, with large Arabic numerals at the compass points and straight batons for the other positions. The original Rolex pencil hands are still in place and in superb order. This style of hands is one of the all time vintage Rolex Oyster classics, but curiously, it is not often encountered on a ladies' watch, making it particularly interesting here. This is a fully signed dial, in French white, with a black double minute track running around its outer edge. Dial originality and condition account for approximately 40% of the value of any vintage Rolex, and this example is in superb condition and original in every way.
In any vintage Rolex watch, the entirely hand assembled movement will be of the very highest quality, and the fully signed, hand wound example in this piece is original in every respect, and in superb condition throughout. The sheer attention to detail present in these vintage Rolex mechanical calibres is astonishing and Rolex aficionados are generally agreed that the 1940s and 50s represent something of a golden epoch for the house which has never been bettered since. These watches were very expensive when new and were essentially produced as a "watch for life" rather than as a disposable fashion accessory as many ladies' watches are today. This particular watch has been fully serviced on a regular basis and works perfectly now. Vintage Rolex watches are exceptionally reliable, largely because of their heavily over engineered design, and there is no reason whatsoever why, with continued regular servicing in the future, this item will not be a treasured part of some rarefied collection, still keeping accurate time well into the next century. Sadly, such longevity cannot be expected from any current watch purchased brand new and this must certainly be a strong persuading factor for anyone considering the acquisition of a vintage Rolex as a long term family heirloom or investment.
We have fitted the watch with a brand new, unused crocodile skin type strap that, though not a genuine Rolex item, is perfectly suited to the upmarket appearance of the piece. It is almost identical to the strap that would have been supplied with the watch by Rolex when new.
Perhaps best of all is the wonderful retailer's box that was supplied with the piece originally in 1946. This is a mottled light blue item with a cream satin lining, fully signed "H. A Hinson". This Lincolnshire retailer had been an official Rolex dealer since the early 1930s. Vintage boxes supplied by official Rolex retailers are very collectible now and not easy to locate. We would have no hesitation that this rare box, in this excellent condition, would sell for at least £75 GB pounds, even as an empty item.
Overall, this is a rare ladies' boxed Rolex Oyster in a very eye catching Tudor case style that is a departure from the usual familiar Oyster theme. Vintage Rolex watches of any kind from the 1940s, and particularly Oysters, are become so difficult to find now in genuine unmolested condition. The piece is very challenging to value, simply because we can find no identical model in any of the standard Rolex reference works, or in the specialist sale catalogues of the physical London auctioneers, with which to make a comparison.
In the "Best of Time" book mentioned above, there is an unusually shaped ladies' steel vintage Oyster pictured on page 295, but this looks to be in considerably poorer condition than the one for sale here, and is in a less decorative style. The price guide at the rear of this tome suggests a minimum market value for the watch pictured as being $2500 US dollars (approximately £1700 GB pounds), but we feel that this is excessive and that the correct price should be perhaps 25% less than this figure.
The price of this watch is £575 GB pounds. This is considerably less than a quarter of the amount needed to purchase the most basic, mundane watch in the current Rolex Oyster collection, yet here it buys a genuinely rare vintage model that is already established as a collector's item. If looked after properly and treated with respect, it will appreciate in value as the years progress and examples of the best vintage Rolex watches continue to evaporate from the market place.
Price £575 GB Pounds
Vintage Watch Brands
Vintage Watch Decades
Vintage Ladies Watches
Vintage Watch Bracelets
Swipwreek Straps
Travel Clock/ Pocket Watches
Home
About
Brand Overviews
By Decade
Reference
Contact Details
Telephone from the UK:
07453 734666
or 07428 051005
Telephone from overseas:
+44 7453 734666
or +44 7428 051005