Rolex Tudor Oyster Elegante steel 1961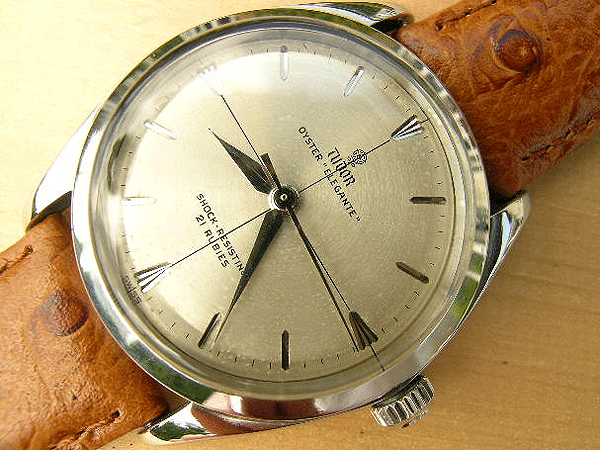 The Oyster Elegante was one of the most interesting variants in the vintage Rolex Tudor range. It remained in Rolex catalogues of the day from the early 1950s until the mid-1970s, which theoretically should mean that it is fairly easy to find now. In fact, the reality is quite the reverse, which suggests to us that it was never a big seller in the first instance. One of the noticeable things about the classic watch collecting field is that so often, the models that were commercially unsuccessful when they were current are now the items that generate the highest prices. This role reversal isn't illogical, as the models that nobody was greatly interested in were inevitably manufactured in far lesser numbers than those that were very popular and are proportionally rarer today. Rolex has never released production figures for any of its output, but we would make the educated guess, simply on the basis that we have owned relatively few of them in our business in the last three decades, that the Oyster Elegante was not a hit in its day, which, rather perversely, explains why when a nice, original one comes up for sale now, it will command a substantial price premium over its standard Tudor Oyster equivalent.
The key difference between the Oyster Elegante and the conventional Tudor Oyster is that the former is a much slimmer watch. The Rolex Oyster made its debut in 1926 as the world's first reliably waterproof wristwatch, but was initially released in two case shapes that we don't immediately recognise today, these being octagonal and cushion. The more familiar Rolex Oyster outline, which the watch for sale here adopts, was introduced in 1932 and has remained essentially unchanged to this day. Rolex has an almost pathological fear of altering the proportions of the Oyster case in any way, which is why the Elegante, reduced in thickness by approximately 25% and one of the few Rolex models to depart from convention, is such a fascinating thing to the serious collector. We can't resist adding the personal comment that it is also very attractive and, we think, noticeably better looking than the slightly chubby standard Oyster case.
We bought this watch from the wife of its original owner and would strongly suggest that it has hardly ever been worn. Its large steel case is almost unmarked and has only the very slightest, almost invisible imperfections that must be expected on any piece that is not literally unused new old stock. The edges of the case, where the slightly curved sides join the flat lug tops, are crisp and very defined, which again is suggestive of an item that has only seen light use.
The finely milled edge around the case back outer is perfect, without any chewing whatsoever. This watch has only ever been opened with the appropriate Rolex factory tool. This is an important point. So many vintage Rolex Oysters have been opened in the past by amateur repairers who didn't have access to the correct equipment to do the job properly and improvised with whatever was to hand. We constantly see Oyster case backs with milling that has been damaged beyond repair and, of course, these watches are greatly reduced in desirability in the eyes of the serious collector.
"Original Oyster Case By Rolex Geneva" is stated around the case back outer, together with a large Rolex coronet emblem. All this wording is of full depth and has not lost its definition in the slightest. Some of these late 1950s and early '60s cases have been polished to such an extent that the case back stampings are almost invisible now. This decoration is faultless and exactly what the purist aficionado would hope to find in an ideal world.
Inside the case back is the signature "Montres Tudor SA, Geneva Switzerland Patented, Stainless Steel", together with the model reference number 7960 and the date stamp II.61, informing us that this watch left Rolex during the second quarter of 1961.
Whenever we buy a vintage Rolex Oyster, we make a point of checking that the model reference stamped into the case back does indeed relate to the specification of the watch to which it is fitted. Over the years, case backs have been dented and replaced on a lot of these watches and it is surprising how often this simple check throws up inconsistencies. There was quite a degree of interchangeability between Rolex case backs at this time, and many Oysters now in circulation have case backs that didn't start life on them in the first instance. Looking up the model reference 7960 in Charles Jarman's book "Rolex Reference Guide, 4th Edition", we see on page 109 that it relates to an "Oyster Elegante ( thin case), in stainless steel, without a date feature, with a polished bezel". This is the perfect summarised description of the item here.
This same model number is stamped into the case body between the upper lugs, confirming that this component is correct. Again, always check to ensure that case body and case back model references match. Between the lower two lugs is stamped the individual serial number for this watch, 327197. Notice how by the early 1960s, the serial number sequence used by Rolex for its Tudor Oyster range is now different from that used for the standard Oyster models.
The winding crown is the correct screw down type, signed on its outer surface with a large Rolex coronet emblem. Studying it now very closely as this is written, we would have no hesitation in describing this crown as being in perfect condition. Both the threads inside the crown and those of the case tube onto which the crown winds down are in a superb, undamaged state, with the consequence that the crown locks in place very solidly. With idiotic handling, these delicate threads become damaged and it is surprising how many early Oysters have crowns that are only just about held in place by the very slightest grip of badly damaged threads. This can be remedied by the replacement of crown and tube, but such work is specialised and finding the appropriate period components to complete it correctly is a very frustrating and inevitably expensive task.
Dials are so important on classic Rolex watches and in order for any watch to have its maximum theoretical value, its dial must be both original and in excellent condition. Dials that are badly deteriorated, or worse still, restored, will drag the commercial worth of the watches to which they are fitted down dramatically. We often see very misleading online auction descriptions in which the presence of a restored dial is trumpeted as if this is a positive attribute when in reality, it is the kiss of death in the eyes of the experienced collector. It is vital to buy the very best original dial that you can afford and if a seller, either online or in the physical marketplace, cannot guarantee complete authenticity, them my sincere advice would be to refrain from making a purchase.
The dial on this particular watch is not literally perfect and has some, very, very light spotting to its silvered surface. The vast majority of owners wouldn't even notice this and the vast majority of seller wouldn't feel the need to point it out, but it is there if we look hard enough and must be disclosed. Even conservatively, this dial would be classed as excellent and in reality, it may well be the best than can be found on this model. We wouldn't have any qualms about selling it to someone wanting an old Rolex Oyster for investment and certainly, we have seen infinitely poorer dials than this one pass through Christie's and Sotheby's sales at high price levels.
"Tudor, Oyster "Elegante"" is stated in black above the dial centre point. Below this is the wording "Shock Resisting, 21 Rubies, Swiss" around the very bottom edge. All this wording is clear and not at all faded or corrupted.
An unusual feature of this dial is that the chromed hour markers are not sitting proud of the dial surface as they are on most Rolex watches, but instead visible through shaped holes that have been cut into the dial. This isn't the only Rolex model to have been supplied with a dial manufactured in this way, but it wasn't the norm and is well worth acquiring as an example of this very attractive dial type.
All three hands are completely original and, in chrome, match the hour markers perfectly. In this evocative pitched alpha shape, the hands used by Rolex in the 1950s and early '60s are among the most appealing that the company has ever offered. In contrast, the plain, non-pitched, parallel sided Rolex hands of the following decade look very dull by comparison. The chrome on the hands here is bright and free from any surface deterioration.
The Tudor range was introduced by Rolex in 1945 and is in every respect to be regarded as "real" Rolex output. The driving idea behind Tudor was that by using a combination of Rolex cases and movements purchased from trusted third party manufacturers, a range of excellent, very high quality watches could be offered to the public at less than the price they would have been required to pay for equivalents with Rolex in-house movements. The key to understanding why good Rolex Tudor watches sell for such high prices today is the realisation that extensive re-processing of these bought in units at Rolex meant that the standard of movements used in Tudors at this time was, in fact, not greatly different to those fitted to their more expensive brothers. Largely due to nothing more than plain ignorance, even twenty-five years ago, Tudor was regarded as something of a poor relation to mainstream Rolex output, but today, this is no longer the case. There is a difference in finish standard between vintage Tudor and Rolex movements, but this is very small indeed, to the extent that it is actually, in some instances, rather embarrassing for Rolex, and for the same price, many informed collectors would now have an immaculately preserved Tudor than a merely average equivalent model with a Rolex mechanism inside it. We don't disagree with this view and have commented for a long time now that the selective buyer who locates a really superb early Rolex Tudor ends up with a first rate watch at an exceedingly modest price.
The condition of the manually wound movement inside this watch is effectively as-new. It would almost impossible to differentiate between this mechanism and that in a current model and finding another in a comparably immaculate state from this period would be very difficult. It sounds rather like hyperbole, but this movement is genuinely almost molecularly perfect and if we didn't know otherwise, we would have been happy to have believed that it dated from 2008 rather than 1961. Again, this is just the sort of thing that the serious collector should be looking for. There is no doubt at all that this watch will be pricey, but equally, it is these few really superb examples that rise in value at the fastest rate as interest in vintage Rolex watches becomes ever more widespread.
It goes without saying that this movement, like every other aspect of this watch, is completely original. Not even a single component has been changed and the whole unit is just as it was on the day it first left Rolex. "Tudor, 21 Rubies, Swiss Made" is stated on the bridge. Having been serviced on a regular basis since new, this movement works perfectly and runs extremely smoothly. Rolex will still undertake the servicing of its vintage Tudor models and this can be arranged via any official Rolex agent worldwide, but in practice, there is no reason at all why this watch and others like it cannot be maintained to a very high standard by an experienced local watchmaker at a fraction of the official servicing cost.
We have fitted this watch with a high quality crocodile skin type strap. This is not a genuine Rolex strap, though it is almost identical in both appearance and construction to that which would have been offered on this model in the first instance. Having never been worn, this strap remains in mint condition.
The price for this watch is £685 GB pounds. It is an immaculately preserved example of one of the classic Rolex Tudor Oyster versions and provided it is cared for sensibly, it will never lose a penny of its value in the future. In fact, we would go much further and say if the current dramatic increase in the worth of vintage Rolex Oysters from the 1950s and '60s continues at the same rate, and there is no suggestion at all that it won't, then even two years from now, very clean classic Tudor Oyster variants like the one here will not be available for less than £1200 from reputable sources. Vintage Tudor watches have gone from being something of a poor relation even a decade ago to their current status as extremely credible Rolex offshoots that command huge interest on the specialist physical auction circuit. If we were intent upon building up a portfolio of vintage wristwatches with a view to capital gain over the next five years, at the time of writing, we would give the best, all original Tudors some very serious consideration.
Price £685 GB Pounds
Vintage Watch Brands
Vintage Watch Decades
Vintage Ladies Watches
Vintage Watch Bracelets
Swipwreek Straps
Travel Clock/ Pocket Watches
Home
About
Brand Overviews
By Decade
Reference
Contact Details
Telephone from the UK:
07453 734666
or 07428 051005
Telephone from overseas:
+44 7453 734666
or +44 7428 051005