Rolex Tudor Oyster Devon form lugs steel 1946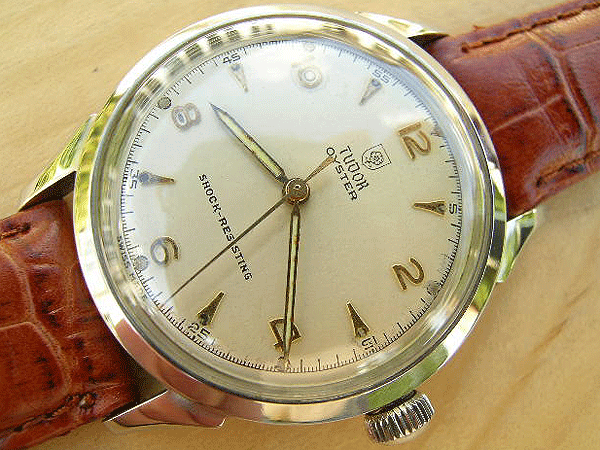 This rare gentleman's Tudor Oyster Devon in a stylised form case from 1946 is one of the most appealing vintage Rolex Oysters for sale on this site and is the perfect item for the serious collector. Classic Rolex models are the most sought after of all vintage timepieces, and any watch by this house from the 1930s or '40s will always command a high price. When a genuine rarity is found, something that is a significant departure from the normal Rolex production fare, there is always a considerable amount of interest generated among the horological cognoscenti.
Rather than simply stating that a certain watch is rare, or particularly valuable, with no supporting evidence for such a statement, we believe that it is very important that the reasons for this desirability are clearly explained in order that the novice collector feels confident about his purchase and can make his own informed decision as to whether a certain watch will be of use to him, armed with all the relevant facts. Too many watches are sold, both online and in the physical marketplace, with a great degree of unsubstantiated marketing hype. When one is offered a vintage watch that is described as "rare", or "sought after", always ask why this is so. For a vintage watch to be particularly valuable, there must be a clearly defined reason why it is out of the ordinary. This might be, as here, a rare case type, or an unusual movement, or an uncommon dial format, or even its remarkably fine condition, but elderly wristwatch collecting does tend to follow logical lines, and watches do not become classed as out of the ordinary without genuine merit. We would advise anyone building up a collection today, particular now that vintage pieces are so costly, to purchase with a very critical eye, and invest in items that have a clear historical importance. If the vintage watches for sale here on this site are examined closely, it can be seen that almost every one of them has significance, either within the development of the company that made it, or within the evolution of the wristwatch as a whole. By buying strategically, locating these important watches, one can build up a fascinating collection in which every piece has a technically or aesthetically noteworthy role.
What makes this particular watch so interesting and such a rarity is the shape of its case, and in order to explain this feature properly, we need to include here a little background on the history of the Rolex Oyster. First released in 1926, the Oyster was the world's first genuinely waterproof wristwatch, this accolade having been achieved by certain fundamental design features that, though not all first shown on the Oyster, were first brought together in this model. The importance of these aspects, in summary, a threaded screw down case back, a immensely strong seamless one piece case body, and, most importantly of all, a patented screw down sealed winding crown, is discussed in detail as part of the descriptions for several early Rolex Oysters that we currently have for sale and need not be repeated here, suffice it to say that the significant point to assimilate is that these three key design features defined the Rolex Oyster case and enabled it to be entirely impenetrable to water.
When Rolex first developed the Oyster, it appeared in two case styles, the cushion, or sportsman's, shape, and the octagonal, examples of both of which we currently have listed here. In 1932, the case shape that we associate with the Oyster today was introduced, this being distinctive and elegant, but essentially rather utilitarian in design, featuring a one piece case in which the lugs are fully integrated into the design of the watch. Now, in retrospect, this case shape is desirable because we immediately link it to the Rolex Oyster, the most desirable of all vintage wristwatches, but if we can distance ourselves from this association, and judge this design without any preconceived favour, we can see that it is actually a very simple shape that is rather a "no frills" package.
The Oyster Devon is so unusual because it represents one of only a tiny handful of occasions on which Rolex have departed from the conservative Oyster case shape to combine very flamboyant lugs with those key features that make the Oyster waterproof. The term used for these extremely desirable watches is "form Oysters", as their cases take a form, or appearance, that is entirely different from the norm. In his excellent book, " Rolex Wristwatches, The Best of Time", the British collector James Dowling mentions on page 162 that "the Oyster was viewed by the public as a sports watch, and they weren't particularly interested in a stylish sports watch". These form models have every practical advantage of the robust Oyster, and all the sports watch characteristics that make these items so appealing, but are wonderfully stylish in an evocatively 1940s way.
In a sense, the logic behind Rolex's very conservative design policy can be seen. The standard Rolex Oyster case is timeless, as current today as it was in 1935, whereas the form Oysters, like this one, are very dated in appearance. By keeping their case styles constant over the decades, rather than changing the look of their products to keep up with prevailing trends, Rolex created a design classic in the Oyster than transcends the whims of fashion. Rather like a 1940s luxury motor car when compared to today's latest model, these form Oysters exude character and period charm, hence their allure and high value, but are very much "of their time" with an old world aesthetic that instantly identifies them on the wearer's wrist as a vintage, rather than contemporary, model.
The large ( the watch has a width of 37mm and an impressive depth of 9mm) stainless steel case present here is very appealing in appearance, and always mystifies novice collectors who remark that the watch cannot possibly be a Rolex Oyster on account of it looking like no other Rolex Oyster that they have ever encountered in the past. This case is in superb, almost mint condition, and we would suggest that this piece has only ever been worn on a handful of occasions in the past. As one would expect on any watch of this age, there are the usual very tiny imperfections that can really only be seen when the case is viewed under high magnification, but these are of no consequence and will always be present on any item that is not a "new old stock" example. The all important case lugs are immediately noticeable, their distinctive teardrop shape instantly identifying this watch as a form Oyster.
This is a fully signed case, and is stamped on its outer with the model reference number 4540. The serial number 26181 is stated on the case back outer, this latter figure clearly identifying the watch as having been produced in 1946. Interestingly, on the handful of occasions in the past when we have encountered the Oyster Devon, these have always dated from this same year. We cannot state this categorically, as we don't have access to detailed production records held at Rolex, but we would strongly suspect that, given its rarity, this case shape was only ever offered in Oyster format in this year.
Notice that the finely milled edges of the case back are almost perfect, this item having only been opened in the past with the correct Rolex factory tool. At this level of the market, where watches are understandably expensive, attention must be paid to these small aspects of condition, and they will have a considerable aggregated bearing on price and future investment value. So many vintage Rolex Oysters for sale today have significantly chewed edges to their case backs where an entirely inappropriate opening tool has been used at sometime in the past. It therefore follows that those watches, like this one, where this milling is almost perfect, will command a high price from collectors who will pay a premium for the very best examples. The same comment can equally be applied to the condition of the fine threads inside the screw down winding crown, and those on its correspondingly threaded case tube. With rough handling in the past, these threads can become damaged, resulting in a crown that will not wind down correctly against the case body, refusing to catch the threads on the case tube as it should. On this watch, the threads on both crown and case tube are in perfect condition, and the original "Oyster Patent" winding crown is present and correct. This is another point that must be clarified when bidding on an early Rolex Oyster. If the threads become damaged, the solution for many owners in the past has been to replace the winding crown. However, the Oyster Patent winding crowns have been unavailable from Rolex now since the 1950s, and all too often, the later pattern, featuring the Rolex coronet emblem, has been substituted out of necessity. There are distinct stages to the evolution of Rolex winding crowns, and it is vital that one makes sure that any potential purchase has the correct crown for its year of production. The "Oyster Patent" type, perhaps the best looking of all vintage Rolex crowns, was introduced in 1929 and was gradually phased out by the mid 1940s, making this, from 1946, one of the last of this crown type to be supplied.
We often state in our descriptions that the dial is everything to the serious collector, and particularly on a rare Rolex model like this one, this is unquestionably the case. At this level, only a watch with its original dial in excellent condition should be considered. The fully signed dial here is absolutely original and untouched, its signature "Tudor Oyster, Shock Resisting, Swiss Made" being clearly legible. At no time in the past has this dial been the subject of any restoration or retouching work. The overall colour of the dial has yellowed slightly from a French white to a creamy colour, but this effect is entirely uniform and can be classed as completely legitimate ageing rather than damage. The overall look of this dial is exceptionally attractive, and not even the most critical collector would pick fault with a watch of this rarity on account of this gentle mellowing of dial colour, being aware than a better example, with a totally perfect dial, may not survive anywhere. The radium filled gilt hands are totally original and in very good condition, with only the slightest discolouration or deterioration to their luminous surfaces.
One of the strangest things about model reference 4540 is that it was offered with several dial signatures. Years ago, when we first bought one of these watches, it was signed on its dial as "Tudor, Oyster Devon" and we have referred to this model by this name ever since. However, recently we bought another one, with the exact same specification, on which the dial read "Tudor, Oyster Kent". The third variation is the one here, with "Tudor Oyster" stated and no reference to a county whatsoever. He can only guess that Rolex created these dials to appeal to customers in the counties where they were to be sold.
When the deeply threaded, waterproof case back is wound off the watch, we can examine the beautifully built mechanical movement, this being a fully signed, hand wound, 17 jewelled, Rolex calibre 59 item of the very highest quality. Vintage Rolex movements are universally regarded as the apex of their type, and the finish standard and attention to detail in the mechanism present here is nothing short of remarkable. In the current climate, where classic Rolex models are primarily bought as investment vehicles in a rapidly rising market, it often seems something of a shame that the majority of the owners of watches like this one increasingly are oblivious to the craftsmanship present in these vintage units. Early in this description, the point was made that a desirable watch is perceived as such for a reason, and the same can be said in a wider context about vintage Rolex watches in general. Rolex was not chosen on an arbitrary basis to be the highest value vintage watch type, but because the quality of the firm's movements was so exceptionally high. Everything about this example exudes craftsmanship and refinement. The edges of these bridge plates are perfectly bevelled and the gilt gears contrast with the rhodium finish of the rest of the mechanism, producing a striking two-tone effect.
Most importantly of all, this movement is completely original down to its very last screw and pinion, and contains no non-original components whatsoever. This unit is exactly as it left Rolex in 1946 and is in superb, gleaming condition. A movement of this quality has the potential to last indefinitely, and become an heirloom that can continue to be functional for several hundred years, just as many 18th century pocket watches are today. But in order to have a chance at enjoying this inherent longevity, it is vital that only a well serviced watch in totally original, near perfect mechanical condition be acquired. This item has been maintained religiously throughout its life and as a result, works perfectly today, running strongly and with considerable amplitude.
We have fitted this watch with a high quality alligator skin type strap that is perfectly in keeping with its vintage character. This is a brand new strap and has never been worn, and though not a genuine Rolex item, it is almost identical in both appearance and quality to that which would have been supplied with the piece when new.
Overall, this is a rare Rolex Oyster in one of the most attractive form case styles that the company has ever produced. Combining rugged, waterproof Oyster construction with very stylised aesthetics, this watch is something of the very best of both worlds, combining sports watch practicality with elegant looks. Any vintage Rolex Oyster that departs from the traditional case shape is automatically a very sought after collectible, simply because so few such models were built in the first place. Valuing this piece is difficult, not least because we are not aware of another Tudor Devon having been offered at any of the London vintage watch shops or in the horological sales by Christie's, Sotheby's or Bonhams.
In the book by London based Japanese collector Shigeharu Aritake "Rolex Scene", a mouth watering publication that focuses on some of the most desirable early vintage Rolex watches, an identical example to this one is shown on page 218, with the same model reference number 4540 and dating from the same production year of 1946. This is given the honour of a large colour plate, but no price guide is given for this piece, the book being more a celebration of one individual's fabulous collection than a commercial reference.
We have priced this watch at £965 GB pounds, at which level it represents extremely good value for money. A conventionally cased Tudor Oyster from the 1940s in tidy condition would be offered for a similar sum, but this is a much rarer variant that even in our business, we only see perhaps once every two or three years. The irony of our pricing structure is that if we had to replace this watch in our stock for the asking price here, we would find it difficult to do so. The next Oyster Devon we find will probably be bought at more than the selling price of this piece, which inevitably leads to the sort of inflation we have witnessed in the vintage Rolex market over the last decade. This is a gorgeous watch that will be a source of much satisfaction to its next owner.
Price £965 GB Pounds
Vintage Watch Brands
Vintage Watch Decades
Vintage Ladies Watches
Vintage Watch Bracelets
Swipwreek Straps
Travel Clock/ Pocket Watches
Home
About
Brand Overviews
By Decade
Reference
Contact Details
Telephone from the UK:
07453 734666
or 07428 051005
Telephone from overseas:
+44 7453 734666
or +44 7428 051005