Rolex Tudor Monarch chronograph steel 2002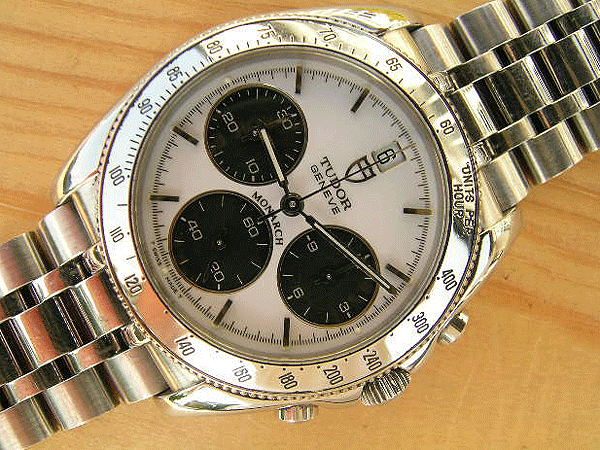 This Rolex Tudor Monarch chronograph from 2002 is a fascinating gentleman's watch that, when considered logically, simply cannot fail to appreciate in value. Chronographs, those models that offer a secondary stopwatch facility in addition to their function as timekeepers in the standard sense, are arguably the most desirable of all vintage Rolex watches. Similarly, the current Rolex chronograph, the Daytona, has been the subject of a lengthy waiting list for over a decade now, and commands a high price premium over its official list price when sold as an unused watch on the secondary market.
This Monarch chronograph was introduced in 1999 as part of the Rolex Tudor range, this having been in existence since 1945. The naming of this item is somewhat odd, as it doesn't follow the standard Rolex format for its products. The cornerstone of the Rolex range since 1926 has been its Oyster models, these being identifiable by their patented waterproof case construction and screw down winding crowns. Following tradition, we would expect this watch to form part of the Oyster range on the basis that it has a textbook example of a sealed Oyster case, but strangely, and for no obvious reason, this is not so.
The Tudor Monarch chronograph was offered in two formats, these being all stainless steel as here, and in a mixture of stainless steel and gold. Both versions had matching bracelets that were specifically designed to be used on this line. While having a higher price when new, the mixed metal watch is now worth slightly less than its sibling as a collectible, for the most part because all steel watches are very fashionable at present. Our own personal opinion is that gold and steel watches are more attractive than those in all steel, but we are definitely out of synch with current tastes on this point, and would have to recommend that a steel example be bought for investment purposes.
In common with all Rolex Oyster chronographs, both past and current, this is a rugged watch with a hefty feel to it. The watch's width is only slightly less than that of the flagship Rolex Daytona, but the styling influence of this longer established model is obvious, with an almost identically proportioned case and the same distinctive polished bezel, this having a tachymetre scale calibrated in order that travelling speeds and production rates can be read off directly against the stopped central second hand. The condition of this case is nothing short of excellent, with only the very lightest imperfections that must be expected on even the most carefully worn watch of this age. Certainly, this is a piece that has clearly had only the very lightest of duty in the past and has been used on special occasions rather than on a daily basis.
Internally, the threaded screw down case back is fully signed "Tudor Watch Co Ltd, Geneva, Switzerland". Externally is the model reference 15900 and the serial number 712991. Having only ever been opened for servicing with the correct Rolex factory tool, the milled edges around the case back outer are in perfect condition and not in the slightest bit chewed or damaged. Admittedly, on a watch of this age this milling is likely to be pretty good, but even so, it is worth checking as a matter of routine that a case back has not been brutalised in the past by a repairer who was ill equipped to deal with the task in hand and improvised a method of unscrewing the case back.
The winding crown is the classic Rolex Oyster screw down type, signed with a large rendition of the Tudor shield emblem. This is entirely original and in superb condition, locking down tightly in place on the correspondingly threaded tube that protrudes from the case side. Similarly, the two chronograph pushers are unchanged and operate very smoothly, starting and stopping the time recording function with a positive click.
In white with contrasting black registers, this dial is influenced enormously by those used on Rolex's Daytona chronographs. This is the text book classical chronograph layout that will never date in the slightest and still look just as valid in thirty years time as it does today. As we'd expect on a watch that is only five years old, this dial is in perfect condition, with no discolouration, deterioration or spotting of any kind. It goes without saying that this is a totally original dial that has never been subjected to restoration at any time. The signature "Tudor Geneve, Monarch, T Swiss Made T" is clear and the chrome batons and Tudor shield emblem gleam brightly, matching the original chrome hands.
Rolex has never compromised the quality of its movements and there has never been a point in time when the company's mechanisms have been anything other than of the very highest standard. This movement, calibre 1220, is a quartz chronograph unit that is finished to the same superlative degree as its all mechanical equivalent. The entire upper surface of this item has been covered with a set of wide Geneva stripes, and the signature "Tudor, Geneva, Twenty Two Jewels, Swiss" is filled in with gold in order to make it more legible against the rhodium plated background.
We are actually great fans of quartz watches, which, given that most of our business, and indeed this website, is devoted to high grade mechanical pieces, might surprise many readers. While the concept of the traditional hand built mechanical timepiece is a charmingly romantic one, the fact is that a quartz movement is far more practical for daily use than its traditional equivalent. Particularly if one has several watches and rotates them, rather than wearing them on a daily basis, the need to wind and re-set the time every time they are used is a chore. As well as being far more accurate than any mechanical watch ever made, a quartz watch keeps running without winding and is ready for use instantly from the moment it is picked up. The connoisseur who wishes to have the ultimate in hand finished perfection will always choose a completely mechanical watch, but the buyer who simply wants a high quality luxury timepiece that he can enjoy wearing regularly will in many instances actually be better served by a model with a quartz movement.
Having been serviced regularly throughout its life, this watch works perfectly. Its battery, a Renata 394, was replaced earlier this year. It is worth noting that this is a standard cell that is available either via Rolex agents, or indeed through any high street jeweller at a cost of only a few pounds.
The original heavy stainless steel bracelet that was supplied with the watch in 2002 is still with it today. This is of full factory standard length and has never been shortened, though obviously it could be if required to fit a small wrist size. On the outside of its flip lock clasp is a large Tudor shield, while the internal folding clasp plates are signed "Tudor Watch Co Ltd, Geneva, Switzerland. Registered Swiss Made, Steelinox, T12, 50180". It is interesting to note how, on this very modern watch, there is actually no mention of the Rolex patent company anywhere. On earlier examples, the Rolex signature appeared on the clasp plates and the wording "Original Oyster Case by Rolex Geneva" would typically be found on the case back outer. While this watch is in everyway a genuine Rolex, it appears that by the early 21st century, its manufacturer, for whatever marketing reason, sought to distance the Tudor models from the mainstream Rolex Oyster range.
The price of this watch is £975 GB pounds, which must make it the cheapest possible way into Rolex chronograph ownership. The Monarch is no longer offered, but when dropped from the Rolex range in 2005, it had a retail price of approximately £1250 GB pounds. Without exception, every stainless steel chronograph by Rolex, including those marketed under the Tudor banner, has increased in value sharply upon being retired and we see no reason why the Monarch won't have followed suit in this respect. At this level, it is almost impossible to think of any way in which its buyer could ever lose money in the future. A better preserved Monarch chronograph would be impossible to find, and given the automatic status of any Rolex chronographs, vintage or modern, as instant cult classics, it seems like a fair comment to say that as a cast iron investment for this future, this would be difficult to improve upon.
Price £975 GB Pounds
Vintage Watch Brands
Vintage Watch Decades
Vintage Ladies Watches
Vintage Watch Bracelets
Swipwreek Straps
Travel Clock/ Pocket Watches
Home
About
Brand Overviews
By Decade
Reference
Contact Details
Telephone from the UK:
07453 734666
or 07428 051005
Telephone from overseas:
+44 7453 734666
or +44 7428 051005