Rolex Tudor manual wind steel 1951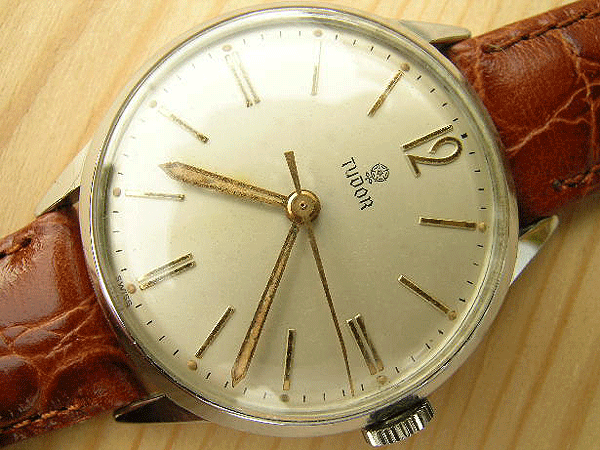 Highly collectible now for the last fifteen years, classic Rolex Tudors are a superb choice for the buyer looking to obtain a superb quality watch for a price that is often less than the mass produced timepieces offered new by any high street jeweller. We have often recommended these beautifully made items to buyers who are new to the vintage Rolex collecting hobby, simply because they represent such proven safe investments. It is difficult to see how anyone could go wildly wrong with a watch like this lovely, totally authentic 1951 gentleman's example. If it is bought and retained for even a small number of years, it will show a tidy profit when its owner eventually decides to sell it and upgrade to something at a higher price level.
The watches offered on our website are all of the very highest possible standard. Put simply, if they were not of investment grade in every respect, they wouldn't have been purchased for our stock in the first instance. The large case on this watch is virtually unmarked, and has just the lightest handling imperfections that must be expected on any example of this age. Notice that being in stainless steel rather than gold, its case is a Swiss made item as opposed to a British made Dennison one. Rolex, in common with almost all the top tier houses, had originally begun the practice of having its gold cases made in the UK in order to circumvent the ban imposed on the import of precious metal into Great Britain during World War I, but the relationship between the firm and Dennison, its Birmingham based supplier, was so effective that it continued long after restrictions had been lifted. Not being subject to any banning legislation, stainless steel cased watches could be imported unimpeded from Switzerland. Internally, this case is signed "Rolex, Stainless Steel Back" together with the brand's coronet emblem.
From a personal perspective, we particularly like the dial format here, though actually, this is very simple. The long straight batons compliment the art deco typeface used for the 12 o'clock numeral to give an overall look that is very 1930s influenced. The gilt batons are in excellent condition, as are the original luminous hands, though, if one wishes to be pedantic, it might be said that their radium infill has deteriorated somewhat. Of vital importance if the watch is to be acquired as an investment, this is a totally original dial and has never been subjected to any restoration work in the past. It isn't absolutely mint and, if one looks closely enough, its colour can be seen as just a slight touch creamier than it would have been in 1951, but this must be expected on even the most cosseted half-century old watch and is not something that would disturb even the most critical enthusiast. The minute markers are perfectly defined, as is the black signature "Tudor, Swiss", this being accompanied by the brand's rose emblem, as opposed to the later shield logo that Rolex still continues to use on the Tudor range today.
The movement here is calibre 1187/94, a unit that Rolex purchased from A Schild in Grenchen for use in its Tudor range. Because of the brand's prestige, it is automatically assumed by most buyers that Rolex manufactured its own movements in-house, but in fact, during its golden age this was never so. The majority of Rolex mechanisms were purchased from the Aegler company, not least because Rolex had a strong financial interest in Aegler, but these were also sourced from Fabrique d'Horologerie de Fontainmelon ( F.H.F) and Schild, as here. Then as now, the standard of components needed to satisfy Rolex quality control was nothing short of remarkable, and whichever one of these makers were responsible for a particular Rolex movement from the 1950s and '60s, its build and finish standard will always be second to none.
It is fascinating to see how Rolex would change the movement in a particular style of watch, often for no obvious reason. The manually wound 15 jewelled unit here, though in essence very similar in paper specification to the 17 jewelled movement in the 1955 gold manual Rolex Tudor that we also have for sale on our website at present, is physically quite different, and it is hard to explain why the evolution from the one type to the other occurred. Both are beautifully hand built and finished, with this earlier mechanism having a coating of rhodium plate that is normally associated with vintage Rolex movements.
The condition of this movement is virtually perfect, and we could sensibly say that in real terms, it could without exaggeration be described as almost as-new. Every surface gleams brightly and there is not even the slightest hint of corrosion or even dulling to the plates or wheels. In every last detail, this movement is original and correct, and has no changed components whatsoever. It has been serviced on a regular basis since new and works perfectly, running, setting and winding very smoothly.
Priced at £575 GB pounds, this very attractive item represents a very affordable route into genuine vintage Rolex watch ownership. In stainless steel, it is very much in keeping with current fashion taste, and has a classical look that will never date, rather like a pair of well polished handmade English brogues or a bespoke chalk stripe suit. The satisfaction that comes with owning a near mint vintage wristwatch of this quality is enormous, and we can guarantee that for anyone coming to a classic Rolex from a past of mass produced, mid-market watches, they won't revert back to their previous tastes in a hurry.
Price £575 GB Pounds
Vintage Watch Brands
Vintage Watch Decades
Vintage Ladies Watches
Vintage Watch Bracelets
Swipwreek Straps
Travel Clock/ Pocket Watches
Home
About
Brand Overviews
By Decade
Reference
Contact Details
Telephone from the UK:
07453 734666
or 07428 051005
Telephone from overseas:
+44 7453 734666
or +44 7428 051005