Rolex Tudor gold 1956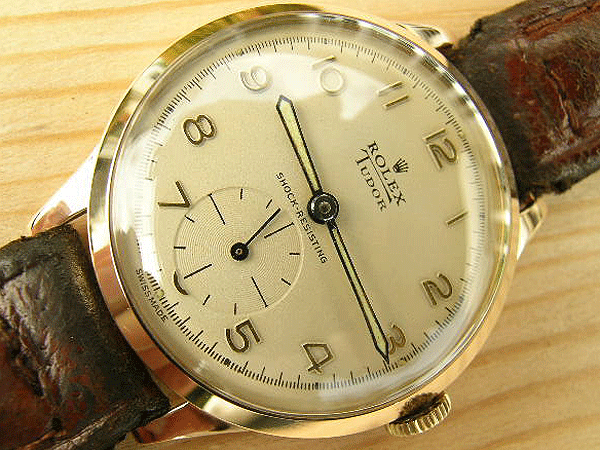 Dating from 1956, this is a beautifully preserved example of a gentleman's vintage Rolex Tudor, produced during what is now regarded almost universally as having been the golden age of Swiss luxury wristwatches. In the years between 1950 and the late 1960s, mechanical watch making rose to standards that had previously been considered unattainable. This was due in no small part to advances in movement technology that had been pioneered for both the Allied and German military becoming at last available on high grade civilian models. Additionally, it should be remembered that there were still no battery powered, quartz watches at this point. In the 1970s, the influx of quartz from the Far East brought the traditional mechanical watch factories to their knees and cost cutting, particularly in the finishing stages of the manufacturing process, was inevitable. The watch here, and others like it, was created when the industry was booming and could afford the painstaking attention to detail that can be found here. While mechanical watches are once again in worldwide demand, current models have yet to attain the build and finish standard that is to be encountered in the best of their 1950s forebears.
Rolex had introduced its Tudor range in 1946 ( or possibly late 1945, depending on which version of published history one prefers). It was a commercial success from the outset, but surprisingly perhaps, really first class examples are not easy to find. Having been in the vintage watch business for almost thirty years we are known in the trade as strong buyers of elderly Rolex models, but even so, we reject far more of these watches on the basis of sub-standard condition than we actually buy. We were delighted to add the watch here to our stock but unfortunately, we see ever diminishing numbers of similar examples with each year that passes.
The condition of the large solid gold case is almost as-new. We cannot describe it as new-old-stock and if we look closely enough, there are a few tiny surface imperfections here and there. In the real world though, short of the million to one find of an unsold, unworn example sitting in the back of a retiring jeweller's safe, this is as close to being mint as anyone could ever hope to find.
Case construction is unusual in that rather than having a separate case back, this is a two part item, with a very deep case body into which the movement is fitted from the front. Once in place, the movement is secured by means of a snap on bezel. This arrangement is a very effective one, eliminating the case body to case back joint that is such a potential weak point in the fight against preventing damp and dust from reaching the movement. It also has an historic pedigree, being something of an updated interpretation of the semi-hermetic officers' watches that had been an important development of the early 1920s.
Internally, the case body is covered with a spectacular engine turned pearled pattern. Rolex went to great lengths to decorate the inside of its cases, which is quite remarkable when we consider that under normal circumstances such work would be never be seen by their owners. There is so much more to a vintage Rolex watch than most people even begin to realise and it is only after disassembly and close inspection that we start to appreciate just how outstanding these classic models really are.
"Rolex" is signed inside the case body, together with the Rolex coronet emblem. Also present are the initials "R.W.C" ( Rolex Watch Company) and the Rolex model reference 1935.
Exactly as we would always find in a perfect world, there is a full set of British hallmarks, these informing us that this case was assayed as solid 9 karat gold in Edinburgh in 1956. These are crisp and well defined. Notice how the assay office used by Rolex changed with the decades. Pre-1920 Rolex watches almost always have London hallmarks, which ties in with the company then being based in the British capital. Later, after the move of Rolex headquarters to Switzerland, Glasgow was the assay office of choice. Post-1950 saw Birmingham, Chester and Edinburgh all used, with a gradual reduction in the number of Glasgow hallmarks. We have never read an explanation for these changes and to do so would be most interesting.
On the case back outer, there is the very neat engraving "BR, North Eastern Region, W.J.H Forbes, 45 Years Service". The BR here stands for British Rail and, incredible as it might seem in today's penny pinching age, it was not uncommon for long serving senior employees to be awarded with a gold Rolex watch by the train company. Over the decades, we have bought and sold several classic Rolex pieces with this British Rail wording. It has not escaped our notice that a high percentage of these have been in nearly mint condition. Pondering the matter, this is not illogical given that it follows that not everybody who was awarded one of these items was even in the habit of wearing a wristwatch. Equally, a number of recipients would have been unwilling to wear their high value gift as an everyday timepiece, preferring to bring it out only occasionally on high days and holidays. The condition of this piece is such that it is obviously an item that has spent most of its life tucked away in a drawer or safe out of harm's way.
The dial here is in French white. Its overall colour has just very slightly mellowed from a once stark shade to something just a fraction creamier, but in realistic terms, it can be described as being nearly mint. Certainly, there is no spotting or moisture damage to the dial surface, which is often a major issue with older watches.
"Rolex, Tudor" is stated above the dial centre, with the Rolex coronet emblem. Below the centre is "Shock Resisting" and "Swiss Made". It is not common to find the Rolex name together with that of the Tudor range, with most of these watches simply having the latter signature. We find that those with the full Rolex Tudor wording sell very quickly and this piece is unlikely to be an exception. For those with access to a comprehensive horological reference library, it is worth mentioning that an example of a very similar Rolex Tudor dual signed dial is pictured in full colour on page 139 of James Dowling's excellent book "Rolex Wristwatches, The Best of Time".
It is interesting how with daily handling of vintage wristwatches, features that mean nothing to the casual observer become instantly recognisable. The style of subsidiary seconds register here, with extended lines at the compass points, couldn't be more representative of Rolex production at this time.
All three hands are totally original and in blued steel. The hour and minute hands are infilled with radium based luminous paint and while this has faded in colour from its once bright lime green, it remains in remarkably good condition for a watch of this age. Again, to the veteran collector, this style of hands will be instantly recognised as Rolex items from the 1940s or '50s. Page 40 of the London based Japanese collector Shigeharu Aritake's book "Rolex Scene 1913-1997" shows a 1949 Oyster Speedking with exactly the same hands as those on the watch for sale here.
Movement calibre identification is very important when purchasing any vintage Rolex. Rolex used, quite literally, several hundred different movement types over the 20th century and as many of these have the same diameter, they can be interchanged at will without modification. This ease of movement swapping unfortunately leads to the current situation, where many of the vintage Rolex watches for sale, especially online, have movements that fit perfectly, but are not technically correct for the cases that house them.
It is important to realise that in the strictest sense, Rolex was not a movement manufacturer. While it had a large financial stake in Aegler SA, the relationship between this concern and Rolex remained, on paper at least, one of supplier and customer. The watch here contains a movement based around an ebauche ( the Swiss term for a movement in its most basic form) bought from the ETA company, a highly respected firm that also sold its output to IWC, Omega, Longines and Heuer. Rolex purchased movement blanks from ETA and then proceeded to entirely re-work them to its own specification, to the extent that in many instances it is not easy to identify their origins simply by visual inspection.
This movement is signed "Tudor, 15 Rubies, Swiss Made" on its bridge, with the calibre number 1260 stamped beneath its balance wheel. The 1260 is a classic ETA calibre from the 1950s and its age ties in perfectly with the hallmark date letter inside the case back. We can be categorically sure that this case and movement are original to each other.
Calibre 1260, in both its standard ETA form and the refined Rolex version here, is a manually wound movement running at 18000 half beats per hour. It earned a reputation for reliability and while superbly finished, we tend to think of it today as something of a tractor movement than is capable of lasting almost forever if properly serviced. The example here is virtually mint and has clearly been looked after by past owners. Not even a single component has been changed and the whole mechanism is entirely authentic and correct. One has to be very careful when buying vintage Rolex watches with ETA derived movements as in many instances, stock ETA component parts, rather than their Rolex finished equivalents, have been used to affect inexpensive repairs in the past. This movement is exactly as called for and is an authentic Rolex item in every respect. It hardly needs to be added that this unit works perfectly and is in the very best state of mechanical order.
When we bought this watch, it was still fitted with its original vintage Rolex strap, in dark brown calf leather. The condition of this strap is cosmetically poor, but equally, it has not hardened with age and is still perfectly wearable. After some thought, we decided to leave it in place on the basis that the watch's next owner might prefer this authentic look. We are more than happy to fit a brand new strap if asked to do so, entirely free of charge. If a potential purchaser cannot make up his or her mind, we can leave the vintage Rolex strap still in place and include a new replacement, again without cost.
The price of this watch is £875 GB pounds. We don't see vintage gold Rolex models from the 1950s in this superb condition on a regular basis anymore and at this level, the piece represents excellent value for money. It would make an ideal addition to a collection or alternatively, a very impressive gift that if looked after, will last several lifetimes. At this level, it can be said with confidence that, excepting some major dip in the vintage watch market, which seems very unlikely, this piece will continue to climb in value for the foreseeable future, while also being something that will give a great deal of pleasure to its owner.
Price £875 GB Pounds
Vintage Watch Brands
Vintage Watch Decades
Vintage Ladies Watches
Vintage Watch Bracelets
Swipwreek Straps
Travel Clock/ Pocket Watches
Home
About
Brand Overviews
By Decade
Reference
Contact Details
Telephone from the UK:
07453 734666
or 07428 051005
Telephone from overseas:
+44 7453 734666
or +44 7428 051005