Rolex tonneau with guilloche dial 1928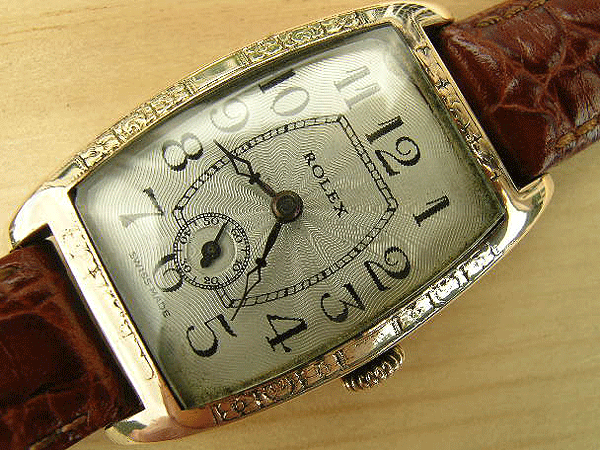 This 1928 gentleman's Rolex, with a gorgeous stretched tonneau case and a guilloche dial, is one of the most visually dramatic vintage watches for sale on this website. It also embodies perfectly the second generation of the wristwatch after it emerged as a convenient way of monitoring the time for officers serving in the trenches of France. These original wristwatches were in essence pocket watches in reduced size, circular in shape but with the addition of soldered wire lugs through which a leather strap could be passed. But by even the mid-1920s, and certainly by the time the example here was manufactured, the wristwatch had developed into a genre of its own, with rectangular, octagonal and tonneau shaped models appearing that broke from any precedent set by the pocket watch.
For anyone wanting to add a vintage Rolex from this transitional era to their collection, the item here would be a difficult one to improve upon. It is original in every respect, and has a number of aspects that make it unusual when compared to other ostensibly similar Rolex models from the same era. We often make the point that if the opportunity presents itself to acquire a watch that is in some way different from its counterparts, this should be taken, especially when purchasing for investment. By adopting this approach, an item is obtained that stands out from the crowd and, as such, will be far easier to liquidate for a healthy profit in the future. By identifying desirable models, and then screening further to find rare variations of these, one will build up a collection that is both interesting and commercially viable.
The large sized ( the watch has an elongated length of 39mm) case is extremely elegant, and very evocative of the era in which it was manufactured. Its top is decorated with a floral pattern, while around its sides runs a repeated motif of acanthus leaves. This look significantly predates the art deco theme that would come to dominate watch case aesthetics in the following decade and, in many ways, harks backs to the Edwardian period. The Japanese book "2421" by Kesaharu Imai ( whose name may already be familiar to vintage watch aficionados on account of his excellent "Timecapsule" book on the Omega Speedmaster) , its title referring to the number of vintage Rolex models it shows, includes a colour photograph of this case model on page 6, with the note that the watch pictured is from 1930, two years later than the example here.
Very unusually, this is a three-part case, with the movement held captive within a hinged retaining section that pivots out from the case back. Rolex models from this period typically had two part cases, on which a separate back press fitted into a front. This is a far more complex arrangement, with the three case sections ( front, back and movement retainer) all connected by hinges. Costing significantly more to manufacture than the conventional units, these early Rolex cases are not unheard of, but in the course of almost three decades in the vintage wristwatch business, we have seen no more than maybe a dozen similar examples.
Interestingly, this is a gold filled case. We would normally associate gold fill with watches sold in the American market, but can state categorically that this was a model offered by Rolex for sale in the UK. Internally, the case back is signed "Rolex Watch Co, Gold Filled, Case Guaranteed to Wear 10 Years, Warwick Quality". For those with access to Rolex related reference books, it is worth noting that a case with the identical signature to this one, again mentioning the term "Warwick Quality" is shown in colour on page 21 of James Dowling's book "Rolex Wristwatches, The Best of Time", the caption with this stating that it was manufactured in 1924.
This mention of a guarantee is a reference to the heavy gold sheet that was applied to these cases being so thick that it would be at least a decade before the base metal beneath it showed through. To clarify the meaning of the term "gold filled", it should be explained that to create a case in this way, two solid gold bars were placed either side of a base metal bar of approximately the same thickness. These were soldered together and run through a rolling mill under enormous pressure. The result was sheet metal that was heavily clad in a thick layer of gold. It is important to appreciate that the term "gold filled" is not to be confused with "gold plated", this latter one being the phrase used to describe an object that that has been electroplated in a plating bath with the thinnest superficial covering of gold. Gold filled cases like this one are less desirable than those in solid gold, but are infinitely superior to their cheap plated equivalents. On a personal level, we have no objection to gold filled housings whatsoever. The process that created them was an entirely legitimate one, and its end result was quality cases that were heavy, hard wearing and with the look of solid gold, but at a significantly lower price level when new.
Externally, the case back here is signed with the "RWC Ltd" ( Rolex Watch Company Limited) cartouche, together with the serial number 518827 and the model number 1342g. Notice the lower case letter present here. Rolex model numbers from the late 1920s consisted of four figures, and we have never seen another with this suffix. We may be wrong, but would presume that model 1342 was offered in a variety of metals and the "g" here denotes a gold filled example. One of the most interesting aspects of the serious study of vintage wristwatches is the number of inconsistencies and associated questions that this throws up. Even looking at the watch here, we are forced to ask what exactly was Warwick quality in the context of gold filled cases, why is this curious letter g present after the model reference, and why was this system of case identification apparently never used again ? So many of these queries could be answered at a stroke with the cooperation of Rolex itself, but the company has always refused to answer any question concerning its back catalogue, which we, like many enthusiasts, feel is a terrible, and completely needless, shame.
Condition of this case is very good, but to describe it as being near mint would be untrue. The ornate detailing at either end of the case, parallel to the strap ends, is just slightly smoothed from use over the years, and similarly, the thick gold cap has some wear at the outer edges of the case back. Neither of these faults is major, and we can't imagine that they would concern the vast majority of buyers at all, but in the interests of accuracy in our descriptions, we mention them here. This is an exceedingly rare watch manufactured only a decade after the end of World War I, and some allowance must be made for age when assessing any timepiece from this era. As many of our regular buyers are aware, we are sticklers for detail and obsessive perfectionists. We certainly wouldn't have purchased this piece for our stock if we hadn't been convinced that a better example of this model would now be very unlikely to be found.
This piece has one of the most attractive dials that we have ever encountered on a vintage Rolex watch from the inter-war years, and in itself, this feature almost merits making a purchase. This is a guilloche dial, manufactured by taking a solid sheet of German silver and cutting into it the fine lines that spiral out from its centre point to give the distinctive "starburst" effect that makes these items so instantly recognisable. The process of turning a dial in this way is a labour intensive one, with every dial created entirely individually by a highly skilled operator using a hand cranked machine, correctly known as a rose engine. It is a matter of recorded fact that an experienced machinist would take the majority of a working day to produce a single dial of this type, and if one looks very carefully with a jeweller's eyeglass, variations in the dial surface, typically where one line runs slightly closer to its neighbour than it should do, can be seen, these confirming the unique nature of each of these items.
Watches with guilloche dials are sought after and expensive, but ironically, their very nature makes them a much safer purchase that their more commonly found painted equivalents. Dial originality is unquestionably the most important single issue when assessing any vintage wristwatch, and regular readers of this website will no doubt be bored senseless by our repetition of the mantra that, in order for a piece to be even considered as an investment, it must have its original dial in excellent condition. At least 40% of the market worth of any timepiece is related to its dial, and consequently, experienced collectors are understandably almost paranoid about this component.
Originally, guilloche dials were produced on, as mentioned above, hand cranked rose engines, manufactured by the Swiss Lienhard company in La Chaux-de-Fonds. These are wonderful items in themselves, and if one appeared for sale today, it would command a price of several tens of thousands of pounds. Even in their heyday, there were very few of these machines in circulation, and now, no more than half a dozen survive, all of which are in responsible hands. For the faker, it therefore follows that the guilloche dial would be one of his last choices as a product to copy. Not only is the specialised machinery needed to replicate these dials unavailable, but the number of operators with the skill and experience to create guilloche dials is tiny. Because the value of watches that do have these beautiful turned dials is so high, sooner or later, someone will decide that it is financially viable to build a modern version of the rose engine and train an operator to use it, but so far this hasn't happened and one can be confident that any dial of this type is genuine and original.
Unlike a conventional dial on which there is a layer of paint, a guilloche dial has no applied surface and is, literally, in bare metal. It therefore follows that the discolouring that so often afflicts painted dials isn't a problem here. For the most part, guilloche dials seem to stand up to the ravages of time well, but occasionally we have seen examples on which moisture has caused some degree of pitting to their finely cut surface lines. This dial is absolutely superb, being not only totally original in every respect, but also in almost perfect condition. The pictures here don't even begin to do it justice, and the effect of light being thrown out from the centre point in widening rays towards the dial's outer edge is immediately eye catching. The signature "Rolex, Swiss Made" is clear and perfectly defined in black on its gleaming metal background, as are the double minute track and stylised art nouveau Arabic numerals.
At this level of the market, where genuinely rare watches will change hands for not inconsiderable sums of money, originality is everything. Component changes will have dramatic negative impact on values, and in order for a piece to be worth its theoretical maximum, it must be entirely standard in every respect. Here, for instance, the blued steel hands, in the cathedral shape, are correct for this model, as is the serrated winding crown, this being a flattened version of the bulbous onion crown that Rolex was using on its waterproof Oyster of the same period. As with any antique, there will be a huge variation in the sale prices of watches that are in differing states of originality. With incorrect hands, perhaps a refinished dial and a case that is not guaranteed to be the appropriate one for the movement inside it, it would be possible to acquire a late 1920s Rolex for a fraction of the price needed to acquire an example like this one. But if buying for investment, we would always recommend that only those watches that are capable of withstanding expert scrutiny are chosen, these having the potential to appreciate in value at a much faster rate than their second rate counterparts ever could.
Not only is this hinged folding case unusual, but the movement contained within it is not the standard that we would expect to find here. This is a 9 ¾ ligne ( the ligne being the unit of width measurement used traditionally in the Swiss watch industry) hand wound unit, based around the famous Rolex Hunter calibre. We hesitate to say that it actually is the Hunter, as though several variations appeared in the late 1920s, the bridge plates on this example are just slightly different from those normally used on these mechanisms. In common with all vintage Rolex movements, both the engineering and finish standard on this one are extremely high, and even examining this item under high magnification before writing this description has been a source of much pleasure. Its condition is superb throughout, with the rhodium finish that covers the plates gleaming brightly like that in a nearly new timepiece. In every respect, this movement is completely original, and it has no changed or incorrect parts whatsoever.
What makes this movement so fascinating is its signature, "Rolex Watch Co, Rolco, 15 Rubies, Swiss Made" being signed on the bridge. Rolex registered the Rolco trademark in London ( Reg. Number 65389) on the 15th September 1927, this being a contraction of "ROLex COmpany". Those who have browsed the vintage Rolex watches for sale on this website for some time will be familiar with the fairly regular appearance of the Rolco name on early Rolex movements from the late 1920s and '30s, but will have almost certainly seen it signed in isolation rather than dually alongside the parent company wording here. We have often wondered why Rolex signed some of its movements as Rolco, there being no obvious advantage to be gained from introducing another variant of the company's title. Given the age of this watch, and the fact that it must have been one of the very first examples to use the Rolco signature, it would seem that Rolex itself was unsure as to what use it would have for this name. We can understand why Rolco might have been used as a complete alternative signature, perhaps, for instance, to enable two ranges of watches to be offered via different distribution networks without causing friction between the parties involved, but to have both Rolex Watch Co and Rolco present on the same mechanism would seen pointless, and even confusing. We have only ever seen three or four other movements that were signed in this way, all of them from late 1927 or '28, and would certainly suggest that this curious wording will add appeal to the collector buyer.
Having been serviced regularly throughout its life, this movement works perfectly and is in the best possible mechanical condition. If acquired in this superb order today, any vintage Rolex movement will be capable of performing faultlessly for an almost infinite length of time if cleaned and lubricated every three of four years. There is absolutely no reason whatsoever why this movement, or others of its type, will not be running smoothly a century or more from now, if treated with a little care and common sense.
We have fitted this watch with a high quality crocodile skin type strap that is in keeping with its obviously antique appearance. This isn't a genuine Rolex strap, but it is very similar in both quality and looks to that which would have been present here in 1928, and, having never been worn, it doesn't need to be changed in the near future.
This is undoubtedly one of the most aesthetically pleasing early Rolex watches for sale here, but its good looks shouldn't detract a potential buyer's attention from its unusually signed movement and delightful folding case construction. This watch isn't mint, but is certainly very tidy throughout and, most importantly of all, is entirely original. A point often not appreciated by novice collectors is that good vintage Rolex watches like this one are becoming harder and harder to source, and a decade from now, there simply won't be any significant quantity of unmolested pieces of this grade in general circulation.
We have priced this watch at £1145 GB pounds. Looking back through older Christie's, Sotheby's and Bonhams auction catalogues from the late 1980s, even then, good authentic Rolex pieces from the inter-war years were selling for in excess of this amount. Today, we would conservatively expect this watch to sell here in a suitable specialist sale for substantially more than this sum. By dealing directly with our customers via our website, we can completely cut out the high commission fees that would be due if we sold through the traditional auction channels. We deliberately try to undercut both the auction houses and our competition among the London vintage watch dealers and items like this one stand as good examples of what remarkable value for money can be obtained when buying vintage watches in rural Yorkshire rather than in the capital. This is a lovely early Rolex from the golden period between the two world wars, yet it can be acquired here for far less than the cost of the blandest, bottom of the range, mass produced current Rolex model.
Price £1145 GB Pounds
Vintage Watch Brands
Vintage Watch Decades
Vintage Ladies Watches
Vintage Watch Bracelets
Swipwreek Straps
Travel Clock/ Pocket Watches
Home
About
Brand Overviews
By Decade
Reference
Contact Details
Telephone from the UK:
07453 734666
or 07428 051005
Telephone from overseas:
+44 7453 734666
or +44 7428 051005