Rolex tank in Snowite 1929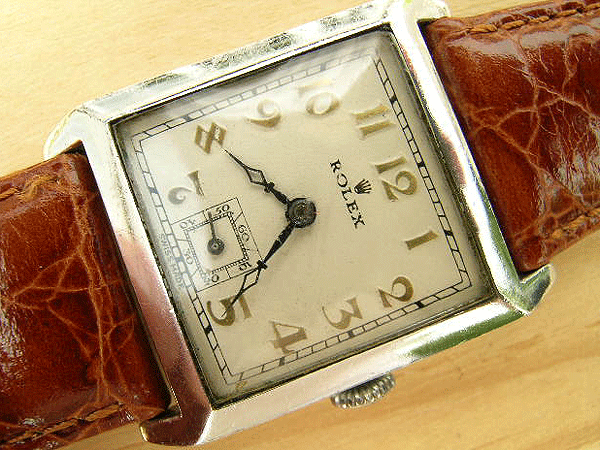 Dating from 1929, this beautiful gentleman's tank shaped Rolex is another one of those charming pieces that are so difficult to source today. It is important to appreciate that genuinely well-preserved early wristwatches by the major Swiss houses were far from plentiful even by the mid-1980s, and so few appear for sale today. The concept of the elderly Rolex watch as a collectible object isn't a new one, and items like the piece here have been at the top of the desirability scale for two and a half decades now. As a consequence of this, and in particular as a result of an increased interest in vintage watches in the last fifteen years, the pool of worthwhile examples has been depleted dramatically. Anyone that owns a pre-war Rolex in good, all original condition will almost certainly be aware of its worth, and the vast majority of collectors are now simply hoarding pieces that they bought when values were much lower than they are today.
The appearance of this item is absolutely typical of a wristwatch manufactured in the second half of the 1920s, and makes it an ideal choice for the buyer looking for a representative sample from each successive decade since the wrist worn timepiece came to the forefront in World War I. If we stop to consider this piece closely, we can see that it has almost nothing in common with the waistcoat worn pocket watches from which the first wristwatches were descended. By even the mid-1920s, the wristwatch had stylistically broken away from its ancestry and assumed a distinct identity of its own, with rectangular and tonneau shaped cases being all the rage. Notice also that on this design, the lugs form an integral part of the overall aesthetic and are no longer the soldered on wire items that they would have been even a decade earlier. This is clearly a purpose designed wristwatch in the strictest sense, rather than something that is in essence a miniaturised circular pocket watch with the addition of crudely added lugs in order that it can be strapped to the wrist. Early officers' watches from the Great War are beautiful things, and will command high prices from connoisseurs, but their pocket watch associations are immediately recognisable, whereas here, this item has no obvious link to its ancestral lineage.
We refer to this case as being in the tank style unapologetically, though purists will no doubt grimace at our using this term in a Rolex context. The tank shape, so named on account of its outline resembling the aerial view of the World War I incarnation of the military vehicle, was created by Cartier, the famous French jewellery house, in 1919 and if one wishes to be technically accurate, this description should only be used for watches by this brand. In reality, as with so many things, such a successful case style immediately spawned imitators, and by the mid-1920s, every important watch manufacturer was offering its own parody of the Cartier original. If we really wanted to stretch a point, we might argue that the lugs here are angled inwards just slightly too much to qualify the case as a tank in the strictest sense, but certainly, Rolex undoubtedly took the inspiration for this housing from the product of its close competitor, and the overall look of this item and the Cartier tank from the same period is virtually identical.
Studying this case in detail with an eyeglass, we would suggest that, though not signed as such, it is a "Snowite" item, in chrome plated zinc. Rolex had registered the trademark Snowite in February 1927 and used it extensively throughout the late 1920s and early '30s. The original idea behind this combination of metals was that the resulting effect would be an eye-catching one, with the chrome having a distinctive ice blue gleam that was subtly different from that of a standard chromed brass case. The condition of this housing is extremely good, and finding another late 1920s Rolex in a comparable state would be quite a challenge now. If one looks long and hard enough, there are some minor imperfections to the chrome surface in places, but these are so trivial as to hardly merit mention, and must be expected on even the most cosseted watch of this age.
This is a hinged case, with the case back pivoting outwards from the case body. The hinge has never been subjected to any repair work and has no discernable wear play whatsoever. Internally, we find the signature "Rolex Watch Co, Unicorn, Swiss Made", and this is worthy of comment. Rolex had registered the Unicorn trademark on the 17th March 1919, then curiously transferring it into the personal ownership of the company's chairman, Hans Wilsdorf, on the 4th October 1920. In itself, this isn't particularly newsworthy, as Rolex similarly secured a large variety of quirky model names during the same period. The vast majority were never used, and finding the Unicorn name here on both the case and movement, especially signed next to the more conventional Rolex Watch Co wording, is relatively uncommon and something that will appeal to the dedicated aficionado. It is somewhat difficult to see what Rolex was trying to achieve by double signing cases in this way. Was the objective perhaps to create an alternative range of watches that could be sold through a separate network of jewellers ? If this was the case, then surely it would have been beneficial to have kept the identities of these lines distinct and separate, rather than mixing both the Rolex and Unicorn names on the same watch ? Sadly, like so many things related to the formative years of this famous house, the reason for this apparent attempt at diversification will remain a mystery, not least on account of Rolex today staunchly refusing to answer any queries relating to its back catalogue of production. Just occasionally, items like the one here do surface in the collectors' marketplace, but the reason for their existence is somewhat clouded. For anyone interested in researching this fascinating subject further, we can highly recommend the very well researched article by Dennis Harris in the May 1997 edition of the British Horological Journal "Early Rolex Trademarks" in which the Unicorn name, among others, is discussed in some detail.
Externally, there is the individual serial number for this watch, 826341, and the model reference 1130. These stampings are of full depth and are perfectly crisp and clear, this indicating that the case has never been polished in the past.
When the value of any vintage Rolex is speculated upon prior to its sale in a more traditional physical auction environment, the most significant factor that will be taken into consideration is its dial. Both the extent to which a dial format is considered attractive and its condition will have enormous ramifications on market worth. This dial is a gem, with a black double minute track and large stylised art nouveau numerals on a French white background. The Rolex signature is accompanied by the firm's coronet emblem, this having first appeared in 1925, four years before this item was manufactured. The original blued steel cathedral shaped hands are totally correct for this model, and free from even the slightest hint of corrosion. In an ideal world, an extra premium would have been added for a black dial or the presence of a retailer's signature alongside the Rolex name, but in practice, this is one of the best preserved 1920s Rolex dials that we have encountered for some time. Having had no restoration whatsoever in the past, this dial is absolutely original in every respect. This is such an important factor, and any watch with a so-called restored dial, this being a complete re-printing of the dial surface, will be regarded as a poor relation by experienced collectors. Once again, if we study the dial under high magnification, we can pick out the slightest dust staining to its extreme outer edges, caused by dirt creeping between the glass and the case front, but in real terms, it would be reasonable to describe this item as almost perfect. In order to have survived in anything remotely approaching this condition, a watch must have been kept in a clean and dry environment, away from excessive dust and damp. So few timepieces from the inter-war period still have their original dials in this time capsule state, and hence those that do command very high price premiums over those with deteriorated and unsightly examples. While it may seem strange to the novice collector, it would be quite realistic to expect this particular watch to sell in a physical auction environment for double the amount that it would reach with a merely average dial. While the often quoted statement that vintage wristwatch collectors are actually dial collectors is an oversimplification, it does contain a kernel of truth. Being exposed to sunlight and the ingress of damp, a dial is the vulnerable part of any watch, and exhibits more variation in its state of preservation than any other component, hence it is the one that is used as a working yardstick when grading for price. This point is conveniently glossed over by many sellers online, and consequently, we now see a situation in which watches with restored dials are often sold to novice buyers for high prices, when no experienced collector would have even looked at them in the pre-internet era. Our watches are unquestionably expensive, perhaps more so than those offered by any other online source outside central London, but they are entirely as they should be in every detail. They are of a grade that would have been highly regarded by collectors even twenty five years ago, and if treated with care and well looked after, will occupy a similar position indefinitely in the future.
The movement here is interesting, as it closely mimics the Hunter calibre that Rolex used as its flagship hand wound mechanism between 1923 and 1969 without actually being identical. To the casual observer, both these units would doubtless appear as twins, but in fact, when laid side by side there are minor differences in the shape of the plates. The finishing of this movement is superb, with the plates having been polished by hand to an exceptionally high standard, and key edges bevelled rather than left as crude right angles. The signature "Unicorn, 15 Jewels, Swiss Made" appears on the winding wheels, this matching perfectly the wording stated inside the case back. Once again, the reason for the introduction of the Unicorn name is unclear, not least because this movement is effectively a standard 10.5 ligne ( the ligne is the unit of movement width measurement traditionally used within the Swiss watch industry) Hunter from the same period. George Gordon's book "Rolex, Timeless Elegance" includes a mention of this stamping on page 15, informing us that, in the context of the company's early years, "Rolex movements also bore the name Unicorn", and actually includes a colour plate of the same movement here on page 286. Gordon's movement dates from 1928, making it just slightly earlier than this 1929 unit.
This movement is totally original and in excellent condition. It contains no non-standard parts whatsoever and is free from corrosion or even dulling to its bright shiny surface. The intrinsic quality present in any Rolex movement from the inter-war years will be exceedingly high, but it is important to appreciate that if neglected and allowed to deteriorate, even the finest grade of precision machinery will quickly become unreliable and troublesome. Similarly, a movement lacking in integrity, adulterated with a number of incorrect replacement components, is unlikely to be dependable and should be avoided. Just as with a well preserved vintage motorcar, a genuinely cared for antique watch will be no less reliable than its modern counterpart, but it is vital to be selective when buying, as the majority of timepieces from the 1920s that exist today are well on the way to being life expired.
Having been serviced on a regular basis, this watch works perfectly today. It sets and runs extremely smoothly, with none of the backlash to the gear train that gives away a mechanically tired movement. If the same routine maintenance schedule is continued in the future, there is, quite literally, no reason whatsoever why this item shouldn't be giving sterling service a century from now. While beautifully made, the engineering in early wristwatch movements is relatively simple, and there is nothing in them that, if wear is not allowed to gain a foothold, should ever prove troublesome. The secret to owning a watch of this kind, or indeed a vehicle from the same period, is to buy the best possible example in the first instance, and then never fail to have it maintained correctly.
We have fitted the watch with a high quality crocodile skin type strap that remains in almost perfect condition, having never been worn. This isn't a genuine Rolex strap, the original having hardened and disintegrated decades ago, but it is completely in keeping with the elegant vintage look of the piece, and certainly need not be changed in the near future.
In summary, this is a superb example of the Rolex company's work from 1929. It has a very stylish appearance that is entirely different to anything offered by the firm today and was manufactured to a quality standard that would no longer be economically viable. Its condition is exceptionally fine throughout, and it is original and correct in every detail. Common sense should tell us that this isn't going to be an inexpensive purchase, but at the asking price of £945 GB pounds it is far from over-priced and is the sort of vintage timepiece that will only ever steadily appreciate in value. A point that novice collectors often don't take on board, early Rolex models in this state just don't appear for sale with any predicable regularity anymore, and are not available on demand in unlimited quantities.
Price £945 GB Pounds
Vintage Watch Brands
Vintage Watch Decades
Vintage Ladies Watches
Vintage Watch Bracelets
Swipwreek Straps
Travel Clock/ Pocket Watches
Home
About
Brand Overviews
By Decade
Reference
Contact Details
Telephone from the UK:
07453 734666
or 07428 051005
Telephone from overseas:
+44 7453 734666
or +44 7428 051005