Rolex steel snap back 1946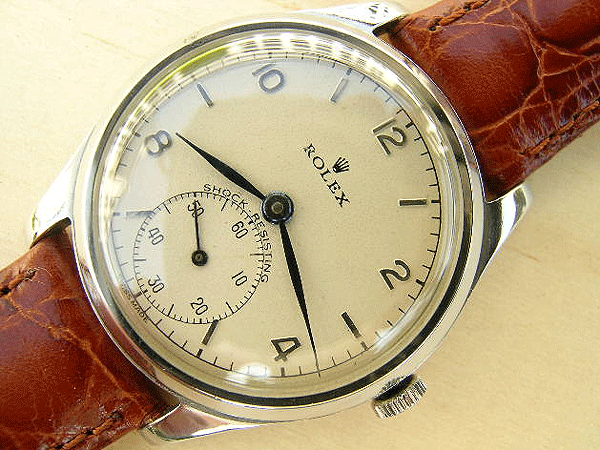 This beautiful, nearly mint, 1946 gentleman's stainless steel Rolex is an extremely attractive watch of a type that would be almost impossible to find now. Rolex is universally regarded as the most desirable of all the Swiss luxury wristwatch houses, and watches by this brand are passionately collected worldwide. While this recognition has created a boom market for vintage Rolex watches in the last fifteen years, it has also has the effect of almost completely drying out the market of genuinely well-preserved, completely original pieces. The majority of owners of exceptional watches like the one for sale here are well aware of the extent to which they are currently appreciating in value, and will therefore be understandably very reluctant to liquidate them at this time. As professional dealers, one of the most difficult challenges for us is replacing the items we sell with similar watches in comparable condition. We have been active in this field for almost thirty years and it is very noticeable now that with every year that passes we have to put in far more effort than we did before to source the high grade of stock that has become the hallmark of our business.
The gleaming, very elegant, stainless steel case on this piece is almost "as new", with just the very slightest imperfections that must be expected on any carefully used watch of this age. There is no pitting whatsoever, this being a fault that does tend to occur on early stainless steel watches that were resistant to rust, but suffered badly from corrosion caused by the acid contained in human perspiration. The case style itself is very interesting, as it mirrors the general look of Rolex's waterproof Oyster models from the same period, but instead of featuring the screw down, threaded winding crown and case back that we associate with the Oyster, it has a snap back and conventional pull out winding crown. We sometimes think that too much attention is given to the Oyster, to the detriment of many really appealing non waterproof Rolex models like the one offered here. Perhaps when these watches were new, the feature of waterproofing was an important one, but given that any vintage Rolex wristwatch from the 1940s is now a high value collectible, it is very unlikely that any owner would ever submit any of his prized pieces to water anyway, so we feel that the Oyster is perhaps given a little too much significance in the minds of many enthusiasts.
The quality of this case is extremely high, and it is certainly thicker walled than the majority of cases from this period. The case is a British made Rolex item, not a Swiss one, and is fully signed inside its beautifully engine turned case back as "Dennison, Made In England, Denisteel Back". Also present is the individual case number 7169 and the model reference 12325.
The Dennison company was undoubtedly the most important British concern to be involved with the development of the early wristwatch, and its story is inextricably linked to that of the great Swiss movement making houses for which it almost universally supplied cases for the UK market. The collector James Dowling states on page 315 of his excellent book "Rolex Wristwatches, The Best of Time" that the English made Dennison cases are the highest quality of any to found on vintage Rolex watch production, and few enthusiasts would disagree with this view. Founded in 1874 by Aaron Lufkin Dennison, an American entrepreneur who relocated here in 1861, this now almost legendary enterprise from Soho Hill, Handsworth, Birmingham, prospered largely as a result of fortuitous circumstances, these being the imposition of punitive rates of duty, and later an outright ban, on imported gold and silver from overseas during World War I. Eager to find a way around this attempt by the British Government to curb non essential spending, the tactic used by the Swiss houses was to ship uncased movements to their British distributors, who would then proceed to house them in domestically manufactured cases, thus avoiding the import tax altogether and keeping their products at a more affordable level.
This policy would only work if a high quality case maker could be found in the UK that could custom build cases to exacting specifications at the highest level. This is where Dennison immediately achieved such prominence, building cases of such remarkably fine grade that, ironically, they surpassed the standard of those that had been built in Switzerland, both in terms of their neatness of manufacture and finish, and in the sheer weight of precious metal used. When examining a 1930s or '40s Dennison case for the first time, there is always a sense of amazement that such a thick gauge of precious metal could be used at a time when the bullion price was at an all time relative high, and certainly the firm's stainless steel cases were built to the same standards.
Almost all, with hardly any exceptions, of the great marques that we so revere today as high value collectibles used Dennison in the period between 1916 and February 1967 when, due to low bullion prices and a relaxed import tariff on gold, it was no longer relevant to UK manufacture cases and the Dennison company was finally dissolved. As many of the regular browsers of our site will be aware, we list only the very finest classic wristwatches for investment purposes, and perhaps 25% of the vintage watches for sale here at the moment, by the most sought after brands in the world, are housed in Dennison signed cases. Dennison products were always very expensive, but were unquestionably the best of their time, and we have hardly seen a better case than the one on this particular watch.
The beautiful French white dial on this piece is exceptionally attractive, and is completely original and in nearly mint condition. Dial originality and condition account for at least 40% of the value of any vintage Rolex model, and if a watch is to be purchased for investment, it is vital that only a piece with its original dial in undamaged form is considered. If one wants to be excessively critical, perhaps it should be mentioned that there is the very slightest patina to the dial surface, but this is hardly noticeable, even when viewed with a jeweller's eyeglass. The dial is fully signed "Rolex" in clear upper case letters, and the distinctive Arabic numerals alternate with rectangular block batons to give the piece a very distinctive appearance.
The heart of any wristwatch will always be its movement, and the beautiful 15 jewelled, manually wound 10.5 ligne Hunter unit that is present here is a spectacular example of vintage Rolex craftsmanship at its very highest level. First introduced in 1923, the Hunter is widely regarded by serious collectors as the finest Rolex movement of the vintage period. Quite remarkably, its design was so superb from the very outset that it continued in production as the firm's flagship calibre until 1969, and was still at the very cutting edge of mechanical movement technology when it was retired. The Hunter was the movement that featured in every early Rolex Oyster, and was the calibre that would be worn by innumerable fighter pilots during World War II, keep time accurately on the wrist of speed record breaker Malcolm Campbell and be used as a navigational aid during the first ascent of Everest in 1953. Every serious Rolex collection must include at least one example of the Hunter; it really is a mechanism that is almost synonymous with Rolex excellence at that time.
Very importantly when assessing any higher value vintage wristwatch, the movement present here is both in almost as-new condition, and is entirely original, with no changed or incorrect parts whatsoever. This is a fully signed unit, with "Rolex" stated on its bridge and "Rolex, 15 Rubis, Swiss Made" stamped into the winding wheel. Any Rolex movement from the 1930s or '40s will be inherently extremely reliable as a consequence of the quality of its construction, but this dependability will be rapidly diminished if it becomes adulterated with incorrect parts that are perhaps not even of Rolex origin. In the current climate, where these watches are obviously very sought after and costly items, it is easy for us to forget that this was not always the case, and that in the late 1970s, mechanical watches of any kind, even those by Rolex, were perceived as being outdated and passé in the face of newly introduced quartz technology.
Any vintage Rolex watch that has survived today now has a secure future, but at that time, the majority of owners were, quite understandably really, very unwilling to spend significant sums on having their watches serviced and repaired by the main Rolex agents when they were of little value, and hence this situation now where many older watches have been cheaply repaired in the past with non standard components. This movement has been regularly serviced throughout its life with no regard to expense, and as a result, works perfectly today, running reliably and with excellent amplitude.
We have fitted this watch with a very high-grade crocodile skin type strap. This is not a genuine Rolex strap, the original having disintegrated some time ago, but it is in perfect condition and perfectly suited to the upmarket appearance of the piece.
In summary, this is an extremely attractive 1946 gentleman's vintage Rolex watch with an extremely well preserved untouched dial in a condition that would now be almost impossible to source. It is completely original throughout, while at the same time being in almost mint condition, making it a perfect choice for the buyer looking for a classic Rolex for investment purposes. A watch like this one, that represents very much the top of the condition scale for an item from its era is always going to be sought after, and increasingly so in the future, as the vintage wristwatch collecting hobby becomes ever more popular.
Valuing this watch is quite difficult actually, not least because one hardly ever sees genuine 1940s Rolex models in this almost perfect condition. James Dowling's book "Rolex Wristwatches, The Best of Time", already mentioned in the context of the case back, pictures an almost identical watch on page 183. The watch shown is in 9 karat gold, but has almost exactly the same case style, dial layout, winding crown and hands, and was suggested as having a value of 2500 when the book was first published back in 1996. There is no doubt that gold is obviously more desirable than stainless steel, but at the same time, prices for rare early Rolex models have risen dramatically recently, particularly in the last decade in which a new influx of collectors have entered the market via the Internet.
We have priced this watch at £1375 GB pounds, which represents extremely good value for an all original, Hunter equipped Rolex model of this age. Twenty years ago, we were still buying examples like this one from original owners who had bought them new and kept them in drawers to be brought out for special occasions, but these days are long gone and we just do not see pieces of this quality on any kind of predictable basis anymore.
Price £1375 GB Pounds
Vintage Watch Brands
Vintage Watch Decades
Vintage Ladies Watches
Vintage Watch Bracelets
Swipwreek Straps
Travel Clock/ Pocket Watches
Home
About
Brand Overviews
By Decade
Reference
Contact Details
Telephone from the UK:
07453 734666
or 07428 051005
Telephone from overseas:
+44 7453 734666
or +44 7428 051005