Rolex silver tonneau, guilloche dial, boxed 1928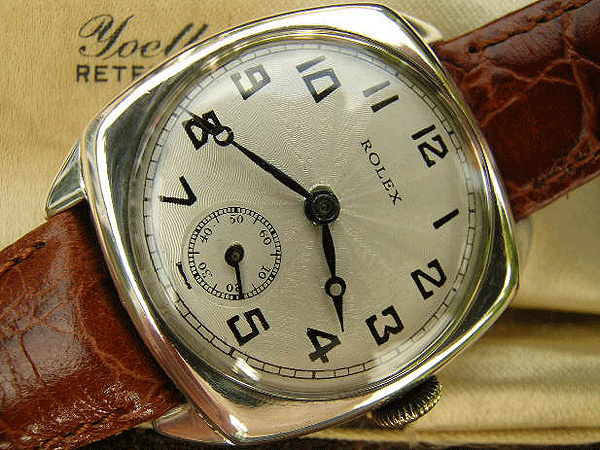 While this nearly mint 1928 gentleman's silver vintage Rolex tonneau is exceedingly attractive, it is also a watch that is unusual from a technical viewpoint and a piece that will appeal to the hardened collector. While expensive to acquire, items like this are the pinnacle of the vintage Rolex watch scene and increasingly difficult to find for sale. Twenty five years ago, when the concept of the elderly wristwatch as a collectible first emerged, some beautiful examples appeared on the market that had been in private hands since new. Today, sadly, all the drawers have long since been turned out and the vast majority of the watches for sale are of a quality standard that wouldn't have been acceptable even a decade ago. This watch is a gem, and though it is pricey, represents a much better buy than a poorer example in a more common format for a smaller sum.
What makes this piece so fascinating is its unusual case. On a typical tonneau shaped wristwatch from this era, the case consists of three major components: the case body and a snap on bezel and case back. The case body surrounds the movement, the bezel holds the glass and the back can be removed at will, allowing access to the movement for servicing. The case is built around entirely different principles and has no separate case back. Instead, the case back, lugs and case body have been cast as a single unit into which the movement is pressed from the front. When the movement is in place, the bezel snaps down and completes the finished watch.
The advantage of this arrangement is the complete elimination of the case back to case body joint. All the top tier Swiss horological houses had a near obsession with increasing the extent to which their products were water resistant in the 1920s, and the negation of the need for surplus joints was an important step in sealing a watch case. To the casual observer, the link between the two may seem tenuous, but in fact, we maintain that this design has an awful lot in common with the famous patented Borgel cases of the World War I era. Both do away with a separate case back and instead have a deep body and back combination into which the movement sits. The key difference between the two lies in the Borgel having a screw down bezel, ideal on a circular watch, as opposed to the press fit version here.
We have seen only three or four of this model over the last two decades, but are aware that it was offered originally in both gold and silver. As far as we know, no other house employed this case design concept in exactly the same way, which ties in with the case back stamping "Patent Applied For". Curiously, having presumably been eventually granted a patent after this particular watch was made, Rolex doesn't seem to have continued to produce this type of case. The reasons for this are unclear, but given that the design itself has no obvious drawbacks, we can probably draw the conclusion that they were related to difficulties in manufacture.
Inside the case back is the wording "Rolex, 18 World's Records, Geneva, Swisse", together with the "RWC Ltd" ( Rolex Watch Company Limited) cartouche. We can date this watch exactly through its full British hallmarks, these telling us that it was assayed as sterling silver in Glasgow in 1928. Even if these had not been present, the world's records stamp would have given us a pretty good idea as to its year of manufacture. Rolex introduced this signature just after World War I, boasting of 7 world's records set in the accuracy competitions held by the Swiss watch industry. This number steadily climbed throughout the inter-war years until eventually, just after World War II, with a final count of 40 world records, this format was finally abandoned. The record count of 18 here ties in perfectly with a late 1920s hallmark.
The case back outer has the model reference 554 and the individual serial number 57488. Across the case back is the very attractive scripted engraving "H.M.P.H. Sep 5. 29". It seems safe to assume that this represents the initials of the watch's first owner, together with the date on which he received it, perhaps as a gift. It caught our attention that the date is given in the American format, with the month stated before the day. In the UK, convention dictates that we state the day first, followed by the month. The British hallmarks tell us that this was a watch sold here originally, and we couldn't help wonder if its purchaser might have been an American. Regardless, this engraving adds a delightful sense of history and past life to the item, though it is very light and could be polished out almost instantly if required.
The condition of this case is virtually perfect. There are no scratches or imperfections of any consequence at all, and in realistic terms, this housing is virtually as-new. There has never been any kind of repair work to the fixed strap bars and everything here is unchanged throughout.
The dial on this watch is one of the most attractive that we have seen on a pre-1930 Rolex model and, because of its remarkable condition, adds enormously to the value of the piece. A point often glossed over in the online auction environment, dial condition and originality are paramount when buying for investment. This dial is not only in a virtually perfect state, it is also entirely original. A so-called "restored" dial, which in fact means a dial that has been stripped completely of its finish and then re-printed, will automatically be considered undesirable by experienced collectors. In vintage wristwatches as with any field of antiques, commercial value directly correlates with rarity, hence new looking restored dials, which can be produced at any time at will, have very little appeal. In order for an original dial to remain looking almost perfect, the watch to which it is fitted must have been kept away from dust and moisture throughout its life. Very few watches were treated so carefully, with the result that only tiny numbers, like this one, survive with original, near mint dials, and hence the high prices these fetch when they do appear on the market.
This is not a standard flat painted dial, but instead is an engine turned item. These dials are typically referred to as "starburst" by collectors, a term which derives from the spiralling lines cut into them that catch the light and radiate it away from the centre point towards the outer edge. Correctly known as guilloche dials, they were produced on an individual basis with a hand cranked tool known as a rose engine. Each dial took the greater part of a working day to create, with the consequence that the watches to which they were fitted were very costly. The dial material itself is also somewhat exotic. A conventional dial is usually copper, onto which a paint layer has been applied, whereas the guilloche dial is of German silver. There is no surface applied and the visible gleaming surface is bare metal and just as it was after engaging with the cutting head of the rose engine.
"Rolex" is stated in large upper case letters above the dial centre point. A double minute track surrounds a set of beautiful art deco inspired numerals. All this printing is in perfect condition and has not faded or deteriorated. Small nuances often have great significance in the vintage Rolex market, and even these stylised numerals add value when they are compared with more traditional equivalents. Old Rolex watches are appreciated for their remarkable quality, but also for their visual appeal. Any well preserved Rolex from the 1920s in original condition will be highly desirable, but when a really eye catching example comes up for sale, it will typically sell for substantially more than a plainer, but similarly specified in technical terms, equivalent.
The blued steel Breguet hands are in perfect condition and totally original to this watch, as is the large diameter winding crown. Features like this are so often changed over the decades, perhaps in an attempt to keep a worn watch presentable. With enough time and effort, it is sometimes possible to track down the parts required to return a modified watch back to factory standard specification, but to do so, particularly in the case of an older model like this one from the 1920s, can be a very expensive and exceedingly frustrating process.
Inside this watch is a very fine example of an early 10.5 ligne ( the ligne is the unit of width measurement used as standard in the watch industry) Hunter movement. The Hunter is an exceedingly important, in fact, the most important, mechanism in the history of the Rolex company and no serious vintage wristwatch collection would ever be complete without the inclusion of one of these units. Introduced in 1923 as a replacement for the Rebberg, the Hunter would remain as the flagship hand wound Rolex movement until 1969. This wasn't on account of any tendency for complacency on the part of Rolex, but simply because the design of the Hunter had been so good from the outset that there wasn't an obvious way of improving on it.
One of the key points to understand about the Hunter is that, while it enjoyed a production span of unprecedented length, it did not remain unchanged during this time. Rolex constantly revised its specification in the wake of new technical developments, to the extent that the Hunter of 1969 looks almost unrecognisable when placed side by side with a model from 1923. Very unfortunately for the inexperienced collector, all variants of the Hunter are physically interchangeable with each other. So, for example, a 1927 Rolex watch case could be fitted with a 1952 movement without modification. Over the years, an enormous amount of swapping and changing has gone on, and if buying with a view to investment, the features of each generation of the Hunter must be known in order that one can be sure that the movement inside a potential purchase is of matching age to its dial and case.
This particular movement has all the features that we would expect from a Hunter manufactured in the mid to late 1920s. The very first Hunters had plates with the same two finishes offered on the Rebberg, these being Geneva stripes or, on the 15 jewelled versions, engine turned pearling. After this brief transitional period, the Hunter was produced with flat polished rhodium finished plates, of the type we can see on this unit. Further examination reveals that the balance wheel here is still of the standard type and not the Superbalance version that appeared in 1935. The winding wheel is signed "Rolex, 15 Jewels", just as it was on the Rebbergs, with no mention of the Prima, Extra Prima or Ultra Prima wording that would come to be associated with Hunters of the late 1920s. If we had to make an educated stab at the age of this movement, we would be confident that it was manufactured in 1925. Notice that there is a slight time lag between this year and the 1928 hallmark inside the case back. Rolex, in common with all the other major Swiss houses, achieved economies of scale by producing movements in batches and then proceeding to use these as required over several years. This slight discrepancy is perfectly acceptable and it can be stated with total certainty that this movement started life when new inside the case that houses it today.
The condition of this movement is almost perfect. Every component part in it is original and there is no evidence of any past repair work having ever been performed. The whole mechanism gleams brightly and there is no discolouration or dulling to either the plates or wheels. Having been serviced on a regular basis since new, this movement works faultlessly. Provided it is cleaned and lubricated every three or four years in the future, its present state is so good that it should still be providing sterling service a hundred years from now, just as many high quality pocket watches from the Victorian era still are today.
We have fitted the piece with a high quality crocodile skin type strap. This strap is in excellent condition and is brand new. It isn't a Rolex strap, the original having deteriorated to the point that it was no longer serviceable, but it is almost identical in appearance to the one that would have been supplied with this watch in 1928 and certainly need not be changed at this point.
Remarkably, the watch is still with its original box. Based at 10-12 Carolgate, Retford. Yoel was an official agent for Rolex, Omega, IWC and Longines in the years between the wars. The box itself is a very opulent item and is in superb condition, with just the slightest degree of yellowing to its once stark white satin lid lining. If sold alone, this box would certainly command a price of approximately £100 GB pounds.
The price for this watch and its box is £2100 GB pounds. A more conventional silver Rolex tonneau from the same period would certainly be less costly, but rare features like the one piece case here do command a premium. This is a very attractive, very unusual item, and because of its obscure patented case, is one that will prove difficult for the experienced vintage Rolex enthusiast to resist.
Price £2100 GB Pounds
Vintage Watch Brands
Vintage Watch Decades
Vintage Ladies Watches
Vintage Watch Bracelets
Swipwreek Straps
Travel Clock/ Pocket Watches
Home
About
Brand Overviews
By Decade
Reference
Contact Details
Telephone from the UK:
07453 734666
or 07428 051005
Telephone from overseas:
+44 7453 734666
or +44 7428 051005