Rolex Prince Elegante boxed 1940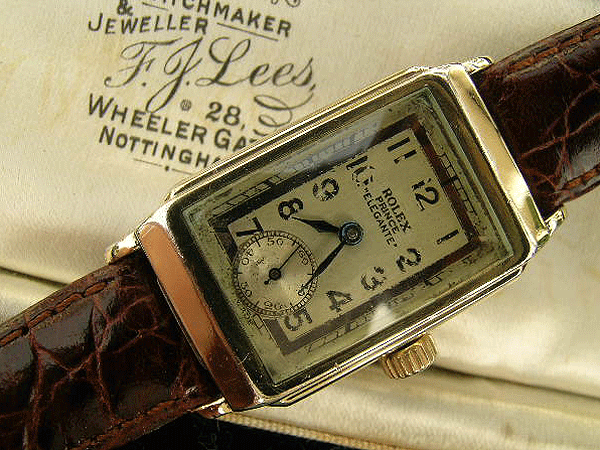 This exceptionally attractive 1941 gentleman's Rolex Prince Elegante is a perfect specimen of the art deco inspired watches that were created by all the Swiss top tier horological houses between around 1930 and the close of World War II. By the second half of the inter-War period, the wristwatch had developed a style of its own that was not influenced by the pocket watches that had previously been the norm even in the Edwardian era. While undoubtedly evocative of their era and extremely collectible today, the wristwatches of World War I were relatively simple in their execution and designed with a view to functionality in the hostile operating conditions of the trenches. Curiously perhaps when we consider that a lot of the 1930s was taken up with the Great Depression, the art deco watches of the decade were decorative and, as here, shamelessly flamboyant, with less consideration given to practicality.
Rolex introduced its Prince range in 1928. Originally, this took the form of duo-dialled doctors' watches, so named because of the ease with which their oversized, separate seconds registers could be consulted when monitoring a patient's heartbeat over a sixty second period. Today, the duo dial Prince is one of the most iconic of all vintage Rolex wristwatches and commands high prices when for sale in original excellent condition.
The Prince Elegante took the rectangular case style that had been so successful on the earlier duo dialled Prince models, but was revised with a more conventional subsidiary seconds counter that was part of the main dial rather than being separate from it. Rolex, most irritatingly, has a strict company policy of never releasing any information regarding its back catalogue which makes life unnecessarily difficult for both collectors and dealers. Because of this veil of secrecy, exact production dates are impossible to ascertain, but we would suggest from our own experiences with Prince Elegantes over the years that they appeared approximately around 1936 and were discontinued from the Rolex model range either just before or very slightly after the end of World War II.
This example is interesting as it bears all the traits of being a Canadian market version of the Prince Elegante, which we have only ever encountered on a handful of occasions previously. The elongated case has very attractive stepped art sides and has a look that is very typical of the luxury watches intended for sale in the USA at the time. Without wishing to bore the casual reader unnecessarily, it could be briefly explained that Rolex in Geneva had a curious agreement with its movement supplier Aegler SA that it would sell the latter's products in Europe, Britain and the rest of the world except for the United States, which would be left open for another major Aegler customer, Gruen. Hence we sometimes see the situation where two Rolex and Gruen models will contain exactly the same movements, each signed with the name of their respective brand.
Deprived at the time of the US market, Rolex targeted Canada. We could be uncharitable and suggest that perhaps Rolex management had an idea that inevitably, the firm's watches sold in Canada would find their way into the USA eventually, but this is pure speculation on our part and not a view derived from any recorded evidence.
The Canadian market models combined Swiss made Rolex movements with cases that were made domestically. Both the USA and Canadian governments were very protective of the watch manufacturers in their own countries and imposed high rates of duty on complete watches imported from Switzerland in order give domestic brands an unfair advantage in the marketplace. By shipping uncased movements to their overseas distributors, who would then have them housed in locally made cases upon arrival, this tax could be neatly sidestepped and firms like Rolex, Longines and Jaeger LeCoultre, which were already at the top of the price scale even before duties were added, could continue to trade. Incidentally, this approach was not unique to the USA and Canada. In Great Britain, vintage Rolex watches in gold from the 1930s and '40s are almost always found with cases made by the Dennison company of Birmingham, for exactly the same reasons of bypassing import duty and, during the War years, an outright ban on the bringing of gold into the UK for non-essential use at a time of deep national crisis.
As we would expect on a Canadian market Rolex watch from this period, the case front is gold filled. Going into the intricacies of the various case making processes from the vintage period is beyond the scope of this description, but in essence, gold filling involves the rolling under high pressure of a block of two sheets of gold that come above and below a thicker block of base metal. As the sandwiched block is rolled out, it becomes thinner, but the ratio of gold to base metal remains constant. Gold filled is the term for these cases in the USA whereas here in the UK, we are more familiar with the phrase rolled gold. Both have exactly the same meaning. In the pecking order of desirability, a gold filled case will always be worth less than its equivalent in solid gold, but it will have a much higher value than a gold plated case made using the modern electroplating process, on which the thickness of gold over the base metal below will be just a few microns. Gold filling was largely abandoned in the immediate post-War period for the simple reason that it used up a great deal of gold as a raw material and was therefore expensive. Coating base metal with a cosmetic layer of electroplated gold was far cheaper and the inferior process usurped the higher quality one.
Most, but certainly not all, gold filled cases have stainless steel backs, as here. This case is signed simply as "Rolex" in large upper case letters. This very minimalist signature contrasts sharply with the wordy "World's Records" type stampings that were appearing inside European market Rolex cases at the time. Many years ago, probably back in the mid-1980s, we were thrown when we first encountered one of these housings. Its quality was very high, but the single word signature seemed incongruous with the grade of finish and we found ourselves questioning whether the case was in fact authentic. Three decades and an awful lot of vintage Rolex watches later, we now immediately recognise this format as entirely correct for a Canadian market Rolex model. A close up colour photograph of an almost identical 1940s rectangular Rolex case back to this one, with exactly the same simple "Rolex" stamping inside it, is shown on page 141of James Dowling's excellent book "Rolex Wristwatches, The Best of Time". The caption there notes that this has a "gold filled top, steel back. Canadian Rolex. To circumvent heavy tariffs, most of the non-Oyster Rolexes ( sold in Canada, obviously), had their cases manufactured in Canada. Circa 1941".
Case condition is superb throughout. This isn't a mint, unused case but it has obviously been looked after carefully by past owners and treated with the respect that it deserves. We sometimes find that there is corrosion at the joint between case body and back, this being a particular trap for perspiration from a wearer's wrist, but in this instance, the case does not suffer at all from this malady.
The dial is a focal point when any vintage wristwatch is assessed as a potential purchase. So-called "restored" dials, those that have been stripped bare and entirely re-finished to look as-new, will always be regarded as undesirable, not least because they have no rarity value. Just as a mint, immaculate finish on a classic motor car can be produced by an experienced paint sprayer for anyone willing to write a cheque to cover his charges, so it is with wristwatch dials. The difficulty is in finding classic cars with their original untouched paint in excellent order or vintage watches with well preserved, unmolested dials. Collectors will pay very high prices for these scarce watches and they have been our speciality for nearly thirty years. They should not be confused with the less desirable, restored watches that are to be found in far great quantities, at far lower price levels, online.
The dial on this watch is very good and totally original. It isn't mint by any means and the obsessive perfectionist looking only for new-old-stock, unused examples will have to continue his search elsewhere. There is some slight loss to the Arabic numerals and to the railway minute track, but the overall state of this dial is far, far better than the average. An original dial like this one, that does have a few blemishes in places, will always rank head and shoulders above its equivalent in a freshly refinished state. In an ideal world, where availability was much greater than it actually is and budgets were always unlimited, we could hold out for a pristine, unmarked dial. In the real world, this is a very tidy, very well preserved dial and it is undoubtedly of a grade that could be acquired as a serious investment.
"Rolex, Prince, Elegante" is signed above the dial centre point, with the remains of "Swiss Made" just legible along the very bottom edge. A lovely touch, again adding a strong art deco feel, is the use of a pink gold bezel around the dial, coming between the hour numerals and the minute track. Two tone dials of this kind are some of the most attractive that Rolex has offered at any time.
Noticeable because of their distinctive diamond shape, the hour and minute hands are in blued steel. All three hands are original and correct for this model. Finding authentic period Rolex hands for watches that have been modified in the past is something of a nightmare. Even when, or more realistically, if, the appropriate hands are sourced, they are invariably extortionately priced. We always offer the advice to our regular buyers that it is better to pay more in the first place and buy a watch, like this one, that is excuses-free and authentic throughout instead of cutting corners and purchasing something at a lower price level with known originality issues and then trying to put it back into standard form at some later date.
Vintage Rolex movements are quite rightly famous for their superb quality. The concept of the elderly wristwatch as a collectible emerged in the early 1980s largely because of a growing realisation that the quality that had been attained by the elite Swiss makers like Rolex back in the 1940s and '50s had entirely disappeared from the market. In our business, we have often commented that it is something of a shame that most classic Rolex watches are bought because of their investment potential, with the majority of owners and potential owners not really taking on board an appreciation of the build and finish quality that made them so sought after in the first place.
The movement in this watch is a Rolex calibre 360, better known as the HW movement, named after the founder of this famous concern, Hans Wilsdorf. The HW is one of the most desirable of all vintage Rolex movements and among the most attractive to the eye. Rolex had burst onto the luxury wristwatch market with the Rebberg movement, a beautifully finished circular mechanism that was, in essence, a reduced size version of the movements that had been used in pocket watches. Though a brilliant unit in its day, advances in movement making technology led to its replacement by the Hunter in 1923, which remained the flagship Rolex manually wound movement until its retirement in 1969.
The creation of the HW was a response to aesthetic rather than technical change. The arrival of the 1930s brought with it the desire for angular art deco cases, which were often rectangular in form. It certainly was possible to put a circular movement in a rectangular case, and indeed Rolex, Omega, Longines and almost all the other top tier houses did so at times, but having a dedicated, shaped movement was a better, neater solution.
Pinpointing the year in which the HW made its first appearance is not easy, again, because Rolex will not reveal information from its company archives. However, we can look at the available evidence and, we believe, make a pretty accurate informed guess based on this. There are some very noticeable exceptions, most notably the release of self-winding movements, but in very general terms, Rolex and Omega would often introduce innovations onto the market at roughly the same time. These two firms were neck and neck for many decades, with each desperately trying to take market share from the other. There is no difference between the quality of Rolex and Omega movements from this era and if one concern could get the slightest technical head start over the other, this would result in increased sales to the public.
The Omega T17 movement is almost identical to the Rolex HW. Both share the same tonneau shaped outline and were created in response to the same public demand for art deco styled cases. We know for sure that the T17 was launched in 1934 and our bet is that the HW appeared within six months either side of this debut. Rolex simply wouldn't have allowed itself to be lacking a tonneau shaped movement from its range when Omega could offer this and vice versa. Charles Jarman's book "The Rolex Reference Guide, 4th Edition" offers the view ( page 102 ) that the HW appeared for the first time in 1937 and remained in production until 1953, but this seems too late. Both James Dowling's "Rolex Wristwatches, The Best of Time" ( p 172 to 174) and Shigeharu Aritake's "Rolex Scene 1913-1997" ( p. 171 to 186) include photographs of early HW movements that pre-date 1937 by several years and categorically, we have encountered several examples in our business from the mid-1930s.
Another clue comes when we examine this movement closely. There is the signature "Rolex, 17 Rubies, Swiss Made, Fab Suisse" on the bridge, but more significant to us as horological archaeologists is the presence of a SuperBalance balance wheel. The SuperBalance was a very ingenious invention by Rolex that basically took the exposed timing screws found around the outer edge on a conventional balance wheel and recessed them into the rim. This resulted in a streamlined component that was measurably more efficient than its predecessors. Rolex patented the SuperBalance in 1934 and began to use it on the majority of its higher grade movements shortly afterwards. In our years in business, we have never encountered an all-original HW movement that did not come with a SuperBalance. Such a thing might exist, but we haven't seen it, which suggests to us that there were no HW mechanisms made prior to 1934 at the earliest. This view is supported by Charles Jarman in his book "The Rolex Reference Guide, 4th Edition", p94. It is stated there that calibre 360 ( the HW) is "manually wound, small seconds register, tonneau shaped, with a SuperBalance". There is no suggestion of any non-SuperBalance HW movements having ever been made.
We can tie this particular movement down to an even shorter window of production. Quite wisely keen to boast of its latest refinement, Rolex signed its early HW movements with the phrase "Patented SuperBalance" on their winding wheels. Later, after the SuperBalance had rolled out across almost all Rolex mechanisms, it became a standard Rolex feature and there was no longer the need to trumpet it as before. We would be inclined to the view that the SuperBalance wording no longer appeared on the HW from approximately 1938 onwards. Looking at the remarkable selection of vintage HW movements pictured in close up as part of Shigeharu Aritake's book "Rolex Scene 1913-1997", there is certainly a progression of this kind. We would expect a 1941 HW movement to be with a SuperBalance but not signed as such on its winding wheel, which of course is the specification here. It can be guaranteed quite categorically that this movement is the correct one for the case that contains it.
Condition of this movement is first class. The rhodium finish to the bridges is just very slightly rubbed in places, caused by the slightest motion of the mechanism in its case over several decades, but only the most small minded pedant could ever object to such tiny shortcomings. In every respect, this movement is original and not a single component part has been changed. So many older vintage Rolex movements, especially those produced pre-War, now have some element of non-original components. Sourcing untouched, correct units like this one becomes more of a challenge with every year that passes.
We have had this watch serviced and it works perfectly. The quality of the Rolex HW movement was so high that if these units are looked after sensibly and never starved of lubrication, they will last for an almost infinite period. These were very expensive watches when new and Rolex intended them to be possessions for life. The key to trouble free ownership of high value vintage watches is to only buy mechanically sound examples and then keep on top of their maintenance needs without fail. Routine cleaning and oiling of a watch like this at a good local repairer need not be expensive, and such action will repay the effort made in spades in terms of the longevity benefits obtained.
We purchased this watch privately from a gentleman in the midlands. His father had owned it since the War years and for as long as he could remember, it was stored in the box that comes with it today. F.J Lees of 28 Wheeler Gate in Nottingham are listed as having been a Rolex agent during the 1930s, but given the Canadian market specification of this piece, we find it difficult to believe that Lees sold this watch as a brand new item. What seems more likely is that it was indeed bought from them in the 1940s, but as a, then, modern used watch rather than a new one. This box is in excellent condition and is a collectible in its own right.
There are innumerable references to the Prince Elegante in the various well known books relating to vintage Rolex watches:


James Dowling's "Rolex Wristwatches, The Best of Time", already mentioned above in the context of the Canadian market case, shows a 1943 Rolex Prince Elegant in colour on page 173. This is in 9 karat gold, with an identical HW movement to the one here.


Osvaldo Patrizzi's mammoth tome "Collecting Rolex Wristwatches 2001" includes three 1938 Rolex Prince Elegant models on page 49. These are very similar to the example here, with almost identical cases, dials and the same HW movement.
In our archives, we have an original 1940 Rolex advert from the French high society magazine L'illustration. We have scanned this and included it with the photographs of the watch for sale with this description. Two Prince Elegants are shown, next to a Prince Railway. Notice how similar the light coloured dial in the advert is to the one here, both having the same distinctive bezel. Observe also how the hands are identical to those on our watch.
It is worth noting how the spelling of the Elegante model name changed depending on where Rolex was selling these watches. In Italy and France, the dial was printed as "Prince Elegant", whereas for the UK and Canadian markets, an "E" was added to give "Prince Elegante".
Any form of vintage Rolex Prince for sale is always going to command attention, be it one of the duo dialled versions from the 1930s or the slightly later Elegante version here. If it was housed in a solid gold case and had been supplied in the UK, the asking price for this item would be somewhere between £5000 and £5500 GB pounds. In a gold filled case, the price is reduced to £1850 GB pounds, at which level the watch offers remarkably good value for money. Good, untouched vintage Rolex watches like this one are the blue chip investments of the horological world. They always seem expensive at the time when they are purchased, but if held for a reasonable length of time they will in retrospect be seen to have been modestly priced. If we look back through period Sotheby's, Christie's and Bonhams catalogues from the late 1990s and early 2000s, vintage Rolex Princes were making considerably less than they are today, but substantially more than they did passing through the same salerooms in the 1980s. A decade from now, we would expect this watch to be worth substantially more than it is at present and so on. A good original 1930s or '40s Rolex Prince is about the safest choice as an investment in the vintage wristwatch market but perhaps just as importantly, a well preserved example like this one will always be a source of immense satisfaction to its owner.
Price £1850 GB Pounds
Vintage Watch Brands
Vintage Watch Decades
Vintage Ladies Watches
Vintage Watch Bracelets
Swipwreek Straps
Travel Clock/ Pocket Watches
Home
About
Brand Overviews
By Decade
Reference
Contact Details
Telephone from the UK:
07453 734666
or 07428 051005
Telephone from overseas:
+44 7453 734666
or +44 7428 051005