Rolex Oysterdate gold capped black honeycomb dial 1961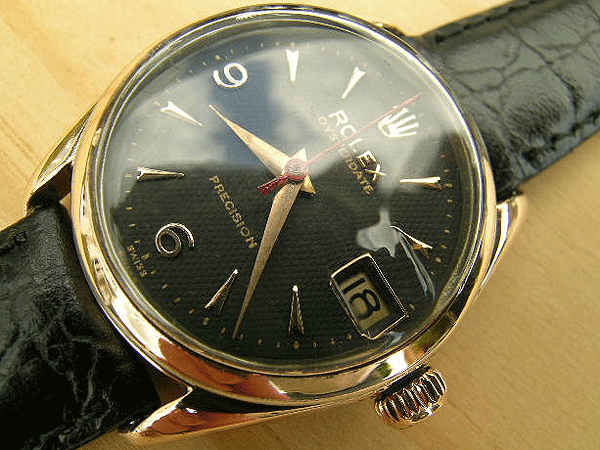 This beautiful gentleman's Rolex Oysterdate, from 1961 and with a gorgeous black dial, is one of the most visually appealing vintage watches that we currently have for sale on our website, and represents a superb opportunity to acquire a delightful classic timepiece at a very modest price.
Unquestionably, the Rolex Oyster is the most desirable of all vintage wristwatch models and is important as the first wrist worn timepiece that could be classed as reliably waterproof. As the market for elderly high quality watches continues to rise at an unprecedented rate, those collectors lucky enough to already own items like this one can sit back and see their investments climb in value. However, conversely, for the new collector, this market state can make the sourcing of worthwhile examples by the great houses very frustrating. Very few genuinely well preserved Rolex Oysters from the vintage period are offered for sale now, largely due to their current holders being well aware that once liquidated, it would very difficult to find another investment avenue into which the freed money could be channelled to produce the same return.
This glorious watch is the textbook example of an attractive Oyster variant that would be ideal for any buyer looking for a piece for long term ownership. Its very heavy gold capped case front is in very tidy condition, with just a slight degree of wear to its reverse side at the point where the case back meets the case body. A very appealing aspect of this piece is the consistent gold theme that runs through it, with the distinctive art deco spearhead batons, the evocative original dauphine shaped hands, and indeed the winding crown, fully signed with a large coronet emblem, being in this most desirable of metals. In our business, we see far more vintage Rolex Oysters with steel cases that those in gold or gold capped housings.
This piece actually mimics the Rolex "tropical" concept, very popular in the 1930s and '40s, on which a gold case body was paired with a stainless steel case back. In Rolex advertising at the time, these models were stated as being perfect for use in tropical or humid climates, though we have often been mystified as to why this should particularly be so. It is absolutely vital to check the case reference number signed inside the case back when buying any tropical model. As the value of rare Rolex pieces continue to rise, there is inevitably a tendency for unscrupulous dealers to build up watches from spare parts, often sourced from scrap examples that are completely life expired, in order to effect a quick sale to the unwary. When a gold or, as here, a gold capped case front is found without a matching gold case back, such individuals will often use a more common stainless steel back to create a supposed "tropical" model. The case reference numbers on all Rolex Oysters clearly identify the type of metal used in their construction and if a seemingly tropical piece has a case back reference that suggests an all stainless steel watch, we would advise the potential buyer to think long and hard before committing himself to a purchase. This case back is fully signed as " Montres Rolex, SA, Geneva, Switzerland, Patented, Stainless Steel" together with the reference 6466, this figure correctly telling us that the watch was original a gold capped and steel tropical example. Beneath this stamp is the date marking "II.61", which informs us that this watch left Rolex during the second quarter of 1961.
Another point that must be checked is the operation of the screw down winding crown. This is one of the most important features of the Rolex Oyster design, being one of the main characteristics that ensures that these models are waterproof. However, with ill treatment in the past, the fine threads that lock the crown and case body together can become damaged, preventing the crown from tightening down onto its corresponding case tube. It is possible to rectify the problem, but such work is very specialized and consequently expensive. We would always advise a buyer of any vintage Rolex Oyster to locate a watch like this one, where its crown and tube threads are in nearly perfect condition and do not require any restorative work whatsoever.
One of the most appealing aspects of the Rolex Oyster is that it represents such a safe choice for the investor. The reasons for this are various, ranging from its already mentioned historical position as the first waterproof watch, through to its involvement with innumerable celebrities and presence on the wrists of those who pushed forward the boundaries of human endeavour. Whatever happens in the future within the Swiss luxury watch industry, nobody can ever take away the fact that Sir Malcolm Campbell famously wore a Rolex Oyster for his legendary speed record attempts and that it was one of these watches that was present at the time of the first ascent of Everest in 1953, these being just two examples to point out of an almost infinite number. Today's advertising of luxury goods, largely focussing on glamour rather than any real substance, seems limp in comparison with the gritty achievements that are well documented as being linked to the Rolex Oyster at the time when this watch was produced. The point being made here, perhaps in a slightly long-winded way, is that older Rolex Oysters are very stable as collectibles, and have such a wealth of history behind them that their values are entirely proofed against whimsical changes in fashion. These watches have been the best available ever since they were first introduced in 1926 and have remained so to the present day. A vintage Rolex Oyster will always be expensive when purchased, but as investments, over the last three decades these watches have proved themselves to be quite remarkable. There is no suggesting that their current rapid appreciation will abate in the foreseeable future and at the time of writing, there are far more keen buyers than there are genuine, unmodified vintage Oyster models for sale.
We often advise that buyers should try to locate watches that have some different aspect to them that sets them apart from others of a similar type. Any vintage Rolex Oyster in good, all original order is automatically classed as a very desirable watch, but by picking an item with a rare combination of features one can straight away own a piece that will have an investment edge over those owned by the majority of collectors. In no way does this difference even have to be major, often taking the form of an unusual dial layout, an uncommon type of hands or a rare dial colour. In the case of this spectacular piece, it has two unusual aspects, the first being its gold capped case front and the second being its mouth watering black honeycomb dial.
The exceptionally attractive dial on this watch is in almost "as new" condition and most importantly, is completely original. It is universally agreed that at least 40% of the value of any high value vintage watch can be directly attributed to dial condition and originality, and more than any other aspect, these factors govern the market worth of any older Rolex piece. This black dial has no imperfections or damage whatsoever and is effectively the same as it was when it left Rolex for the first time in 1961. If we were to be deliberately over-critical, it might be suggested that the dial colour has almost imperceptibly faded from jet black to a slight touch lighter, but this change is so subtle as to be virtually unnoticeable. This item is fully signed "Rolex Oysterdate, Precision, Swiss" and has a very large gold coronet emblem at the 12 o'clock position Already mentioned above, this dial features art deco spearhead batons in gold, these being significantly different from the more conventional rectangular batons used on the majority of Rolex Oyster production at this time. This combination of gold case, black dial and gold batons and hands is dramatic in the extreme and of all the vintage Rolex Oysters that we currently have for sale here, this is among the most eye catching. The blend of these contrasting colours and the distinctive dial format give the whole piece a very upmarket, high quality appearance that so perfectly summarizes what, for so many collectors and enthusiasts, the classic Rolex Oyster is really all about.
Sometimes, as very active dealers for more than three decades, it is easy for us to become carried away in our descriptions by the technical aspects of these vintage pieces and almost take their superb good looks for granted. Rolex was a design powerhouse in the 1950s and '60s and looking at this watch now in the flesh, it is difficult to imagine how any timepiece could be more evocative and elementally beautiful than this item. Watches like this one are a blend of superlatives on so many levels. Rolex used the finest materials available in their construction, had their movements hand finished to a standard that would be almost incomprehensible in today's cost driven manufacturing environment and offered these watches in a format that was astonishingly beautiful. For many Rolex collectors, the early post-war models represent the high point of the company, when the most attractive aesthetics intersected with unparalleled technical development, much of this later quality being derived from advancements that had been made as a result of research in World War II and which could now be applied to civilian production.
Vintage Rolex movements are regarded, quite justifiably, as the very finest to be found in any vintage wristwatch. Looking at the nearly mint example to be found in this watch with a jeweller's eyeglass, it is such an irony that the majority of the owners of these watches will be unlikely to appreciate the amount of attention to detail that went into the firm's movements of this age. This is a fully signed calibre 1210 unit, a variation on the famous Rolex "Hunter" movement first introduced in 1923, and now regarded as one of the most sought after hand wound post-war Rolex mechanisms. "Montres Rolex, Geneva Swiss, 17 jewels" is stamped into the bridge plate, this lettering having been carefully filled in with 18 karat pink gold to make it more legible against its rhodium plated background. Such perfectionism is so typical of Rolex production at this time. There is often a presumption that vintage wristwatch collecting emerged as a hobby as a result of an appreciation of the aesthetics of these charming period models. We think that is certainly true, but would also attribute the current bull market for vintage watches to a growing realisation among a broad spectrum of buyers that the type of quality displayed in these older movements by Rolex and the other top tier houses simply is not available today in a brand new watch. These pieces were built in an era when there was still very little automation in the Swiss luxury watch industry and for the most part, construction was by highly experienced traditional craftsmen, many of whom had been employed at Rolex honing their art since the inter-war years. Movements like this one were built as possessions for life, and there is no reason whatsoever why a mechanical calibre of this quality cannot be handed down through the generations as a family heirloom if it is properly looked after and given a routine service every three or four years.
Like every other aspect of this watch, every part of the movement is completely original and unmodified. There are no non standard or incorrect components in this piece whatsoever and it is entirely as it should be in every way. Older Rolex Oysters are known worldwide for their reliability and time keeping accuracy, but these two prevalent characteristics can become tremendously diminished when a movement is adulterated with non Rolex parts. Having been serviced regularly throughout its life, this movement is in gleaming condition and of course works perfectly today. Such a watch will be trouble free and dependable in the future. We would always suggest to any new collector that they buy pieces like this one, with movements at the very top of the condition scale, rather than lesser grade watches with discoloured or non standard mechanisms that will almost certainly prove to be troublesome.
We have fitted this watch with a very high quality crocodile skin type strap that is perfectly suited to it, and is of a style that is almost identical to that which would have been supplied by Rolex when new. This is not a genuine Rolex strap, but is in mint condition, having never been worn.
Overall, this is a evocative example of a gold capped Rolex Oyster from the early 1960s, in rare tropical format and with an exotic black dial. For the collector, it is an unusual watch that would make an appealing addition to any high level assemblage of vintage Rolex pieces. Pricing this piece is difficult. Italian collector Osvaldo Patrizzi's superb reference book, "Collecting Rolex Wristwatches 2001" includes this exact model, reference 6466, with the suggestion that in excellent condition, it has a value of 2500 Euros, this being approximately £1700 GB pounds. We should take into account that this estimate is for a yellow gold capped model with a standard dial, not with the more desirable black honeycomb dial offered here. Prices have risen dramatically for vintage Rolex Oysters over the last decade since this book was published, largely fuelled by a influx of internet based buyers, and we would suggest that the model for sale here is realistically worth around £2000 today in near mint condition. However, this case has some small imperfections that will have a negative effect on its value when assessed by the experienced collector, and because of this, we have priced it at £1075 GB pounds, a level that represents remarkably good value for money. It would be a challenge to find an equivalent model elsewhere for the same sum and certainly, in the central London specialist vintage watch shops, the asking price would be far in excess of this amount.
Price £1075 GB Pounds
Vintage Watch Brands
Vintage Watch Decades
Vintage Ladies Watches
Vintage Watch Bracelets
Swipwreek Straps
Travel Clock/ Pocket Watches
Home
About
Brand Overviews
By Decade
Reference
Contact Details
Telephone from the UK:
07453 734666
or 07428 051005
Telephone from overseas:
+44 7453 734666
or +44 7428 051005