Rolex Oyster steel with Liverpool dial 1945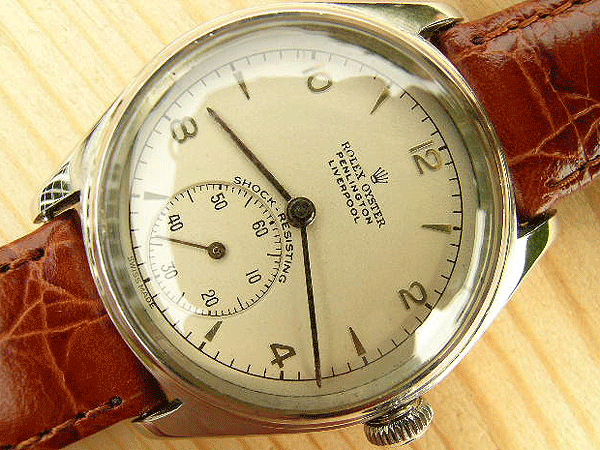 Without a doubt, if there was a special edition of the "Desert Island Disks" programme which exclusively featured serious vintage watch collectors, and the inevitable question arose regarding the choosing of only one watch for use on the island, then nearly all those featured would opt to be accompanied by a classic Rolex Oyster model. These rugged watches have set the standard in high horology since their introduction in 1926, and despite innumerable attempts to dethrone them by the world's finest luxury watch companies, their brilliantly inspired design has never really been equalled.
For those not yet acquainted with the Rolex Oyster case concept, it should be explained that these watches are significant as being the first entirely waterproof models to have been offered on a serious commercial scale. The genius of the Rolex Oyster design is basically derived from three different aspects, the first being the threaded winding crown that screws down hermetically onto a threaded tube protruding from the case side. Before the Oyster case was introduced, the ingress into a watchcase by water through the winding crown aperture was always a problem. Several attempts were made to create a waterproof watch in the early 1920s, but these tended to be clumsy and usually involved the casing of the entire watch in a further outer case, meaning that every time the watch had to be wound or the time set, this additional case had to be removed before access was gained to the winding crown. With the Rolex system, when the time is to be set, the winder is simply gently unscrewed from its threads, pulled out to adjust the hands in the conventional way and, this operation complete, simply tightened down onto its tube again. This design must be one of the most ingenious of the 20th century and was largely the basis on which Hans Wilsdorf, the founded of Rolex, created a legend.
The second innovation that comprises the Oyster case is, in many ways, very similar to the first and was developed to overcome an identical problem. The case backs on these watches are threaded, this enabling the rear of the case to be tightened down onto the main body of the watch, again, creating the perfect waterproof seal. Earlier watches, and indeed, many watches since, had their case backs press fitted onto their bodies, a system that, though perfectly adequate for everyday use, was not acceptable when used underwater.
The final hallmark of the Rolex Oyster is its case body, machined from a single solid block of metal. Earlier cases were produced in several sections soldered together, but Wilsdorf reasoned, quite correctly, that a seamless case, with no joins whatsoever, would have no areas of weakness or soldered unions that could potentially come undone under pressure. Strictly speaking, these one piece cases were actually not a feature of the original 1926 design, but a refinement that occurred in 1931. However, from this point onwards, nearly all Oysters ( there were a handful of models intended for dress use that continued to utilise three piece case bodies) were equipped with these superb one piece cases and this feature is now universally regarded by horological historians as an integral feature of the Rolex Oyster legend.
Having briefly discussed the enormous significance of the Oyster, it would be advantageous to look at this particular example, a near mint gentleman's stainless steel item from 1945, within the context of these older Rolex models. It is generally considered that the late 1940s and '50s were very much a high point for Oyster production, with the Rolex producing some of their most ingenious movement designs around this time, employing the advances that had been made by the company when creating watches for military use in World War II on their civilian production models. The credit for many of these developments can be laid at the feet of Emil Borer, the talented technical director of the company at this time. Both shock resistance and increased anti-magnetic capabilities were included on early post war 1940s Oyster models as a result of wartime research and development.
The stainless steel watch case used on this piece is the classic one piece Oyster type, in almost mint condition, with only the very tiniest of imperfections that have occurred with very careful use. This is fully signed internally inside the case back with the familiar wording " Brevetee ( Brevete being the French word for "patented") Rolex SA, Geneve Suisse, 31 Victoires, Haute Precision ", together with the "RWC Ltd" ( Rolex Watch Company Limited) cartouche and the model number 4444. Most collectors are of the opinion that these 1940s Oyster cases are among the most attractive ever produced by Rolex, and we have often wondered if these flamboyant housings were subconsciously a reaction to the austere military cases that the company had manufactured through the previous decade. We notice that even around the outer edge of the case back interior, there is a perfect spun engine turned pattern, something that must have taken considerable time to create.
The case front is stamped between the lower lugs with the serial number 358465. Falling between the two extremes of vintage Rolex Oyster production for that year of 348000 and 413000, this clearly identifies this watch as having been manufactured in 1945. Between the upper two lugs on the case body is the case reference 4444, a repeat of the same digit string inside the case back. The matching of case front numbers with case backs is a point that should be checked by any potential buyer of a collectible older Rolex, as so many of these watches have been artificially built up out of spare parts over the last few years. However, we can state categorically that this watch is entirely authentic and exactly as it should be in every respect, with no changed or non-original parts whatsoever.
The watch's dial is in remarkable, almost mint, condition, with only the very slightest almost imperceptible uniform yellowing that is extremely attractive. In order to have their full market value, vintage Rolex watches must have their original dials. So many older Rolex pieces are now passed off to the unwary with replaced dials, especially in the caveat emptor world of the mass market internet auction sites. We are entirely opposed to this practice and consider it vital that every significant aspect of a classic watch be explained in detail to a potential purchaser in order that he or she can make a fully informed judgement on the piece based on a complete understanding of its pitfalls and merits. This dial is crisply signed "Rolex Oyster, Shock Resisting Swiss Made " and additionally features the world famous coronet emblem. Very desirably, also present is the name of the retailer that supplied the watch when new, Penlington of Liverpool. Penlington were an official Rolex agent in Church Street throughout the inter-war period, and occasionally, one comes across a double-signed dial with their name. The original Rolex hour and minute hands are in good condition and complemented by a blued second hand that in turn, contrasts with the delightful slightly faded shade of the applied gilt Arabic numerals and batons.
A word should be made about the unusual screw down winding crown present on this piece. This is fully signed "Royal Oyster" and is extremely substantial, with considerably more threading than is usually found on models from the 1940s. Very few Rolex models from this era have retained their original winding crowns, the vast majority having had these replaced with the later type that were slimmer than this pattern and used throughout the 1960s. Personally, we think these early crowns are absolutely wonderful, adding so much period charm to the famous Oyster appearance. This watch has obviously been treated with enormous respect throughout its life and the crown and protruding case tube both have their threads in perfect condition, with the result that the crown locks down tightly onto the case body.
The beautiful movement in this piece is Rolex's own, Hunter calibre 1210. Rolex are universally regarded as the makers of the world's finest wristwatch movements, and it was these vintage models that forged this well deserved reputation. Examining this movement with a jeweller's eyeglass is a source of enormous delight and we would suggest that any future purchaser read up a little on the finer points of mechanical movement engineering to really be able to appreciate this stunning mechanism. The Hunter, introduced in 1923, is without any doubt whatsoever the finest of all hand wound Oyster movements and has an almost legendary reputation for absolute reliability even in the most hostile conditions known to man. This is a 15 jewelled item, with an enormous amount of handwork having gone into its elaborate finishing. The movement is fully signed as "Rolex" on the bridge and on the winding wheel as "Rolex, 15 Rubis, Swiss Made". Most importantly of all, having been regularly serviced throughout its life, the watch works perfectly, and there is no corrosion or damage present to the movement whatsoever, with the entire internals of the watch gleaming like those on a new example. When a watch is neglected, its lubricating oils dry out, allowing rust to form on the movement surfaces that cannot easily be removed. When a movement looks as this one does, shiny and bright, this is a sure sign to a potential purchaser that a watch has been the subject of a rigorous maintenance schedule and, though often expensive to buy initially, will prove itself it be a far more reliable timepiece, and a better investment, than its troubled, lower cost sibling.
We have fitted the piece with a very high quality crocodile skin type strap that is perfectly in keeping with the stylish nature of the piece while, at the same time, being rugged enough to fit in with the watch's waterproof Oyster theme. This strap has never been worn and is in mint, unused condition.
In summary, this is a spectacular example of a very collectible early gentleman's Rolex Oyster in absolutely original, unchanged form. Totally authentic older Rolex Oysters are so difficult to find now and, in the hands of specialist retailers, for the most part in central London, these watches are prohibitively expensive.
In the price guide accompanying Osvaldo Patrizzi's superb reference book "Collecting Rolex Wristwatches 2001" this model, reference 4444, is included, with the note that it is rare piece and is difficult to find. A value of 3500 Euros is given for this model, in stainless steel in "outstanding condition". The author of this book tends to, quite correctly, class "outstanding condition" as effectively unused, and we would suggest that this watch, though absolutely excellent throughout, is not quite worthy of this classification, just failing to meet this criteria by a fraction. On the other hand, the dial on this piece is a rare double signed example, which boosts its value considerably.
Patrizzi's book was published more than a decade ago and the values of all authentic vintage Rolex watches have soared during the intervening time period. Our business is located in a market town in rural Yorkshire which means that we can under-cut our competitors in the centre of London by typically more than 50%. We have priced this watch at £1745 GB pounds, which compares very favourably with the £4000+ asked for similar items on the websites of the specialist vintage watch shops in Bond Street and Burlington Arcade. We are very critical when buying and obsessed with the high quality of our stock, but our low overheads mean that we can afford to turn watches over quickly with a very low profit margin. Even within the trade, it would be very difficult to purchase such an immaculate 1940s Rolex Oyster for this sum and this watch is the perfect example of how a really beautiful classic Rolex model, which will never lose a penny in value if properly looked after, can be acquired for far less than one might initially expect.
Price £1745 GB Pounds
Vintage Watch Brands
Vintage Watch Decades
Vintage Ladies Watches
Vintage Watch Bracelets
Swipwreek Straps
Travel Clock/ Pocket Watches
Home
About
Brand Overviews
By Decade
Reference
Contact Details
Telephone from the UK:
07453 734666
or 07428 051005
Telephone from overseas:
+44 7453 734666
or +44 7428 051005