Rolex Oyster steel 1934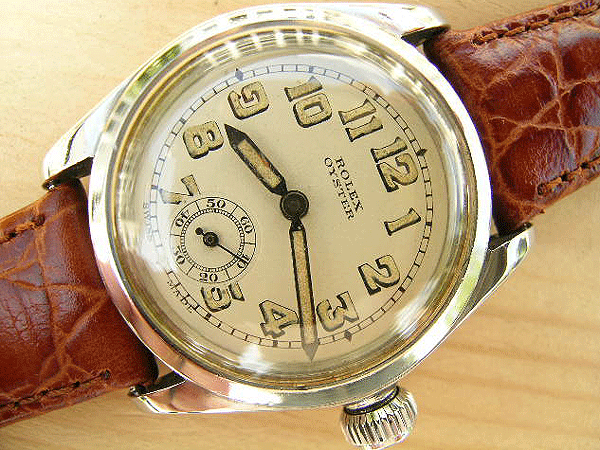 This exceptionally fine stainless steel, gentleman's vintage Rolex Oyster from 1934 is the almost perfect investment example of these famous robust waterproof watches from the inter-war period. It is universally accepted throughout the horological world that the Rolex Oyster is the most collectible of all vintage wristwatches, but an unfortunate consequence of this unparalleled status is that authentic unmolested pre-1950 Oysters are almost impossible to source now, with the vast majority of those on offer today being internally badly worn, with numerous discrepancies from their original factory specification, often with completely refinished, brand new dials that vastly detract from the value of the watch but have the unfortunate effect of attracting the unwary novice collector.
The quality of these elderly Rolex Oysters is simply remarkable, and a major factor in their commercial success when new was their sheer ability to keep going when exposed to hostile environmental conditions. A properly serviced and well looked after 1930s Rolex Oyster can still be enjoyed on the wrist of its owner regularly today. Increasingly though, as the value of these pieces continues to rise exponentially as demand outstrips supply, more owners are reluctant to wear their valuable vintage Rolex watches in public and tend to view them as investment vehicles to be left in the safe rather than as practical timekeepers.
We must qualify the above paragraph by adding that for a watch to be reliable and trouble free in the future, it must have been well looked after and cared for in the past. This should not be taken lightly or overlooked. When explaining the difference and the significance of condition, particularly internal, between neglected and cosseted vintage wristwatches, we often tend to draw parallels to the exotic classic car market. Any sensible individual would realise the obvious disadvantages of purchasing a very high mileage vintage vehicle that was in poor condition, with corroded bodywork and a badly worn engine and indeed, the very suggestion that a poor condition car be offered for the same price as a cared for example is obviously ludicrous. Because the negative aspects of a neglected wristwatch are not immediately apparent to the untrained naked eye, all too often too little attention is actually paid to the condition and originality of the watch for sale and a deal struck on the basis of superficial cosmetic appearance and little else. Because a wristwatch is a relatively small item, and the intricacies of its movement remain largely a mystery to most buyers, it is very easy to forget that a quality vintage watch is a very high precision machine, built to the finest tolerances and containing a myriad of tiny moving parts, all of which need to be regularly lubricated to prevent incipient wear and keep the watch performing accurately.
Watches like this one, completely original and unmolested in every respect, are always expensive when purchased on the collectible market, simply because they represent the very best of the available pool. There are always collectors who only wish to acquire really top notch examples of any given model, and this does push prices skyward, but in retrospect, looking back over thirty years of buying and selling fine wristwatches, we would have no hesitation in advising any new enthusiast to purchase only the very best pieces that they can afford, particularly if buying for long term investment. From our own experiences, both as dealers and as observers of the horological market, it is unquestionably the case that the better condition and more original the watch, the more it appreciates in value over a given time period.
The collecting of luxury vintage wristwatches is a hobby that is becoming increasingly popular and as this demand increases, the watches like this one, at the very top of the condition scale, particularly by Rolex, go from being extremely rare to almost completely unavailable. One of the compounding factors fuelling this effect is the boundless enthusiasm of the Japanese market for early Rolex models. So many of these better pieces have been exported from Europe to Japan in the last fifteen years, particularly from the UK, and once sent to the Far East, they rarely appear on the European market again. This actual model is given the honour of a superb colour plate in the Japanese vintage Rolex reference book "2421" ( the title of the book being derived from the number of Rolex models being described in it) on page 12 and an almost identical example, with exactly the same model number ( 3136 ), movement and case, but with a very slightly different dial format, is featured in a full page colour spread on page 9 of the mouth watering "Rolex Scene" book cataloguing the collection of famed Japanese born but previously London based collector and dealer Shigeharu Aritake.
It would be difficult to suggest how there could be a better example of a 1930s vintage Rolex Oyster for sale than this particular watch. The stainless steel case is almost unmarked and nearly mint throughout, with only the tiniest imperfections that can only really be noticed with the aid of a jeweller's eyeglass and are to be expected on even the most carefully worn watch of this age. This case gleams like that on a brand new watch and has none of the dullness of finish or pitting that one often finds on vintage timepieces. Even the highest grade of stainless steel used in the 1930s was relatively primitive by modern standards, this material being finally perfected after laboratory research into non-corrosive steel alloys by the Allies during World War II. Close examination of many '30s Rolex Oysters, and indeed the steel watches by other top Swiss makers, often reveals significant pitting, usually around the case back to case front joint where perspiration from the wearer's wrist tended to settle and eat into the steel over time. This pitting is found very commonly found on watches originally sold to Asian and Far Eastern markets where the hot damp climate promoted conditions that had particularly detrimental effects on these early stainless cases. Externally, this case is signed with the serial number 67085, this figure falling between the two extremes of production for 1934 of 55000 and 68000. Internally, the case back is decoratively engine turned and stamped "Oyster Watch Co, Geneva Swiss, Great Britain Patents, Swiss Patents, French Patents, USA Patents, German Patents".
This case back stamping, though standard on the majority of Rolex Oysters from the 1930s, is still interesting. We can fairly safely presume that the British patent mentioned is Hans Wilsdorf's ( the founder of the Rolex company) 1925 first registration of the features that made the Oyster case a unique engineering solution to the problem of wristwatch waterproofing ( these being the screw down locking winding crown and threaded case back, the significance of these being discussed in my other Ebay Rolex Oyster auctions ). We have not checked these reference numbers with the London patents office ( and it would be fascinating to do so), but we would confidently suggest that the second and third patents listed also included the first use of this now legendary one piece case style in 1932. The very earliest Oysters, produced from 1926, were sold in a very attractive cushion case style that is something of a collector's dream today, but the use of the enormously strong seamless one part case present on this watch finally added the last ingredient to a formula that would remain in production even to this day, with remarkably few changes. Wilsdorf quickly realised the huge sales potential of his landmark waterproof case design and rapidly ensured that the necessary patents were taken out throughout the developed world to protect his marketing niche. Even from the early 1920s, Rolex operated very much as an international company and the offering of a reliably waterproof watch was a particularly strong selling point to ex-pat British living in tropical climates who found that humid local conditions played havoc with traditionally constructed watches.
The final interesting point regarding this case back signature is the stating of the brand as being "Oyster Watch Co" rather than Rolex. From the late 1920s through to the early 1940s, nearly all Rolex Oysters destined for the UK market were signed in this way, though we have never read or heard an entirely satisfactory explanation as to why this was the case. A theory that we once read was that the "Oyster Watch Company" was set up as a separate legal entity to the Rolex mother company for reasons of financial advantage when calculating tax to be paid to the British government by the UK arm of Rolex. Not having access to their financial records from this time, we cannot really offer any useful, factually based comment as to whether this sounds plausible, but Hans Wilsdorf is well documented as having handled the administration of the brand's financial affairs with remarkable astuteness, and in the absence of any more credible alternative, we would be inclined to suggest that there may be some truth in this speculation.
When buying a vintage Rolex Oyster, always try to ascertain the condition of the finely milled edges around the case back that engage with the case removal tool. When the correct Rolex factory tool is used, no damage results whatsoever and these small grooves remain in perfect condition. Sadly, particularly in the 1970s, before there was any concept of the vintage watch as a collectible, many of these watches were opened by amateur repairmen who did not have access to the correct case back tool. This often resulted in unsightly damage to the edges of many of the vintage Oyster case backs in circulation today. For a potential purchaser wishing to wear the watch regularly as a charismatic working timepiece, this may not be of enormous concern, but to the serious investor who wishes to buy in at the very top level of the market, this is an important point. We have always purchased watches with a view to capital enhancement over the long term and when doing so, detail is everything. Our watches have something of a reputation as being the very finest available anywhere within the online community, and this largely stems from a policy of only buying the best examples back in the early 1980's when we were actively building up our stock and premium grade pieces were far more abundant than they are today. In view of the above comments, we need hardly state that the milled edging on this particular case back is in fine order, with just the smallest few areas on which the teeth are slightly blunted, the watch having only ever been opened with the correct Rolex tool.
The watch still retains its original screw down winding crown, with its beautiful "Oyster Patent" wording, this being the second generation of Rolex winding crowns ( following on from the extremely rare "onion" pattern crown used on the first Oyster models) used from 1929 to 1942. The Oyster Patent crown is one of the most attractive of all vintage Rolex winders, but is rarely found today, simply because the majority of Oyster models have required a winding crown change after the threads on their original crowns became worn or damaged through careless use. A colour plate of an identical Oyster Patent crown to this one, obviously chosen for its handsome good looks, is featured in the superb reference book "Rolex Wristwatches, The Best of Time" by James Dowling on page 325. The "Oyster Patent" crown ceased to be available as a spare part item from Rolex several decades ago, and out of necessity, when needing repair, most of these 1930s watches were thereafter fitted with the later pattern "coronet emblem" crown that was introduced in 1954. It is occasionally said that the famous threaded winding crown, which screws own onto a correspondingly threaded tube protruding from the case, is the Achilles heel of the Rolex Oyster concept, but we disagree with this comment, as if used carefully, and the crown gently tightened down onto the case tube, there is no reason why any wear or problems should ever develop. Such criticism has largely emanated, in our opinion, from owners of watches that were previously in the hands of those who heavy handedly cross threaded the crowns or, worse still, forgot to lock them down at all, prior to exposing their timepieces to water. As one would expect on a watch in this exceptional condition, the threads on both the winding crown and the case tube are in superb order, with no measurable wear to either whatsoever, and as a result, the crown screws down tightly onto the case, creating a sound hermetic seal.
When assessing and grading any vintage watch, unquestionably the most significant points to be taken into account are the originality and condition of the dial. In order for a piece to be suitable as a serious investment vehicle, a watch must have its original dial in excellent, or better, condition. There is a tendency for many sellers, both online and in a traditional physical sales environment to extol the virtues of grubby, badly worn dials, claiming them to be completely original. This is utter nonsense. A dial which is badly discoloured, spotted or otherwise substandard will, regardless of its originality, always be considered as a second rate item. The concept of the original dial being paramount to the serious collector only applies to dials in superb condition. The challenge to the aspiring collector of fine vintage watches is to source pieces that are original and nearly mint, but this theme has been conveniently re-interpreted by to suggest that even poor condition watches that are all original are worth paying a price premium for. This is not the case and any poor condition watch, regardless of its originality, will always be treated with a distinct lack of enthusiasm by experienced vintage watch aficionados.
The dial on this piece is particularly attractive and totally original in every respect. There is a beautiful and very gentle tan patina over the whole dial, but this is completely uniform and lends the watch a subtly vintage character. The radium painted numerals are in superb condition and are in a style that harks back to the Rolex production of the 1920s, though as one would expect, their luminosity is now very weak. The dial is correctly signed "Rolex Oyster" in prominent upper case letters. The evocative pencil hands are absolutely correct and in superb condition. It is interesting to note that the luminous paint on these, though totally original, has darkened to slightly less of an extent than that of the dial numerals and I would suggest that we can deduce from this that the dial was printed by a different subcontractor, (probably Singer) to that used for the production of hands ( almost certainly Fiedler). Part of the fascination with these beautiful older watches is the amount of potential detective work and research that can be entered into if required. It would be fascinating in the extreme to compile an exhaustive list of the multitude of suppliers from which Rolex sourced components in the inter-war years, and we have never seen such information in either published or web based form. Watches like the one for sale here can be appreciated on so many different levels. For many wearers, the pleasure of ownership will simply be derived from owning such a high quality and very attractive period watch, but there is so much more detail in these older Rolex Oysters than the majority of wearers ever begin to realise, and, rather like lifting up the bonnet on an exotic classic sports car, we would encourage all our customers to carefully remove the case backs of their timepieces, even if only once, and be awed by the attention to every tiny aspect and sheer perfection of finish that is to be found on the exquisitely crafted movement within.
The gleaming hand wound movement present in this piece is a superb variation of the famous Rolex calibre 59, one of the most highly regarded of all the pre-World War II Rolex mechanisms. There is not even the slightest discolouration or corrosion anywhere on the movement surfaces, something that occurs on pieces that have been left in drawers unused for several decades without a continuing maintenance schedule. The very fine oils used to lubricate the movement do dry out if not replaced every three or four years, and moisture can enter the case causing, at best, a significant dulling of the movement finish and at worst, corrosion that can lead to serious accuracy and reliability problems. This is a 15 jewel item and is in absolutely original condition with all its movement surfaces bright and in first class order.
So many of these older high value pieces have now been modified and brought back to life from non-running examples, but this particular piece is entirely standard and has no incorrect components whatsoever. Again, when buying for investment, such criteria becomes vital, as any purchase at this level is likely to be closely examined in the future by potential purchasers if the watch is resold in the traditional auction market. Leaving aside monetary concerns, a completely authentic and correct watch like this one will be inherently far more reliable and far less likely to generate high repair bills than a badly worn, patched up version of the same model. There is no doubt that watches of this grade are always expensive when purchased, simply because so many people are looking for them at any point in time, but in the long term, they are far less troublesome, and far cheaper to own, than watches that require ongoing attention and remedial work to remain functional.
Rather than leave the top plates plain, Rolex supplied these with a wonderful Geneva striped effect and even mirror polished the heads of each individual screw that retains the plates themselves. To those on the outside of the vintage watch community, there must be a tendency to wonder why these early Rolex models have such fascination, but for those with an appreciation of even the rudiments of movement finishing, the excellence of craftsmanship that went into movements like calibre 59 is immediately obvious. Rolex movements from this era almost seem to cross the fine line between working machinery and art form, and it can be strongly argued that the company has never risen to greater heights than those achieved during the inter-war years. Technically, there were advancements made during the conflict that were implemented in post-war civilian Rolex movements, but for sheer charm and attention to detail, it is difficult to even suggest ways in which any mechanical movement could be improved beyond units like this example. A fundamental difference between watches by the top tier makers from this era and today's output is that these items were built to last indefinitely and as a "watch for life". It is testimony to the ability of the traditionally trained watch makers who hand built these vintage Rolex movements that such a high percentage of the surviving examples are still working today and, with regular servicing and careful use, there is no reason why they should not be in active service a century or more from now.
This particular watch has been fully cleaned and serviced throughout its life and, as one would expect, works perfectly today. The piece winds very smoothly, and its hands set precisely, with no noticeable wear to their geared mechanism.
Overall, this is a lovely example of a 1934 Rolex Oyster, the most sought after model in the vintage wristwatch field. Its condition is simply remarkable, and its appearance is breathtaking. Perhaps even more importantly, this is a watch with no excuses or changed parts, and is completely authentic down to the last internal screw, in every way exactly as it left the Rolex factory in Bienne, Switzerland before the outbreak of World War II. It is not easy to find early vintage Rolex Oysters for sale in this condition and with this degree of originality. This piece represents the chance for the serious connoisseur of fine horology to acquire an item that would be a very worthy addition to any collection of antique Rolex watches.
Suggesting a realistic value on this piece is not an easy task, simply because there are so few completely authentic, totally untouched examples for sale at any time and serious collectors will always pay a price premium for watches like this one over the run of the mill items that are usually to be found. From past experience, We have found that Osvaldo Patrizzi's excellent reference work, "Collecting Rolex Wristwatches 2001" tends to offer the most realistic price guide, though being slightly out of date now we think that it is necessary to add a very conservative "correction factor" of 30% to account for the enormous interest in vintage Rolex pieces in the last ten years. This exact model, with case reference 3136, in stainless steel, is quoted as having a market value of 5000 Euros ( approximately 3350 GB pounds or $6100 US dollars) in "exceptional condition". Patrizzi is an incredible stickler for detail and we would suggest that this watch falls short of his definition of excellent on account of its slightly browned dial. Even so, allowing for market inflation since 2001, it would be certainly justified to value the watch at around the £2200 GB pounds level today.
As a business, we tend to pay high prices for really outstanding examples of models that we feel will be of interest to our customers. Having said this, because of our location in the inexpensive North of England and our policy of turning over stock fairly quickly, we work on a very small fixed profit margin and can usually undercut the major London auction houses by quite a large degree. We have priced this watch at £1375 GB pounds, which is less than its valuation in Patrizzi over ten years ago. At this level, it is a very attractive purchase for either an established vintage Rolex watch collector or a newcomer to the field.
Price £1375 GB Pounds
Vintage Watch Brands
Vintage Watch Decades
Vintage Ladies Watches
Vintage Watch Bracelets
Swipwreek Straps
Travel Clock/ Pocket Watches
Home
About
Brand Overviews
By Decade
Reference
Contact Details
Telephone from the UK:
07453 734666
or 07428 051005
Telephone from overseas:
+44 7453 734666
or +44 7428 051005