Rolex Oyster Speedking with Super Oyster crown 1951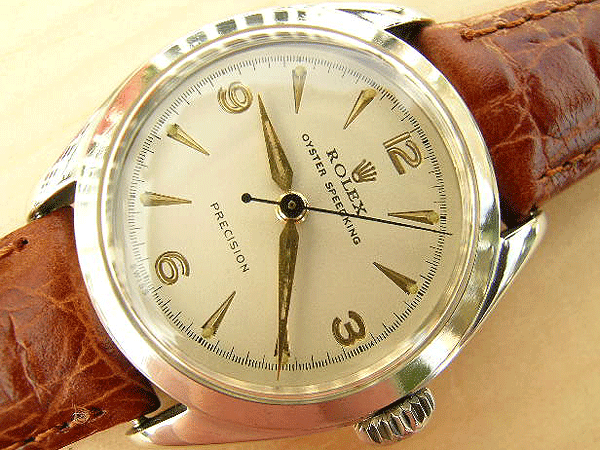 This vintage Rolex Oyster Speedking from 1951 is one of the most delightful gentleman's watches for sale on this site and an item that has several unusual features that make it ideal as an investment purchase. We have often advised that the collector looking to build up a portfolio of classic watches with a view to capital appreciation over the long term should always try to choose models that are just that bit different from the norm. In vintage watches, as with most forms of antiques, rarity equates directly with desirability and commercial value. This particular watch, for reasons that are explained below, is the perfect illustrative example of a rare variation on a famous Rolex Oyster model.
Rolex had introduced the Speedking in the mid-1930s. Exact dates are difficult to establish, not least because Rolex today irritatingly refuses to comment on any detail of its past production, but it seems likely that the year of launch was 1936. It has been speculated on by collectors that the Speedking name was a nod of respect to British speed record ace Sir Malcolm Campbell, who was certainly a high profile Rolex endorsee who appeared prominently in the company's advertising at the time.
While the Speedking was always a classically styled Rolex Oyster with a manually wound movement, its actual specification changed as the decades rolled by and new advancements in movement making technology were made. This particular incarnation was only offered for a duration of just over two years, late 1950, 1951 and some of 1952. We have owned one other example of the same Speedking in the last decade, but certainly it's a rare watch that won't be found again with any predictability.
The condition of this piece is literally almost mint. It isn't unused new old stock and if we look closely enough with an eyeglass we can see the tiniest few surface marks here and there on the stainless steel case, but from a realistic perspective, this is as close to being perfect as any of us will ever see. We would strongly suspect that this is one of those watches that has spent the vast majority of its life wrapped in tissue paper in the back of a drawer somewhere and it probably hasn't been worn on more than a few dozen occasions.
On the case body, between the two upper lugs, is stamped the model reference 6020. This is number allocated by Rolex to each of its Oyster models. Looking this up in Charles Jarman's excellent book "The Rolex Reference Guide, 4th Edition", we see on page that model 6020 is a "manual wind Rolex Oyster Speedking, stainless steel, polished bezel, Precision". The further note is added that it is "also seen with Super Oyster crown". This is perfect summarised description of the watch here. It is so important to check these details, yet so few online buyers do so. Case bodies, case backs and movements have so often be swapped around over the years and it is not at all uncommon to find watches offered for sale today that are fitted with dials and movements that don't tie in at all with the model references stated on their cases. The vintage Rolex watches for sale on this site are absolutely correct and as they should be, but even so, the details of this step by step checking process are always included as a matter of routine.
On the other side of the case body, between the lower lugs, is the individual serial number for this watch 776761. Falling between the two extremes of Rolex Oyster production for that year of 738500 and 804000, this clearly identifies this watch as having been manufactured in 1951. We will see shortly how this serial number year ties in exactly with the specification of the watch and, most notably, its Super Oyster winding crown. Again, always cross reference theoretical production years with actually physical characteristics. Too often, I've encountered watches with features that were either far too early or far too late for the serial numbers stamped on their cases.
When the threaded case back is removed, we find the signature "Rolex, Geneva, Swiss, Patented" together with a stylised rendition of the Rolex coronet emblem. Beneath this is a repeat of the model reference 6020 that we have already discussed in connection with the case body. Notice how the matching of these two numbers confirms categorically that this is the correct case back for this case body.
Externally, the milled edge around the case back is crisp and almost entirely unmarked. It is obvious that this case has only ever been opened using the correct Rolex factory tool, which is clearly a good indication that the watch has been treated with respect. It is soul destroying to see chewed case back edges, not least because this kind of damage is so needless. It only occurs when watches have fallen into the hands of low level amateur repairers who didn't have the correct equipment to remove the case backs safely. Open a vintage Rolex Oyster case back with the appropriate Rolex propeller tool and it will remain unmarked forever, but idiotically try to twist the back off using a pair of pliers and the resulting damage will be borne for eternity.
One of the key features of this watch which makes it so interesting to the collector is its original winding crown, signed "Rolex Super Oyster" on its flat outer surface. A full detailed dissection of the Super Oyster crown is given in the reference section of this site and can be found by following the link below, but for the casual reader, it is worth giving a few basic details here. One of the key features of all Rolex Oysters since their launch in 1926 had been the screw down winding crown, this locking tightly onto a threaded tube that projected from the case side. When the winding crown was screwed in place, a watertight seal was created.
So far so good. However, while the design of the screw down crown was nothing less than a stroke of genius, its Achilles' heel was that it depended on the wearer remembering to screw the crown back in place after he'd wound or set his watch. If he didn't, water could simply enter the case in the normal way, destroying the movement inside when it did so.
The Super Oyster crown was an attempt by Rolex to create a winding crown that was waterproof, but did not require screwing down. Instead of being threaded onto a case tube, it simply pushed in, with a very closely machined fit between the winding stem and the case body ensuring that moisture couldn't enter. It worked well initially, but with repeated use, inevitably minute amounts of play developed which allowed leakage to occur.
Rolex launched the Super Oyster crown with quite a fanfare in 1950 and discontinued it rather less ostentatiously in 1952 when it was allowed to quietly slip into the history books under the chapter headed Heroic Failure.
Today, for the modern collector, the inability of the Super Oyster crown to resist water isn't an issue, not least because nobody in their right mind would ever take any valuable vintage Rolex watch anywhere near water in the first place. Relatively few classic Rolex Oysters have survived with their Super Oyster crowns still in place, both because the Super Oyster crown was only produced for two years and because these were replaced with conventional screw down crowns when watches with them were returned to Rolex for servicing. In short, basically the Super Oyster was dealt with by what we'd call today a factory recall.
We have always liked the Super Oyster crown and recommended it to our investor customers. It's a physically attractive item, better looking by far than the post-1952 coronet pattern crown that Rolex still uses today. It's larger diameter as well, which makes it very comfortable when winding and setting. Certainly the Super Oyster was an important, but ill fated, chapter in Rolex Oyster development and anyone intent on building up a collection of the various key evolutionary stages that the Oyster went through during its vintage period must include at least one watch with this curious crown style in it.
Dial layout is very important in defining the value of older Rolex watches. A model reference would typically be offered with quite a number of dial options and today, these can be very different in worth.
The dial here is unusual on account of the spearhead batons and Arabic numerals that mark each hour position not being applied onto the dial surface, but actually being visible from behind the dial through precisely cut holes in the dial surface. Even the Rolex coronet emblem has been cut out in the same way and, if viewed with an eyeglass, can be seen to be recessed into the dial rather than standing proud from it. Again, while definitive dates would be difficult to obtain, it is unquestionably the case that these cut out dials were used for a very short length of time. In our business, we haven't ever seen one that pre-dated 1950 and equally, it seems likely that they were not used after the mid-1950s.
When you're buying a vintage wristwatch at the higher end of the price and quality scale, a very significant percentage of the money you pay goes, or certainly should do anyway, into purchasing a dial that is both original and in excellent condition. A vintage Rolex Oyster that has an original dial in poor condition, or a so-called "restored" dial, meaning one that has in fact been stripped bare and completely refinished, will only be worth approximately half that of the same model with a superbly preserved first class dial. There is a tendency online for the importance of dial originality to be conveniently forgotten, especially in the fast paced auction environment, but in fact, this is of paramount importance.
The dial on this watch is nothing short of excellent. Unlike so many of the same age, it is free from spotting and even the lightest dust staining around its outer edge. Its overall colour is just fractionally creamier than it was when new in 1951, but in realistic terms, there has to be doubt that a better example exists anywhere. Most significantly, it is entirely original and has never been restored in the past. In order to survive in this condition, an original dial must have been kept away from damp, dust and all other damaging factors. Very few of the vintage Rolex Oysters that are for sale have original dials in this state and there is a wide gulf in price between these first rate pieces and far more commonly found examples with dials that are in an average condition.
All three hands are original to this watch. The minute and hour hands are in gilt and in the alpha shape, with the second hand in blued steel and having that classically Rolex circular end to its shorter side. Rolex used some really lovely looking hands in the 1940s and 50s, like these, but for reasons that remain understood, in the 1960s made the change to the very dull, parallel sided hands that, for the most part, it still uses on its Oysters today. The condition of these hands is superb, with no dulling to their surfaces whatsoever.
We have not seen a better preserved example of a vintage Rolex Hunter movement than the one in this watch. Despite being nearly sixty years old, it is genuinely almost indistinguishable from a movement in a brand new watch. It would be no exaggeration to say that if we showed this mechanism to someone with no specialist knowledge of Rolex movement calibres and told him that it had been manufactured six months ago, he wouldn't bat an eyelid.
Introduced in 1923 and in continuous production until 1969, the Hunter was the flagship Rolex manually wound movement of its era and one that will be forever linked in collectors' minds to the golden age of the vintage Rolex Oyster. It is unquestionably the most important movement in the history of Rolex and among the most respected hand wound movements ( other candidates would be IWC's calibre 88 and 89, and Omega's 30mm series of the 1940s and 50s) to have ever been built.
Throughout its production span, the Hunter was continually modified by Rolex to take advantage of the latest developments in movement making. It is important to appreciate that a Hunter from the late 1920s will be entirely different in its specification from a Hunter from the 1940s or 1960s, despite these all looking superficially similar to the untrained eye. The fact that all Hunter movements of the same diameter can be interchanged without modification also creates problems, with many vintage Rolex Oysters now in circulation being fitted with Hunters that they didn't start life with, and that are actually of an entirely inappropriate age for the cases housing them.
This movement is the original that powered this watch in 1951 and its specification is absolutely correct for this year. On the bridge plate is signed "Rolex, Precision, Swiss Made, 17 Rubis". More telling is the wording "Patented Superbalance" on the winding wheel. Introduced in 1935, the Superbalance was a unique style of balance wheel developed and patented by Rolex on which the timing screws, traditionally standing proud from the balance wheel edge, were sunk into recesses cut into the balance wheel rim. The concept was that the reduced drag as the balance wheel oscillated backwards and forwards would result in a more efficient and more accurate movement, which it did.
When the Superbalance was first launched, Rolex made a great play of it, signing each movement accordingly, as here. By the early 1950s, the Superbalance had proved so successful that it had become the norm on all Rolex Hunter movements, and Rolex no longer mentioned it on every unit. Dating from 1951, this particular movement would have been one of the very last to be signed on its winding wheel in this way.
This is very much a deluxe version of the Hunter. It has seventeen jewels rather than the usual fifteen. The size of the jewels are enormous, and these have been fitted into brass sleeves that screw into the plates rather than simply being held there by friction. All vintage Rolex movements from this period were beautifully built, but this one was certainly several grades up from standard production.
Not a single component here has been changed. Every last detail of this movement is original and standard. We often see vintage Hunter movements that have been patched up with incorrect parts to keep them running, but this one is faultless and totally unchanged since new.
Having been serviced regularly, this movement works perfectly. It sets, winds and runs very smoothly and is in the best possible mechanical condition. Provided it is treated with care and cleaned and re-lubricated every three or four years, it will last a lifetime with ease. The quality of these 1950s Rolex movements was so high in the first instance that they have the potential to, literally, last for several hundred years and exist in the future in the same way that many fine Georgian and Victorian antique pocket watches do today.
This watch has been fitted with a high quality crocodile skin type strap. This is not a genuine Rolex strap, the original having hardened and cracked several decades ago, but it is similar in both construction and appearance to that which would have been supplied by Rolex with the Speedking in the late 1940s and early '50s and certainly does not need to be changed.
The price of this watch is £1475 GB pounds. While online, scruffy Rolex Speedkings with second rate, either restored or badly deteriorated, dials and tired movements can be bought for less than this amount, genuinely worthwhile examples are now becoming increasingly pricey and tough to source. At the time of writing, Anthony Green Antiques in London has an equally good Rolex Speedking in steel for sale on his website at £3850 GB pounds while Vintage Watch Company, another recommended dealer, also in London, have several in stock for similar figures. The unusual cut-out dial and Super Oyster winding crown make this watch more interesting and more desirable than most early Speedkings, and at this price, this certainly isn't expensive. This piece represents a quirky twist on one of the all-time classic vintage Rolex Oyster models and would be an ideal purchase for an investor wanting a very attractive watch that is robust enough to be worn on a regular basis while at the same time also being a collectible item that will always appreciate in value.
Price £1475 GB Pounds
Price £1475 GB Pounds
Vintage Watch Brands
Vintage Watch Decades
Vintage Ladies Watches
Vintage Watch Bracelets
Swipwreek Straps
Travel Clock/ Pocket Watches
Home
About
Brand Overviews
By Decade
Reference
Contact Details
Telephone from the UK:
07453 734666
or 07428 051005
Telephone from overseas:
+44 7453 734666
or +44 7428 051005