Rolex Oyster ladies Athlete shape steel 1944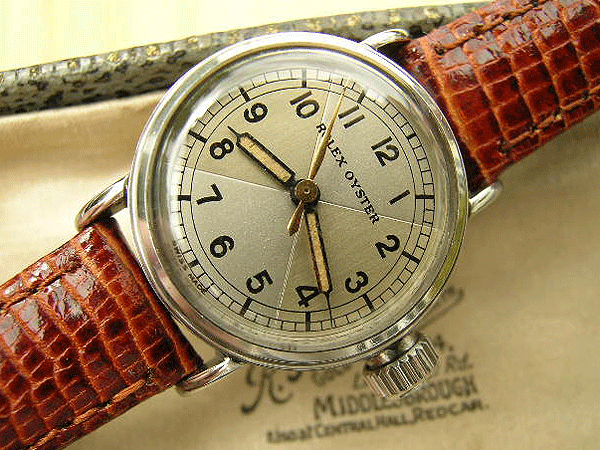 Manufactured in 1944, a year before the end of World War II, this stainless steel Oyster with a two tone quartered dial is one of the most beautiful vintage ladies' watches for sale on our site. It certainly isn't the cheapest example that one could find online, but it is one of the very best that could be sourced anywhere. The specialist vintage shops in central London or New York could not offer any ladies' Rolex Oyster from the 1940s that was superior to this item and to buy its equivalent there would certainly involve an outlay of several thousand pounds.
Leaving aside its immaculate condition, what makes this watch so special is its very unusual case shape. The Rolex Oyster had made its debut in 1926. The very first models came in either cushion or octagon shaped cases, but in 1932, the case style that we now regard as the "classic" Rolex Oyster appeared. From then on, almost every Rolex Oyster was based on this case shape and today, the firm's current models still take their inspiration directly from this 1932 breakthrough item.
Having explained this, it should be now pointed out that the watch here does not conform to the standard case style that we would expect to find on a Rolex Oyster of this age. In fact, it departs radically from this almost universal look, with straight lugs and a stepped art deco bezel. Rolex today produces very high quality watches, just as it always has done, but these are somewhat bland and lack the creative flair that was exhibited so enthusiastically particularly between the two World Wars. Collectors refer to watches like the one for sale here as "form Oysters", meaning that their cases have a shape, or form, that departs from the ubiquitous Rolex Oyster case format. The golden age of the form Oyster was the 1930s and '40s. After the war, Rolex began its trajectory into extreme conservatism and moving away from the flights of fancy that it had gone on prior to the conflict. Even at their high point, form Oysters only made up a small percentage of total Rolex production. This rarity, combined with their wonderful good looks, makes these watches some of the most sought after of all vintage Rolex types. Even twenty-five years ago when the best classic Rolex items were far more plentiful than they are now, we saw very few form Oysters and at the time of writing, we are lucky if we find three or four, at most, in a year.
For want of a better term, we would describe this case variant as being in the Athlete shape. These very distinctive straight lugs were used on the Oyster Athlete of the 1930s and '40s and there isn't really a more obvious choice of name. The Athlete was a self-winding model whereas this piece is hand wound, but certainly there is a lot of shared DNA between the two. Viewed from the front, the Athlete and the model here are indistinguishable from each other. If there was such a thing, which there isn't, the perfect description of this piece would be a "hand wound Athlete".
It can be said with sincerity that this particular watch is almost certainly the best preserved form Oyster that has passed through our hands in the last five years. Looking at it now with an eyeglass as this is written, it is difficult to believe that this piece is almost seventy years old, yet this is indeed so. There are only the very slightest, almost invisible imperfections to the case surface that could almost have been acquired with handling in the jeweller's shop before the watch had even been sold.
The finely milled edge around the case back is again in almost pristine condition. This is an important point when buying for investment. This milling has been a distinctive feature of every Rolex Oyster since the very start, but has the drawback that a special factory tool is required to open cases of this kind. In the past, particularly when the worth of mechanical watches was at an all-time low in the 1970s in the face of newly introduced quartz technology, owners were very wary about sending their watches for relatively expensive official Rolex servicing. A lot of back street repairers were used, many of whom did not have access to Rolex tools and removed case backs with all manner of tools, causing damage that cannot be reversed. Over the years, in our business we have seen countless Rolex Oysters from the 1930s and '40s that have been completely ruined from the point of view of the serious investor, with case backs that have been brutally marked by pliers and hacksaw blades. The specimens for sale on this site have been very carefully scrutinised and are among the best preserved to be found anywhere in the world but many others offered online are with case backs that are very sub-standard and it is important to be on one's guard.
Externally, the case back is stamped with the individual serial number for this watch, 270120. Falling between the two extremes of Rolex Oyster production for that year of 253000 and 285000, this clearly identifies this item as having been manufactured in mid-1943.
Internally, this case is signed "Brevetee ( the French for patented), Rolex SA, Geneve-Suisse, 31 Victoires Haute Precision", together with the "SAR" emblem and coronet logo. The thirty-one victories mentioned were the number of occasions in which Rolex had set new records in the accuracy competitions held by the Swiss observatories as a way of promoting the horological industry. It is interesting to note that vintage Rolex watches can be loosely dated from the number of victories, sometimes stamped as "world's records" that are referred to. Very early models from the immediate post-World War I era were stamped with reference to seven records only, whereas in the mid-1940s, as here, this record count had risen considerably. A project unique to our business is the attempt to place Rolex case back signatures in chronological order. This is a time consuming but very worthwhile task and can be seen in its current, continually evolving, form by following the links to the Reference section at the top of this page.
Also inside this case back is the model reference 3732. This is the unique digit string that identifies this particular combination of case and movement.
What Rolex model references do not identify is dial format and this is an important point that must be explained thoroughly to novice collectors. Several examples of the same model of vintage Rolex Oyster, all marked with identical model reference numbers, can have wildly different dials ranging from the very plain through to the very exotic. This will have an enormous impact on their respective values. When simply looking at the sale results from auctions held by Christie's, Sotheby's and Bonhams, it can be puzzling why two watches with the same model reference number sold for very different sums. The reason for such disparity almost always lies in the dial.
The dial variation here is the most desirable, and most visually eye catching, that can be found on any vintage Rolex Oyster. Extremely influenced by art deco, this dial has been split diagonally into quarters and given a two tone finish. The effect is dramatic and reminiscent of the harlequin. This look could not be more evocative of the 1930s and '40s and dials of this type are arguably the most attractive that Rolex has ever made.
Remarkably, this is an original dial, which again strongly suggests a watch that has seen very little use and has been stored away from the damaging effects of bright sunlight and damp. Almost all the original Rolex dials that have survived from this period are now showing very considerable signs of age and those that do remain pristine count as the holy grail with the serious collecting fraternity. If we look at this dial very closely under high magnification, there are just the slightest signs of ageing that can hardly be seen under normal conditions. The perfectionist might suggest that the overall shade of the dial is slightly yellower that it would have been in 1943 and this may be so, but this effect is very subtle and does not detract from either the look or commercial value of the piece. In fact, we could go further and suggest that it adds a certain antiquated charm, rather like the creamy colour of pages in an antiquarian book as opposed to the stark white leaves in its new equivalent.
"Rolex Oyster" is signed in black above the dial centre point, with "Swiss Made" around the very bottom edge. Notice how there is no Rolex coronet here. The company registered its coronet emblem in 1925, but it only started to appear on dials in the 1930s. It certainly wasn't until after World War II that the coronet became a standard feature of all Rolex Oyster dials.
All three hands are entirely original. The luminous paint on the blued steel hour and minute hands has mellowed in colour from bright green to a know faded khaki tone, but this is due to unavoidable chemical changes to its radium ingredient. Later luminous paint, based around tritium, did not age to the same extent, but we would always expect some deterioration to radium filled hands of this age. Knowing that that radium decay is a natural, legitimate process, no experienced collector would ever criticise aged hands on a piece from this era.
The large winding crown is of the threaded type. The screw down winding crown is a classic feature that defines the Rolex Oyster, and for a brief period between 1950 and 1952 when the ill fated phantom crowns were used, all Oysters past and present have used crowns of this type. The crown on this watch is decorated on its outer surface with a large Rolex coronet emblem. Both the threads inside the crown and those of the tube that protrudes from the case side are in superb condition and the former locks tightly down in place onto the latter.
Vintage watch movements don't get an awful lot better than the one here. This is a Hunter mechanism in 8 ¾ ligne size. The Hunter was introduced by Rolex in 1923 and remained the company's flagship hand wound mechanism until 1969. Rolex continually revised its specification throughout this period but did not radically alter anything structural, simply because the Hunter design was so exceptional from the outset that there was no obvious way of improving upon it.
One of the great problems facing novice collectors is that while the components in the Hunter gradually evolved, these are generally interchangeable with each other without modification. Worse still, entire movements can be swapped without the need for any modification, resulting in some horrendous marriages of cases from the 1930s and movements made thirty years later, and vice versa. To the experienced dealer, such monstrosities are obvious howlers that will be noticed in a glance, but to the new enthusiast, they can be very tricky to spot. The movement in this watch is guaranteed to be the original with which it started life in 1944 and is absolutely correct for this model and period. It has no changed components and is stock and unaltered throughout.
The base model Hunter had fifteen jewels. The better version, which is the one present here, had an extra two rubies, taking the total to seventeen. Very unusually for a Rolex movement, this unit has screwed chatons, which were another deluxe feature. On most conventional movements, the jewels were press fitted into place into holes drilled in the plates and here there by friction, but on this example, each jewel has been fitted to its own threaded brass sleeve that screws down into a correspondingly threaded hole in the plates. Refinement of this kind costs money and when brass chatons are encountered, we can be sure that we're looking at a movement of the finest quality.
This movement is signed "Seventeen 17 Jewels, Rolex, Geneva, Adjusted Two 2 Positions, Swiss". Its condition is superb throughout, with no tarnishing to the rhodium plated finish of the plates whatsoever. A lot of the older Rolex Oysters in circulation today have movements on which the brass of the plates is showing through their silver coloured rhodium top surface. This example is among the best preserved that we have owned for some time and has clearly been treated well by past owners.
As a result of regular servicing, this watch works perfectly. It sets, winds and runs very smoothly. Vintage Rolex movements from this period have the potential to last almost forever if maintained correctly. The key to taking advantage of this longevity is to buy only a very well preserved movement in the first place and then never fail to have it cleaned and re-lubricated every three or four years. This work is not expensive, but it will ensure that your valuable watch is in a state that can be handed down to future generations.
We have fitted this watch with a high quality crocodile skin strap. This is not a genuine Rolex strap, the original having disintegrated long ago, but it is very similar in appearance to those shown in period advertising from the 1940s. Having not been worn, this strap is in mint condition.
The watch is boxed and in itself, this attractive period packaging is collectible. Is well documented as an official Rolex agent in the inter-war era. We purchased this watch in the box that contains it now and have absolutely no reason at all to believe that this is anything other than the item in which it was supplied new in 1944. Condition of this box is very good indeed, with just the slightest ageing to its satin lining.
We have priced this watch at £1475 GB pounds. For an early steel form cased ladies' Rolex Oyster with a two tone dial in this superb condition, this is far from excessive. In London's Bond Street, at the time of writing there are at least two similar models in the specialist dealers there with asking prices of typically just under £5000. Based up in rural Yorkshire where trading overheads are some of the lowest in England, we can usually undercut our competitors in the capital by the proverbial country mile and this watch is the perfect example with which to illustrate this point. This watch is every bit the equal of those sold for high prices in Burlington Arcade and Mayfair, but can be bought for a fraction of the price for no other reason than our not having to pay vast sums for a retail shop in one of the most expensive shopping locations on earth. This is an exceptionally fine and very rare watch that will be a source of great pleasure to its future owners.
Price £1475 GB Pounds
Vintage Watch Brands
Vintage Watch Decades
Vintage Ladies Watches
Vintage Watch Bracelets
Swipwreek Straps
Travel Clock/ Pocket Watches
Home
About
Brand Overviews
By Decade
Reference
Contact Details
Telephone from the UK:
07453 734666
or 07428 051005
Telephone from overseas:
+44 7453 734666
or +44 7428 051005