Rolex large gold cushion with Rolco signature 1934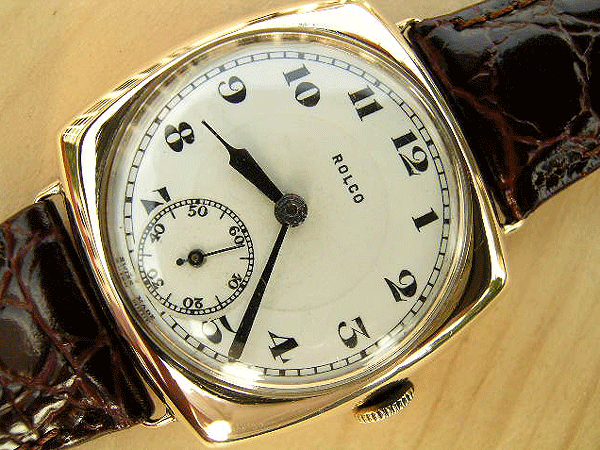 Vintage Rolex Gold Cushion Watch For Sale With Important Rolco Dial.

This gentleman's gold Rolex cushion from 1934 is a very attractive piece in a near mint condition. We specialise in the supply of investment grade vintage watches rather than simply average examples and this item fits squarely into this category. So many of the vintage Rolex watches for sale today, both online and on the physical auction circuit, have been doctored and enhanced to affect a sale, but this one is absolutely as it should be in every detail.
The most immediate thing to strike the observer about this watch upon initial inspection will be its large size. With a width of mm, this was an oversized model in the inter-war years and still has impressive presence on a wearer's wrist today.
Gold colour varies quite dramatically and some period Rolex cases have wonderful colouring. The gold here is not actually red, but has a lovely warm pink colour that is quite distinct from the cold, brassy yellow gold that we see in the high street today. Pink gold was very fashionable in the Edwardian era and took its rosy colouring from the high percentage of copper that was found in the alloy.
The case is built along traditional lines, with a deep case back snapping into an integrated body/bezel combination, onto which wire lugs are affixed. The case back interior is decorated with the most spectacular engine turned pattern and is signed 'R.W.C Ltd' (Rolex Watch Company Limited) in the firm's distinctive cartouche. This was a stamp used frequently on gold Rolex cases in the inter-war period.
Also here are a full set of British hallmarks, these informing us that this watch was assayed as solid 9 karat gold in Glasgow 1934. While pre-1920 Rolex watch cases tend to have been assayed in London, in the years between the wars the Glasgow assay office was almost exclusive used.
If we look very closely beneath the hallmarks, we can make out the tiny coded maker's mark of C. R Spillmann & Cie, of Nord 49, 2300 La-Chaux-de-Fonds. In common with all its major competitors, Rolex was not a manufacturer of watch cases and in fact purchased these from a small number of highly regarded independent concerns that specialised in this field. Spillmann was responsible for some superb vintage Rolex cases during this era and the example here is the perfect representation of their output. These external suppliers made a huge contribution to the remarkable quality of vintage watches by all the major brands, yet they remain almost completely unknown, which seems something of a shame.
On the case back outer there is the engraving 'Presented to Bro. J.Crossley by the Bretheren of Goulburn Lodge. 3478 for Services Rendered, 1937'. For anyone interested in doing so, it should be fairly easy to track down more detail about the first owner of this watch. The Goulburn Lodge 3478 is still in existence today, based in Bolton, Lancashire. The Freemasons tend to keep very good records of their members and if a polite letter was written to the secretary at Goulburn Lodge, it is quite possible that further information about Mr. Crossley could be obtained.
Beneath the Masonic engraving on the case back outer is the serial number for this watch 846852 and the Rolex model reference 672.
In many ways, it could be said that this watch was already an anachronism even at the time when it was purchased new. Its styling, with wire as opposed to cast lugs, was already dated in 1934 and the cushion shape itself, so popular in the 1920s, would rarely be seen after World War II. Most retrospective looking of all is the dial, which is in a hard glazed enamel reminiscent of those typically found on Rolex officers' watches of the Great War. Certainly by the mid-1930s, dials were almost all painted and the days of the porcelain dial, as here, were effectively over.
Above the dial centre point is the signature 'Rolco'. A contraction of 'Rolex Company' the Rolco trade name was first registered by Rolex on 15th September 1927 with the grant number 65389. In our modern age, when the objective of establishing strong brand recognition is of paramount importance, it seems almost unbelievable that a company like Rolex would choose to display anything other than its full trading style on a dial. In fact, in the years between the two wars, Rolex experimented with various variations on its name including Rolwatco ( clearly again a contraction of Rolex Watch Company) in 1920, Rolexis also in 1920, and, abbreviated even further, Rox in 1927. From a collector's perspective, these early Rolex variant signed watches are very interesting and always make a talking point when shown to other enthusiasts, many of whom are not even aware of their existence.
Unlike painted dials which have a degree of flexibility, the brittle nature of those in enamel makes them prone to damage if subjected to impact. The positive side of the same equation is that while painted dials become stained by exposure to dust and damp, hard glazed enamel keeps its appearance extremely well.
This dial is very close to being perfect and a better preserved example probably doesn't exist anywhere. This is a beautiful looking item, with a double minute track and large Arabic numerals printed over a white background. "Swiss Made" appears around the very bottom edge.
All three hands are completely original. These are in blued steel and remain today as they were in 1934. Similarly, the winding crown is also original. Details like these make a tremendous difference to the value of vintage Rolex watches and can be enormously frustrating to put right if they are not correct. It is always worth paying more in the first instance to acquire a watch that is authentic and complete rather than taking a budget route and opting for something sub-standard. This holds especially true for buying wanting to build up a portfolio of vintage wristwatches as a serious investment.
Vintage Rolex movements are always of superb quality and indeed, it was the realisation that these units were so exceptional when compared to their modern equivalents that partially let to the emergence of the concept of the old luxury wristwatch as a collectible in the early 1980s. Anyone buying a classic Rolex mechanism in first class condition today can be confident that this represents the pinnacle of watch making so far. Equally, the standards to which these movements were built in the first instance was so high that if they are treated with care and serviced correctly, they will last almost forever.
The condition of this movement is effectively mint. We definitely have not purchased a cleaner, more original example of this calibre in recent years. Curiously, despite looking superficially very similar, this isn't a Hunter movement, the Hunter being the standard manually wound unit that was used by Rolex between 1923 and the late 1960s. Instead, it is a close relation to the Hunter, sharing almost identical architecture but a slightly difference specification. It's a gorgeous movement and anyone with a jeweller's eyeglass will get considerable pleasure from studying it in detail.
"Rolco" is signed on the winding wheel, with "15 Fifteen Jewels, Swiss Made" stamped into the bridge. This same movement is shown in full colour on page 287 of George Gordon's book "Rolex, Timeless Elegance", though the unit pictured is in clearly far poorer condition than the immaculate example here, showing obvious signs of dulling to its rhodium plated surfaces.
This watch works perfectly and runs entirely without fault. It winds and sets very smoothly, without any of the wear play in the gear train that one all too often finds in neglected examples of vintage watches for sale. Even the finest quality machinery will deteriorate at an accelerated rate if starved of adequate lubrication and a lot of the vintage Rolex models in circulation today are, if truth be told, well on the way to life expiry, ironically not because of any intrinsic shortcoming, but simply because of woeful neglect. A Rolls-Royce motor car is a wonderful piece of engineering, but prolonged abuse and a lack of maintenance will see it broken down by the roadside, regardless of its initial build quality.
We have fitted this watch with a new high quality crocodile skin strap that is perfectly in keeping with its upmarket, old money appearance. This is not a genuine Rolex strap, but it is very similar in every way to those supplied with these pre-war cushions when they were new and certainly does not need to be replaced.
The price of this watch is £1375 GB pounds. Vintage Rolex watches from the inter-war period are the solid, proven blue chip investments of the classic timepiece world and have been prized for almost three decades. This is a beautiful item in every way, large sized, in almost mint condition and completely original. It could be submitted for sale in Sotheby's, Christie's or any of the other major auction houses and if kept for any significant length of time, will show a healthy profit when liquidated.
Price £1375 GB Pounds
Vintage Watch Brands
Vintage Watch Decades
Vintage Ladies Watches
Vintage Watch Bracelets
Swipwreek Straps
Travel Clock/ Pocket Watches
Home
About
Brand Overviews
By Decade
Reference
Contact Details
Telephone from the UK:
07453 734666
or 07428 051005
Telephone from overseas:
+44 7453 734666
or +44 7428 051005