Rolex ladies gold cushion boxed 1938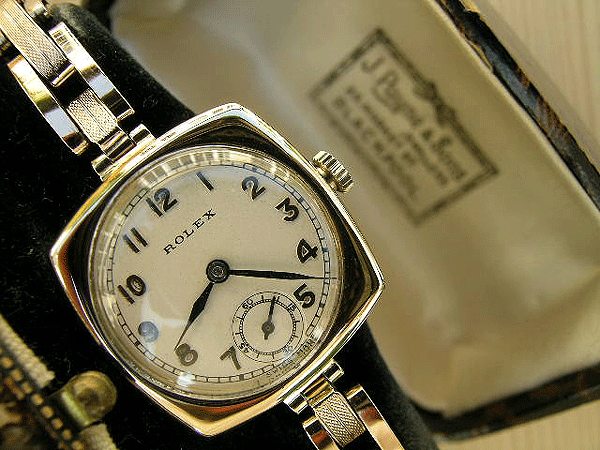 Hallmarked as having arrived on British shores in 1938, this is one of the most attractive vintage ladies' Rolex watches for sale on this website. It is original throughout, right down to the smallest screw in its movement, yet it remains absolutely pristine. This is exactly the sort of antique watch that should be purchased as a serious investment. It isn't inexpensive and a more average example could undoubtedly be obtained for a lesser sum, but in the vintage Rolex world, as in every other field of antiques, there are very few free lunches and the buyer tends to get only what he pays for. This item is among the best of its type that we have owned in the last decade and when it sells, we would have no idea of when the next equivalent replacement will cross our path.
It has a considerable number of appealing features. The most obvious of these, even to the complete novice, is its large size. Most vintage ladies' Rolex watches from the years between the two world wars tend to be fairly small by modern standards, but this one has considerable presence on a wearer's wrist. With an 8 ¾ ligne movement ( the ligne is the unit of movement diameter traditionally used in the Swiss watch industry), with a subsidiary seconds register ( the vast majority of vintage ladies' Rolex watches were made without second hands. A seconds register on a ladies' model is regarded as a highly desirable feature.), it is the same size as the smallest gentleman's Rolex Oyster of the same period. Sadly, there has been a tendency over the last two decades to convert these large size ladies' watches into items that can be passed off by the unscrupulous as men's models. This is achieved by carefully grinding off the two centrally fixed lugs and soldering in their place a longer bent wire lug that enables a wider strap to be attached. We are strongly opposed to such practices and would never buy or sell any item that had been modified in such a manner.
Case condition can only be described as almost mint. Even with the aid of a jeweller's eyeglass, it is almost impossible to make out any imperfections and it can be said with conviction that a better preserved gold Rolex watch case from the 1930s could not be found. When buying a vintage watch in gold, by any maker, it is well worth looking closely at the inside of its case for evidence of repair work. If wear holes in the corners are filled in, the case outer can be polished to eliminate signs of this activity, but it is much harder to remove traces from the interior surfaces, where tight bends in the metal make it impossible to fit a buffing wheel. This case is virgin throughout and is just as immaculate on the inside as it is on the outside. It has never required any repair work at any time and is still very thick walled, with no measurable wear whatsoever.
The case back is hinged to the case front. This is a delightful touch that is something of a left over from the pocket watches of the Victorian and Edwardian eras. As the wristwatch evolved, hinges appeared less and less on case backs, with body and back being simply press fitted together and held by friction. The hinge here is original and in perfect condition, unlike many which have had their hinge tube replaced after rough handling at some point in the past.
The interior of the case back is covered with an engine turned pearled pattern. This effect was produced by a hand operated tool and is so typical of the quality present in these classic watches by the elite Swiss houses. Today, no maker would dream of spending money laboriously decorating a part of a watch that nobody would ever see under normal circumstances, but then, in a different age when highly skilled labour was far less costly than it is now, companies like Rolex went all out to exceed quality expectations at every stage in the manufacturing process.
The case back signatures are fascinating and present the opportunity for some enjoyable detective work. "Rolex, 7 World's Records, Gold Medal, Geneva-Suisse" is stamped deeply, together with Swiss hallmarks for 9 karat gold, the individual serial number 33560 and the Rolex model reference 512.
Beneath the World's Records stamp is the "RWC Ltd" ( Rolex Watch Company ) cartouche and, in turn beneath this, a full set of clear British hallmarks, these telling us that this case was assayed as solid 9 karat gold in Glasgow in 1938.
As the years between the two world wars advanced, Rolex achieved more successes in the accuracy competitions held within the Swiss watch industry and set ever more records for precision timekeeping. The original stamp, used in the 1920s, the one here, mentioned 7 World's Records and by the time this format was discontinued just after World War II, the record count had risen to a remarkable thirty seven.
The British hallmark date letter inside this case confirms categorically that this housing was assayed in 1938, but we should bear in mind that this does not tell us when this item was actually manufactured. Judging by its 7 World's Records stamp and low serial number, we would be inclined to the view that in fact, this case dates from, at very latest, the early 1930s. The age of the movement here ties in almost perfectly with the hallmark letter inside the case and there is no doubt at all that case and movement are original to each other, but it seems almost certain that this housing had languished for quite a few years in store at Rolex before eventually being used. This is not at all uncommon and in our business, we have noticed a pattern of Rolex ordering large quantities of cases, presumably to gain economies of scale, and then using them up as required over a period of, in some instances, up to six or seven years.
If we were writing a book on the subject of buying vintage Rolex watches as investments, and we are in fact intending to do so in the near future, then the dial here would serve as the perfect illustrative example of what should be acquired in an ideal world. The general public are largely aware that the commercial worth of antique coins is reduced dramatically by polishing, but watch buyers, especially online, seem to have missed that an original, near mint dial is essential if any vintage model is to have its maximum theoretical value. Watches with original scruffy dials are not rare and a dial can be freshly restored at any moment, but an untouched, pristine dial is hard to find on any pre-war watch and therefore commands a high price premium.
The dial here is guaranteed to be totally original and is in almost mint condition. Its French white surface is not spotted and there is no dust staining to be seen at all. We could look at a hundred vintage Rolex watches for sale from this period and not find another with an authentic dial that was as clean and undisturbed as the one here. It is watches like this one, with the very best dials, that appreciate the most in value.
"Rolex" is signed in black above the dial centre point, with "Swiss Made" running around the bottom edge, outside a railway minute track. The Arabic numbers at the hour positions are applied and not at all corroded.
All three hands are original and in blued steel. Again, there is no deterioration to their surfaces and they could legitimately be described as virtually mint. When buying a period Rolex for investment, it is imperative to ascertain that all its component parts are correct. This style of hands is very distinctive and will be recognised by the experienced Rolex collector as appropriate for a model of this age. Those with access to a comprehensive vintage Rolex reference library will see the same hands pictured on a 1938 model on page 150 of London collector Shigeharu Aritake's book "Rolex Scene 1913-1997".
To the serious vintage Rolex collector, the movement in this watch is exceedingly interesting. As we would expect, it is a hand wound Hunter, this being the flagship Rolex movement at the time since its introduction in 1923. In the second half of the 1920s up until roughly 1935, Rolex offered the Hunter in three grades, these being Prima, Extra-Prima and Ultra-Prima respectively. Without wishing to bore the casual browser excessively, it will suffice here to say that the differences in specification between the three types were negligible and the grading process was done according to the levels of accuracy achieved when each individual unit was tested. However, in 1935, Rolex launched its patented Superbalance balance wheel, a novel innovation that basically streamlined a conventional balance by having the timing screws recessed into its rim rather than standing proud as had previously been the norm. The Superbalance was extremely successful and within a very short length of time, the previous three categories of movement were abandoned.
This movement has a winding wheel signed "Rolex Prima", but also has a Superbalance balance wheel, meaning that we can date it very accurately. Rolex patented the Superbalance in 1935 and introduced it to wide scale production later that year. In the past, we have encountered the strange combination of Prima grading and Superbalance and without exception, this has been on movements manufactured in mid-1935 when the transition between the two signatures was being made. Again, it would appear that Rolex had a stock of Prima signed Hunter movements, but wished to fit these with its new Superbalance. This movement is original and authentic throughout and guaranteed to be in the same form today that it was in on the day it left Rolex when new. For the enthusiast who perhaps already owns a Prima signed Hunter with a conventional balance wheel and a Superbalance equipped latter version with "Patented Superbalance" on its winding wheel, this will be a difficult item to resist.
The movement is in immaculate, almost mint condition. "Rolex, 15 Rubies, Swiss Made, Fab Suisse" is signed on the bridge. The rhodium plating on the bridges gleams brightly and there is no tarnishing or rubbing of any kind. There is something of a perpetuated myth that assessing the condition of a vintage watch movement requires specialist knowledge and this is something that we are keen to dissolve. Judging component originality clearly does draw greatly on experience, but even the total amateur can look at a movement under high magnification and see if it is rusty and deteriorated. This unit is original in every respect and one of the best preserved 1930s Rolex Hunters that we have owned in the last decade. It works perfectly and previous owners have had the good sense to send it for servicing on a regular basis.
A delightful touch is the presence of a very heavy, thick solid 9 karat gold bracelet. This is in almost mint condition and has exactly the same very attractive pale gold colour as the case body. Rolex was not a bracelet manufacturer during the 1930s and all the bracelets sold with its watches were produced by third parties. This example is a UK made bracelet, signed "Britannic, 9ct" and carrying the serial number 819120. The Britannic Bracelet Company was based in London and was responsible for a lot of the very high grade bracelets that were sold new with Rolex watches at the time. The quality of this bracelet is quite remarkable and we would be bold enough to say that in terms of sheer weight of construction and standard of finish, this is a better bracelet than those produced with the Rolex signature in the 1950s and '60s. We can conclude by mentioning that this bracelet is of full factory standard length and has not been shortened, making it perfectly suited to all but the very largest of modern wrist sizes. Of course, if the bracelet needs to be shortened, this can be achieved with a few minutes work at any competent jeweller.
The icing on the cake is perhaps the original box in which this watch was supplied when new, still with it today in excellent condition. J. Payne & Sons of 39 Market Street, Blackpool was an official agent in the north west of England for Rolex, Omega and Longines. Original boxes signed with the names of known official Rolex stockists are very sought after in their own right and this item sets off the watch here to perfection.
The price of this watch is £1750 GB pounds. In one of the specialist vintage watch shops in central London, like those in Bond Street and nearby Burlington Arcade, we would be very lucky to find a similar example for less than £4000. We operate from a small market town in Yorkshire, where business overheads are some of the lowest in the UK, hence the asking price for all our watches essentially relates only to the watches themselves, rather than having an additional premium charged to cover the astronomical cost of running a shop in London. At this level, this watch represents remarkable value for money. It is one of the most attractive, totally original pre-war vintage ladies Rolex watches that we have seen for some time and even five years from now, untouched examples of this grade will be virtually impossible to track down.
Price £1750 GB Pounds
Vintage Watch Brands
Vintage Watch Decades
Vintage Ladies Watches
Vintage Watch Bracelets
Swipwreek Straps
Travel Clock/ Pocket Watches
Home
About
Brand Overviews
By Decade
Reference
Contact Details
Telephone from the UK:
07453 734666
or 07428 051005
Telephone from overseas:
+44 7453 734666
or +44 7428 051005