Rolex ladies gold art deco boxed 1939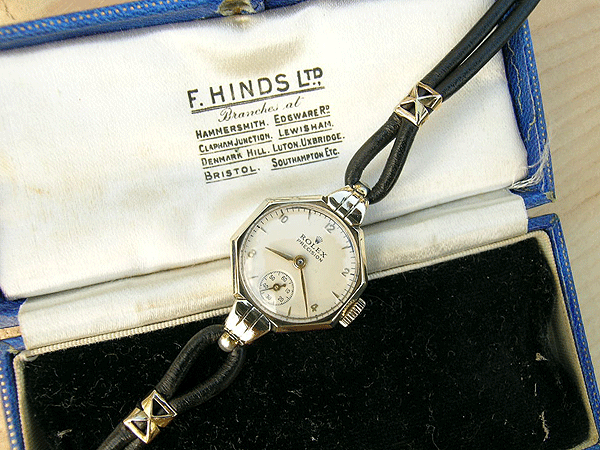 From 1939, this wonderful art deco Rolex ladies' watch in solid gold is the classic example of an item that could be bought as a very safe investment, while still being capable of being worn on a regular basis. Manufactured just one year before the outbreak of World War II, it represents incredibly good value for money. A brand new ladies' Rolex in the high street jeweller's window will cost five or six times this sum, but will lose value as soon as it leaves the showroom in the hands of its purchaser. In contrast, vintage Rolex models like this one are so well established as collectibles that it seems inconceivable that they could ever fall in value in the future. It is perfectly realistic to think that this item could be bought at full market value today, worn for a decade and then sold for a considerable profit. Genuinely well preserved elderly Rolex watches are not cheap initially, but over a longer time period have proved themselves to be superb vehicles for capital appreciation.
Any Rolex from the inter-war years will automatically be highly regarded as a collectible, but this one is exceptional on account of its total originality and superb condition. While we don't have specific details regarding its previous owners, it would seem clear from a careful examination of its case that the watch has been used on a very infrequent basis, probably as a piece of jewellery that was only brought out on special occasions. Its solid gold case is very weighty, in octagonal form and with the most charming art deco striped dart lugs. In comparison with many vintage ladies Rolex watches from the same period, this is a large model, with a width of 22mm making it perfectly suitable for modern day wrist sizes. As the war loomed large, the price of bullion soared as nations stockpiled reserves, and as a consequence of this, many case makers created ever-thinner housings in order to keep retail prices down. The Rolex target customer, then as now, was obviously less likely to be concerned as to the cost of his purchase than the buyer of a more mundane timepiece, and, much to its credit, the company never compromised quality in order to pare down manufacturing expenses.
Externally, there is the individual serial number for this watch, 48576, and its model reference, 3468. Both of these stampings are very clearly defined and of full depth, suggesting that no attempt has been made to polish the case in the past.
Internally, the case back is signed internally as "Rolex, 31 Records Universels, Geneve, Suisse", together with the "RWC Ltd" ( Rolex Watch Company Ltd) oval cartouche and a full set of British hallmarks, these telling us that the watch was assayed as imported 9 karat gold in Glasgow 1939. Notice how the number of accuracy records that Rolex had won increased dramatically over the period in which this style of case stamp was used. In the early 1920s when it first appeared, 7 records were mentioned. The 31 records stamp was one of the very last of this type to be used, this form of case signature being discontinued completely at the end of World War II. Here, the age of the watch is definitive on account of the hallmark date letter, but if this case had been base metal rather than gold, then the number of records alluded to would have given us an approximate guide as to its year of manufacture.
In tiny coded form next to the Rolex stamp is the case maker's mark of "Union Suisse des Fabricants de Boites de Montres". Located at Nidau 8, 2500 Bienne, USFB were one of a small number of extremely skilled case manufacturing concerns to which Rolex sub-contracted work at this time. A point that very few novice collectors appreciate, Rolex never manufactured its own gold cases during the vintage years, and with careful detective work, as here, it is usually possible to decipher the markings inside gold Rolex housings from this period to work out their origins. USFB were used on a regular basis due to their close proximity to Rolex, both concerns being located in the same town.
Something of an essential feature to the collector, this watch has its original dial in almost perfect, blemish-free condition. In order to have anything even remotely approaching its full theoretical value, a vintage timepiece must have its original, unrestored, dial in a near perfect state. If a so-called "restored" dial is present, this being one on which the original surface has been stripped away and replaced by a substitute, then the value of the watch when selling to an experienced collector will typically be no more than 60% of its worth had the dial been near perfect. In the coin collecting world, items will be dramatically devalued if polished, and many of the general public are aware of this. In vintage wristwatches, the key criteria that define worth are dial condition and originality, but on account of the field being a relatively new one, many novice buyers are unaware of this and will enthusiastically pay a high price for a piece on which the dial is not of a standard that would ever tempt a seasoned enthusiast. The situation is compounded in the area of ladies' watches, on account of so many of these being bought as gifts by occasional, one-off purchasers who, truth be told, don't really know an awful lot about what they're buying.
This dial isn't brand new, and if one looks closely enough with a jeweller's eyeglass, it can be seen to have mellowed in colour very gently from a once bright white to a now subtly creamier shade, but in real terms, a better example from the 1930s would be very difficult to find. The signature "Rolex, Precision, Swiss Made" is instantly legible in black and the gilt numerals, batons and lance shaped hands are all original and free from corrosion. To be preserved in this state, a dial must have been kept in a dry environment, away from excessive sunlight and dust, throughout its life. The reason why watches with dials in this condition are so sought after is that, as a percentage of the total number of a model in existence, very few survive in this state, and certainly, out of every hundred 1930s Rolex watches that appear for sale online, no more than perhaps two or three will stand direct comparison to the one here when judged on the basis of their dials.
One of the lovely things about ladies' Rolex watches from this period is that they combine wonderfully evocative art deco aesthetics with exceedingly high quality, technically innovative movements. Unusually, these models will equally delight the buyer who is interested in antique jewellery from a design perspective, and the horological purist who evaluates his purchases on the basis of their internal engineering and finish. Particularly in the case of so many modern watches, extravagant form comes at the price of inferior, cheaply made movements, but in any vintage Rolex, however exotic looking, the movement will be of a quality that has arguably never been surpassed by any other maker.
The movement in this watch is a beautiful example of the company's Hunter, this being the flagship Rolex mechanism between its introduction in 1923 and its eventual discontinuation in 1969. Throughout this period, the exact specification of the Hunter changed to include technological advancements of the day, and the version here is a text book sample of its form in the late 1930s. Unfortunately, Hunters of any time period of the same diameter are physically interchangeable, which has led to a current situation in which so many vintage Rolex watches offered for sale today are fitted with movements with which they couldn't possibly have started life when new.
Looking closely at this movement, we can see that its bridge is signed "Rolex Precision, 17 Rubies, Swiss Made". This is a good sign, as the 17 jewel version of the Hunter is regarded as being superior to the more routinely offered 15 jewel model. More interesting though is the wording "Patented Superbalance" on the winding wheel. The Superbalance was a fascinating innovation that Rolex registered in 1935 by which the traditional proud timing screws that stood out around the edge of a balance wheel were recessed in order that this component became more streamlined. The balance in the Hunter oscillated at 18000 beats per hour, and the increases in efficiency and accuracy that come with the launch of the Superbalance were so impressive that, over the following ten years, Rolex would fit this unit to all its movements. Initially, as here, because this was a new feature that had not previously been offered, much play was made of it, and the Superbalance wording was stated on every individual movement. Even by the mid 1940s, as it became a universal Rolex feature, this signature appeared less and less, and by the early 1950s, it would disappeared altogether, even though the Superbalance was still the norm.
The condition of this movement is nearly mint throughout. Its rhodium plated finish is free from discolouration and gleams brightly like that in a new watch. Not one part of this mechanism has been changed, and there is no evidence of any past repair work having ever been performed. Having been serviced on a regular basis since new, this unit works perfectly, winding, setting and running extremely smoothly. If the same routine service schedule is applied in the future, and by this I mean that the watch is cleaned and re-lubricated every three or four years, there is no reason at all why this piece won't outlast its next owner. It is important to appreciate that when they were new, luxury watches of this period were not built as disposable limited-life items that would be replaced after a few years, but as possessions that would give sterling service to their owners for many decades. This potential for almost infinite longevity is a very appealing characteristic of high grade vintage wristwatches, and I think that the idea of passing a much loved timepiece down through several generations of a family is something that has motivated many buyers, particularly over the last ten years during which there has been an enormous increase in interest in collecting these items.
The watch is fitted with a black leather cordite strap that remains in superb condition. We cannot categorically state that this is the original strap with which the piece started life in 1939, but having studied it in detail, we would certainly be confident that this is the case. Very few examples from this period still have their original straps, and again, this would add further substance to the theory that this one has seen very little use over the years. Also present is the original fitted box in which the watch was supplied when new, this being fully signed inside its lid with the name of "F. Hinds Ltd", an official Rolex agent with several branches in the South of England between 1921 and 1973.
Valuing this watch isn't easy, because the extent to which its superb condition affects market worth is difficult to quantify. While far from common, 1930s Rolex ladies' examples do surface now and again online, but are usually in pretty tired order, and with dials that are either original and weathered, or freshly restored. The excellent London dealer Anthony Green Antiques currently has a 1940 art deco ladies' Rolex for sale on its website at
http://www.anthonygreen.com/detailofrolex2494.htm
Mr Green's is a steel watch, as opposed to the obviously higher value solid gold example here, but is certainly out of the same drawer. Mr Green is typically quite reasonable with his prices, and his watches are certainly of a high standard, and he is looking for £2350 for his item. This is at all bad, but we would suggest that it would be more prudent to acquire an example on which the dial was original rather than a restored version.
Twenty years ago, we could have probably sourced this watch for less than £500 GB pounds, which is quite a thought. At the time, this was probably slightly more than its theoretical market value, and stands today as a reminder of just how much all vintage Rolex watches have risen in price over the last fifteen years. Based in Yorkshire in the North of England, we deliberately keep our prices much lower than those asked by our competitors in central London and at £975 GB pounds, this watch is offered here for less than half the amount that would be needed to buy an equivalent item in Bond Street or Piccadilly. It is certainly an exceedingly attractive relic of a far more elegant age, and one that will undoubtedly give its new owner a lot of pleasure when she wears it in public. Vintage Rolex watches from the inter-war period are delightful things to own and handle and it is almost impossible to imagine anyone not being delighted if given a piece like this as a birthday or Christmas gift.
Price £975 GB Pounds
Vintage Watch Brands
Vintage Watch Decades
Vintage Ladies Watches
Vintage Watch Bracelets
Swipwreek Straps
Travel Clock/ Pocket Watches
Home
About
Brand Overviews
By Decade
Reference
Contact Details
Telephone from the UK:
07453 734666
or 07428 051005
Telephone from overseas:
+44 7453 734666
or +44 7428 051005