World War II German Luftwaffe Onda 1943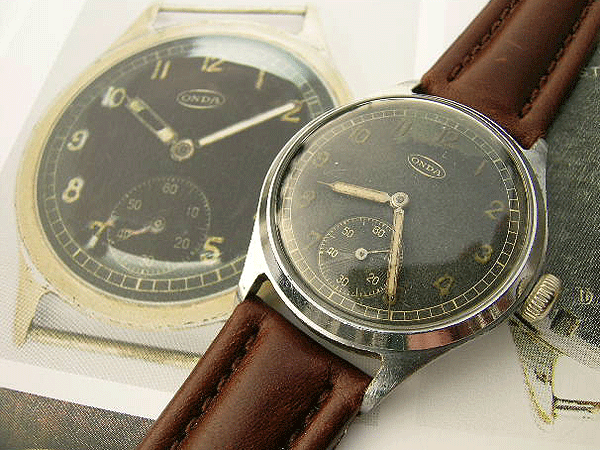 While very few of us would be happy to be associated with Nazi politics, the fact remains that there is something curiously magnetic about artefacts from the Third Reich. We don't have experience in that field, but are well aware that old World War II German daggers, Luger pistols and even cases of ex-Rommel, Afrika Corps brandy change hands for enormous sums at auction. However much we dislike the Nazi philosophy, relics from this horrific period in German history are extremely evocative and as a consequence, much sought after by collectors worldwide.
One of the negative aspects of this popularity has been the emergence of fakes on an epidemic scale. Tank commander's goggles, iron crosses and even flying jackets have been carefully reproduced to fool the unwary, and one must be so careful when entering this field. The number of wristwatches described online as World War II German military that are in fact nothing of the sort is nothing short of remarkable. If there ever was an area of watch collecting where fakes outnumber genuine items in the marketplace at least a hundred to one, then this is it.
This particular watch dates from 1943 and is guaranteed to be totally genuine and authentic throughout. It is not some sort of nonsense created from a civilian model, but is a totally legitimate item that is of a standard that could be displayed in London's Imperial War Museum at any time. It certainly isn't the cheapest available, but on the other hand, it would seem far wiser to purchase a watch that is correct and authentic, albeit at a higher price, than one that merely looks the part but would never stand up to expert scrutiny.
Like the British government, the various branches of the German armed forces ordered wristwatches to a predefined military specification. These were not bought from a single source but from a variety of manufacturers that had proved by the submission of initial samples that they were capable of meeting the required quality standard.
This particular watch was supplied to the Luftwaffe by Onda in Switzerland. It is remarkable that the Swiss watch industry provided military watches to both the German and Allied military without, it appears, any friction ever being generated.
In common with almost all the wartime Mark VII and X wristwatches used by the RAF, this German equivalent was built around a nickel plated brass, rather than steel, case. In most instances, time has not been kind to the plating on these pieces and the brass is usually clearly visible, but the condition of this one is extremely good. There are certainly some light imperfections to the case here and there, but they can only really be noticed with the aid of a jeweller's eyeglass and we have not seen a better preserved example in the last few years. Importantly, this case has not been re-plated and remains in its original state.
The case back is in stainless steel and is threaded onto the case body, suggesting that some degree of water resistance may well have been stipulated in the original specification for this model. "Stahlboden" is stamped on the case back outer, which, though my German is limited at the best of times, we can probably take to translate as "steel back".
More interesting to the collector is the number here D 652778. On those watches supplied to the German military during World War II, the letter before the serial number identifies the branch of the armed forces to which the item was delivered. The "D" here stands for "Dienstuhr", meaning service watch, and was the relevant letter for the Luftwaffe. When accompanied with an "H", the resulting "DH" stamp stood for "Dienstuhr Heer", this translating as "service watch army". "KM" in this context stands for Kreigsmarine, which translates literally as "war navy", and so on. Having studied a number of these models over the years, they all seem to have been of a uniformly high standard and there doesn't appear to have been a disparity of quality between the watches intended for the various military arms. Those marked as here do command a price premium with enthusiasts, but this is because of the additional glamour associated with the Luftwaffe and not because of any improved specification over the more commonly seen army versions.
The serial number after its prefix letter is unique and refers to a particular watch among a larger batch. It is worth noting that these watches did not become the property of the person to whom they were issued unless they were paid for, but remained on loan and in the possession of the German government. Surviving examples of army and Luftwaffe pay books from World War II have wristwatch serial numbers stated on them together with the comment "paid" or "on loan", and each individual was responsible for his specific watch until after he left service, at which point it was returned to his employer.
It is relatively unusual to find a German military watch with its D or DH number in tact. After the war, many of those who had managed to retain their watches were keen to obliterate their military ties by polishing this number out completely. In recent years, we've increasingly seen a trend towards re-stamping phoney numbers onto case backs that had lost these years ago. The stamping on this watch is completely original, and if records exist, it should be possible to trace its use in World War II back to a specific member of the Luftwaffe.
The black dial here is totally original and has never been restored at any time. Its surface is generally very well preserved, but it would be false to describe it as almost mint and there is some deterioration in places. "Onda" is printed in white above the centre point and a double minute track runs around the dial's outer edge. All this printing is very clear, though its shade has become marginally creamier over the last six decades.
Both hands are completely original and their radium based luminous material matches that used for the large Arabic numerals around the dial. To some extent, this luminous paint has deteriorated and its overall colour is more of a drab khaki shade that the bright lime green that it once was. This ageing comes from the unavoidable chemical changes that occur in radium over long periods of time, and no experienced collector would ever criticise a watch because of it. The key point here is that both dial and hands are completely original and untouched.
Given the role that these watches played in the Luftwaffe, it is predictable that the movements contained in them would be of a very high quality. Onda was not a movement manufacturer in itself, but instead purchased ebauches, movements in their most basic form without finishing or components, from Adolph Schild in Grenchen. Founded in 1896, Schild was unquestionably one of the most important movement makers of the Swiss watch industry's golden age and its output was of a remarkably high output. The company's clients at one time or other included almost all the companies that we regard as household names today, and Ulysse Nardin, Girard-Perregaux and Rolex all offered mechanisms that were based around ebauches purchased from Schild.
This movement is Schild's calibre 1130, which is a hand wound, 15 jewelled unit in a large, 13 ligne ( the ligne is the unit of movement width measurement used as standard in the Swiss watch industry) size. One point of note is that the 1130 was already equipped with a shock protection feature, which was not present on British military watches at this time. This is the classic movement used in World War II German military watches and if you are intending to include only one of these models in a collection as a representative sample, it should unquestionably contain a 1130. So strong is the link between the 1130 and the Nazi era that it is often referred to by enthusiasts as the "Wehrmachtswerk", the Wermacht, of course, being the umbrella name used to describe the German armed forces collectively between 1935 and 1945.
Depending on which company was using the 1130, it ended up in assembled watches with a variety of finishes. Onda made a superb job of processing these units and covered the bridges with widely set machined stripes. Rhodium plating was used throughout and this remains in perfect condition. There is no corrosion or even dulling to any part of this movement and the whole thing is in a virtually perfect state. "AS 1130" is signed next to the winding wheel. Having been serviced on a regular basis, this watch works perfectly and has no measurable mechanical wear. Provided it is cleaned and lubricated every three or four years in the future, there is no reason whatsoever why it won't out-last its next owner with ease.
The watch has been fitted with a brown leather strap that fits it perfectly, but if one wishes to be technically correct, this is not the appropriate strap for this model. If we study period photographs of Luftwaffe officers during the War, their watches are on very distinctive straps that were actually secured around the strap bars by means of a large rivet on each side of the case. It is difficult to describe these clearly and, as far as we know, these are no longer produced today. However, if reminded to do so by the buyer, we are more than happy to photocopy a picture of this strap type and include this when posting the watch out. With this as a reference, if a skilled leather worker is found it might well be possible to produce a historically accurate modern replica that would look superb on this piece.
Conrad Knirim's superb book "Military Timepieces" includes some very detailed close up photographs of an Onda on page 438 that is literally identical to the one here, with the same striped Schild 1130 movement. Mr. Knirim's watch also dates from 1943 and was issued to the Luftwaffe. The serial numbers of the two pieces are very close, with this one, D 652778, just slightly earlier than the example in the book, D 656115. We have used the relevant open page of the Military Timepieces book as the background of the photos accompanying this item.
Z. Wesolowski's book "A Concise Guide to Military Timepieces" devotes a section to German World War II models. A close up shot of the Schild 1130 movement is found on page 71, with the note that this dates from 1940.
The price of this watch is £645 GB pounds, which, for a piece that may well have been used in active combat inside a Meschersmitt ME-109 or Stuka dive bomber, represents remarkably good value. In our business, we cringe when we see some of the abominations passed off as World War II German military wristwatches on various online auction sites, particularly those awful pocket watch conversions that are typically described as "oversized pilot's watches". The example for sale here is completely correct and is exactly what it purports to be. When it was issued by the Luftwaffe in 1943, it looked exactly the same, obviously except for some wear over the intervening period, as it does now. It has its original case, dial, movement and authentic Luftwaffe markings. Provided it is treated with care and not allowed to deteriorate, it will always appreciate in value in the future and be a much sought after collectible.
Price £645 GB Pounds
Vintage Watch Brands
Vintage Watch Decades
Vintage Ladies Watches
Vintage Watch Bracelets
Swipwreek Straps
Travel Clock/ Pocket Watches
Home
About
Brand Overviews
By Decade
Reference
Contact Details
Telephone from the UK:
07453 734666
or 07428 051005
Telephone from overseas:
+44 7453 734666
or +44 7428 051005