Smiths Deluxe gold boxed Everest dial 1955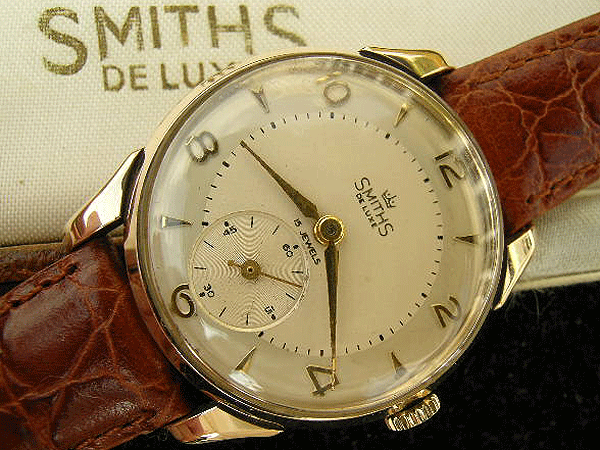 Just occasionally, we deliberately offer watches that many buyers wouldn't normally associate with our website. The majority of our timepieces are high value rarities that tend to be purchased by established collectors who appreciate just how unusual these are, but we are very keen to ensure that we are not regarded as some kind of elitists. Accordingly, from time to time we include a few more controversial items that are perhaps at a slightly lower price level than our normal fayre, but in every case, are chosen specifically on account of their being obviously undervalued at the present time and therefore likely to appreciate in the future. We are fundamentally opposed to the perpetuation of the belief that vintage wristwatch collecting is only a hobby that can only be taken up by those with tens of thousands of pounds to spare. Certainly, as with everything in life, the most desirable pieces will always be expensive, but conversely, it is quite possible to buy a genuinely collectible vintage wristwatch, that has a legitimate history behind it and that will only ever rise in value, for, literally, just a few hundred pounds.
This watch is particularly valid in this context on account of it having been manufactured in England, as opposed to Switzerland, the country that we have now come to regard as the natural home of the luxury timepiece. While to find an English made watch today seems rather odd, in fact, before 1900, the English were the world leaders in the creation of high grade pocket watches, with the Swiss only coming to the forefront after they adopted the widespread use of machines and mass production techniques. Even in the pre-World War I era, the British buying public would have automatically associated the finest watches with domestic manufacture, and it was only later, largely as a consequence of it being unable to compete with the low prices of foreign imports, that the British horological industry would finally become extinct.
In many ways, the Smiths company was a throwback to this earlier era. Based in Cheltenham, S. Smith & Son, to give the firm its full title, was called upon in the latter stages of World War II to supply the British government with aircraft instruments, military pocket watches and, eventually, wristwatches, these appearing for the first time in 1945. In a classic case of closing the stable door after the horse has bolted, the government realised that, after neglecting the domestic watch manufacturing industry for decades, the country entirely relied on Switzerland for its military timepieces, and its awarding of contracts to Smiths was altogether a matter of too little, too late.
This particular watch was manufactured in 1955, two years after Smiths had its proudest moment. On the 29th May 1953, the summit of Everest was first reached, an event that captured the imagination of the world. Two climbers were present at the final push: Sir Edmund Hilary and Tenzing Norgay. Being the only witnesses to this historic event, the two men made a pact that they would never reveal who was the first to stand on the summit, which was extremely fortuitous for the Rolex company, which supplied Norgay with the watch he used on the climb. This ambiguity created a situation in which Rolex could imply that its product had been the first to stand on the ceiling of the world while, in truth, it could never be sure that this was the case. In reality, both Rolex and Smiths were official suppliers of timepieces to the 1953 Everest expedition and had equal reason to make this claim, but it was the exact model for sale here that was worn by Hilary when, as revealed on his deathbed, he made the final steps to be the first at the summit.
Largely, and quite unjustly, forgotten as a consequence of being swept away by the giant Rolex publicity machine, Smiths promoted its watches at the time with full page adverts that boasted of its Everest expedition success. An example of these is reproduced on page 242 of James Dowling's excellent book "Rolex Wristwatches, The Best of Time" where a close up shot of the model here is shown against a backdrop of the Everest peak, with the caption below it "I carried your watch to the summit. It worked perfectly" being attributed to Sir Edmund Hilary. Also here is the slogan "As officially selected by the British Everest Expedition".
Today, the majority of collectors will have very little interest in Smiths timepieces, which is largely a consequence of the Swiss watch industry being in denial about how good these watches actually were. This example is a gem, manufactured to extremely high standards and in almost mint condition throughout, yet it can be purchased for less than a thousand pounds, a figure that would buy absolutely nothing in gold by one of the recognised Swiss luxury brands from the same era. There is nothing at all second-rate or intrinsically wrong with Smiths watches, just the opposite in fact, but because we're conditioned to the presumption that any worthwhile collector's timepiece originated in Switzerland, and on account of there being no marketing hype in the popular press about vintage Smiths products, these have simply been ignored.
In every respect, this is an exceedingly high grade item that could hold its own in terms of quality with many Swiss vintage watches costing three or four times its price. Its condition is literally almost mint, and we would question whether it has ever been worn on more than half a dozen occasions in the past. Its large (the watch has a width of 33mm) case is among the thickest and heaviest that we have ever encountered. This is decorated internally with a beautiful engine turned pattern and carries a full set of British hallmarks, these telling us that it was assayed as domestic solid 9 karat gold in Edinburgh 1955. Also present is the individual serial number for this housing, 35073, the wording "London Made" and the "BWC" maker's mark, confirming that it was manufactured by British Watch Cases Ltd. Based at 236-240 Pentonville Road, London NW1, this company was one of the most accomplished of all the UK case makers, and its work appears regularly surrounding numerous high grade Swiss movements, the Swiss manufacturers often importing only uncased movements to the UK and having these housed domestically in order to avoid high tariffs on imported precious metal . The standard to which its cases was finished was second to none, and we would state quite unequivocally that the housing here would stand favourable comparison to any of its Swiss made equivalents from the same period.
The case back outer has a highly decorative engraved dedication, this reading "Presented by the Directors of Wm Hudson & Sons ( W'Ton) Ltd to J. Haycox in Appreciation of 11 years Loyal Service. August 1958". Notice that this inscription is dated two years after the watch was hallmarked, suggesting that it was either given as a used item, which seems unlikely, or had been in stock for this period of time before being sold. It is also possible that J. Haycox purchased a small batch of similar watches to obtain a quantity discount, and then had these engraved as needed as employees retired. While I always prefer to leave such markings in place, this is a very light engraving, and could be polished out at any competent jeweller's with just a few minutes work if the watch's new owner prefers to have a completely smooth back.
Similarly, however deliberately critical we try to be, we cannot fault this dial. Manufactured in England, its quality is of the very highest level. This is a two tone dial, on which an outer area in very light French white surrounds an inner circle of a slightly darker shade. The condition of this component is almost mint, and it is completely original in every respect. The signature "Smith Deluxe, 15 Jewels, Made in England" is clearly visible in black, and has not in the least bit faded with the passing of half a century. The original gilt hands, Arabic numerals and arrowhead batons are in almost perfect condition, with not even the slightest dulling to their surfaces.
Studying the movement inside this watch under high magnification, there are a number of observations that are worth noting. The quality of this mechanism is extremely high throughout, but its construction and design were already dated, even in 1955. If we didn't know the exact age of this watch but had to assess this from its movement, we would have been confident that it originated from the early to mid 1930s. In many ways, this shouldn't be taken as a negative aspect, as many movements from this period were utterly beautiful and are extremely collectible today, but it is a point that should be made, more than anything perhaps to give us some clue as to why Smiths, as a business, was doomed to failure. Whereas its Swiss competitors had adopted a multi-plate design concept even before World War II, Smith was still using a huge plate of the sort that we would expect to find on much earlier mechanisms. With its frosted gilt finish and distinctive appearance, it is impossible for the experienced collector to look at this unit and not immediately be reminded of IWC's calibre 64, the mechanism that this highly regarded Swiss company used for its first officer's wristwatches in the World War I period. It should be stressed that there is nothing wrong with this dated theme, any more than there is anything wrong with motorcars manufactured in the 1970s or '80s when compared with today's new models, but offering such antiquated production in a highly competitive marketplace was never going to a recipe for commercial success.
Having been serviced on a regular basis since new, this movement remains in almost perfect condition, and works perfectly. Its condition can only be described as almost mint throughout, and the whole mechanism gleams brightly like that in a brand new watch. Curiously, Smiths never signed its movements, but, unlike even the majority of the Swiss luxury brands, assigned each one an individual serial number, in this instance C397885. Also present is the wording "Made in England, 15 Jewels". For those with access to a comprehensive horological library, it is worth mentioning that this same movement is pictured in close up on page 307 of Helmut Kahlert's book "Wristwatches, A History of a Century's Development", inside a military issue Smiths manufactured for the British RAF in 1968. It is telling of the quality to which the company worked that it was one of only a relatively small number of concerns that were approved as suppliers of pilots' watches to the British government.
Remarkably, the original box in which this watch was sold when new is still with it today, signed inside its lid with the same "Smiths Deluxe" emblem that we see also on its dial. This box isn't mint, but it is extremely tidy and, in itself, a collectible item. When I bought the watch, it was still fitted with its original strap, but this had hardened with age and was no longer useable. We have replaced it with a suitable substitute, and this remains in perfect condition, having never been worn.
In summary, for the buyer who wants incredible value in a vintage timepiece, but doesn't want to spend an awful lot of money, this might be just what the doctor ordered. For several reasons, we would have no hesitation in recommending this watch to a purchaser buying with a view to long term investment gain. For years now, Smiths wristwatches have enjoyed a cult following among those knowledgeable enough to appreciate their high quality movements, but have never been of consequence on the mainstream collecting circuit, largely because very few buyers ever took the trouble to examine them in detail. Recently, in the last five years, we have noticed a growing interest in vintage Smiths pieces, and it is worth noting that for the first time in 2003, in its 19th June Olympia sale "Important Clocks, Watches and Wristwatches", Sotheby's included six original Smiths examples, two in gold and four in steel, including a 1956 Deluxe that was almost identical to the one here, with the exception of it not being boxed and not having the Everest dial format on our example.
Having been involved at first hand in the vintage wristwatch market over the last twenty five years and seen similar patterns before, we would confidently predict that the next five or six years will see Smiths pieces become far more recognised, and far more costly, than they are today. To suggest that watches like the one here will suddenly become worth thousands overnight would be absolute nonsense, but there is definitely a noticeable increase in interest in the classic products of this Cheltenham house as more people realise that they were no budget relations of the Swiss models, but actually direct competitors simply manufactured in another country. The fact that a major auction house like Sotheby's will now include vintage Smiths models in its specialist wristwatch sales gives a seal of approval to buyers who may have been sceptical in the past, but what is really needed to push the price of these skyward is a book on the Smiths company and its various models. If this is written, and our guess is that sooner rather than later it will be, then we'll see watches like the one here multiply in value very quickly.
As a final note to anyone intending to buy vintage Smiths watches as an investment, we would suggest that they be very critical of condition and originality. At the moment, Smiths pieces have not yet been "discovered" by a wide audience, and consequently, there are still relatively large numbers of these in circulation, though most are in fairly poor fettle. As a consequence of this reasonable availability, a buyer can afford to be very selective about what he purchases. We were delighted to find the watch here, simply because it is without doubt the best preserved vintage Smiths in solid gold that we have ever seen. Given the low current value of these timepieces, it would seem far wiser to pay a slight premium to buy a really superb example, like this one, than to cut corners and scrape into the market with a battered piece. These watches are still very, very, undervalued, and the man who buys twenty or thirty near mint examples at present prices and sits on them for a decade will not regret his actions.
We would also recommend that one be selective about the models chosen. Of all the Smiths variants, we would pick the one here, the Deluxe, for investment, simply because this was the exact model worn on the wrist of Edmund Hillary when he reached the summit of Everest. This should not be confused with the Smiths Everest, signed as such on its dial, which was produced only after the ascent in commemoration of this event, but was not the model which was actually worn at the great moment. Even when buying a Deluxe, be sure that its dial layout is identical to the one on Hillary's watch. The company offered this model in several dial layouts, and our hunch is that, as the profile of Smiths watches rises among the collector fraternity, that it is the exact watch for sale here, with this distinctive layout used on the 1953 Everest ascent timepiece, that will become the most sought after among its type.
The inevitable question has to be asked, just how much is this watch worth at present ? The two gold Smiths mentioned above that were sold by Sotheby's at Olympia reached a level of just over £600 each, with the winning bidder paying an additional 20% buyer's premium on top of the hammer price. We would say that this was an excessive price that exceeded what they were actually worth in the general market, and reflects the enthusiasm of a buyer keen to purchase something from this prestigious sale on the day at an affordable level. Almost a decade on, we have priced our watch at £875 GB pounds, which is far from greedy.
As a parting word, if anyone really needs convincing that this watch represents almost ludicrously good value, they should cast a glance into the tawdry downmarket jeweller's windows that proliferate in High Streets up and down Britain. The most utterly awful watches, with cheap battery powered movements and the thinnest 9 karat gold cases imaginable, are offered at prices that are directly comparable to the expected selling price of this item. Rather than being a non-descript piece with no inherent worth, this is a genuinely significant model, the first watch to be worn at the summit of Everest, in a very heavy thick solid gold case, with a high quality all mechanical movement by a maker with a clearly defined history and background. At the current painfully undervalued price, this is one of the most obvious choices for investment purchase that we can think of. In the immortal words of George Gershwin in his 1940 song I Got Rhythm, "Who can ask for anything more ?".
Price £875 GB Pounds
Vintage Watch Brands
Vintage Watch Decades
Vintage Ladies Watches
Vintage Watch Bracelets
Swipwreek Straps
Travel Clock/ Pocket Watches
Home
About
Brand Overviews
By Decade
Reference
Contact Details
Telephone from the UK:
07453 734666
or 07428 051005
Telephone from overseas:
+44 7453 734666
or +44 7428 051005