Mido Oceanstar Commander steel on bracelet 2007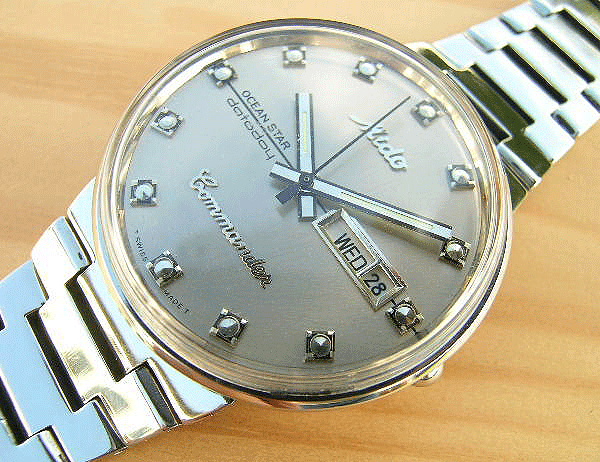 One of the most interesting challenges for us, and one we enjoy enormously, is supplying customers with legitimate, classic investment standard watches when they only have a very small budget available to them. A lot of our business involves the supply of rare early Rolex watches to buyers who are extremely well soled with large amounts of disposable income that they wish channel into building up a portfolio of museum standard pieces by the famous names. Just as relevant though to us is the gentleman who doesn't perhaps have the same sums available to him or perhaps is just putting his toes into the vintage watch marketplace at a more modest level. We always have time for such buyers and find it very satisfying to send them away with something worthwhile and genuinely collectible that has not broken the bank.
At every step of the buying process, we aim to dispel the myth that high grade vintage watches can only be obtained by spending large amounts of money. This simply is not the case, unless one is fixated by the major brands, all of which will now command a high price premium, whether bought from us or in a sale by Sotheby's, Christie's or Bonhams. Buyers will gladly pay over the odds to own something unusual by Rolex, Omega or Jaeger LeCoultre, to the extent that we are the first to admit that early models by these brands no longer offer excellent value for money. But if we decide to look away from these household names and consider other marques, often with some superb history behind them, we can still unearth some really beautiful watches at much lower price levels.
This Mido Oceanstar Dataday Commander is the perfect example with which to illustrate this point. A cult item that has been in continuous production since its launch in 1959, the Oceanstar is a very high quality, superbly finished watch that has a strong collector following and a movement that is every bit as sophisticated as that found in many vintage watches for sale at ten times its value. Just as much a design classic as the Omega Seamaster or the Rolex Oyster Perpetual, the only reason for its undervaluation is simply the low profile of the Mido company today. The average man in the street has never heard of Mido, which basically means that the only people who actively pursue these watches are serious collectors who understand what made them so good in the first instance.
This particular Oceanstar dates to 2007 and is in almost as-new condition throughout. We purchased it from its original owner who had ordered it specially from his local jeweller in Norwich to replace an earlier example that he bought while serving in Jamaica with the Royal Navy in the 1960s. It has only ever been worn on a tiny number of special occasions as a dress watch and to all intents and purposes, it can be considered virtually new-old-stock. Even when examined closely through an eye glass, its heavy steel case and bracelet are almost indistinguishable from new, with only the faintest of imperfections that may have occurred with normal shop handling before the piece was even sold for the first time.
One of the really appealing things about the Oceanstar is its high quality, heavy feel. This is a very large watch with a diameter of 36 mm, but its case and bracelet are particularly thick and over-engineered. Going right back to the 1920s, Mido watches had a reputation for robustness and certainly all successive generations of the Oceanstar have lived up to this precedent. While not a diving model per se, it would be reasonable to class the Oceanstar as a sports model and it could be worn equally appropriately with a pair of faded denim jeans and a casual sweater or with a bespoke business suit and tie.
The original Oceanstar of 1959 featured a one piece monocoque case into which the movement was fitted through the front. This was very much a trend in the high grade watch industry at that time, with Omega, Longines and Jaeger LeCoultre taking the same approach with their Seamaster DeVille, Admiral and Master Mariner models respectively. The great advantage of this arrangement is that it did away with the need for a separate case back, which had always been a vulnerable aspect of waterproof cases built along traditional lines. For the Commander, which was a top of the range extension to the Oceanstar line, this same format was used. There can be few luxury watch cases that are as strong and impenetrable to dust and damp as those on the Oceanstar, which goes a long way to explaining why almost all the examples that we see have excellent original dials, even when their cases are badly scratched and have clearly been abused.
As we would expect on a watch that is only five years old, this dial is faultless. Its silver surface is unblemished and not at all faded by sunlight. It could be described without exaggeration as being mint. On an older model, perhaps from the 1950s or '60s, we have to be realistic at times and accept some degree of dial ageing as inevitable. On a modern piece, there can be no excuses and if such a watch is being bought as a serious investment for the future, its dial must be perfect.
It hardly needs to be said that this is an original dial. In fairness, we see very few watches under ten years old with dials that have been refinished, but unfortunately they are out there, usually on examples that have been resurrected from a water damaged state, and it is always worth mentioning that a dial is original and untouched.
"Mido" is signed on the dial in the form of an applied chrome emblem, with "Commander" below the centre point. "Ocean Star, Dataday" is printed to the left of the day/date frame with "T Swiss Made T" appearing along the very bottom edge. The "T" in this context tells us that the luminous paint used on the hands has an active ingredient based around the tritium element, rather than radium as was used on earlier, pre-1960s, models.
All three hands are original and in superb condition. The chrome finish to the hour and minute hand is bright and not tarnished, with no ageing at all to the black surface of the second hand.
The winding crown is also original. This is an important point as its design formed a key reason for the Ocean Star being such a success. Unlike many other so-called sealed models, the Ocean Star was not only waterproof, but also air tight. This was achieved by a highly ingenious crown and stem arrangement patented by Mido as the Aquadura. If the crown has been changed, a significant part of the attraction of this model has been lost. We always recommend buying first rate examples of vintage watches, like those we specialise in on this website, even though they will inevitably be more costly to acquire in the first instance.
While originally an independent concern, Mido was absorbed into the Swiss Swatch Group conglomerate in 1986. This enormous enterprise is the parent company behind many of the world's most highly regarded luxury watch brands including Omega, Breguet, Longines and Original Glashutte. While it is easy to become misty eyed about the days when these various houses were independent, it is perfectly true that after incorporation into the Swatch Group, they were able to benefit enormously from the expertise of each other. Mido originally processed movements by A Schild of Grenchen, a much celebrated maker that supplied its mechanisms to many of the key houses, including Rolex, in the period between the two world wars. Again, this made sense as the relatively small company could effectively use its limited resources on refining a base product manufactured by a larger business to a very high standard, rather than have the vast expense of creating ebauches ( an ebauche is a movement in its raw, basic form, without any components or finishing) from scratch.
Schild was absorbed into ETA, the movement making giant now also owned by the Swatch Group, in 1932 and it naturally followed that Mido began to use ETA calibres as the basis of its movements. ETA mechanisms are universally acknowledged as some of the finest in the world and even today, are purchased by Rolex, IWC, Omega, TAG Heuer and a host of other top tier brands.
The movement here is based around the ETA 2836-2. Mido bought these units in a bare bones form from parent ETA and reworked them substantially for the Oceanstar. Launched in 1982, the 2836-2 was a development of calibre 2824, this having been a staple of the ETA range since the mid-1960s. The key difference between the earlier 2824 and this version is the raised running speed of the latter, with a fast balance rate of 28800 half beats per hour increasing its accuracy considerably. By the time the unit here was created, this design had been refined to perfection and was utterly dependable in even the most hostile of operating conditions.
In every respect, Mido's modified version of the 2836-2 is a luxury product and impressive on a variety of levels. It is beautifully finished and can embarrass several makers whose watches run into multiple thousands of pounds at new retail level. Back in the 1950s, the Oceanstar was particularly notable for the ease with which it could be serviced and even in its updated form, this attribute still applies now. While very solidly engineered, there is nothing inside this watch that could not be serviced by a good local watchmaker and while Mido will undertake cleaning and lubrication of its classic models at its factory in Le Locle, maintainence can be performed perfectly well locally at a reduced price.
For the thinking man, the Oceanstar represents something of a bargain. The current TAG Heuer calibre 5, used in the Aquaracer model, is based around exactly the same ETA 2836-2 movement. In steel, the reference WAJ2180.FT6015 Aquaracer has a retail price of £2150 GB pounds and has been acclaimed in the specialist watch press as very good value at that, but inside the model here is a movement built around the identical ebauche in an arguably more substantial, better finished case. Similarly, Oris, another luxury brand that has made great strides in recent years, had achieved success with its calibre 690, which also uses the ETA 2836-2 as its foundation. It is not difficult to spend a considerable sum on a watch by a well known brand and find that its movement is available in other models at often substantially lower prices, hence our comment that the Oceanstar is a smart choice for the intelligent buyer who wants the highest benefit to cost ratio available on the market.
As a consequence of regular servicing, this watch works perfectly. It runs very smoothly and auto-winds with the slightest motion of a wearer's wrist. Looked after properly and treated to routine cleaning and re-oiling every three or four years, there is no reason why it shouldn't be performing perfectly fifty years on more from now, just as many first generation Oceanstars still are today. Mido built these flagship models to last and they are a world apart from the disposable throwaway fashion watches that litter the high street jewellers, often costing several hundred pounds each.
Mido offered the Oceanstar on a leather strap or, for an extra sum, the very high grade steel bracelet here, complete with a Mido signed clasp. With solid, not pressed, links, this style of bracelet is very similar to that found on early Omega Speedmaster models from the 1960s. Once again, it is worthy of comment that such a well made, substantial bracelet can be acquired on the vintage market for such a small amount of money. It is food for thought that many steel Rolex and Omega bracelets have used values that are in excess of the asking price here for both watch and bracelet, yet are not in any way superior in quality.
An important point worth checking, this bracelet is of full factory standard length. It has never been shortened and at 182 mm including the watch head, will accommodate all but the very largest of modern wrist sizes. Online, there is a tendency for the more unscrupulous sellers to "forget" to mention the size of shortened bracelets in their descriptions and we regularly hear tales of buyers eagerly awaiting the arrival of their purchases, only to find that these have bracelets that do not fit them. Locating extension links for vintage bracelets is a trying experience and we would recommend buying something with a full length bracelet in the first instance.
As we would expect for such a long running model, the Oceanstar is featured in many of the books related to classic Swiss luxury watches:
Three full colour pages are devoted to the Oceanstar ( p 210, 212 and 213) in Heinz Hampel's book "Automatic Wristwatches From Switzerland". Two of these are in steel and the other in 14 karat gold. It is very interesting to see just how little the design concept behind this model has changed in five decades.
Again in colour, two examples of the Oceanstar are pictured on page 285 of Gisbert Brunner's book "Wristwatches". Both are in steel and despite being from the 1960s, look indistinguishable from the watch for sale here.
The actual model here, with the same distinctive steel bracelet, is given the honour of a full page in colour ( p 131) in Fritz von Osterhausen's book "Wristwatch Chronometers, Mechanical Precision Watches and Their Testing". The following page also shows a variety of classic Oceanstars from the 1960s, in both steel and gold.
We have priced this watch at £325 GB pounds, which makes it possibly the least expensive model on our website. At this level, the value for money it offers is genuinely quite amazing and we cannot recommend it highly enough. It is difficult to see how anyone could ever regret the decision to buy a classic Oceanstar. Sadly, over the last three or four years, the Oceanstar has fallen prey to the fakers and there are some very accurate replicas on the market that can be difficult for the novice to weed out. This piece is authentic throughout and the best of its type for sale anywhere. The quality in these watches is worthy of much higher prices than they actually change hands for, simply because they remain overlooked by the general public.
One of the very appealing things about the Oceanstar is that in over half a century, its appearance has remained almost unchanged. Like a Burberry trench coat, complete with the iconic D loops on its belt, or the ubiquitous Zippo cigarette lighter, essentially unchanged since the 1930s, the Mido Oceanstar is recognised by the cognoscenti as an icon that was correctly designed in the first instance and has not required updating in the intervening time. It will be noticed that we have included a photograph with this listing of a period Mido Oceanstar advert from 1962 that we found in our archives. In almost every detail, the design of the watch remains unaltered. In every way, the Oceanstar deserves its cult identity and for the buyer wanting something timeless and of high quality, without spending a vast sum of money, this delightful item might be just what the doctor ordered.
Price £325 GB Pounds
Vintage Watch Brands
Vintage Watch Decades
Vintage Ladies Watches
Vintage Watch Bracelets
Swipwreek Straps
Travel Clock/ Pocket Watches
Home
About
Brand Overviews
By Decade
Reference
Contact Details
Telephone from the UK:
07453 734666
or 07428 051005
Telephone from overseas:
+44 7453 734666
or +44 7428 051005