Eberhard with unusual waterproof case, steel 1951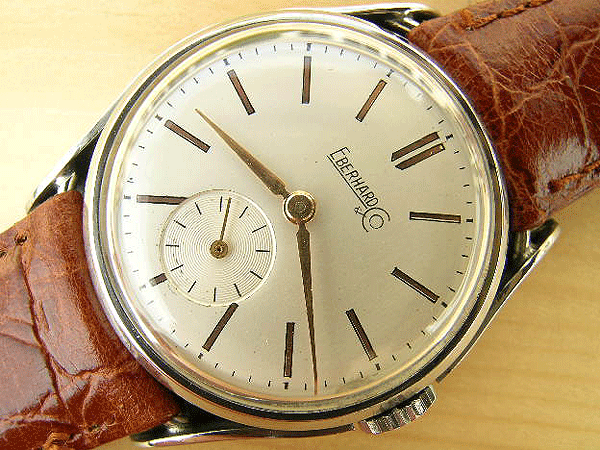 This is one of those really quirky watches that represent what seemed like a good idea at the time they were produced, but quickly vanished without trace shortly afterwards until they were re-discovered by modern day collectors. Founded in 1887, Eberhard was, and in fact still is, a niche Swiss brand that had something of a reputation for looking at things in a slightly different way and coming up with fascinating technical solutions to problems that nobody really worried about in the first instance. The quality of its work was second to none, and much to its credit, Eberhard was one of the few top tier Swiss houses that actually manufactured its own movements entirely in-house without purchasing any components from external suppliers. While still at much lower levels than those of their Rolex and Omega equivalents, the values of good, all-original vintage Eberhard examples have shot up over the last three or four years as what was a decade ago a purist's brand that was largely unknown outside the cognoscenti became appreciated by a much wider group of informed internet based enthusiasts. For those not familiar with the Eberhard story, it is well worth a visit to the company's official website where a very interesting history of its technical achievements is given.
While its movement is extremely well engineered and finished, what makes this particular model so fascinating is its curious waterproof case. The case rear is a very long curved piece of steel onto which vertical sides have been added. Between these sides are semi-circular fixed strap bars and a circular, for want of a better term, canister into which the movement is placed from the front. Once located, the mechanism is locked down by means of a very heavy bezel. In a stroke, this construction does away with traditional lugs, detachable spring bars and the case back to case body joint that has always been the Achilles heel of any waterproof watch. In almost thirty years in the vintage watch business, we have never seen another example of this model, or indeed encountered the same construction by any other maker, and we would suspect that this item may have only been produced in relatively small quantities in the first instance.
The condition of this watch is literally almost perfect throughout. Looking at it closely under high magnification, we would go so far as to suggest that it has probably only ever been worn on a handful of special occasions in the past, making it ideal for the buyer looking for something genuinely exceptional that he can acquire as a strong investment vehicle. The case back outer is signed "Eberhard & Co" in the company's distinctive art deco typeface, together with "Acier Staybrite", this being a reference to a type of stainless steel that was prominent in the 1930s, '40s and '50s. Also here is the serial number 247538, this stamping being of full depth and indicating that the case has never been polished in the past. Having never seen this model before and it not appearing in any of the reference books with sections devoted to Eberhard, we are a little bit at a loss to date it precisely. Comparing its serial number to those on other post-war Eberhards, the years of which are known, it seems pretty safe to assign this a 1951 production date, and certainly, this is in-keeping with both its overall cosmetic appearance and its movement type.
In French white, this dial is effectively as new, and has never been restored. Even when studied under an eyeglass, there is not even the slightest hint of discolouration or dust staining. One tends to find that a positive side effect of vintage waterproof watches is that their dials have survived in a much better state of preservation than those in their non-sealed equivalents. Given that that there is only a single joint, that between the bezel and case body, on this model, there really isn't any opportunity for the ingress of any damaging agents, and consequently, despite being over half a century old, this dial is literally virtually faultless.
The layout of the dial is extremely attractive, with gold batons matching perfectly the original alpha shaped hands. A single minute track runs around the outer edge, and the stylised "Eberhard & Co" emblem appears above the dial centre point.
Anyone intending to build up a collection of historically important wristwatches from the last century must include in this at least one Eberhard. The company was one of only a handful of Swiss houses to manufacture its own movements entirely in its own factory at La Chaux de Fonds, and as a consequence of this, any Eberhard mechanism is completely unique and totally different to others by the firm's competitors. So many of the major brands relied on movement blanks purchased from ETA or Schild, but Eberhard always remained totally independent and autonomous, which was an incredible achievement for a business that only ever operated on a relatively small scale. The quality to which Eberhard movements were built and finished by hand was exceedingly high, and we wouldn't hesitate to consider these as the equal of those by both IWC and Jaeger LeCoultre from the same era. Eberhard certainly isn't unknown, far from it in fact, but its fame is not spread widely with the general public and it remains a favoured brand with experienced watch collectors only, which is rather odd when its technical contribution as a pioneering "manufacture" is taken into account.
This movement is a hand wound example, signed "Eberhard, 15 Jewels, Swiss Made" on its bridge plate, in a 10.5 ligne size, this being the standard dimension for the majority of mechanisms found in men's watches from the 1950s and '60s. Its condition is virtually mint, and it remains completely original, with no incorrect or replaced components whatsoever. Having carefully examined the mirror polished screw heads for signs of screwdriver markings, we would suggest that, aside from routine servicing, this unit has never required repair work. It works perfectly and is in the very best of mechanical health. Eberhard today still takes an active interest in its past classics, and continues to undertake servicing on its vintage models, though it has to be said that this is expensive. Having said this, while the movement here was built to an exceedingly high standard, it is not enormously complex, and if a good local watchmaker is found, he will have no difficulty in performing the clean and lubrication service it needs every three or four years, at a much lesser cost than the same work offered officially by Eberhard.
We genuinely were not sure how to price this watch. We typically tend to set prices that are influenced by the sale of similar models sold by Sotheby's, Christie's, Bonhams and the other major London auction houses in their specialist horological sales. In this instance, there is no precedent to follow, simply because we are not aware of another example of this curious watch to surface. It's a beautifully made thing, and exceedingly interesting to anyone specialising in the development of the waterproof wristwatch, but valuing it in a meaningful way is terribly difficult.
After some consideration, we have set a price of £775 GB pounds, this figure largely having been arrived at after taking into account the current market values of other patented waterproof types by Eberhard's competitors. Clip back Omega Marines and similarly cased Jaeger Le Coultres in steel are selling effortlessly at auction for between £2500 and £3000 GB pounds, and this is no lesser watch than either of these. When Eberhard is "discovered" by a wider audience outside its current fan base of purist aficionados, the commercial worth of its best and most interesting vintage work, which this watch represents, will undoubtedly climb to parity with similar models by its competitors. Its heavily art deco influenced styling is attractive and in vogue, and we can confidently predict that the buyer of this item will be very unlikely to ever see its double, this last point being one that, in an age of new luxury watches that are mass produced by the tens of thousand, we find very appealing.
Price £775 GB Pounds
Vintage Watch Brands
Vintage Watch Decades
Vintage Ladies Watches
Vintage Watch Bracelets
Swipwreek Straps
Travel Clock/ Pocket Watches
Home
About
Brand Overviews
By Decade
Reference
Contact Details
Telephone from the UK:
07453 734666
or 07428 051005
Telephone from overseas:
+44 7453 734666
or +44 7428 051005