Omega Seamaster Calendar capped bumper 1952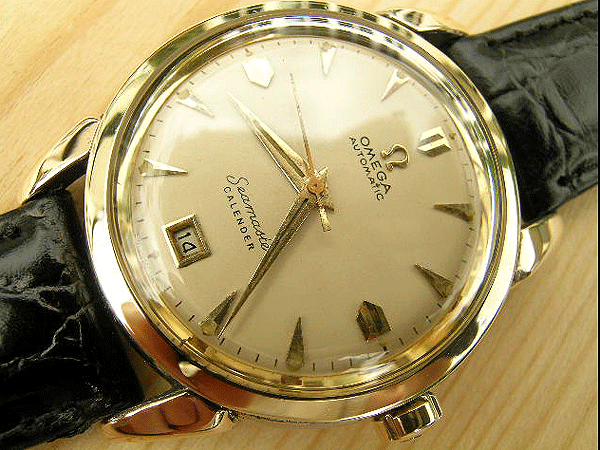 This exceptionally well preserved vintage Omega Seamaster Calendar is a very desirable classic watch of a grade that isn't easy to locate today. With its distinctive date aperture at the bottom of the dial, this first generation Seamaster Calendar model is instantly recognisable, even from a distance, and is undoubtedly one of the most aesthetically pleasing Seamasters that Omega has ever offered. Later vintage Seamaster models would have a calendar feature, but this would be conventionally located at the right hand side of the dial in the 3 o'clock position.
From time to time, as professional vintage watch dealers, we'll buy an item that genuinely confuses us, typically because it has some unusual aspect that contradicts what is generally known about watches of its type. This Omega Seamaster falls into this bracket and as something of an oddity, will be especially appealing to the serious collector. This inconsistency can be explained by an error in stamping its serial number, with the first two digits being reversed, but this in itself makes the watch something of a freak, the top tier Swiss watch houses like Omega making very few mistakes of this kind.
In every respect, this is a classic early 1950s Omega Seamaster. This particular vintage Seamaster model, reference 2627, was launched in 1952 and is historically important on account of it being the first ever Omega watch to feature a date display visible through an aperture in the dial. Exactly as it should do, this watch has an Omega calibre 353 movement, this being a bumper mechanism that was introduced by Omega in 1950 and remained in production only for a short time beyond 1955, after which it was effectively rendered obsolete following Omega's switch over to rotor driven movements in its automatic watches.
What makes this watch such a curiosity is that its serial number theoretically identifies it as having been manufactured in 1969, more than a decade after the 2627 Seamaster reference was retired. Why should this watch, a perfect early 1950s model in every respect, complete with its correct early 1950s hands, dial format and winding crown, have been frozen in time before leaving Omega approximately seventeen years after it theoretically should have done ? Our answer to this question is that when the movement was manufactured, the first two digits of its serial number were stamped in incorrect order, but we are the first to say that in more than twenty five years of daily participation in the vintage wristwatch business, this is not a mistake we have ever encountered before and we don't know for certain that this is the case. The watch is in a superb state and is completely original, right down to the last movement screw, but for some reason, its serial number doesn't conform to the standard numeric sequence that was employed by Omega at this time, unless we reverse these two first digits, in which case, it fits perfectly with every other aspect of the watch as the text book Seamaster reference 2627 specimen from 1952.
This is a gold capped watch, meaning that its case is a mix of stainless steel and gold. It should be stressed very clearly that gold capping should not be confused with the much cheaper process of gold plating. When a gold plated case is created, a base metal case is submerged in an electroplating bath and a very thin layer old gold applied all over the dipped object. The process of manufacturing a gold capped case is entirely different, with a very thick sheet of solid gold being mechanically bonded, not plated, to the front of a case. The actual gold content of a capped case is high and even with decades of regular use, this will not normally wear through to the metal below.
This case is capped in 14 karat gold, with a solid 14 karat gold bezel. In every respect, it is almost perfectly preserved and it is clear that the watch has only ever seen the lightest of use. If we look long and hard enough with an eyeglass, there are the usual tiny imperfections here and there, but in realistic terms, this item can be legitimately described as being almost mint.
As called for on the 2627, the case back outer is entirely smooth. Later, post 1958 vintage Omega Seamasters would have the seahorse emblem that still remains as the Seamaster logo today, but these original 1940s and early '50s models were always smooth backed.
Internally, there is the case back signature "Patent, Acier Staybrite ( the French term for Staybrite steel), Omega Watch Co, Fab Suisse, Swiss Made" together with the model reference 2627-4. Remarkably, even the original rubber sealing washer that fits between the case back and body is still present and in a perfectly serviceable state.
The dial on this watch is exceptionally well preserved and is also completely original. Omega Seamasters were designed as waterproof models, with the consequence that they were pretty well sealed against any damp and dust that might creep around the edge of the glass. Having said that, virtually all the early vintage Seamasters that we have offered to us are with original dials that are either showing very obvious signs of deterioration or with dials that have been restored, in the process rendering the watches to which they are attached undesirable.
Even when studied from a distance of a few millimetres under high magnification, this dial is virtually perfect. Its French white surface is unblemished and hasn't been effected by dirt or moisture. Its colour has just aged very marginally from a once stark bright white to a now fractionally creamier shade, rather like the pages of an antiquarian book, but this effect is so marginal as to hardly be worth mentioning. Finding a better, all original dial than this one on a vintage Omega Seamaster for sale from this period would be a difficult task.
The wide art deco batons at the hour positions are some of the most attractive to have been used on any of the vintage Seamaster models. Later, particular in the early 1960s, Omega would start to use much slimmer, less flamboyant batons that gave their dials a much more minimalist look. To us, nothing beats the appeal of these early Seamaster dial variants and we can't imagine anyone not being drawn to this layout.
Along with the strange discrepancy surrounding the serial number stamp on the movement, there is another even more obvious odd aspect to this watch. It will be noted that what should read "Calendar" on the dial is actually incorrectly printed as "Calender". This is absolutely fascinating, particularly when we consider that this dial is categorically all original and exactly as it left Omega when new. How could such a glaring error happen ? Our first reaction was that this watch was produced for a market in which the word calendar was spelt as calendar, in much the same way that Americans use the spelling color instead of the British colour. An internet search for calender produces no results, so this suggestion can be discounted. We have no evidence to support this view whatsoever, but it is tempting to suspect that this was some kind of pre-production prototype that was mocked up in improvised form before an officially checked version was released. Ordering an extract from Omega's archives will confirm that case and movement have been together since new and we guarantee that everything here is authentic and correct throughout. The extract would also identify the country of first sale, which would be most interesting. It is worth mentioning that errors of this kind are not unknown and that mis-printed dials are ironically highly desirable items. Auctioneer Sotheby's included a 1989 Rolex Daytona with a dial made in error in its 15th May 2011 Geneva sale, this having the number 13 at the 3 o'clock position where 15 would obviously be the norm. For the hardened collector looking for something to fill a horological cabinet of curiosities, the dial and movement number here alone will make this a very difficult piece to resist.
All three hands are completely original and in almost mint condition. The hour and minute hands are in the dauphine shape and extremely wide, with a luminous strip applied down the centre of each. Something that caught my eye was the short second hand, which goes exactly to the inner edge of the batons but no further. This is a really nice aesthetic touch, yet one that isn't often seen. The last time we encountered it was perhaps a year ago when we bought a 1920s Rolex cushion shaped Oyster with a very unusual two piece dial, with the short second hand there corresponding to a step in the dial centre. The short second hand on this vintage Omega Seamaster is, of course, guaranteed to be entirely correct for this model.
The movement in this watch an Omega calibre 353. Introduced in 1950, this was one of the Omega company's classic bumper mechanisms from the era before the switch was made to rotor winding. These were brilliant designed units that were assembled to the highest possible quality standard, completely in-house by Omega. This is a fundamental reason for buying a vintage Omega watch rather than a more recent or current model. Sadly, since the early 1980s, Omega has not been a manufacturer of its own movements and has instead purchased these from third party suppliers, most notably ETA, which lends a certain generic air to Omegas produced in the last quarter century. Vintage Omega movements like the one here were built when the company was at its all time peak, both in terms of quality and innovative engineering. There simply hasn't been anything better since, and if looked after sensibly and sent for routine servicing every three or four years, this watch, and other early vintage Omega Seamasters, like it, will literally last almost forever.
In technical terms, Omega calibre 353 was a 10.5 ligne bumper automatic, winding in one direction. It ran at a slightly accelerated rate of 19800 half beats per hour, which would certainly have been a factor as to why it was so accurate. It was very much a showcase product for Omega and featured both shock protection and anti-magnetic shielding. Interestingly, having compared the specification sheets for both a few minutes ago prior to writing this, it appears that the 352, which made its debut a year earlier in 1949 and found its way into the first Omega Constellation model of 1952, was actually any different to the 353, with the exception that it had a slightly more complicated regulation system and, of course, lacked the calendar feature.
The condition of this movement is nothing short of superb. There is the slightest degree of tarnishing to the finish of the oscillating bumper weight, but otherwise, the whole unit is immaculate. We constantly buy early vintage Omega watches from both the trade and the general public, but we don't source many that are in such excellent condition mechanically. Having been serviced regularly since it was new, this movement works perfectly and runs very smoothly. Though it was overtaken by two way rotor winding, the bumper system was extremely reliable and actually highly successful in technical terms. There is still a strong argument today that bumper winding offered significant advantages over the rotor arrangement and for anyone building a collection of key vintage automatic wristwatch movements, a classic Omega bumper from the 1940s or '50s is an essential inclusion.
"Omega Watch Co, Swiss" is signed on the movement, with the calibre number 353 appearing next to the balance wheel. The movement number 310688631 is stamped on the bridge. Theoretically, falling between the two extremes of vintage Omega production for that year of 31000000 and 32000000, we would think that this unit was manufactured in 1969. Given the obviously early specification of every aspect of this watch, I don't believe that it is of 1969 origin. If we had been forced to date this watch without looking at its serial number, we would have undoubtedly suggested a 1952 year, with this being arrived at from the case style, movement calibre, dial format and winding crown type. If we assume that an error was made when stamping this serial number and in fact, instead of the first two digits being 31, they should have actually been 13, then this gives us a complete number of 130688631, which, falling between the ranges of 13000000 and 14000000, would tell us that this movement was created in 1952.
It hardly needs to be said that this watch works perfectly. It runs very smoothly and is in excellent mechanical order. Omega today will still undertake the servicing of its vintage watches back in its Bienne factory, but in reality, one of the beauties of these early bumper Omega movements is that they are very simple and incredibly easy to maintain. There is no reason whatsoever why any experienced independent watchmaker shouldn't be able to clean and lubricate a mechanism like the one here at a fraction of the cost of official Omega servicing.
This watch has been fitted with a high quality crocodile skin type strap. This is not a genuine vintage Omega strap, but it is virtually identical to that which would have been fitted to this watch by Omega when it was new. Having never been worn, this strap is in mint condition.
Two vintage Omega Seamaster Calendar watches with exactly the same 2627 model reference as the example here were offered as Lots 111 and 112 respectively in Antiquorum's thematic sale "Omegamania" of April 2007 in Geneva. Both of these were from 1953, with the first, in steel, having exactly the same distinctive dial format, hands and winding crown as here. This was described as "Fine and Rare" in the accompanying catalogue notes and sold for 2832 Swiss francs or, at the time of writing, £1715 GB pounds, though prices for all worthwhile vintage Omegas have risen dramatically in the three years since this event took place.
We have priced this watch at £1175 GB pounds. The Omega Seamaster is among the all-time legendary vintage wristwatch models and must be represented in any serious collection. These early bumper Seamasters have enormous charm, which is only added to by the presence of the unusual calendar feature on model reference 2627. Good, all original vintage Omega Seamasters make excellent investments and, being large, robust watches are also very wearable, but a buyer has to be critical when assessing watches for sale, simply because so many of these items offered online have been re-cased, had their dials restored or fitted with numerous non-standard components. This one certainly isn't the least expensive available, but it is a rare model in completely correct, totally original condition. It is ideal for anyone wanting a really first class vintage bumper Seamaster that he can retain for some time to take advantage of currently sharply rising values for all top grade classic Omega material. We buy and sell several very tidy pre-1960 vintage Seamasters every month and certainly haven't had a better preserved calendar model for sale for at least a couple of years, We were delighted to secure this watch for our stock and its buyer will be extremely impressed with it when it arrives on his doorstep.
Price £1175 GB Pounds
Vintage Watch Brands
Vintage Watch Decades
Vintage Ladies Watches
Vintage Watch Bracelets
Swipwreek Straps
Travel Clock/ Pocket Watches
Home
About
Brand Overviews
By Decade
Reference
Contact Details
Telephone from the UK:
07453 734666
or 07428 051005
Telephone from overseas:
+44 7453 734666
or +44 7428 051005