Omega Seamaster bumper steel 1952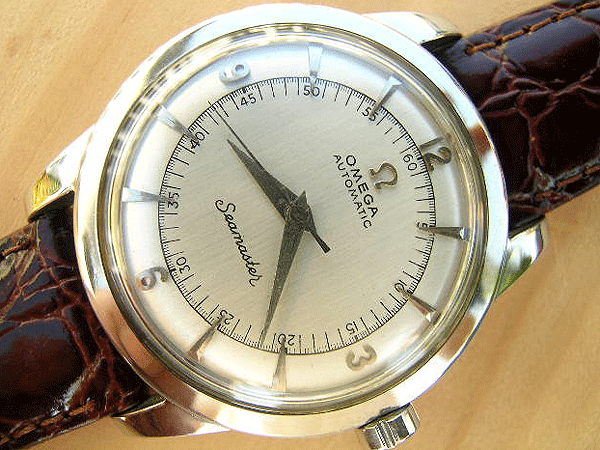 Classic early Omega Seamasters from the 1940s and '50s have been a speciality of ours for almost thirty years and, along with the vintage Omega shop in London's Burlington Arcade, we offer the widest selection of these important models to be found in investment grade condition anywhere in the UK. With every year that passes, locating genuinely immaculate first generation Seamasters becomes more difficult and we spend more and more time hunting down a diminishing number of immaculate early watches. The major obstacle is that particularly since the landmark thematic Omegamania event of April 2007, held by the physical auction house Antiquorum in Geneva, prices for the best vintage Omega watches have uniformly risen sharply. Anyone who owns a well preserved early Seamaster in his collection is understandably unwilling to part with it at the present time, not least because he knows that twelve months from now, it will have a market value that is in excess of its current worth.
This watch dates from 1952 and is the text book specimen of a near mint first generation Seamaster. From the point of view of the serious collector, these watches don't come any better and from our perspective as dealers, we would be highly delighted to buy every example of this quality that crossed our path.
Omega launched the Seamaster in 1948 ( or in early 1949 according to some horological historians). Its intention was to create a luxury watch for a wealthy civilian market that built on the success that the company had enjoyed over the war years supplying robust and highly dependable pilots' watches to the British RAF. There are differences between very early Seamasters like the one here and the Mark VII pilots' watch, most notably that the latter was manually wound rather than automatic, but in broad terms, the Seamaster was a large, rugged timepiece that would appeal to the masculine, active buyer. It would not be implausible to suggest that the formative Omega Seamaster models of the 1940s and '50s, along with the Rolex Oysters of the same period, were the forerunners of the modern day sports watch as we know it now.
The case style here is immediately recognisable and cannot be confused with anything else. The combination of very wide, solid lugs and a large flat polished bezel is regarded as the most attractive ever used on the Seamaster by many collectors. This is the original shape that was on the 1948 production run. For the vintage Omega aficionado, early Seamasters in this case format represent the genesis of a famous bloodline that has run for over sixty years.
Early stainless steel wasn't as refined as it is today and in particular, was vulnerable to acid attack. The acid in a wearer's perspiration has eaten into the steel on the reverse side of a lot of the surviving Omega and Rolex cases from this period and damage of this kind is impossible to repair invisibly. The case of the watch for sale here is immaculate, with no evidence of acid corrosion at all. Looking at this housing closely with an eyeglass as this description is written, it seems fair comment to suggest that it has hardly ever been worn and has probably only been wheeled out for special occasions by a very protective owner. The hyper-critical might notice a few almost invisible blemishes to the case here and there, but these must be expected on any used watch and could be found on even the most immaculate timepieces of no more than a week old.
The case back is of the threaded, screw down variety. Notice how, quite correctly, the case back is plain and undecorated externally. Competitor Rolex offered its Oyster with a plain back and though we have never heard official confirmation of this, it seems likely that the concept was to provide a suitable smooth surface that could be engraved if the buyer so desired. In the late 1950s, from our own experience with these watches either in 1957 or more likely 1958, Omega introduced the sea horse emblem that has been a feature of Seamaster case backs ever since, but on these early models, the case back is required to be plain and polished, as here.
When viewing a vintage watch, it is worth paying some attention to the case back and, more specifically, at the points in which this interfaces with whatever tool is required to facilitate its removal. At some point in the lives of all these watches, hopefully, have been times when their backs have been removed for servicing. The best watches, like this one, will have only ever had their backs engaged with the correct factory tool, but many examples have been opened by back street repairers who have improvised tools with varying degrees of success, often leaving very noticeable scars on cases in the process. There are no tool slip marks at all on this case and it is immediately obvious that it has been treated with great care by experienced technicians in the past.
Internally, the case back has been decorated with an ornate engine turned pattern and is signed "Acier ( the French word for steel) Staybrite, Omega Watch Co, Fab Suisse, Swiss Made". Staybrite was an early patented stainless steel that is notable for its very high chromium content. Particularly during the golden age of Swiss watch making in the 1940s and '50s, Staybrite was used by almost all the top tier brands and is recognisable for its distinctive icy shine when polished. Stainless steel watch cases from this era have an entirely different colour to their modern equivalents and when in good condition, as here, the glow they reflect is very evocative and old world looking. For more about Staybrite, go to the Reference section of this site and read the article there about stainless steel in the context of the luxury watch industry.
Also stamped inside the case back is the model reference C 2577. Each vintage Omega model was allocated its own identifying alpha numeric string and it is well worth acquiring the habit of checking that the specification relating to this number fits in with the watch to which a case back is attached. Over the decades, so many case backs have been swapped and it is surprising how often we perform this check when vetting watches that are offered to us only to find that it reveals major doubts as to authenticity. The C 2577 Seamaster must have this wide lugged case body and if manufactured before, or partially into, 1952, a calibre 351 movement. Post-mid 1952, it was also offered in limited quantities with a calibre 354 movement, this being the unit that was also used in the first generation Omega Constellation, the top of the company's range at the time. It is important that there is a sweep second hand pivoted from the dial centre rather than a subsidiary seconds register. The C 2577 was never offered with subsidiary seconds, but again, we have encountered numerous examples that have been, incorrectly, retrofitted with subsidiary seconds movements, probably because these mechanisms happened to be on hand in the spare parts box at the time. In antique wristwatch collecting at a serious level, detail is everything and while the vintage Omega watches for sale on our site are all relatively expensive, they represent good value for money when their remarkable condition and degree of originality is taken into account.
The distinctively shaped winding crown is original. Signed on its outer surface with a large Omega emblem, this remains in perfect condition. New collectors often marvel at the fact that Omega, quite literally, has used several hundred different types of winding crown on its wristwatches since World War II and almost without exception, having the same threaded connection with the winding stem, these are interchangeable without modification. It therefore becomes important that the winding crown present is confirmed to be the correct one for the model reference of watch. It is not enough to simply assume that because a winding crown has an Omega emblem, it is the appropriate one for the piece to which it is fitted. This crown is the right component for the Seamaster reference C 2577.
We buy and sell several vintage Omega Seamasters every week, but we can say in all honesty that we don't remember the last time that we owned a first generation Seamaster with an original dial that was better preserved or more eye catching than the one here. The value difference between several vintage wristwatches of the same model, obviously assuming that they are in otherwise comparable condition, is largely down to the state and format of their dials, with plain, uninspiring variations being the bottom rung on the ladder and exotic layouts in near mint condition occupying the most desirable position.
The dial on this watch combines total, untouched originality with pristine condition and a format that cannot be bettered. This is exactly what the vintage watch collector dreams of finding and is a very elusive package that cannot be purchased with any predictability. On every level, this dial scores the maximum number of points that could possibly be awarded to it.
Even when inspected under high magnification, there are no blemishes to the surface of this dial. Its condition is so outstanding that at first glance, we initially suspected that it might have been a recent high quality restoration, or, to put it another way, a dial that has had its surface completely replaced, but after looking at it closely through a metallurgical microscope, we can guarantee that, quite remarkably, it is completely virgin and original.
"Omega Automatic, Seamaster" is stated above and below the dial centre point respectively. This wording is clear and not at all faded. The lack of the usual "Swiss Made" wording around the dial bottom edge threw us, but further investigation revealed that the example of the C 2577 on display in Omega's own factory museum, also with a two tone silvered dial that is almost identical to the one here, is similarly without this phrase on its dial.
All three hands are original and in chrome, perfectly matching the art deco spearhead batons and Arabic numerals at the compass points. As with winding crowns, hands must be original in order for a vintage watch to have its maximum value, yet so many examples sold in the mass market online environment come with hands that have been replaced and are not appropriate for their model references.
As called for, the movement in this watch is Omega calibre 351, a bumper automatic that was launched in 1949. For those not yet familiar with the terminology that tends to crop up regularly in the vintage watch world, it should be explained that a bumper automatic differs from the later rotor versions in that the oscillating weight that moves with the motion of the wearer's wrist can only swing through a limited arc of travel before it "bumps" back in the direction from which it came. A rotor movement's weight is centrally pivoted and can swing through a full 360 degrees in both directions, though in most early self-winding watches, it only produces spring tension in one of these, returning on a ratchet in the other.
These early Omega bumper automatics are some of the most beautifully engineered that the company has ever made. Unlike later Omega mechanisms that were built around ebauches ( the Swiss term for a raw movement in its unfinished, most basic form) bought from the corporate giant ETA, at this time, Omega was still a true maker of its own in-house movements. When buying for investment purposes, this is an important point to consider and increasingly, collectors are making a distinction between those watches, the early pieces, that have "real" Omega movements and the later models that have mechanisms of a more generic nature. We have been advising our customers for several years now that they should try to buy vintage Omega models with in-house movements and without doubt, it is these that have shown the greatest appreciation in value over the last decade. Largely due to the internet, buyers are far more informed than they were in the early 1990s and they realise that an in-house movement is a pure, authentic product, rather like a single malt whisky or a bar of single origin gourmet chocolate.
While finished to perfection, early Omega bumper movements were relatively simple in their construction. Consequently, they have a well deserved reputation for reliability and extreme accuracy. In terms of efficiency, it has to be said that the rotor driven Omega automatics that appeared in 1955 were an improvement and the bulky, agricultural nature of the bumper made it slightly clunky in retrospect, but very few would ever argue that these units were not among the most charming that the company has ever offered. They were strong contenders for the title of best automatic wristwatch movement in the world at their time of launch and are essential inclusions in any serious collection that endeavours to chart the landmark developments made by Omega over the last century.
The condition of this movement is extremely good and, most importantly, it remains completely original throughout. Particularly in the 1970s, before mechanical wristwatches were regarded as collectible, there was a tendency for many owners to try to cut corners on any repair work that was needed, using unauthorised, non-approved watch makers to modify whatever components were to hand to try to keep their timepieces running at minimal cost. Everything about this movement is as it should be, which, again, is so vital when buying with a view to future value growth.
"Omega Watch Co. Swiss, Seventeen 17 Jewels" is signed on the oscillating weight and the calibre number 351 appears next to the winding wheel. The serial number 13065796 is on the automatic bridge which, falling between the extremes of vintage Omega movement production for that year of 13000000 and 13500000, clearly dates this unit to 1952. Even if we didn't have access to a serial number table, we would know immediately that this movement was manufactured after August 1949, this being the month in which Omega adopted the practice of stamping each of its movements with its calibre number.
This watch has been serviced and is in first class mechanical order. Omega will happily undertake servicing of its vintage output via a dedicated team of craftsmen at its Swiss factory, but in fact, it is perfectly acceptable to have an early automatic maintained at a good local independent watch maker. Examples like this one will last several lifetimes with ease, provided they are cleaned and oiled every three or four years without fail.
We have fitted this watch with a high quality dark brown crocodile skin type strap. This is brand new and has never been worn. While this strap is not an Omega item, we have transplanted the correct vintage Omega buckle to it. Online, we see so many vintage Omega watches for sale with Omega signed buckles that are of the later type, with the company's emblem recessed into the surface. On a vintage Omega buckle, the Omega logo should stand proud, as it does here. This buckle is in superb condition and is in itself a sought after item. If sold alone, this buckle would change hands for somewhere between £80 and £100 GB pounds and this added worth should be remembered when assessing this watch as a potential acquisition.
The book "Omega Designs, Feast for the Eyes" by Anton Kreuzer includes a large colour photograph of a 1948 steel Seamaster that appears to be identical to the one here on page 49. This has the same wide lugged case, hands, dial format and winding crown as the watch for sale.
Lot 114 in the 15 April 2007 Antiquorum sale Omegamania was a steel C 2577 Seamaster from 1953. This had the same case, hands, dial batons and numerals, and winding crown as the example here. The catalogue notes described it as "fine and rare". The selling price reached was 4012 Swiss Francs, which equates to approximately £2850 GB pounds. Media attention ensured that Omegamania produced outstanding results, but even so, prices for good early Omegas have increased very noticeably since this event and today, we would expect the same watch to sell in the same environment for considerably more than this figure.
The price of this watch is £975 GB pounds. While not a trivial sum, it reflects the fact that this piece is an outstanding example of its kind. The various specialist vintage watch dealers in central London, including the vintage Omega shop in Burlington Arcade, have several similar examples for sale at the time of writing with prices between £1500 and £2200 GB pounds. While these are equally well preserved, they are not in any way superior to the watch here and this price difference illustrates the great advantages that can be obtained from buying from a source in the north of England, where trading overheads are clearly much lower than they are in the centre of London. This is an iconic, classic Omega that is worth every penny of the asking price and a blue chip vintage watch that will always appreciate in value over the years that it is owned, while attracting compliments from everyone who sees it. Still undervalued compared with Rolex Oysters from the same period, we cannot recommend these first generation Omega Seamasters too highly at the time of writing.
Price £975 GB Pounds
Vintage Watch Brands
Vintage Watch Decades
Vintage Ladies Watches
Vintage Watch Bracelets
Swipwreek Straps
Travel Clock/ Pocket Watches
Home
About
Brand Overviews
By Decade
Reference
Contact Details
Telephone from the UK:
07453 734666
or 07428 051005
Telephone from overseas:
+44 7453 734666
or +44 7428 051005