Omega Seamaster bumper, boxed papers & buckle 1951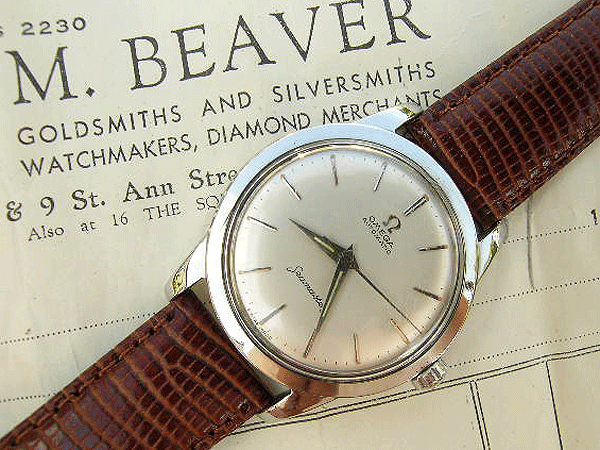 The Omega Seamaster, introduced in 1948 as a civilian market continuation of the concept that Omega had developed with its military pilots' watches of World War II, is universally regarded as being one of the all time great vintage wristwatch classics. It is also, in common with all period Omega examples, totally undervalued in the current marketplace. Whether established collectors admit it or not, the reality is that the quality present in this piece is in every way equal to that of similarly specified models by Rolex, Jaeger LeCoultre or IWC from the same period, yet its current worth is substantially less. There is a strong argument to say that in the 1950s when this piece was new, Omega enjoyed a higher level of prestige than Rolex and certainly, this example could give any automatic Oyster from the post-war years a good run for its money.
Given that early Seamasters are still relatively affordable, one can be quite choosy as to the standard of watch purchased. This piece is a gem, and appears to have hardly ever even been worn, yet its price is still less than that which would be required to obtain even the scruffiest 1950s Rolex Oyster. Its large case is free from pitting and has only the very lightest imperfections that must be expected on a vintage model. While it would be an exaggeration to describe this watch as being new old stock, its condition is almost faultless and certainly the best that one could ever hope to realistically encounter.
This case style is one of the most attractive to be used on the Seamaster and is very distinctive, with extremely wide lugs that first appeared on the 1948 examples. This housing is considerably more robust than those used by Omega for the Seamasters of the 1960s, and remains more faithful to the model's military roots.
The waterproof screw back opens to reveal an inside that is heavily decorated with an engine turned pearled pattern. This is signed "Acier Staybrite ( "acier" is the French for steel, Staybrite being a patented early stainless steel blend with an especially high chromium content), Omega Watch Co, Fab Suisse, Swiss Made", together with the model reference C2577-2.
The silvered dial is totally original and in almost mint condition. It has no discolouration or spotting of any kind and is indistinguishable from that in a brand new watch. Examples of this model with restored dials do surface on a fairly frequent basis, but very few have untouched dials that are comparable to the one here. The colour of the dial and its no-nonsense chromed parallel sided batons give it a very functional look that is so evocative of its era. Fuss free, one could almost imagine this dial being on a piece of post-war scientific equipment in a laboratory.
The signature "Omega Automatic" is stated in black below a chrome applied Omega emblem, with "Seamaster, Swiss Made" beneath the dial centre point. The chromed batons perfectly match the original dauphine shaped hands, though the luminous infill to these has deteriorated somewhat as a consequence of the unavoidable decay of the radium element.
Given that the Seamaster was very much a sports watch of its day, it naturally followed that Omega always fitted it with exceedingly robust and proven movements. The mechanism in this example is calibre 351, introduced in 1949 as a revision of calibre 340, this being Omega's first ever automatic movement, making its debut in 1943.
In common with all Omega self-winding movements manufactured before 1955, the 351 was designed along the "bumper" principle. Rather than having a centrally pivoted rotor of the type we'd find in an automatic watch today, the barrel in this mechanism was tensioned by an oscillating weight that rocked backwards and forwards with the force of gravity. The bumper nickname comes from the fact that this weight does, literally, "bump" back at either extreme of travel in the direction from which it came.
In this form, the 351 is an extremely shrewd purchase, and enables a buyer to obtain a beautifully constructed movement for a small amount of money. Omega aficionados will be aware that the 351 was offered originally both in standard form, as it is here, and as an officially certified chronometer, having been sent for independent testing at one of Switzerland's observatories. Examples that are chronometer rated are signed "Adjusted to 5 positions and temperatures", whereas the untested version simply has "Omega Watch Co, Swiss" stated on its swinging arm. However, this apparent disparity is actually rather artificial, and the informed buyer can gain from his knowledge. If the background to the chronometer rated 351 movements is researched, it is clearly evident that they were not in any way specially tuned before being sent for testing, but were actually just standard production line examples that were taken from the bulk at random for certification. Quite literally, other than its qualifying signature, there is no technical difference whatsoever between a chronometer rated 351 and the "basic" type here, yet the chronometer version will add typically 50% to the value of the watch as it otherwise would have been.
This particular movement, in common with the rest of the watch, is in almost mint condition. Unlike so many from this period that have been adulterated with non-standard parts to keep them running, this one is entirely original in every respect. Nothing has been changed here, and careful examination of the unit under high magnification reveals it to be in first class order, even to the extent that the screw head slots are totally free of any signs of past interfacing with a screwdriver. The classic Omega pink gold plated finish is bright and devoid of corrosion or even surface dulling and the signature "Omega Watch Co, Swiss, Seventeen Jewels", stands out clearly. Also present next to the regulator is the calibre number 351 and the individual serial number for this movement 12867972. Falling between the two extremes of production for that year of 12500000 and 13000000, this clearly identifies the unit as being of 1951 origin.
It hardly needs to be said that the movement works perfectly, largely as a consequence of it having been serviced all its life. Setting and running are very smooth, with the self-winding mechanism bumping away in very characteristic fashion.
The icing on the cake with this piece is that it is accompanied by its original tan pigskin Omega box, stainless steel buckle and even original bill of sale from 1952. This latter document tells us that the watch was purchased for £3 14 shillings on the 4th October 1952 from the official Omega agent M. Beaver, of 7 & 9 St. Ann Street, Manchester. Serious collectors adore extras of this kind, and it is certainly very unusual to find a complete package of near mint watch, box, buckle and papers like the one here.
Anton Kreuzer's book "Omega Designs" shows two 1948 steel vintage Omega Seamasters side by side in colour on page 49. The right hand one of these is virtually identical to the watch for sale, with the exceptional that it has spearhead, rather than parallel sided, batons.
Gisbert Brunner's "Wristwatches" includes a colour plate of a steel 1950 bumper vintage Omega Seamaster on page 317, with the same case and hands, but again, with a slightly different dial format.
In its thematic, single brand auction "Omegamania", of the 14th and 15th April 2007, Antiquorum offered a steel 1953 vintage Omega Seamaster for sale with the same bumper movement and 2577 model reference, but without its original box or receipt. This was given the pre-sale estimate of $2300 US dollars ( approximately £1250 GB pounds), but in reality would almost certainly have sold for in excess of this figure. On top of this amount, the winning bidder would have paid an additional buyer's premium of 18%.
The price for this item is £975 GB pounds which, if we stop to consider that the box is certainly worth £150 on its own and the buckle perhaps half of this, represents incredibly good value for money. Absolutely nothing could be obtained in a brand new luxury watch today for a comparable figure, yet here we have a genuinely collectible piece by one of the most respected makers in the world, with an in-house manufactured movement, for less than the price of many Japanese mass produced timepieces in the high street today. In terms of the superb intrinsic quality of its case and movement, the price for this watch is actually almost absurdly low, and can only ever rise in the future.
Not least because of recent media attention to the "Omegamania" Antiquorum auction of April 2007, vintage Omega models have become far more high profile over the last five years and prices have already risen dramatically from where they were even twelve months ago. There is nothing whatsoever to stop immaculate early steel cased bumper Seamasters from rising in value to £2000 or £2500 GB pounds, and our guess is that they will do so within the next few years, primarily because there is no justifiable reason why they shouldn't be at this level, in line with other similar, and definitely not superior, models by Rolex, IWC and Jaeger LeCoultre.
Price £975 GB Pounds
Vintage Watch Brands
Vintage Watch Decades
Vintage Ladies Watches
Vintage Watch Bracelets
Swipwreek Straps
Travel Clock/ Pocket Watches
Home
About
Brand Overviews
By Decade
Reference
Contact Details
Telephone from the UK:
07453 734666
or 07428 051005
Telephone from overseas:
+44 7453 734666
or +44 7428 051005