Omega Seamaster Automatic steel two tone dial 1958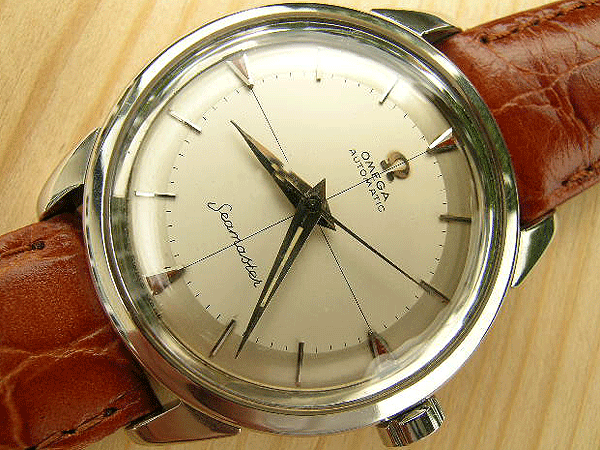 Anyone that is in the admirable habit of regularly visiting this website will be well aware that Omega Seamaster rarities are something of a speciality of ours. In the 1980s, when we first put a vast amount of time into assembling what was certainly one of the finest collections of vintage Omega Seamasters for sale in the UK, we developed something of a penchant for these superb models. Thirty years later, we still expend a huge amount of effort tracking down untouched early Seamasters that are a league away from the worn out, cosmetically enhanced examples that typically find their onto the mass market online auction websites.
This two tone dial, art deco gentleman's stainless steel self-winding example from 1958 is among our own favourites of the Seamaster for sale here, being an almost perfect blend of the rugged and utilitarian, combined with the aesthetically pleasing and elegant. The watch is almost a "time warp" example and looks to have been hardly worn. Nearly mint examples of early Seamasters always command high price premiums and are getting much harder to source now, as collectors realise the superb investment potential of these watches.
The stainless steel case is a very large item ( the watch has a considerable width of just under 37mm) and is in almost mint condition. These early, large cased, Seamasters are, in many ways, a throw back to the military watches that Omega supplied to the British Air Ministry in World War II and this lineage can clearly be identified in the design of the case used on this item, albeit now slightly re-invented with wonderful wide art deco lugs. The patented snap on waterproof case back is fully signed " Patent Applied For, Omega Watch Co, Denisteel, Made in England, Fit Washer in Back" and bears the reference number 5431.
In common with almost all the major Swiss horological houses, Omega enjoyed a close relationship with the renowned Dennison company throughout their glory years and it is universally agreed that this firm, based at 22-32 Villa Road, Handsworth, Birmingham, produced some of the heaviest grade cases ever to house Omega movements.
Again, this case back has only the very faintest handling imperfections and looks like a new item. Quite amazingly after nearly half a century, even the original rubber washer, this creating a secure impermeable seal between the case back and body, still remains in place. The very large winding crown is fully signed with the world famous Omega emblem.
The two tone dial is entirely original. Two tone dials on any 1950s Omega are unusual and exceedingly attractive. The Seamaster was marketed as a rugged sports watch and, in keeping with its military heritage, was typically produced with a monotone dial, rather than the highly decorative polychromatic item used here. The dial on this example is absolutely unmarked and looks exactly as it did on the day it left the Omega factory when new. We do not often see vintage Seamasters of this age with dials that are of comparable condition. This dial is fully signed "Omega, Automatic, Seamaster, Swiss Made" and features a chrome Omega emblem. The dial centre is in a very light silver hue, but in contrast, the outer circumference of the dial is in a gunmetal grey.
The two tone effect is startling and gives the dial an overall look that is very art deco in theme. This deco aesthetic is further compounded by the use of chrome arrow head markers. These were a deluxe dial option at the time and are much sought after now. The more commonly found batons are simple, parallel sided, versions which, though perfectly fine, do not have the dramatic look of the items here. The very wide chromed dauphin hands are entirely original to the watch and in good condition, with only the very slightest light patina to their luminous infill.
However, it is only when the case back is removed that the real appeal of this particular watch becomes apparent. The movement used in this piece is an entirely in-house built calibre 501 unit, one of the finest, and most reliable, movements to have ever been created by the Omega company.
For the purist collector, calibre 501 is something of a must-have on account of it being of the utmost historical importance for Omega. Prior to its introduction in 1955, Omega's automatic movements had followed the "bumper" principle, by which an oscillating weight pivoted through approximately 150 degrees, winding in one direction only. The "bumper" title given by collectors to these movements is a reference to the winding rotor being limited in travel to approximately 120 degrees, rather than the full 360. These items, also correctly called "hammer automatics", were the first self winding movements to be introduced by Omega and, as such, are sought after and expensive today. When the weight reaches the end of its allowed travel, it is gently bounced back in the opposite direction by a pair of small buffer springs. The wearer can actually feel a distinct "bumping" sensation when the watch is worn as the rotor oscillates back and forth, winding the mainspring.
The 501 was not built around the bumper concept, but instead used a technically superior rotor system, on which a centrally pivoted weight was allowed to run in a full 360 degrees, winding in both directions with the slightest movement of the wearer's wrist. This is the arrangement that is used as the industry standard today in self-winding luxury watches and is unquestionably the most efficient so far devised.
These first generation Omega rotor movements are beautifully constructed, entirely by hand, and were terribly expensive when new. However, what makes them particularly fascinating to both the horological historian and the serious collector is that they were essentially a rather Heath Robinson arrangement, created by mating a standard manually wound movement with a separate self-winding module. Built completely in two parts which can be separated simply by loosening two screws, the rotor mechanism sits on top of the traditional movement, rather like a hat on a wearer's head. Unlike a modern automatic movement that was designed from the outset as an integrated unit, to appreciate this movement type, we should think of it as a manually wound mechanism that is remotely wound by a supporting automatic device. It is interesting to note that nearly all the major Swiss luxury houses launched their first rotor automatics with exactly the same principle, only going on to design dedicated self-winding mechanisms when it had become clear that the buying public were happy with the basic concept of the rotor wound watch. From a personal point of view, we have always had a soft spot for early automatics of this type. While slightly agricultural, they are charismatic in the extreme, extremely effective, historically important and, because the entire timekeeping section of the movement can be accessed with the quick total removal of the rotor module, very easy to thoroughly service. The only possible negative aspect of their stacked, two part construction is that they are considerably thicker than the integrated automatic calibres that followed them. However, in view of the fact that chunkier, more substantial watches are very much in fashion at present, this is unlikely to be an off putting feature.
The serial number 16336515 is clearly signed on the bridge plate, together with the calibre number 501. The extremes of Omega movement production for 1958 were 16000000 and 17000000, which clearly dates this unit as early that year. On the rotor is signed "Omega Watch Co, Swiss, 19 Jewels".
The movement has every technical luxury imaginable including shock resistance and anti-magnetic shielding, and was extremely expensive to produce. Certainly, calibre 501 was regularly submitted to the Swiss Chronometer testing houses during this era ( indeed, it was chosen as the movement to be fitted to the Constellation models, these being the very top of the Omega range, and all of which were sold with Chronometer certificates) and is well known as being one of the most accurate Omega mechanical movements that has ever been produced. It should be added that this gleaming movement is in nearly "as new" condition with no discolouration or corrosion present of any kind. The watch has been carefully serviced throughout its life and works perfectly. It is entirely original throughout, with no changed parts whatsoever or evidence of past repairs.
The watch has been fitted with a very high quality crocodile skin type strap that is perfectly in keeping with the up-market theme of the piece, and is almost identical in appearance to the one supplied with the watch when new. This is not a genuine Omega strap, but is in mint condition, having never been worn, and need not be changed in the foreseeable future. We have transplanted the original 1950s stainless steel Omega buckle over to this replacement strap where it fits perfectly. Vintage buckles are now extremely collectible in themselves and this point should not be overlooked when bidding. A period steel Omega buckle in this condition would certainly be sold for around £70 GB pounds if offered individually, primarily because there are so many owners of vintage Omegas from this era that would love to restore their watches back to factory specification.
Lot 117 in the physical auctioneer Antiquorum's landmark thematic sale "Omegamania" of the 14th and 15th April 2007 was an almost identical Omega Seamaster to this one, but in a gold rather than steel case and dating from 1959. This had exactly the same case shape, dial format, hands and winding crown as the piece here. It was described at "fine and rare" in the accompanying catalogue notes. It shared the same calibre 501 mechanism with this item and sold for 4012 Swiss francs, which, at the time of writing, equates to just under £3100 GB pounds. Prices for good, authentic Seamasters have risen sharply in the last few years since Omegamania and in the present climate, we would expect Antiquorum's watch to sell for around £5000 GB pounds.
Overall then, this is an exceptionally fine collector's early Omega Seamaster. The watch is nearly mint, has a very sought after, particularly eye catching, dial, and contains one of the most historically significant Omega automatic movements of all time. Any of these features, taken singularly, would certainly ensure that the watch was a very desirable item, but combined, they make this watch a very appealing proposition to even the most advanced Omega enthusiast.
We have priced this watch at £945 GB pounds. Even fifteen years ago, before the internet became ubiquitous, we could unearth tidy, untouched 1950s Seamasters from their original owners fairly frequently. Today we are still offered these models, both from the public and from within the trade, but in most instances, condition and originality are not of an acceptable standard for the niche market in which we operate. This piece is as near to perfect as could ever be sourced and could be liquidated instantly via Bonhams, Sotheby's or Christie's. Given its remarkable state, the asking price is far from greedy and compares very favourably with similar early automatic steel Omega Seamasters for sale in the specialist dealers in London's Burlington Arcade and Bond Street, where a buyer would expect to pay in excess of double this sum.
Price £945 GB Pounds
Vintage Watch Brands
Vintage Watch Decades
Vintage Ladies Watches
Vintage Watch Bracelets
Swipwreek Straps
Travel Clock/ Pocket Watches
Home
About
Brand Overviews
By Decade
Reference
Contact Details
Telephone from the UK:
07453 734666
or 07428 051005
Telephone from overseas:
+44 7453 734666
or +44 7428 051005