Omega Seamaster Automatic steel 1969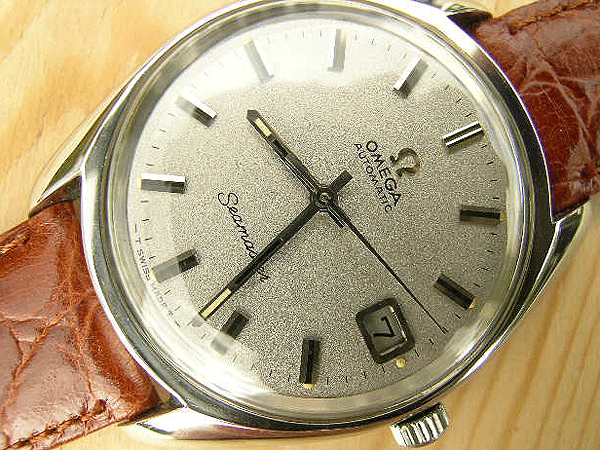 Immaculate throughout and totally original, this gentleman's 1969 Omega Seamaster Automatic in stainless steel is a delightful vintage watch that could be carefully worn today on a regular basis without adversely affecting its status as a collectible. A lot of the late 1960s examples we see by Omega, Rolex and the other top tier Swiss makers are in pretty poor shape, sadly for no other reason than they were neglected in the 1970s and early '80s when craftsman made mechanical watches were regarded as having little value. This piece is just the opposite and exactly the kind of watch that our business specialises in. Finding a better specimen of this model would probably be impossible and it is an ideal item to be bought as an appreciating asset.
Omega launched the Seamaster in 1948. The driving idea behind its creation was that it would enable the company to continue offering to a civilian market the kind of rugged, masculine watches that it had sold so successfully to the British military during the war. Those leaving the forces, particularly RAF pilots and navigators, were still singing Omega's praise and it made sense to capitalise on this superb military reputation and try to translate it for a peace time audience.
While the Seamaster name has continued in use to the present day, the specification of the watches carrying this title has constantly evolved. The Seamaster of 2012 looks entirely different from its ancestor from 1948, but if the intervening models are studied in detail, preferably in strict chronological order, it will be appreciated that there is a discernable genetic thread that links the two.
There is convincing argument that watches like the one here represent the high point of the Seamaster. While extremely collectible, the early vintage Seamasters from the 1940s and '50s are less technically sophisticated than those that followed. Every Omega enthusiast loves the first generation bumper automatic movements, but when the rose tinted spectacles are removed, the fact remains that in terms of both their performance and reliability, the rotor powered units that came next were superior. As the 1970s wore on, there was increasing pressure on the luxury watch industry to cut production costs in the face of competition from the newly introduced battery powered quartz movements. Omega movements from the 1970s were still extremely fine, but tended to lack the level of finish detailing present in their equivalents from the previous decades. In the 1980s, Omega abandoned the production of in-house movements and instead channelled its efforts into finishing movement blanks that it purchased from the corporate giant ETA. In the eyes of the purist, the most desirable vintage Omega watches are those with "real" Omega movements, built from start to finish at the company's facility in Bienne. For this reason, we always advise customers to purchase pre-1980 Omega models if buying with a view to investment.
The condition of this watch is nearly perfect and short of stumbling across an example that is literally unsold new-old-stock, better will not be found. The heavy stainless steel case has only the very faintest of imperfections to its surface that are inevitably present on even the most cosseted items. It is instantly apparent to anyone viewing this piece for the first time that it has seen very little use and has probably been worn only on a limited number of special occasions.
Externally, the threaded case back is decorated with a large seahorse emblem, this being the logo used by Omega for the Seamaster since approximately 1958. For a short period following its introduction, there were some very interesting variations on this logo as Omega experimented with several versions, but by the time this watch was produced a decade later, the rendition here had become the standard. A brief comment should be made that this logo is in superb condition and not at all rubbed. This is less of a problem with stainless steel cases than those in much softer gold, but even so, a significant percentage of the vintage Seamasters in steel that are in general circulation have case back emblems that have been noticeable smoothed by a combination of prolonged wear over many decades and incompetent polishing. Our website always includes detailed photographs of every aspect of the items we sell including movements, case backs etc and we would council that buyers be very wary of online purchases where such views are not provided. It has astounded us for years that in many instances on the internet, long distance purchases running into several thousands of pounds are made without buyers ever seeing anything other than a single front view shot of the items concerned. We actively encourage our buyers to collect their watches in person from us in Yorkshire but we realise that due to the global nature of the internet this is not always possible and therefore try to provide as many close up pictures as we can.
Internally, the case is correctly stamped "Acier Inoxydable ( the French term for stainless steel), Omega Watch Co, Fab. Suisse, Swiss Made". Also here is the model reference 166.067. In common with other Omega model references from this era, the part of it before the decimal point can be decoded to define a particular specification. The first digit, the 1, informs us that this is a man's watch that was sold new on a leather strap, not on a metal bracelet. The second digit, the 6, identifies an automatic with centre, rather than subsidiary seconds. The last digit, the 6, relates to a water-resistant model with a date feature. It may seem banal to check these details, but in fact, this process is a worthwhile one. In so many instances, case backs have been swapped over to models for which they are inappropriate. A lot of the vintage Omega watches for sale now, especially in the caveat emptor world of the online auction sites, have been built up from scrap parts that were never together when new. Alarm bells should start ringing when we encounter a case back model reference that relates to a watch with automatic winding and, say, no date feature when in reality, the specification of the piece to which it is attached includes a manually wound movement with a date. The permutations are endless, but the point being made is that performing basic checks of this kind is never a waste of time. Buyers pay a premium for our watches because they realise that these are always correct and authentic. Sadly, many others are not and, as with many fields of antiques, in the vintage wristwatch world, the purchaser tends to get what he pays for.
If we look very carefully, below the model reference is the tiny maker's mark of Centrale Boites SA. Based at Gare 43, 2500 Bienne, this company manufactured some of the highest quality cases used by Omega in the 1960s and '70s. While Omega was a true in-house movement maker in the strictest sense, it was never a manufacturer of cases and purchased these, created to its own custom specification, from roughly a dozen specialist concerns that excelled in this area. Centrale Boites would have been a natural choice as a case supplier for Omega, both businesses being located in the same town of Bienne.
Those who visit this website regularly will be all too away of our near obsession with dials. We are almost certainly more critical of dial condition and originality than any other online vendor. In order for any vintage watch to have its maximum theoretical value, it is imperative that its dial is in superb condition and is untouched and unrestored. Refinished, so-called restored dials often look spectacular, but will always have a much lower commercial worth than those few originals that have managed to pull through in a near perfect state. First class original dials are very sought after simply because not many of them exist.
This dial can be considered almost mint, yet it is completely original. Its finish is very attractive, being a frosted silver that only seems to have been used by Omega for a relatively short period. Even when studied at a distance of a few millimetres using a metallurgical microscope, the surface is faultless. The state of this dial is so immaculate that it would be tempting to assume that it had been freshly restored but in fact, it be guaranteed that this is not so. The only way dials can survive in this order is for them to have been stored well away from bright sunlight and damp. We buy and sell vintage Omega Seamasters on an almost daily basis, but we see very few with dials that are as close to being as-new as the one here. The only short term downside to buying watches with dials in this condition is that they are expensive. An immaculate item like this one will be approximately 40% more costly than the same model with an average original or restored dial.
"Omega, Automatic, Seamaster, T Swiss Made T" is stated above and below the dial centre point. In this context, the "T" tells us that the active ingredient in the luminous paint on the hands and dial is based around the tritium element. Early vintage watches, typically those pre-1960, had radium enhanced paint for their luminous aspects. At the hour positions there are chrome parallel sided batons and these perfectly match the original hands. Details like hands and winding crowns are so important in setting the value of collectible watches and these must be original in order for a piece to be worth its full potential value. Every aspect of this watch is correct and exactly as it should be.
To reiterate the important point made earlier in this description, vintage Omega watches from this period were produced at a time when the company still manufactured its own movements entirely in-house, within its own factory. This may sound like a statement of the obvious, but in fact, the majority of famous watch brands, both then and now, built movements around ebauches ( this is the Swiss term for a movement in its most basic form, without components or finishing) that they purchased from corporate giants, the most notable of which was ETA. In the 1980s, Omega ceased in-house movement manufacture and became a refiner of third party calibres. As the market evolves and buyers become every increasingly educated as to the criteria that make certain watches more desirable than others, there is a noticeable shift towards favouring those models with in-house movements. For more information and a lengthier explanation of this concept, there is a worthwhile article in the Reference section of this website that can be accessed via the link at the top of this page.
The movement in this watch is Omega calibre 565. Introduced in 1965, this was the eighth and final revision of the range of self-winding Omega movements known collectively as the 550 series, these having the calibre numbers 550 to 565. Many experienced collectors maintain that these mechanisms are arguably the finest automatic movements ever produced, by any maker, and few would argue that they were not the best to have originated from the Omega stable.
In any of its versions, the 550 range was exceptional. Even in its 1958 form, this unit outclassed its competition of the same era by both Rolex and Jaeger LeCoultre, and by 1965, the design had been upgraded to keep abreast of newly introduced technology. The pioneering 550 was almost identical to the 565, with the latter having the bonus of a quick change date feature and twenty-four jewels instead of the 550s seventeen. Another interesting comparison is between the 565 and, released the same year, the 564. Both are physically identical, but the 564 was sent for independent chronometer testing for use in the Constellation models whereas the 565, as here, found its way into the Seamaster and Dynamic ranges. On the face of it, we would assume that the 564 was the superior movement but in fact, accounts from those employed by Omega at the time tell us that the units sent for accuracy assessment were taken at random from the production line and were not regulated or tuned in any way. It tells us an awful lot about the quality control at Omega during this golden period that tolerances were so fine that standard movements could obtain observatory certification without any additional attention. For the thinking man, buying a watch like this one enables the acquisition of a Constellation grade movement without the expenditure normally associated with excellent examples of Omega's flagship model.
Even the most grudging obsessive would find it difficult not to describe this movement as being almost mint. Its distinctive copper finish shines just as it did in 1969, with no dulling to the plates at all. Every component here is original and there is no evidence of any repair work having ever been performed.
The rotor is signed "Omega Watch Co Swiss", with "Twenty-Four 24 Jewels" stamped on the rotor bridge. The calibre number 565 appears on the bridge, together with the Omega emblem. If we look very closely, we can see a tiny number "1" inside this Omega logo. For years, the accepted view among collectors was that this indicated a revision of the original calibre. So, for instance, this movement would have been the 565 after its first factory upgrade. We can see the same thing in modern computer software, where a first generation product might be version X, with subsequent upgrades taking the designations X.1, X.2 etc. In fact, period vintage Omega documents have shown us that this widely held theory was incorrect. We now know that the number corresponds to the length of sweep second pinion needed in order that there was sufficient height for the hands to protrude through the dial. This dial is just very slightly domed and this movement requires an H1 pinion instead of the standard length H0.
Also on the bridge is the individual serial number 30386959. Falling between the two extremes of vintage Omega movement production for the third quarter of that year of 30000000 and 31000000, this dates this unit very precisely to late 1969.
As a result of past owners taking a very conscientious approach to maintenance, this movement works perfectly. It runs like the proverbial Swiss watch and auto winds in both directions with just the merest motion of its wearer's wrist. Classic Seamasters like this one can be returned to Omega's own specialist department in Bienne for the care of vintage models but in fact, there is no reason at all why this piece cannot be cleaned and re-lubricated every three or four years by a good local watchmaker. The movements in Omega watches of this age were built to remarkably high standards, but they are not excessively complicated and do not require costly official servicing back in Switzerland.
We have added a period steel Omega buckle to this watch when we replaced its strap. This is an appropriate classic buckle in a condition that is no longer easy to find. If we sold it alone, it would realistically change hands quickly for £70 GB pounds. So many owners of high grade vintage wristwatches love the thought of adding the right signed buckles to their timepieces and prices are therefore high. The value of this buckle should be borne in mind when pondering this watch as a potential purchase. The strap is not of Omega origin, but is of a crocodile skin type and in mint condition having never been worn.
We have priced this watch at £875 GB pounds. Sourcing another from the same year in this untouched, almost mint condition would be very difficult. Classic Omega Seamasters appear for sale on a regular basis on the various mass market online auction sites, but in so many instances they have movements with non-standard parts and are often marriages of cases and mechanisms that were not even together when new as the same watch. This item, like the other vintage Omega watches for sale here, is guaranteed to be entirely authentic and correct throughout. It is the very best possible specimen sample of its type that exists anywhere and as such, particularly given the sharp rise in the value of classic Omega Seamasters and Constellations that we have witnessed since the landmark Omegamania sale held by Antiquorum in 2007, it is clearly a very suitable candidate to be bought as an investment.
Price £875 GB Pounds
Vintage Watch Brands
Vintage Watch Decades
Vintage Ladies Watches
Vintage Watch Bracelets
Swipwreek Straps
Travel Clock/ Pocket Watches
Home
About
Brand Overviews
By Decade
Reference
Contact Details
Telephone from the UK:
07453 734666
or 07428 051005
Telephone from overseas:
+44 7453 734666
or +44 7428 051005