Omega Seamaster 120 steel divers, buckle 1967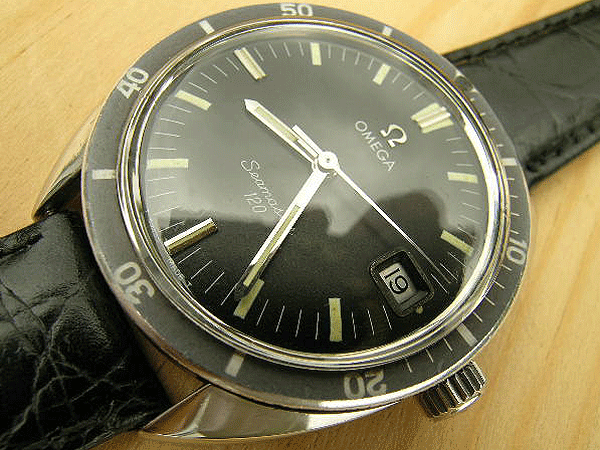 At the present time, the Omega Seamaster 120 must offer some of the very best value to be found anywhere in the vintage watch marketplace. Prices for this model have risen sharply over the last two years, but even so, when these are compared to those of other sports watches from the same period, by Omega and its competitor Rolex, the Seamaster 120 is nothing short of a bargain.
Omega launched the Seamaster 120 in 1966 as a specialist model for scuba diving enthusiasts. This made good commercial sense as the kind of wealthy individuals who enjoyed what at the time was perceived as a very exotic leisure pursuit were likely to be enthusiastic about expensive luxury watches. The 1950s and '60s can be seen in retrospect to be the age of the dedicated purpose tool watch that was designed as a working instrument for use in a particular activity, be it aviation, cave exploration or, as here, diving.
In the motor car world, there is a pattern of manufacturers offering a reduced price version of their flagship sports cars for a wider target audience. At a higher cost, Porsche has its iconic 911, but offers the same concept to a broader customer base with its Boxster and Cayman models. Similarly, Mercedes has the SL at the top of its sports car line up, but also produces a slightly smaller version along the same aesthetic lines with its very successful SLK. The Seamaster 120 can be viewed as the horological equivalent of these alternative vehicles. At the top of the range was the Seamaster 300, which was adopted by professional divers and the British SAS. The Seamaster 120 offered very much the same experience and attributes, but at a slightly less extreme level. Its case is a little less chunky, its bezel slightly narrower, its waterproof depth rating 120 instead of 300 metres etc, but in real terms, these two models are very similar, just as, to return to our motor car analogy, the Porsche Boxster really isn't wildly different from its more expensive sibling.
In our book, this makes the Seamaster 120 very under-valued at present. Finding a good original Seamaster 300 is quite a challenge and we have a completely authentic example for sale on our website currently at just under £3000 GB pounds. This Seamaster 120 can be bought for slightly less than £1000 GB pounds. Is the 300 really worth three times the value of the 120 ? The collector's market clearly thinks so, but judging the two watches side by side without any emotive bias, the answer is no. Assessed in an impassionate way, the fact is that the Seamaster 300 is a better watch, but the difference between the two is not great. In the real world, where depth ratings are irrelevant to buyers who keep their prized collections in safes and bank vaults, Seamaster 120s offer almost everything to be found in the 300, but for a much lower level of outlay.
This particular example dates from 1967 and is of investment grade throughout. We purchased it from a member of the general public who had obviously treated it with respect over the decades that he had owned it. Locating another that was in the same superb state and, as this one is, completely original throughout would not be easy.
The large stainless steel case is almost unmarked. If we scrutinise its surface closely enough we can just make out a few very small imperfections here and there, but this is certainly a watch that has seen very little use.
The rotating black bezel moves freely in both directions. The black anodising to both its sides and top is in excellent order. A lot of the Seamaster 120s in circulation in the vintage market have bezel anodising that is very worn, sometimes to the extent that the numbers cannot be clearly made out. It is worth mentioning that the same problem does not occur with the bezel of the Seamaster 300, this featuring an acrylic insert rather than an anodised top layer.
Externally, the threaded case back is signed "Seamaster 120, Waterproof" around a rendition of the Seamaster seahorse emblem. The presence of the model name here is handy, as it confirms at a glance that this is the correct case back for the watch to which it is fitted. This seems obvious, but it is surprising just how much chopping and changing of parts has gone on with a lot of the classic watches in circulation today.
Internally, the case back has been covered with an engine turned pearled pattern. There is the signature "Omega Watch Co, Fab Suisse, Swiss Made, Acier Inoxydable ( the French term for stainless steel)" and the model reference 136.027. This is the correct numeric string for this model of Seamaster 120. It is worth a passing comment that Omega model references from this period, or at least the part of them that precedes the decimal point, can be interpreted. Here, for example, the first digit, the 1, tells us that this is a man's watch that was supplied new on a leather strap rather than a metal bracelet. The second digit, the 3, identifies a manually wound watch with a centrally pivoted second hand while the last number, the 6, was assigned to waterproof models with a calendar feature. This watch is guaranteed to be completely original and correct throughout, but many others are not and it is worth checking that the attributes indicated by the model reference do actually tie in with the specification of the item to hand.
Beneath the model reference inside the case back is the tiny coded mark of case maker Erwin Piquerez SA of St. Hubert, 2854 Bassecourt. Many newcomers to vintage watch collecting are surprised that none of the top tier Swiss brands manufactured their own cases, but this was indeed so. Instead, they commissioned these from a number of entirely independent suppliers who specialised in this field. While slightly off-topic, it is worth noting the curious fact that no case maker worked exclusively for one movement maker, instead preferring, probably wisely, to hedge their bets and supply a variety of customers. So, for instance, it is entirely commonplace to find, say, vintage Rolex and Omega cases marked by the same manufacturer, or housings signed with the prestigious names of IWC, Heuer and Longines that carry identical makers' marks.
A better preserved original dial on a Seamaster 120 does not exist anywhere, at any price level. It is universally agreed that the dial is the aspect of any vintage watch that has the greatest influence on its value and buyers must be very critical when purchasing for investment. Two examples of the same model will have wildly different commercial worth if one has a pristine, untouched dial and the other a dial that is merely average or, perhaps worse still, freshly restored. We specialise in the sale of vintage watches with first rate dials that can be acquired as proven appreciating assets, but even so, this dial really is outstanding. Fading can be a problem with older black dials, especially those that have been subjected to bright sunlight overseas, but this is a UK supplied example that has clearly spent most of its life in dark conditions in a safe or drawer. Its dial is jet black and even inspection under high magnification reveals only the most minor surface ageing that cannot be made out with the naked eye.
"Omega" is stated above the dial centre point with "Seamaster 120, T Swiss Made T" printed in the lower half. This wording is in white and has not at all corrupted with age. The Omega emblem is applied and in chrome. Notice how this version was uniform across the Omega range at the time and is quite different from the printed style used on the company's earlier models.
All three hands are entirely original. These are in chrome to match the batons at the compass points, the hour and minute hands having been filled in with tritium based luminous materials. While it has not been replaced and is guaranteed to be authentic, the luminous paint on the hands and dial is in remarkably fine condition. We might reasonably expect some deterioration on hands of this age, but the paint here is still the same light lime green colour that it was in 1967.
For the Seamaster 120, Omega used its calibre 613 movement. Launched in 1960, the 600 series of hand wound movements, assigned the calibre numbers 600 to 613, was a replacement for the 30mm series that had been so successful for Omega in the 1940s and '50s. The 613 made its debut in 1966 and was the ultimate development of the 600 series, featuring a quick change date facility, a shock resistance system and anti-magnetic shielding. There is no doubt whatsoever that the 30 millimetre series was an incredible achievement and watches with these famous movements still stand today as some of the finest hand wound timepieces ever made, but we would argue that the 600 series were better units still. They were manufactured entirely in-house by Omega, with no use of out-sourced components, which makes them "real" Omega mechanisms in the eyes of purists. Later, in the 1980s, Omega would cease production of movements and instead purchase these from corporate giant ETA. In our business, we would always advise that earlier Omegas, like this one, with "pure" in-house movements are bought for investment.
Condition of this movement is almost mint. It is very difficult to discern anything about this movement that renders it in a poorer condition than its equivalent in a brand new watch. Its copper finish gleams brightly and is not at all rubbed or tarnished. Unlike a lot of the movements in vintage watches for sale online, this one is entirely original and does not contain any replaced or non-standard parts. So often now, we are offered watches by both Omega and Rolex that have some degree of non-authentic, generic parts that have been used at some previous stage to effect a low cost repair. We always reject such pieces as a matter of strict policy on the basis that owners will find them very expensive to return to original specification. However long they are owned, if not put back to standard form, they will remain in their second rate condition and never give a strong return as investments.
"Omega Watch Co, Swiss" is signed on the bridge, together with "Adjusted Two Positions, Seventeen Jewels". The calibre number, 613, is here, together with the individual serial number for this movement, 25108643. Falling between the two extremes of vintage Omega movement production for that year of 25000000 and 26000000, this clearly dates this item as being from early 1967.
After regular servicing, this movement works perfectly. It winds and sets very smoothly and its date feature clicks over exactly as it should. Calibre 613 has a well deserved reputation for reliability and accuracy, and provided this watch is sent for nothing more than routine cleaning and lubrication every three or four years, it will last almost forever. There is no reason at all why a piece of this superb initial quality should not be a family heirloom a hundred years from now.
We have fitted this watch with a high quality black crocodile skin type strap. This is not a genuine vintage Omega strap, but it is perfectly suited to the aesthetics of the piece. Having never been worn, this strap remains in new condition.
A stainless steel Omega buckle of the correct age has been fitted to the strap. Notice how the Omega emblem is raised proud of the surface, rather than being set into it as we find on the company's modern buckles. It always makes us cringe when we see vintage watches attached to recent buckles. It is delightful to have a signed buckle, but this has no merit when it is not the appropriate variant for the watch it is bought for. Finding period buckles by Omega, Rolex and any of the other major houses is far from easy and they do tend to be pricey if located in good order. If we offered it alone as a spare part, this buckle would quickly sell for around £70 GB pounds.
The superb Japanese wristwatch magazine "Time Spec" included a large colour plate of a Seamaster 120 on page 54 of a special feature devoted to rare vintage Omega models in its issue 26. This has the same hands, winding crown and bezel as the watch here, but a dial that is in much poorer condition, showing obvious signs of fading.
Lot 122 in the thematic sale "Omegamania" held by horological auctioneer Antiquorum on the 14th and 15th April 2007 in Geneva was a 1968 Seamaster 120. This was in tidy condition and all original, but not in any way superior to the example here. It sold for 4012 Swiss Francs, which is roughly equal to 3050 GB pounds.
After some discussion and reference to several other auction catalogues, we have priced this watch at £1175 GB pounds. A good, all original vintage Omega Seamaster in a conventional style will have a value of only slightly less than this sum, so to pay a slight premium for what is a much rarer, specialised divers' model is certainly not excessive. There seems to be so much focus on the Seamaster 300 that many collectors completely overlook its junior sibling the 120 and fail to realise that it is a very competent, highly desirable item that is no poor relation. Online, typically on the mass market auction websites, Seamaster 120s do crop up for sale now and again, usually in either noticeably worn or incorrect form, often with a selection of Chinese component parts, but first rate survivors like the one here are few and far between. In our business we buy several watches every day, but over the last five or six years we have owned no more than perhaps half a dozen investment grade Seamaster 120s, this being one of them. Why is the Seamaster 120 so unnoticed ? We have absolutely no idea why this model is not far more costly than it actually is, and as the appetite for vintage Omega watches in general increases and the enthusiasm for diving themed versions shows no signs of abating, it seems a safe prediction that we will see a steady rise in the sale prices of well preserved Seamaster 120s in the future.
Price £1175 GB Pounds
Vintage Watch Brands
Vintage Watch Decades
Vintage Ladies Watches
Vintage Watch Bracelets
Swipwreek Straps
Travel Clock/ Pocket Watches
Home
About
Brand Overviews
By Decade
Reference
Contact Details
Telephone from the UK:
07453 734666
or 07428 051005
Telephone from overseas:
+44 7453 734666
or +44 7428 051005