Omega Geneve with NGF tree dial 1967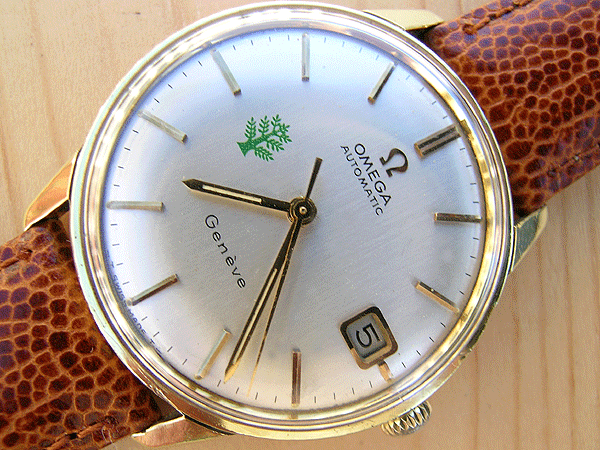 This vintage Omega Geneve watch is an unusual item that is significantly different from others bearing the same model reference and one that will appeal to the hardened collector. It was not uncommon for high quality wristwatches to be awarded as retirement or long service gifts to valued employees and in many instances, these have an engraving on their case backs that records the specifics of the event involved in their being given. So, for instance, we'll often see something like, off the top of the head, "To John Smith, From the Acme Typewriter Co, East Cheam, In Appreciation of 25 Years Service". In almost every instance, the employer would have simply sent someone to a local retail jeweller to buy a suitable model and the required dedication would have been added to the case back by a local engraver. In other words, the watch was a standard model that was personalised by a third party, with no involvement from its manufacturer.
The item here is fascinating because it was one of a batch of watches produced by Omega specifically at the request of another company, in this case NGF. The case back decoration of a tree and NGF initials, and the same logo printed in green on the dial, was not added by a retailer, but was already in place when this item left Omega's British distributor. This may not seem so remarkable, but in fact, if we stop to think about it, there are very few known instances when this has been done, by any of the famous Swiss makers. Rolex personalised a number of its Air-King model in steel for the Domino Pizza company, adding the firm's logo on its dial, and we are aware that Omega factory stamped a batch of gold cases for BOC ( British Oxygen Company) in the 1970s, but other than these two, collaborative ventures of this kind are few and far between.
To create this variant, Omega took a gold plated Geneve Automatic and added NGF's logo as required. The Geneve was the best selling Omega range of its day and offered the screw back case style of the Seamaster combined with the company's latest self-winding movement. The only compromise here was that, unlike that in the Constellation, the Geneve's movement was not independently certified as a chronometer. This difference becomes less important when it is appreciated that those movements that were sent for chronometer testing were selected at random from others in the production line and were not in any way tuned or regulated prior to assessment.
The condition of this watch is almost perfect throughout. It would be an exaggeration to describe it as unused new old stock, because there are a few tiny, nearly invisible imperfections here and there, but in realistic terms, this is as close to being an unworn item as any of us are ever likely to find.
Over our three decades in the vintage watch business, one thing we've noticed about gold plated cases is that they tend to suffer badly from pitting when exposed to the acid contained in perspiration. This damage is typically seen at the point where the case body, usually made of plated brass, joins the stainless steel case back. This case has no pitting at all and we would suspect that this is a watch that has spent most of its life wrapped safely in tissue paper in a safe or back of a drawer.
Internally, the case back is covered with an engine turned pattern and signed "Carrure Lunette, Plaque Or G 40 Microns ( gold plating with a thickness of 40 microns), Fond Acier Inoxydable ( the French term for stainless steel), Omega Watch Co, Swiss Made".
Also here is the reference number for this model, 166.002. Omega model references from this period were not simply random digit strings, but actually related to the features of the watch being offered. Here for instance, the first digit "1" tells us that this watch was sold when new on a leather strap, not a metal bracelet. The second digit "6" informs us that this was not a chronometer model while the third, again a "6", refers to this model having a date aperture in its dial. Over the years, case backs do often get swapped, and it is worth taking a few moments to ensure that the specification indicated by the case back reference number does tally correctly with the features present on the watch to which it is fitted.
On the case back outer, there is the NGF logo of a leafy tree. Looking at this closely through a jeweller's eyeglass, we can see that this has been stamped rather than engraved. To stamp detail in this way requires the creation of a dedicated and costly tool. Metal stamping is a process that is carried out on a volume basis in a factory using a hydraulically operated press. Clearly engraved, and contrasting with the lighter depth of the NGF stamping, is the name "Selby Logan" and the year "1967". Omega shipped these watches to NGF with the latter's logo in place, but these were then taken for engraving locally with the names of the relevant retiring employees as they were needed.
The original winding crown is still in place and is signed with a large Omega emblem on its slightly domed outer surface. The majority of Omega winding crowns utilise a tap 9 thread and are therefore interchangeable without modification. Again, over the decades, many of these watches have been fitted with crowns that, though signed with the Omega emblem, are not actually the correct ones for their model reference.
The dial is in silver white and is signed "Omega Automatic, Geneve, T Swiss Made T" above and below the centre point respectively. This is a superbly preserved, totally original dial that is exactly what the purist collector should be aiming to locate. There is no dust or moisture staining anywhere and it would be difficult to identify any blemish that reduced this dial to below near mint status. A restored dial will always devalue a watch dramatically and examples like this one that are totally untouched are both difficult to find and much sought after.
While this dial is in excellent condition, it is the large green tree printed here that makes it so unusual. This was the corporate symbol of NGF and matches the logo stamped into the case back. It is very interesting that NGF weren't content to simply have their emblem on the back of the case but also wanted it on the dial. This tree is instantly eye catching and any collector of Omega watches seeing this item will immediately be struck by its quirky appearance.
When the case back is unscrewed, we gain access to the immaculately preserved calibre 565 movement inside. Introduced in 1965, the 565 was the last revision of the group of self-winding movements that were allocated the calibre numbers 550 to 565 . It was used in the Omega's Seamaster, Geneve and Dynamic models and only differed from the 564 used in the Constellation on account of it not having undergone chronometer testing. In retrospect, these mechanisms are regarded today as being among the finest that Omega has ever produced and are certainly the equal of any equivalent model offered by the company's competitors from the same era.
It is important to appreciate that in the 1960s, Omega was still a manufacturer of its own movements. While to the novice this sounds like a statement of the obvious, the reality is that in the 1980s, Omega abandoned the creation of movements in-house and instead purchased ebauches ( movements in their most basic state, without gears, pinions or finishing) from the Swiss corporate giant ETA. In doing so, in the eyes of the informed buyer, the company lost a lot of its credibility and to many enthusiasts, movements from the firm's golden age of the 1950s and '60s are to be regarded as "real" Omega products.
It is difficult to imagine how there could be a better preserved movement than the one here. Omega finished these movements in a very distinctive pink gold plate, and this gleams brightly like that in a brand new watch. There is no place where this plating has rubbed through to the base metal below and it could be legitimately said that this entire unit looks almost indistinguishable from an unused, old stock example.
"Omega Watch Co Swiss" is signed on the rotor, with "Twenty Four Jewels" on the automatic bridge. The calibre number 565 is stated next to the regulator. Also here is the individual serial number for this movement, 25653938. Falling between the two extremes of production for that year of 25000000 and 26000000, this clearly identifies this item as being of 1967 origin. Large houses like Omega would produce movements in batches and then use them up as required often over several years. This sometimes leads to a situation where a case and movement are original to each other but have production dates that are several years apart. In this instance, both case and movement are of the same age, and the engraved 1967 dedication on the case back ties in perfectly with the movement inside the watch.
Having been serviced regularly, this movement works perfectly. It auto winds extremely smoothly and its quick-change date feature operates exactly as it should with a gentle pull on the winding crown. Every aspect of it is entirely original and it contains so changed parts whatsoever.
We have fitted the watch with a brand new high quality ostrich skin type strap that perfectly suits its classic, upmarket appearance. This is not a genuine Omega strap, but it certainly doesn't need to be changed in the foreseeable future.
The price of this watch is £675 GB pounds. It would be very easy to spend in excess of this sum to acquire a Seamaster or Geneve from the same period with a standard case and dial, yet this is a much rarer item that will always be far more interesting to the collector. The observant reader will have spotted that we have not actually mentioned what the NGF company was, or is, and the truth of the matter is that, surprisingly, we have never been able to shed any light on this issue. For Omega to have created a specially decorated range of watches for NGF, the company must have been a significant one in its day, but an internet search of these initials throws up nothing that is obviously relevant, or that uses this distinctive tree emblem. We purchased the watch here in the UK and it appears to be a model designed for the British market, but on the other hand, the name Selby Logan has an American ring to it, so perhaps NGF was an American firm. If we had been able to pinpoint NGF and give a potted history of the concern, there is no doubt at all that our asking price for this watch would have been substantially more that it is without this background. It can be said with certainty that if the next owner of this item does identify NGF conclusively and then offers the watch for sale with this addition information, he will make a tidy profit. Even as an immaculate Omega Geneve from 1967, leaving aside the unusual NGF association, this is a very wearable classic watch by a much respected maker. The NGF dial just lifts it into more exotic territory and makes it a piece that will interest even the most experienced collector of vintage Omega material.
Price £675 GB Pounds
Vintage Watch Brands
Vintage Watch Decades
Vintage Ladies Watches
Vintage Watch Bracelets
Swipwreek Straps
Travel Clock/ Pocket Watches
Home
About
Brand Overviews
By Decade
Reference
Contact Details
Telephone from the UK:
07453 734666
or 07428 051005
Telephone from overseas:
+44 7453 734666
or +44 7428 051005