Jaeger LeCoultre Club steel 1975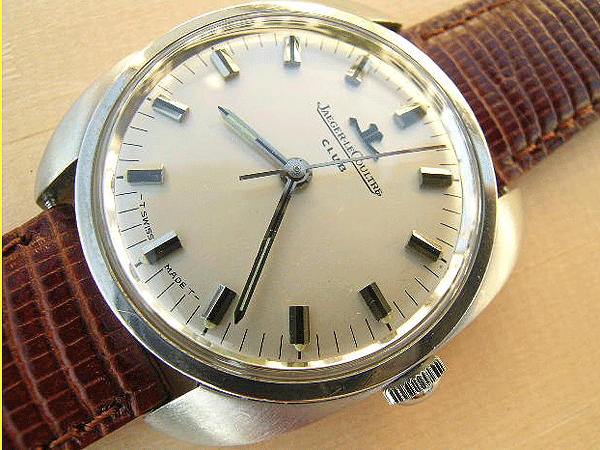 The Jaeger LeCoultre Club is certainly one of the classic vintage sports watches of the 1970s, but surprisingly, where similarly specified pieces by Jaeger LeCoultre's competitors have soared in value recently, tidy examples of this model can still be bought quite reasonably. There is no obvious reason for this being the case, and it seems fair to say that all that is required for the Club to increase dramatically in worth and take up its rightful position as a cult object is a significant magazine article in the horological press devoted to it. Bizarrely given the very high prices of almost every other vintage Jaeger LeCoultre variant, the Club is very affordable, we suspect simply because it is unusual and has been overlooked in favour of more commonly found models by other brands that were produced in the first instance in greater numbers.
The standard of vintage watches for sale on this site is exceptionally high. There is nothing offered here that wouldn't be perfectly suited for investment and, in the eyes of many buyers, a high percentage of these items are too well preserved to be worn on a regular basis. This 1975 Jaeger LeCoultre Club probably fits into this bracket and we would be inclined to the view that it has only ever been worn on a handful of occasions in the past. Without doubt, it is the best preserved Jaeger LeCoultre Club that we have ever encountered in our business and short of stumbling across a literally unused, new old stock example in the back of a jeweller's safe, it would be impossible to ever find a better one.
The large stainless steel case is almost mint and has only the tiniest of almost invisible handling imperfections. Very appealingly to the collector, it retains its attractive original mixture of a mirror polished bezel and matt satinised case body.
As a sports watch, Jaeger LeCoultre clearly intended the Club to offer some degree of water resistance. Not surprisingly then, the case back is deeply threaded and screws into the case body, compressing a rubber sealing ring to prevent the ingress of moisture. Externally, this case back carries the individual serial number 1174917 and the model reference E 200205. Internally, there is the wording "Acier Inoxydable" ( the French term for stainless steel) and the signature "LeCoultre Co, Swiss", stamped into a beautifully engine turned surface.
For anyone buying with a view to long term investment, dial condition and originality are so important. For the purchaser looking for something he can wear on a daily basis at a lower price level, some degree of compromise can be accepted. Similarly, on a watch manufactured in the 1920s or '30s, a purchaser may inevitably allow minor dust staining and deterioration, simply because no perfect examples are likely to exist. There can be no such excuse in the context of a watch that is as relatively modern as the one here, and we would not advocate the acquisition of any piece of this age on which the dial was anything other than flawless.
Even when viewed under high magnification, there are no visible imperfections to this dial. Its lightly silvered surface is free from spotting and has not aged in the slightest. It can be guaranteed categorically that this is a completely original dial, and it certainly has never been restored. The chrome batons still shine brightly, as do the original matching chrome hands. "Jaeger LeCoultre, Club" is clearly stated in black above the dial centre point, with "T Swiss Made T", around its outer bottom edge. For those not familiar with this signature, the T here tells us that the luminous material used for the hands and hour markers is based around the tritium element, as opposed to the radium that was typically used on pre-World War II models.
In any competition to decide the maker of the finest wristwatch movements in the world, Jaeger LeCoultre would be a strong contender. This venerable Le Sentier house has a history going back to 1833 and a reputation for never compromising on quality. As well as creating movements for use in its own watches, the firm has also been a supplier to many of the other top tier houses, with its mechanisms appearing in models by Patek-Philippe, Cartier and Audemars Piguet.
The Club was offered in both automatic and manually wound versions, this watch being the latter of these. Interestingly, both the automatic and manual Clubs were fitted with movements based around ebauches, the Swiss term to describe a movement in its most basic form, without pinions, finishing or gears, purchased by Jaeger LeCoultre from A. Schild in Grenchen, a company better known for supplying Rolex in the 1930s. Jaeger LeCoultre took the Schild calibre 1900, in itself an extremely competent unit, and then completely rebuilt and refinished it in its Le Sentier factory to the highest possible standard.
The condition of this particular vintage Jaeger LeCoultre movement is, consistent with the rest of the watch, effectively as new. We don't think it would be possible to point out any aspect of this mechanism that differed from that in a current model, brand new watch. The mirror polished screw heads have slots that are completely free of any screwdriver chewing, and there is no suggestion that any repair work has ever been performed or needed. Every component part is original and unmodified.
The signature "LeCoultre Co" is stated on the bridge plate, together with "Seventeen 17 Jewels, Swiss". Alongside the balance wheel is the calibre number 1900. We suspect that the majority of experienced collectors are familiar with the reasons for the abbreviated LeCoultre signature being used at times instead of the full Jaeger LeCoultre version. This can be confusing for newcomer enthusiasts who, understandably, require confirmation that these two signatures do represent the products of a single company rather than two unrelated concerns. In fact, they have no need to worry and the explanation simply boils down to a trade name ownership issue. In Europe, the full Jaeger LeCoultre name was used but in the USA, as a result of contention over the rights to use the Jaeger word, Jaeger LeCoultre watches were sold signed as LeCoultre. Cases were typically stamped, as here, as LeCoultre regardless of where they were to be sold, simply to avoid the inconvenience in the factory of mating certain case types to dials and movements intended for certain markets. We can guarantee that this watch is completely original and that its dial, case and movement have been together since new.
Having been serviced regularly throughout its life, this movement works perfectly and is in the best possible mechanical order. It is not in the least bit worn and, if correctly maintained and looked after in the future, will still be providing sterling service a hundred years from now. In common with every other watch offered on this site, this vintage Jaeger LeCoultre certainly isn't cheap, but on the other hand, it does represent the very best of its type and as such, will always appreciate well in value.
We have fitted a brand new ostrich skin type strap to this watch. This isn't a genuine Jaeger LeCoultre strap, but it is of a comparable quality to that which would have been supplied with the piece when new and certainly does not need to be changed.
The price for this watch is £850 GB pounds. Far poorer examples of the Jaeger LeCoultre Club, often with scratched cases and dull movements, routinely sell for in excess of this amount in the specialist auction environment, making this immaculate one look like extremely good value for money. Certainly, if we look at how little this same sum would buy in a new watch for sale in the high street, this piece is exceedingly appealing, not only as a superbly made vintage sports model by one of the most respected of all the prestigious Swiss makers, but also as an obviously grossly undervalued and therefore very safe investment item.
Price £850 GB Pounds
Vintage Watch Brands
Vintage Watch Decades
Vintage Ladies Watches
Vintage Watch Bracelets
Swipwreek Straps
Travel Clock/ Pocket Watches
Home
About
Brand Overviews
By Decade
Reference
Contact Details
Telephone from the UK:
07453 734666
or 07428 051005
Telephone from overseas:
+44 7453 734666
or +44 7428 051005